This post includes affiliate links. Find out more about affiliate links and how they help this site.
Get comfortable, this is a long post! I tried to cut it down but I know the following information will help if you're unsure about how to make the most of owning a combi steam oven. If you're new here, I recommend starting with the first post in this series, about using the steam-only function in your steam oven.
There is a downloadable graphic which goes with this series of posts. Click directly on the PDF link under the image below to download, and feel free to print it out and keep handy for when you're wondering what to cook in your steam oven.
Combi, or convection, steam is where a lot of people come unstuck when they buy a steam oven. Let's say you've been sold on the idea of wonderful quality food and fast cooking. But now you've got a steam oven in your house, you don't understand exactly what the combi steam function is doing, or what sorts of foods to put in the oven to get the results you want. Sound familiar?
If that's you, don't panic. Read, experiment and please don't be afraid to try your regular recipes using combi steam. For many people I know that advice will seem daunting, but once you understand the principles, you'll gradually find you're having far more hits than misses. A bit of persistence pays off with outstanding meals you couldn't replicate in any other appliance.
If you haven't read it, go back and have a look for the first article in this series, where I discuss steam-only. Soon I'll put up a third post talking about dishes which don't really work with any added steam. Think of these three posts as an overview with example recipes linked throughout, all designed to get you more comfortable knowing which foods work with steam and combi steam.
If you don't want to miss out when I post new articles and recipes, join the Steam and Bake email list to be notified when new posts are added. When you do sign up, you'll also be invited to join the subscriber-only private Facebook group, where well over a thousand steam oven owners from around the world are sharing tips and talking about their appliances.
Foods to cook using combi or convection steam – but first, what IS combi steam?
There are a range of proprietary terms coined by the different oven manufacturers – combi steam, convection steam, vario steam, convection humid, steam surround and steam bake are just a few. What all of them refer to is this: combi steam cooking is the use of a regular convection (dry) oven setting, usually with a fan forced element, combined with the simultaneous use of wet steam cooking.
Combi steam is an oven cooking method which is great for cooking a massive array of foods. As well as cooking up to 40% faster than traditional oven settings, it can really improve the quality and flavour of your food.
Combi steam ovens cook at a temperature range of 30-275°C or 86-527°F, with the addition of varying levels of humidity from about 20% right up to 100%. Some oven models allow users to select the percentage of humidity to add when using combi settings. If yours doesn't, there's no need to worry when you see a recipe written with a particular humidity or steam level specified. All you have to do is select the temperature you want to cook at and the combination steam (or convection steam) setting. Your oven will determine the humidity level for you, so you can just ignore the part of the method which asks you to set a steam percentage.
Although a joint of meat or loaf of bread are great foods to show off this method, cooking with combi steam can offer so much more. Here are my favourite food ideas for how to make the most of the combi steam settings in your oven.
Combi steam roasted meats and poultry
Combi steam helps enormously if you're cooking a roast and want tender, juicy meat or poultry. The best roast chickens and ducks I've ever made are cooked using combi steam, and I would go as far as to say every cut of meat can benefit from some steam during cooking.
There are a couple of guidelines I follow when roasting meat and poultry this way. The main one is that I generally use whatever temperature I normally would when roasting, but I allow for the meat to cook a lot faster because of the added steam.
If your roast is small and lean, perhaps a piece of beef or lamb fillet, game meat or a chicken breast, then a high temperature and high steam level are going to be your friends. These cuts cook fast but using a high proportion of steam means you're less likely to dry them out. I go as high as 230°C/450°F for very small cuts, and around 80% steam/humidity
Roasts like whole chicken, duck, pork/lamb racks or a standing beef rib, do best using a temperature range of about 180-220°C/350-430°F) and a moderate to high proportion of steam. This will render and brown any exterior fat and cook the meat fully through while remaining juicy
If you have a large joint with a lot of internal fat, I don't recommend using too much steam unless you're planning to slow cook the meat into soft, shreddy submission (in which case lower the temperature, and see further down the page for the section on slow cooking). Added steam helps to cook the meat relatively quickly, however all that internal fat and sinew needs relatively longer to soften and break down. At worst, too much steam in proportion to heat can give you meat which is overcooked and stringy with flabby, chewy fat marbled through it. My preference is to stick with steam oven slow cooking for those tougher, fattier cuts of meat unless your oven gives the option to vary steam/humidity percentages when using combi settings. If you can vary your steam, try a moderate temperature, around 180°C/350°F, with no more than 30% humidity.
Fish and seafood in combi steam
I think of fish and seafood in a steam oven as having two distinct ways of cooking. You can steam, as covered in my previous post, or you can roast quick and hot, with high humidity level. I particularly like this high heat/high humidity combi steam method for oily fish, like salmon, as the flavour it gets from a very hot blast in the oven is fantastic, and it cooks in just a few minutes.
The other great way to combi steam seafood is with a topping or crust of, say, herbed breadcrumbs or freshly chopped herbs and grain mustard. Crumbs are great on white fish fillets, mussels and oysters, and a smear of mustard topping goes very nicely with salmon, tuna or trout. Again, go with high heat and high humidity – the toppings get golden very quickly, so the fish or shellfish underneath can remain moist and tender rather than overcooking.
Combi steam casseroles and slow roasted meat
I've talked about using the steam-only setting in your oven for saucy and soupy dishes, but I feel like slow roasting, pot roasting and casseroles come into their own with low temperature combi steam settings. All you need is a heavy pot (I use Le Creuset cast iron ones) and your steam oven, and you've got one of my favourite ways to cook
My go-to settings for slow roasted meat and casseroles are around 120°C/250°F, and 80% humidity. I never use a lid – you'll find that pot roasts with a little fat on the top don't dry out enough to worry at this kind of temperature (although you can always baste with the pan juices during cooking). You won't need to stir casseroles to stop them catching, but if you've got some of the meat sitting exposed above your sauce, just turn it over once or twice during cooking to stop it drying out.
There's no exact rule for how much faster these dishes will cook, as it depends on the recipe, the type of meat and the dish you're cooking in. I've found that dishes which take 5-6 hours in a slow cooker or regular oven will take around half that time in the steam oven.
If you want a few examples of how I cook these kinds of dishes, have a look at this Combi Steam Roast Dinner, the fabulous Asian Style Sticky Beef, or Cheat's Combi Steam Chili.
Combi steam sheet pan dinners (tray bakes)
If you've ever been down the rabbit hole of Pinterest, you'll know that sheet pan dinners, or tray bakes, as they're call in some parts of the world, are a big thing. Whatever you call them, they're just a collection of ingredients popped on an oven tray and baked together. There's a good reason for their popularity – they are infinitely adaptable, simple and the quantities can be adjusted up or down for as many people as you have at the table that day. Plus there's only one pan to wash!
Sheet pan dinners are particularly great for combi steam because foods which might otherwise get dried out, like chicken fillets or fish, remain juicy and tender. Plus, if you're trying to minimise your fat intake, you can do sheet pan dinners with very little (or sometimes no) added fat and still get golden brown vegetables – something I find really hard to achieve in a dry oven.
Temperature and humidity levels will differ depending on the dish you're making, but for a starting point, try a moderate to hot oven temperature and a moderate humidity level. Have a look at these popular chicken and pork sheet pan dinners from the index pages to see how I've done it. This beef kofta is another favourite – it's probably not a purist's sheet pan dinner because it's covered in sauce, but I do cook it in a single pan so I'm throwing it out there.
Roasted vegetables and fruits
If you have a steam oven but you're still roasting your vegetables* in a regular oven, I urge you to try doing your next tray of veg using combi steam. Vegetables – and fruits – roasted with some steam come out more tender, more flavoursome and more vibrant than their regular oven counterparts, and in about two thirds of the time.
I cook mixed trays of vegetables every few days, very often with just a sprinkle of salt over the top. But I love to feature vegetables as the star of a meal, too, for example in this combi steam roasted sweet potato dinner, this whole cauliflower showstopper and one of my go-to lunches, roasted broccoli.
As for fruit, I adore roasted stone fruits like these plums, and I have a habit of wanting to add roasted pears to everything when they're in season.
Cook vegetables and fruits at the same temperatures you would in a regular oven, adding 30-50% humidity, and cut your cooking time down by around a third.
*We do need to have a quick conversation about roasted potatoes here, which is this: in the spirit of honesty, and in recommending you use the best appliance for purpose, combi steam roasted potatoes are not my favourite thing. They may be perfectly textured on the inside, in fact they are fine in general, but you will never get that crispy, crackly exterior on your potatoes without finishing them off using dry heat. I still twice-cook my roasted potatoes by steaming to partially cook, then tossing in hot fat and roasting in a dry oven until crunchy.
Bread in combi steam
Combi steam is excellent for almost all types of bread doughs, with the exception of pizza (great to reheat but too moist for cooking) and very crusty sourdough style breads. Sourdough benefits from a blast of steam at the start of cooking but a dry finish, and the best results I get are using a stone, which is liable to crack if put in a steam oven.
Every other type of bread I've tried, though, from standard sandwich loaves to focaccia, baguettes, bagels, fruit breads and enriched brioche-type doughs like hot cross buns and this over-the-top monkey bread, has been excellent cooked at a standard oven temperature with around 50-60% humidity. You should end up with a glossy, golden crust and tender fluffy bread inside.
Do you want to use and love your steam oven more?

There are precious few resources to teach us HOW to use a steam oven in everyday cooking. I'm guessing that's why you're here! If you love cooking but aren't making the most of your combi steam oven, you aren't alone.

Steam Oven Insiders was created for you!

Benefit from my decade-plus of steam oven knowledge and training, delivered to your inbox twice monthly in bite sized, easy-to-implement tips and delicious recipes you'll actually want to cook. Insiders get access to every exclusive recipe and article within the members dashboard, so you'll never miss a thing.

Find out more right here
Pastry in combi steam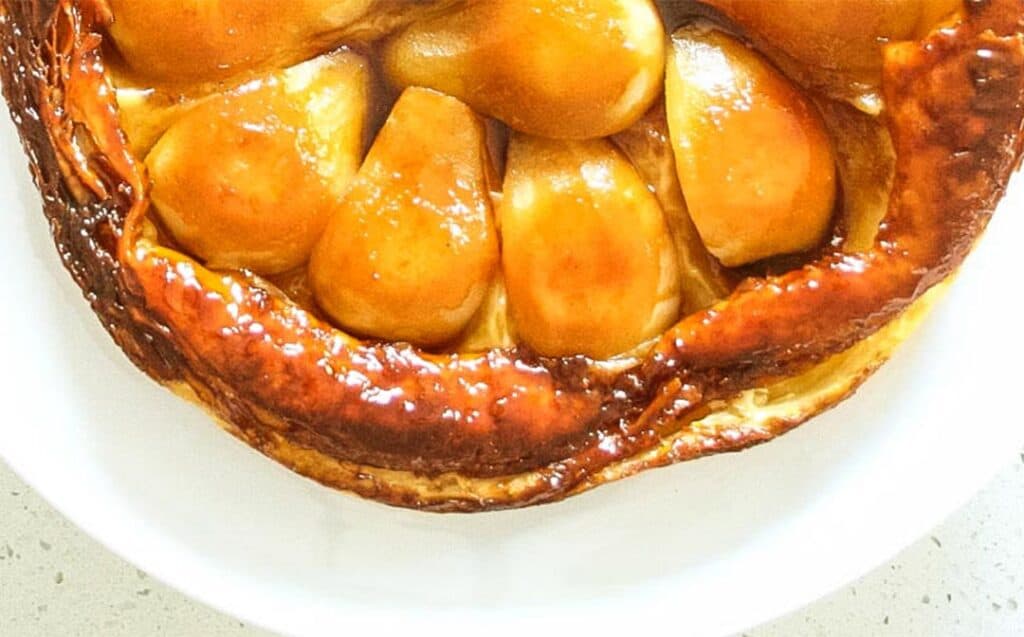 Recipes involving puff pastry do surprisingly well in combi steam. In fact, puff pastry was one of the first things I cooked in a steam oven, and it's still a go-to when I want to show people what these ovens are capable of. As your pastry cooks, the dry heat surrounds and browns the exterior, giving a gorgeous crispy finish. Meanwhile, the dampness of the steam gets between all those flaky layers and causes them to expand and puff much more than you'd see in a regular oven. The final result is golden brown outside and tender and beautifully airy inside.
Puff pastry dishes can be cooked at a temperature range of 180-220°C/350-430°F, depending on the filling you plan to put in them and their overall size. If you are selecting steam levels in your appliance, a moderate to high level of humidity is ideal.
I often cook muffin pan egg and bacon tarts using puff pastry, selecting 180°C/350°F and 50% steam/humidity. Other favourite puff pastry dishes in the steam oven are little raspberry cheesecake pastries, the best apple tarte tatin I've ever made, and these cherry tomato tarts, which can be varied with a huge range of fillings.
Gratins and baked pasta dishes in a steam oven
I like vegetable gratins in the steam oven for some of the same reasons I love roasting veg in it: they need little fat and far less liquid (or salt) in order to make them delicious, so they taste more deeply of whatever vegetables are in them. Plus they brown gorgeously without ever getting that tough top layer which many an oven gratin suffers from. As a guide, I add only half the usual quantities of cream, stock or water to the dish before cooking, and cook at a moderate oven temperature with up to 80% steam.
Baked pasta dishes work on similar principles to gratins. The humidity levels mean there's no tough, dried out layer of pasta on top, and the insides are silky and tender. The oven heat makes for excellent browning and 'corner bits' (and let's face it, who doesn't like a corner bit?). One of my favourite baked pasta dishes is this cannelloni, but I'm also partial to a simple weeknight affair of cooked dried pasta, tomato puree, sautéed onions, shredded leftover chicken and a few handfuls of spinach all baked under a generous layer of cheese.
Steam oven cakes, brownies, tarts, muffins and scones/biscuits
I'm a huge fan of baking, as shown by the ever-growing list of recipes in the combi steam cakes and baking index.
Scones, biscuits and muffins are good cooked at around 180-200°C/350-400°F with 50-60% humidity.
With larger cakes, you need to be a bit mindful of how much and what type of leavening agents you're using. Have a look at my past (and much loved) chocolate cake recipe for a bit more of an explanation of leavening and baking in a steam oven. And you might also want to check out my all time favourite steam oven cake, a lemon ricotta loaf. It was the first recipe ever posted on the blog, and it's still one of the most popular.
Brownies are a perfect candidate for steam oven baking, because the humidity gives them a very soft, fudgy interior. I use temperatures of 160-170°C/320-340°F and 60-80% humidity for my brownie recipes. Take a look at the 12-minute brownies with salted peanut butter frosting and the fudge brownies with white chocolate and pecans for examples.
Small tarts can be successfully cooked using combi steam without blind baking your pastry. For larger tarts I'd recommend blind baking, otherwise the humidity can make your pastry a little soggy.
Crumbles, cobblers and crisps in the steam oven
Golden, crunchy tops and soft, sticky and juicy within, this varied and simple category of desserts is totally deserving of combi steam. You'll never have to pre-bake fruit for a pudding again, just chop, top and bake at a moderate temperature with high humidity. A crumble is my go-to winter dessert when I want something I don't have to feel guilty about feeding to the kids, but if cobblers, crisps or even pan dowdys are more your thing they'll all work along similar lines.
Baked puddings
Steamed pudding recipes are an obvious choice for the full steam setting in your steam oven, but what about baked puddings? Just about anything you'd usually use a water bath/bain marie for should be ok in combi steam, from souffles to self-saucing puddings. The temperature and humidity will vary a bit depending on your recipe, but I'd try somewhere around 160-170°C/320-340°F with 80% humidity.
Using combi steam in place of other appliances
If you start to imagine that you can use combi steam in many instances when you'd otherwise use a pot or a frypan, a whole world of cooking options open up to you. I often saute in a large, shallow tray or pan using combi steam, especially if I'm going to be adding other ingredients to the same pan and roasting further. For instance, garlic and chopped bacon in a tray with a knob of butter can be 'pan-sauteed' using combi steam at 200°C/400°F with around 50% humidity, before adding some broccoli or Brussels sprouts and roasting until the vegetables are tender and slightly frazzled at the edges. That's a great, easy side dish which is usually pan fried, but in combi steam there's almost no stirring or attention required until it's done. This is not an argument for getting rid of your stovetop, rather a way of thinking outside the box about how you use your appliances, especially if you're cooking for a crowd and need to do things a bit differently.
If you've always reheated leftovers in a microwave, now's the time to stop. I don't think anyone would argue in favour of the taste of microwaved food, so being able to reheat food which tastes like you just cooked it is a huge advantage. I use the reheat setting in my steam oven probably more than any other function. If your oven doesn't have a specific reheat function, just reheat using combi steam at around 120°C/250°F, and 30-50% steam/humidity.
I hope that's given you some new ideas to make the most of the combi steam setting in your oven. If you try any of the recipes I've linked to, or have success using one of the above suggestions, I'd love you to share by leaving a comment below or on the Steam and Bake Facebook page, or tagging your photos with #whatsinthesteamoven on Instagram.
Tune in again soon for the third and final instalment in this series, covering foods which are best cooked without any steam. If you'd like to be notified when new posts are published, subscribe to the email list so you never miss a post (plus you'll get an invite to the subscribers-only Combi Steam Cooking with Steam and Bake Facebook group, where there are well over a thousand steam oven users from around the world, helping one another by sharing great tips and support for almost every brand).
Happy steam oven cooking, see you here again soon.