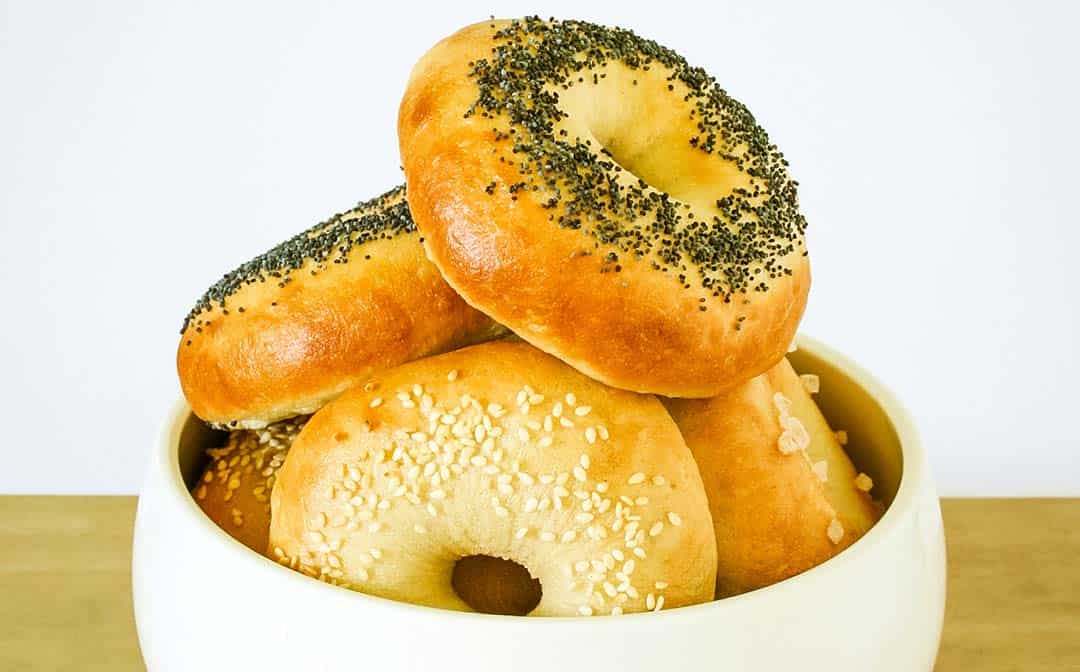 This post may contain affiliate links. Click here for more info.
I often have conversations with people about why they should or shouldn't buy a steam oven, and here's what it really comes down to: if it means you can cook things you like to eat more easily and faster then it's a worthwhile investment. My little workhorse oven has been worth every cent on both counts, not least because it inspired this here space on the web.
Safe to say I'm a steam oven convert from way back but if you need more convincing, maybe this will help:
Bagels in a steam oven. Made at home, anytime, in little more than an hour from start to finish.
I know not everyone thinks of bagels as an everyday thing to make at home, and to be honest nor did I. But good bagels are really hard to find in my corner of the world. If we want to eat them I had to come up with a solution which doesn't involve driving 45 minutes across the city to the only decent bagel bakery in town.
Maybe things are the same where you live (if not, lucky you), so if I said you could easily make chewy-crusted, golden, glossy bagels in your combi steam oven, as good as you can buy almost anywhere, I bet you'd do a little dance.
No? Ok, maybe the dancing is just me returning to the consumption of bread products after weeks of no carbohydrates, but I know I was pretty excited to realise the absolute obvious: having a steam oven at my disposal means I can replicate the boil-then-bake method traditionally used to cook bagels, without the fuss involved in poaching raw dough to give it that characteristic sheen and chewy texture.
Let's break this down.
You start with a standard white bread dough (all the easier to make if you have a good mixer on hand).
Let it rise for half an hour in your steam oven then shape it into bready little donuts.
Steam the dough for a few minutes, bake for a few more and ta-da! Your very own, very excellent bagels.
All you need is something to put on them. Can I recommend cream cheese blended with raspberries? Or, if you prefer it spicy, cream cheese with a few pickled jalapenos is pretty great too.
These bagels are a great weekend project, especially if you've never tried making bread in your steam oven. They will fill your house with warm, toasty aromas and your kitchen with warm, toasty bagels just begging to be eaten. And whether you can buy decent bagels locally or not, there isn't much which beats the satisfaction of making something yourself from scratch, especially when they taste this good.
Happy steam oven cooking, see you here again soon.
Do you want to use and love your steam oven more?

There are precious few resources to teach us HOW to use a steam oven in everyday cooking. I'm guessing that's why you're here! If you love cooking but aren't making the most of your combi steam oven, you aren't alone.

Steam Oven Insiders was created for you!

Benefit from my decade-plus of steam oven knowledge and training, delivered to your inbox twice monthly in bite sized, easy-to-implement tips and delicious recipes you'll actually want to cook. Insiders get access to every exclusive recipe and article within the members dashboard, so you'll never miss a thing.

Find out more right here
Print Recipe
New York Style Bagels
Freshly baked, chewy, glossy and authentic bagels are less than an hour away with this easy steam oven recipe.
Ingredients
1 1/4

cups

water

lukewarm; increase quantity as needed to get the right dough consistency

2

tsp

sugar

2

tsp

instant yeast

3 1/2

cups

unbleached white bread flour

plus extra for kneading

1 ½

tsp

salt
sesame seeds

or poppy seeds, flaky salt, caraway seeds, onion flakes or garlic flakes, for topping

1

egg

white only, lightly beaten, to stick on toppings
Instructions
Method

Put water in the bowl of a stand mixer and sprinkle the sugar and yeast over the top. Leave for 5 minutes until the yeast is beginning to bubble, then add the flour and salt. Mix well with a dough hook until the dough comes cleanly away from the sides of the bowl and is smooth and elastic – about 5-7 minutes. If it's looking too dry, add just enough extra water for it to come together in a single clean ball.

Put the bowl into your steam oven and set the oven to 38⁰C/100⁰F (if you have variable humidity settings, use 100%). Prove the dough for 30 minutes, by which time it should have roughly doubled in size. Remove the dough from the oven and turn it out onto a flour-dusted bench.

Set the oven to 100⁰C/212⁰F, steam setting (100% humidity). Line a couple of baking trays with silicone paper and set aside.

Gently press and knead the dough to knock it down, then divide into 8 equal portions.

Roll each portion into a ball, then use the handle of a wooden spoon to poke a hole in the middle of each dough ball. Gently stretch and pull each piece of dough until the hole is about 5cm/2" in diameter, then put them onto the lined trays – I like to put 4 on each tray, allowing plenty of room for spreading.

When all your bagels are shaped, put the trays into the oven and steam for 6 minutes. Remove from the oven and change the setting to 200⁰C/392⁰F, combination steam setting. If you have variable humidity settings, use 50-60% (if not, don't worry! Just select the combi steam setting and the correct temperature, and the oven will work out the humidity for you).

While the oven heats, add your preferred toppings to the bagels by brushing each one with a little beaten egg white then sprinkling over seeds, salt or flakes. Or create 'everything' bagels by throwing a bit of all the toppings on.

Return the bagels to the preheated oven and cook until they are golden brown, shiny and sound hollow when tapped on the bottom – about 12-15 minutes. Allow to cool slightly then eat with whatever fillings you like.
Notes
These chewy, dense bagels sit squarely in the New York style bagel camp, as opposed to the Canadian/Montreal style bagels which are smaller, sweeter and use a dough enriched with eggs.
This method calls for a stand mixer and dough hook attachment but you can certainly make the dough by hand if you like. Just mix with a spoon until it starts to come together, then turn it out and knead for 5-10 minutes by hand until it's smooth and elastic before proceeding with the rest of the steps.
Nutrition
Calories:
213
kcal
|
Carbohydrates:
41
g
|
Protein:
8
g
|
Fat:
2
g
|
Saturated Fat:
1
g
|
Cholesterol:
20
mg
|
Sodium:
447
mg
|
Potassium:
72
mg
|
Fiber:
2
g
|
Sugar:
1
g
|
Vitamin A:
30
IU
|
Calcium:
11
mg
|
Iron:
0.6
mg