What I'm about to share with you is ALL the treats in the form of chocolate monkey bread with pecans and rich burnt caramel. If your waistline can't cope, turn away now.
Chocolate? Check. Drippy, salty, burnt-caramel sauce? Check. Pecan nuts, butter, cinnamon and pillowy soft brioche? All right here, people, piled into my favourite bundt pan and baked in the steam oven until it's golden, glistening and smells so good you burn your fingers trying to pick little bits off it as it comes out of the oven.
A few weeks ago I came across something intriguingly titled 'gorilla bread'. After further research – ahem, disappearing into the black hole that is Pinterest – I discovered there are literally thousands of variations on this delight spanning the depths of the internet, mostly under the moniker monkey bread. What I'd like to know it, why did no-one TELL me about it?! Not knowing about this gastronomic delight makes me feel a little like the loser who didn't realise gourmet donuts were a thing for the first five years they were 'in'.
Unfortunately most of the recipes I found began with a base of canned refrigerator biscuits, which don't exist in Australia. I'm led to believe the origins of chocolate monkey bread sit firmly in the USA (oh, land of the tooth-achingly sweet baked goods), and the name stems from the fact you pick it apart after baking, somewhat as a monkey picks apart its food. Given the burnt-fingers scenario above, the name seems apt.
Whatever you call it though, I was sold on the idea of reworking it as a combi steam oven recipe and have not been able to stop thinking about it ever since.
This post may include affiliate links. As an Amazon Affiliate I earn from qualifying purchases (don't worry, it doesn't cost you anything!). Find out more about affiliate links.
Would you like my FREE Quick Start Guide to Your Steam Oven?
Start learning what (and how!) to cook using your oven's steam and combi steam settings, with my instant downloadable guidebook, full of tips, links and ideas.
Click here to get the Guide sent straight to your inbox
In a world of low fat, no fat, sugar and carb free green foods, this ridiculous creation has no place. But in my house, sometimes we go all in and throw the moderation out the window. Mostly my nutritionist brain wins out and we eat pretty well – I serve lots of vegies, cut the sugar down in most of my baked goods, try not to use too much fat in cooking or eat too many carbs – but really it's just so I don't feel too guilty spending the better part of a day making something like this from time to time.
Baking with yeast dough in a steam oven
I feel obliged to discuss the 'baking with yeast' thing here, given I speak to A LOT of people who say they're scared of cooking with the stuff. If you're one of them, I can tell you having a steam oven will make it much easier to build confidence with yeast baking. As with most things in life, practice certainly helps, but your steam oven's dough proving setting (or just a low temp steam setting) takes some of the guesswork out of it.
The biggest problem people tend to have with yeast doughs is that they aren't sure how long to prove/rise the dough, or what it should look and feel like when it's risen properly.
I can't give you a definitive blanket answer to this because the ratio of sugar, yeast, liquid and flour will always affect things (and also because, though I love baking with them, I am not a yeasted dough expert!), but your steam oven will let you control temperature, which means the dough will rise pretty consistently and be the same each time you make the same recipe.
In general, sugary doughs like the one in today's chocolate monkey bread recipe will rise quickly because there's lots of food for the yeast to consume and grow. Heavy grain or sourdough loaves take a lot longer and actually I prefer to prove these overnight in the fridge to improve their flavour (but that's a post for another day).
Want to bake steam oven treats your family and friends will go crazy for? Get my book,
Steam Oven Baking: 25 sweet and stunning recipes made simple using your combi steam oven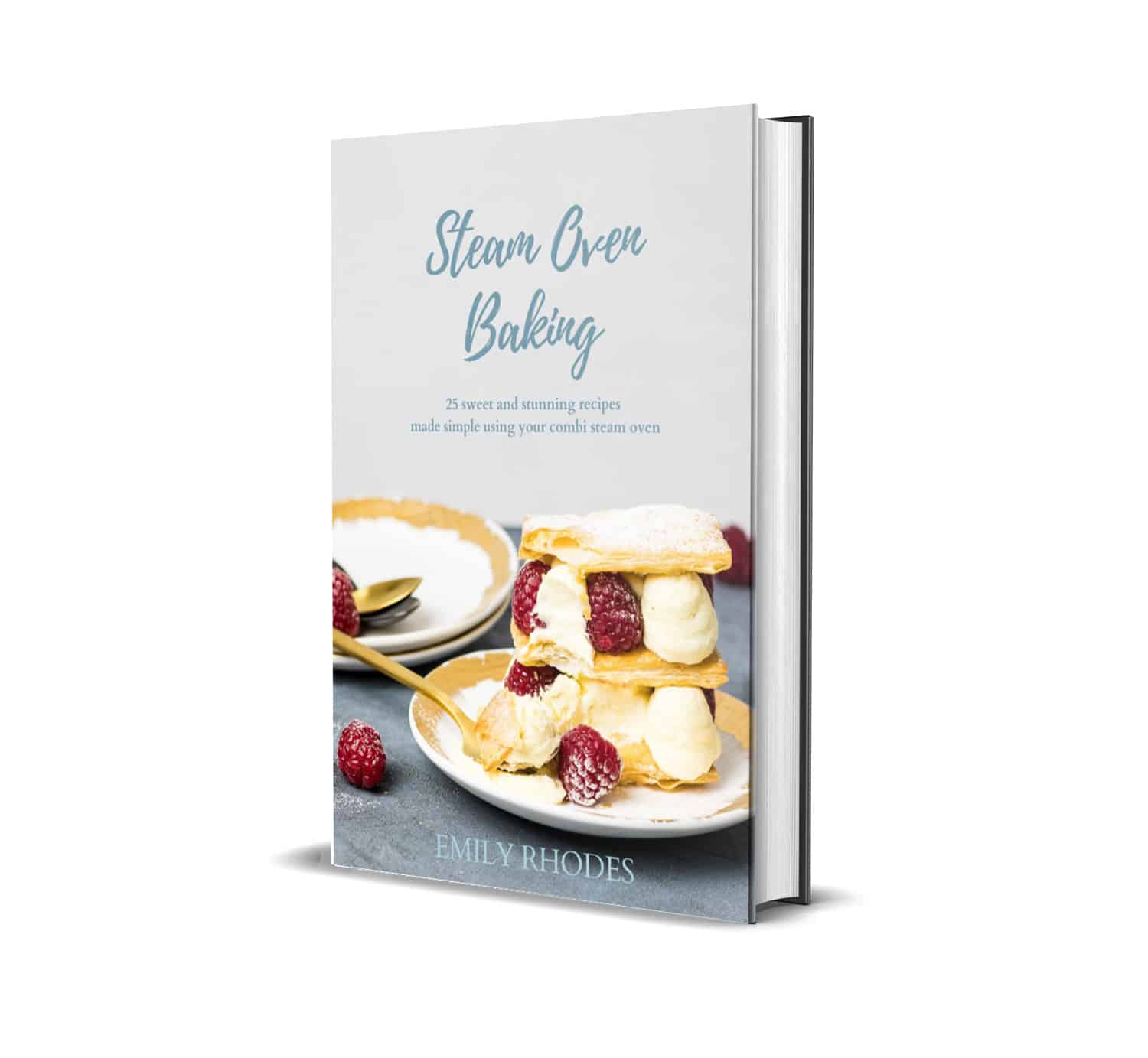 The simplest guide to 'what should my proved dough look like' is this: if you gently push your finger onto the dough and it makes an indent which springs back in a couple of seconds, that's perfect. If the imprint just stays there and not much else happens, you need to prove a little longer. If the whole lot deflates like a sad balloon as soon as you touch it, it's over-proved, which means (sadly) your baked goods will come out of the oven pretty dense and pancake-like.
In the case of this monkey bread, it's the perfect beginners yeast dough because it only needs one prove instead of the usual two, and you can do that in thirty minutes flat in the steam oven. Almost foolproof! Overall it's not the fastest recipe to make and does require a bit of attention and several steps, but if chocolatey, cinnamon-y, caramel-loaded baked goods are your thing it's a really fun weekend project (side note: the ingredient list looks enormous, but several of the items are repeats – sugar, butter, salt – for the different parts of the recipe).
Read through the whole recipe before you start, familiarise yourself with the steps and get going.
I really hope you'll try baking with yeast, especially if it's something which usually scares you off. It's incredibly rewarding and always makes me feel really accomplished in the kitchen.
See you soon (with something a little more virtuous to cook in your steam oven to balance things out!).
Have you made and enjoyed this recipe? I'd love if you'd be kind enough to rate and review it via the stars in the recipe card, or leave a comment below! Ratings and reviews help other readers to find and know whether one of my recipes will suit them.
Print Recipe
Monkey Bread with Chocolate, Pecans and Burnt Caramel
Buttery, lightly spiced brioche dough studded with pecans and dark chocolate, drenched in a deeply toasty burnt caramel sauce.
Ingredients
Instructions
Make the dough
Mix the yeast, warm milk and a couple of teaspoons of the sugar in a small bowl (the milk should not be hot! Just warm, otherwise you'll kill the yeast). Set aside for 5 minutes for the yeast to activate – it should look slightly frothy on top when you return. Technically you don't need to do this step with instant yeast, but just in case your packet of yeast is dead (like my first one was when I tried to make this!), it's worth the extra step so you don't waste an entire batch of dough.

Put the yeast/milk mixture and the rest of the dough ingredients into the bowl of a stand mixer fitted with a dough hook, and mix for 7-8 minutes until a smooth and elastic dough forms. It will be pretty sticky (mine didn't come away from the sides of the bowl), but if it just looks like a wet batter rather than a stretchy dough you may need an extra bit of flour.

Put the bowl of dough into your steam oven and turn on the dough proving setting to 100⁰F/38⁰C. If you don't have a dough proving setting, just put the regular steam setting onto the same temperature. Prove the dough for 30 minutes – it should have roughly doubled in size. Remove dough, turn the oven off and leave the door ajar so it cools down before you do the baking step.
Make the caramel sauce
While the dough is proving, make the caramel sauce. Put the sugar in a heavy pan over medium high heat and let it melt. Swirl the pan occasionally but don't stir. What you're looking for is to catch the sugar and remove from heat just as it begins to smoke – it'll feel a bit scary to leave it that long but have faith! Some of the sugar will look very dark while other bits will look light amber in color. If it's all completely black and smoking a lot you've gone too far!

Immediately add the butter, cream and salt to the burnt caramel, and reduce the heat to medium. Stir until the butter melts and it becomes a shiny, smooth sauce, then remove from heat and set aside.
Assemble the monkey bread
Mix the sugar and cinnamon together in a small bowl and make sure the butter is ready in another bowl, melted but not too hot, because you'll be dipping your fingers into it pretty soon. Have a bundt or ring pan ready (no need to grease this).

Turn the dough out onto a lightly floured surface and gently press it down to knock out any huge air bubbles. Use a knife or a dough scraper to cut the dough into little pieces, each about the size of a ping pong ball. You can also pinch off small amounts and roll into balls, but I found cutting much quicker and the round shape isn't essential given they'll be all squashed together in the pan. You should end up with about 60 pieces.

Working reasonably quickly, take one piece of dough at a time and dip it into the melted butter, then roll in the cinnamon sugar. Drop the pieces randomly into your pan as you go, and once you've got a layer on the bottom, sprinkle some of the pecans and chocolate over the dough. Continue to use up all the dough, chocolate and pecans in layers. I ended up with three layers of chocolate and pecans interspersed through the bread, which gave a nice distribution.

Pour about a third of the caramel sauce over the dough, and set your pan inside a baking tray.

Put the pan and tray into your cold oven and set it to 350⁰F/180⁰C, combination steam setting. If your oven has variable steam settings, use 50-60%. If not, don't worry! Just set the oven to combi steam at the correct temperature and the oven will figure out the humidity level for you. IMPORTANT: you don't need to preheat, as the bread will do a bit more rising while the oven heats. This removes the need for a second prove.

Cook for a total of 30-35 minutes (including the preheating time), until the loaf is golden and puffy.

Leave in the pan for 5-6 minutes, then turn out onto a plate. Top with as much of the remaining caramel sauce as you dare and serve warm. If you don't have 8-12 willing eaters on the first go around (or a husband with colleagues who will happily consume half of the finished product), it reheats very nicely using combi steam.
Notes
Any leftover caramel sauce will keep for a couple of weeks in the fridge and makes for great ice cream topping.
Nutrition
Calories:
800
kcal
|
Carbohydrates:
102
g
|
Protein:
12
g
|
Fat:
39
g
|
Saturated Fat:
22
g
|
Cholesterol:
109
mg
|
Sodium:
516
mg
|
Potassium:
254
mg
|
Fiber:
3
g
|
Sugar:
52
g
|
Vitamin A:
932
IU
|
Calcium:
122
mg
|
Iron:
1
mg
Do you want to use and love your steam oven more?

There are precious few resources to teach us HOW to use a steam oven in everyday cooking. I'm guessing that's why you're here! If you love cooking but aren't making the most of your combi steam oven, you aren't alone.

Steam Oven Insiders was created for you!

Benefit from my decade-plus of steam oven knowledge and training, delivered to your inbox twice monthly in bite sized, easy-to-implement tips and delicious recipes you'll actually want to cook. Insiders get access to every exclusive recipe and article within the members dashboard, so you'll never miss a thing.

Find out more right here
But I don't have a steam/combi-steam oven! You can certainly make this without one, but you'll need to use a bit more guesswork when proving the dough. Basically, you'll need to cover the bowl, put it somewhere quite warm and wait anywhere up to a couple of hours for the dough to double in size. Alternately, cover and put in the fridge for about 12 hours where it will prove very slowly but just as effectively. When baking, the temperature remains the same but you might need a few more minutes cooking time, say 35-40.