If you want a fluffy, fresh and zesty sweet lemon roll in your life, my lemon buns are going to be your new favorite recipe.
It's possible I've thought about these lemon buns a little too much, but I've come to the conclusion that they're the springtime of sweet rolls. Cinnamon rolls are fall and a chocolate roll is surely winter appropriate. And for summer, fresh berries would be the obvious choice to roll up in a swirl of soft dough. But lemon? A lemon roll is freshness and sunshine, like a peak spring day.
This recipe is simple enough for inexperienced yeast bakers, and it'll make you look pro. The simplified brioche-style dough baked in your steam oven makes super fluffy lemon rolls, and they're covered with a soft cream cheese icing that's spiked with more lemon.
This post may include affiliate links. As an Amazon Affiliate I earn from qualifying purchases (don't worry, it doesn't cost you anything!). Find out more about affiliate links.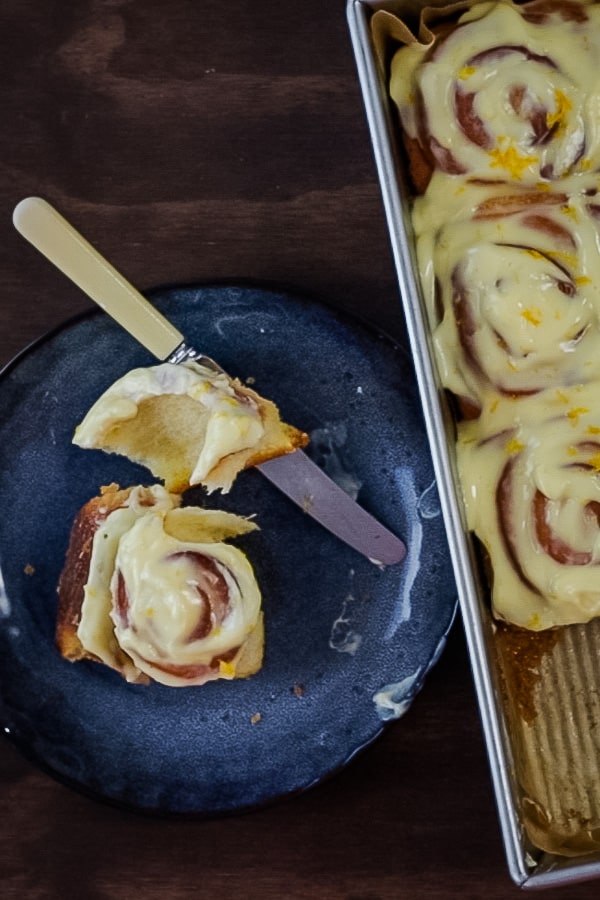 How to make lemon buns with cream cheese icing
Right, off we go. This is a very similar approach to my favorite overnight cinnamon rolls recipe, and I'll talk about methods for both same-day baking and an overnight proof, giving the option of either.
The full lemon buns recipe and method is below in the printable recipe card. Read on for the visual instructions!
Want more approachable, beautiful steam oven baking? Try out these recipes:
Making dough for lemon rolls
First up you'll make the dough. Pop the milk, sugar and yeast into a small bowl and set it aside for a few minutes while you get the other ingredients ready.
Put the flour, eggs, salt and melted butter into a stand mixer bowl. Have a look at the yeast mixture. If it's starting to bubble and smells 'yeasty', it's good to go. Tip it into the bowl with the other ingredients.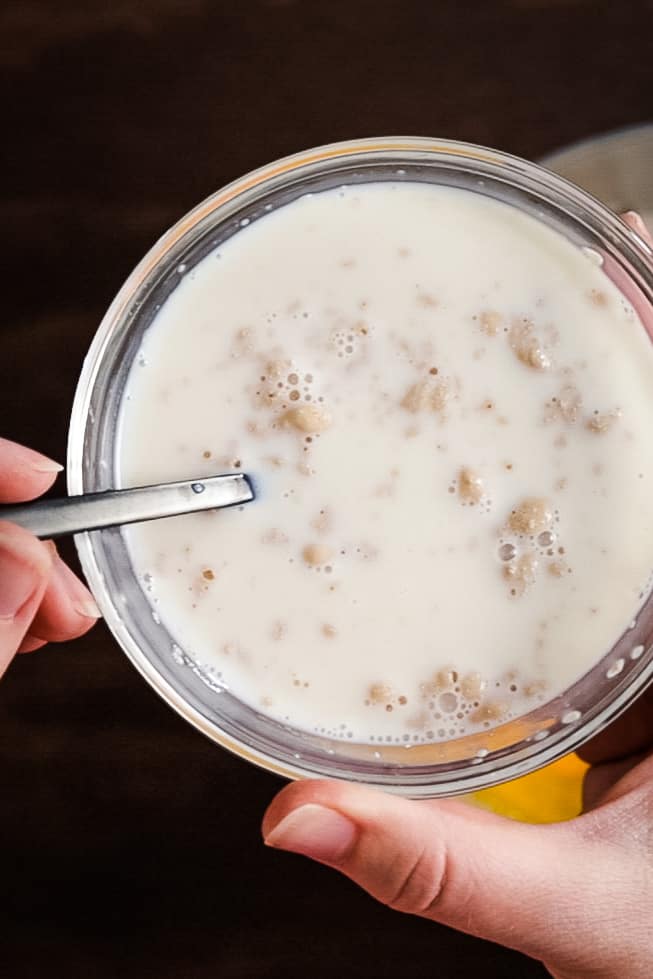 Mix the dough in your mixer with the dough hook attachment, first on low to bring the ingredients together, then on a medium speed until the dough is elastic and smooth. It's a soft dough, so don't worry if it doesn't fully pull away from the sides of the mixer bowl.
Proof the dough
Time for the first proof. Put the entire bowl, uncovered, into your steam oven, using the dough proofing setting, or a low temperature steam-only setting (see recipe card for full details). Proof the dough until it's doubled in size; it'll take about 40 minutes.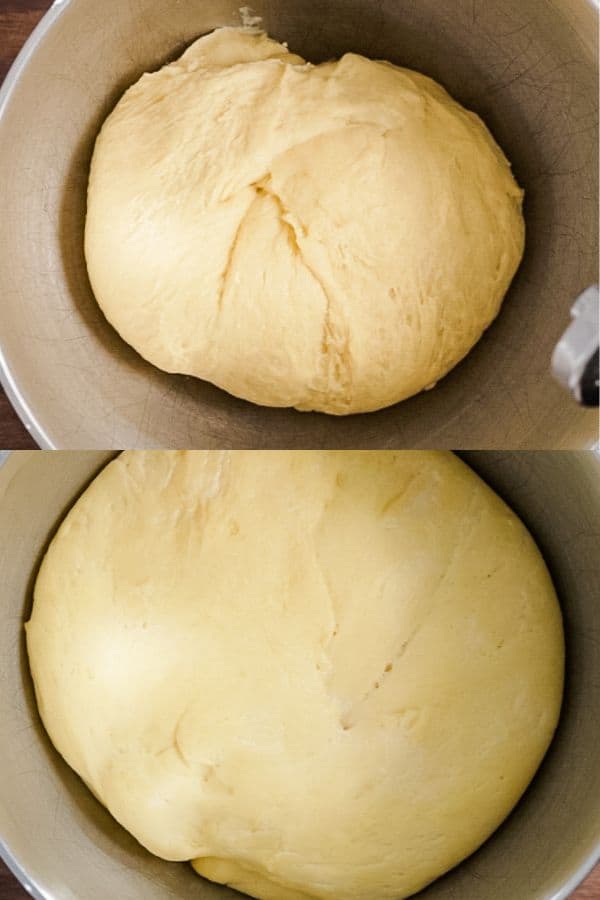 Make lemon roll filling
Make the lemon roll filling while you wait for that proofing to happen. Rub the lemon zest into the sugar with your fingertips to release all the oils and maximize that lemon flavor. Mix the very soft butter into the lemon sugar and then set aside.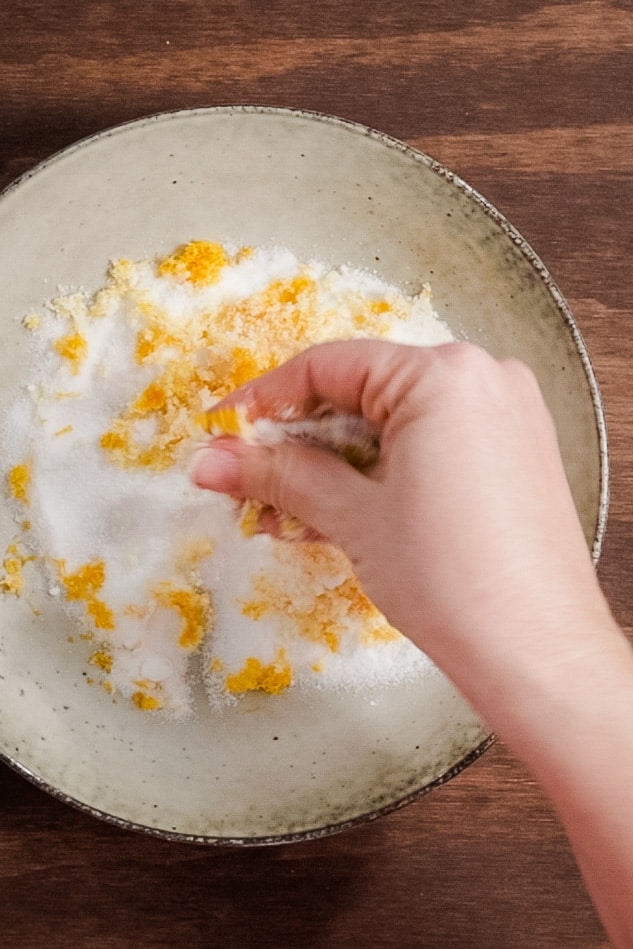 Assembling your lemon rolls
Now for the fun part!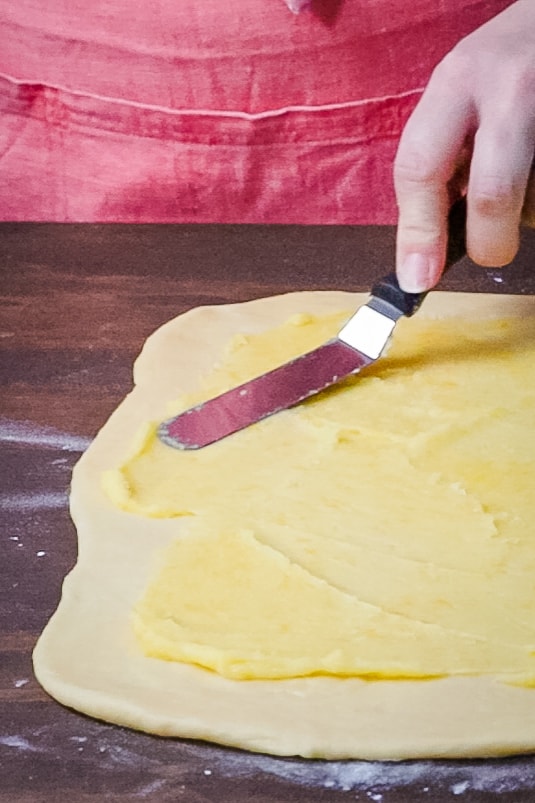 When your dough has proofed, turn it onto a floured surface and roll out into a large rectangle. Use an offset spatula or the back of a spoon to smoosh the lemon filling all over the dough, leaving about a half inch of space on one long edge.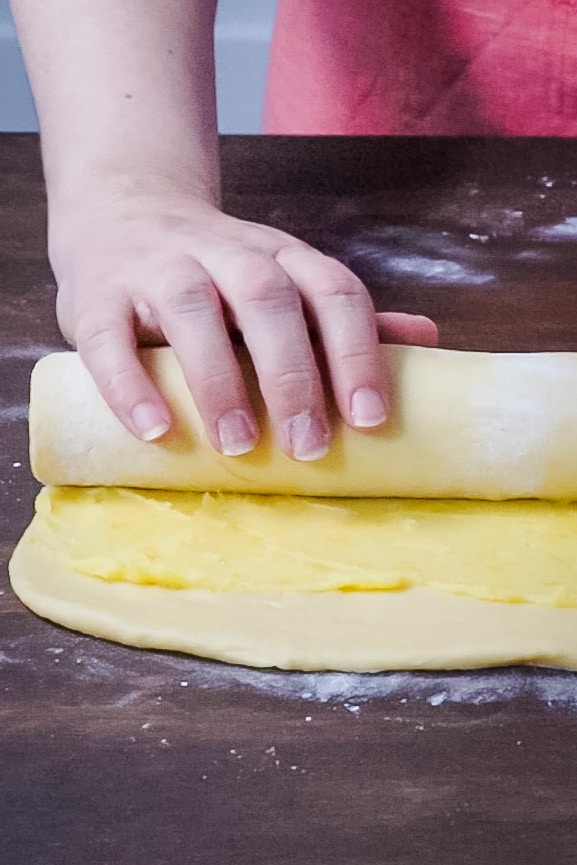 Roll up the dough from the other long edge, making a tight, even spiral. Pop the whole thing onto a cookie sheet and place in the freezer for about 20 minutes. Don't skip this step! It's the difference between cleanly sliced, beautifully neat spirals and a mushy, buttery mess.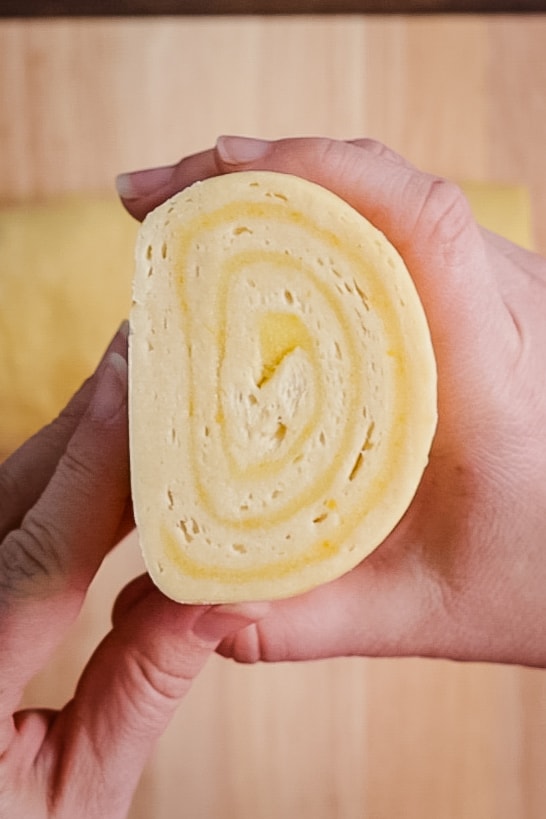 Slice that chilled dough into 12 even lemon buns and pop them into a parchment-lined baking dish. I've used a 9×13" (23x33cm) pan here, but a 12" (30cm) round dish works fine too.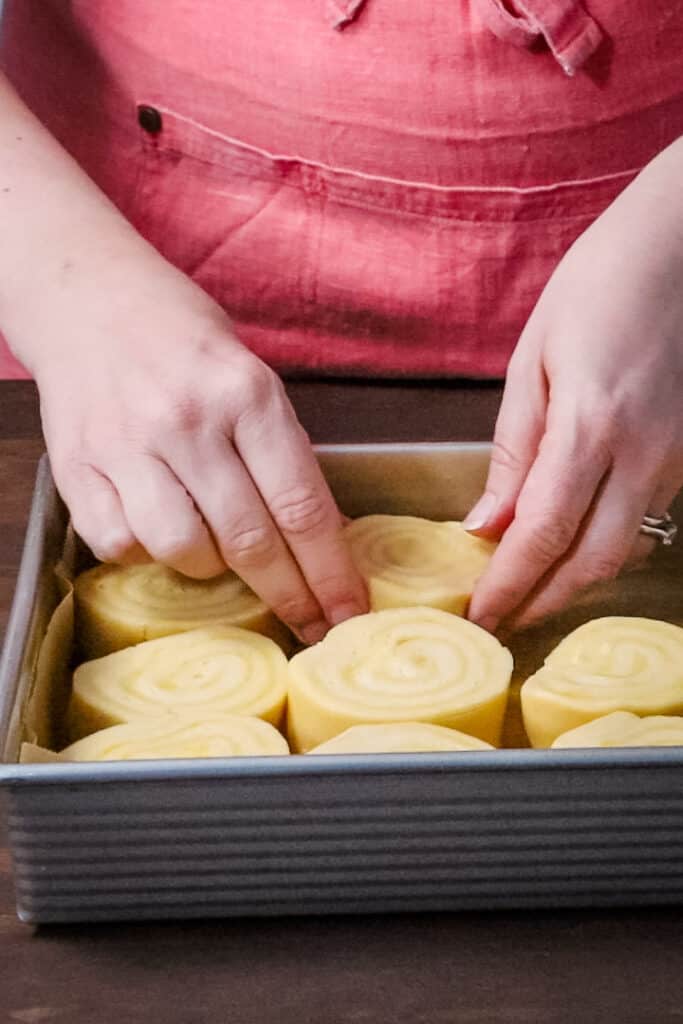 Here's where you can either bake today, or give those buns a lovely sleep overnight and bake in the morning. Both methods work and give you fluffy, sticky lemon rolls, it just depends on your timeline preference. In a blind tasting, the overnight-proofed rolls have a touch more flavor and a lighter texture, but I can honestly only notice it if I try them side-by side (and I have. For your benefit, obviously. Not so I can eat more lemon rolls. Definitely not):
Want to bake steam oven treats your family and friends will go crazy for? Get my book,
Steam Oven Baking: 25 sweet and stunning recipes made simple using your combi steam oven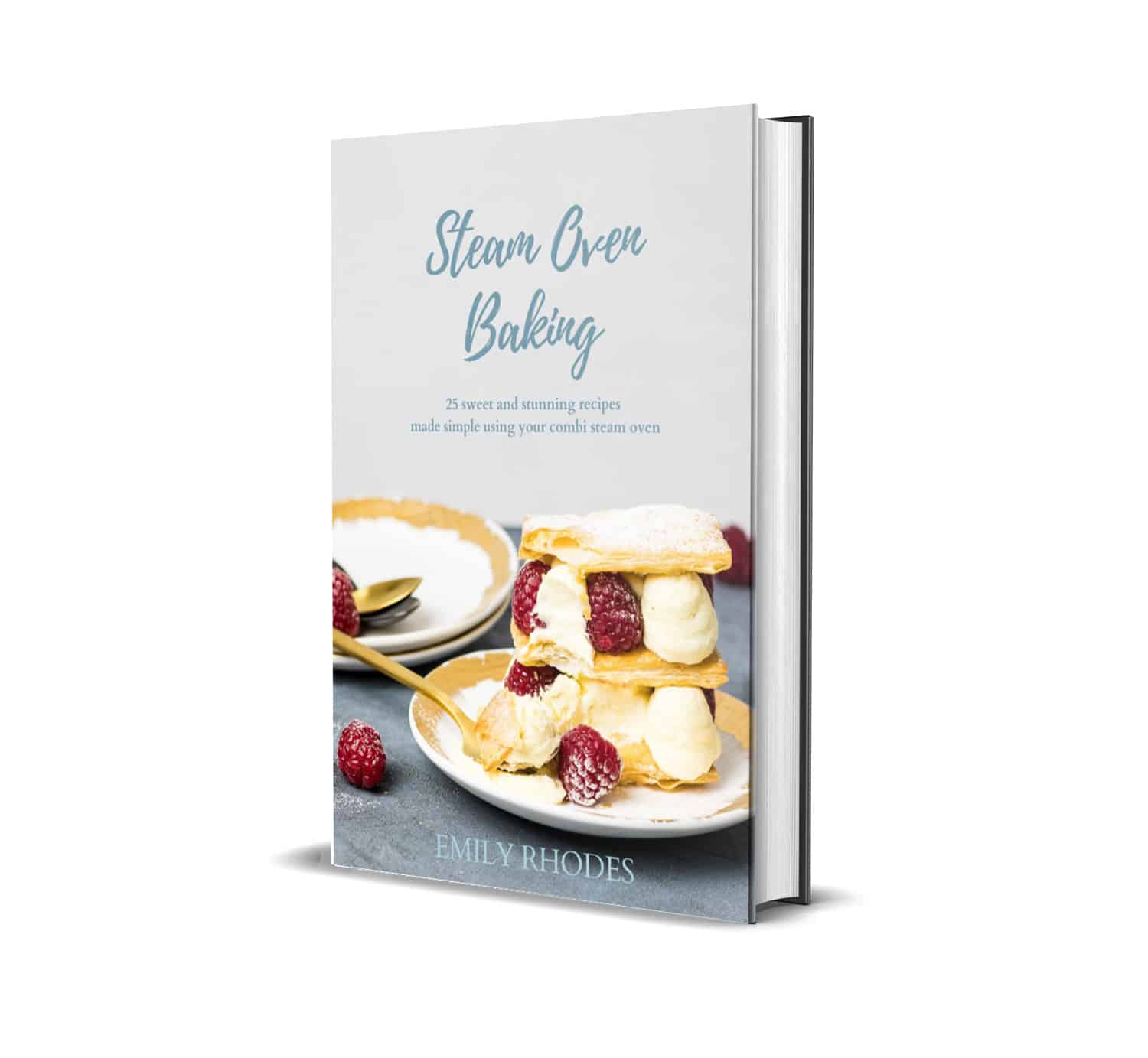 To bake your lemon buns on the same day
Put the baking dish back in the oven on the dough proofing setting again. Set the timer for 20 minutes, and when it's up, switch the oven settings to bake (see recipe card below for full temps and times). You can leave the lemon rolls in for this step, no need to wait for the oven to preheat.
When the rolls are a deep golden brown, they're done. Take them out and spread with your cream cheese lemon icing. It'll melt and soften, making sticky and delicious lemon buns. Give it a half hour before you start pulling them out of the pan and eating, it'll be worth the wait.
To bake your lemon buns the next day (AKA overnight lemon rolls)
Instead of putting your assembled rolls in the oven to proof, wrap the whole baking dish loosely in a plastic bag. Put it into the fridge and come back in 12 hours (really, anywhere from 10-14 hours is ok).
When you're ready to bake, remove the lemon buns from the fridge. Put them in a cold oven and set to bake (times and temps below).
Icing and serving your lemon sweet rolls
You'll want to make up the icing while your rolls are baking, so it's ready to spread on as soon as they exit the oven. That way it melts into the dough and creates the extra-soft, sticky lemon rolls of your dreams.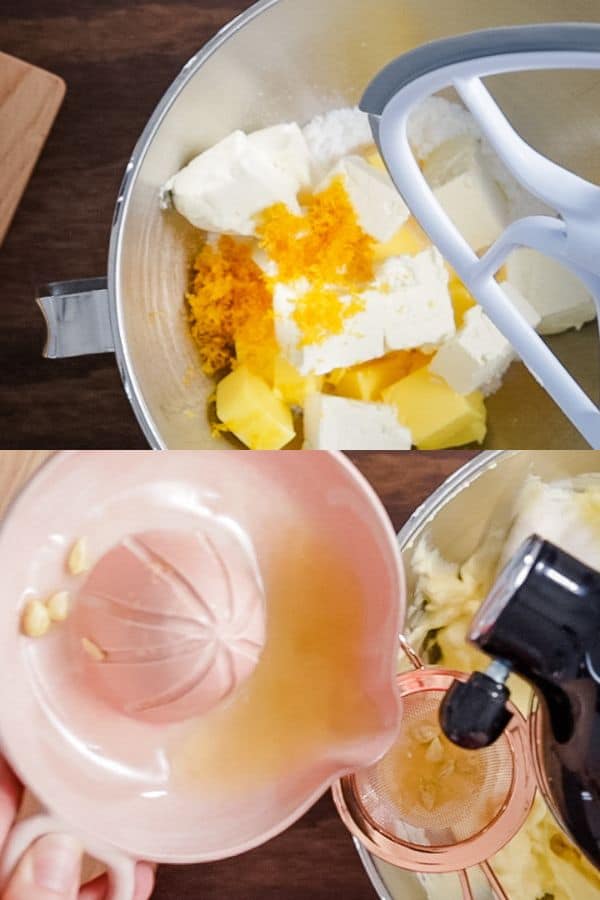 To make the icing, pop all the ingredients except the lemon juice into the bowl of your mixer. Run on low speed until it's combined and creamy, pouring in the lemon juice while the mixer runs. You'll have an icing that's very soft but just holds its shape.
Slather that creamy icing all over the lemon rolls while they're hot, and if you want to up the lemon ante further, shower a little extra lemon zest over the top.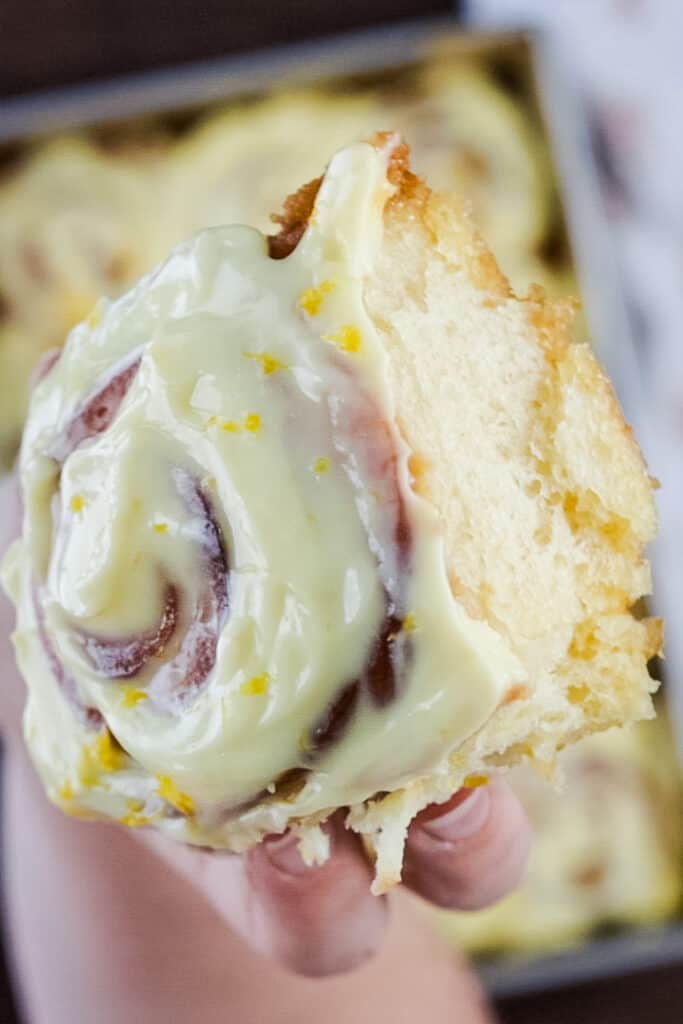 Done. Eat (warm or room temperature, or however, really, I don't judge). These are definitely best on the day of baking, and they don't freeze well. I can confirm, though, that neighbors are generally very willing recipients of excess lemon buns!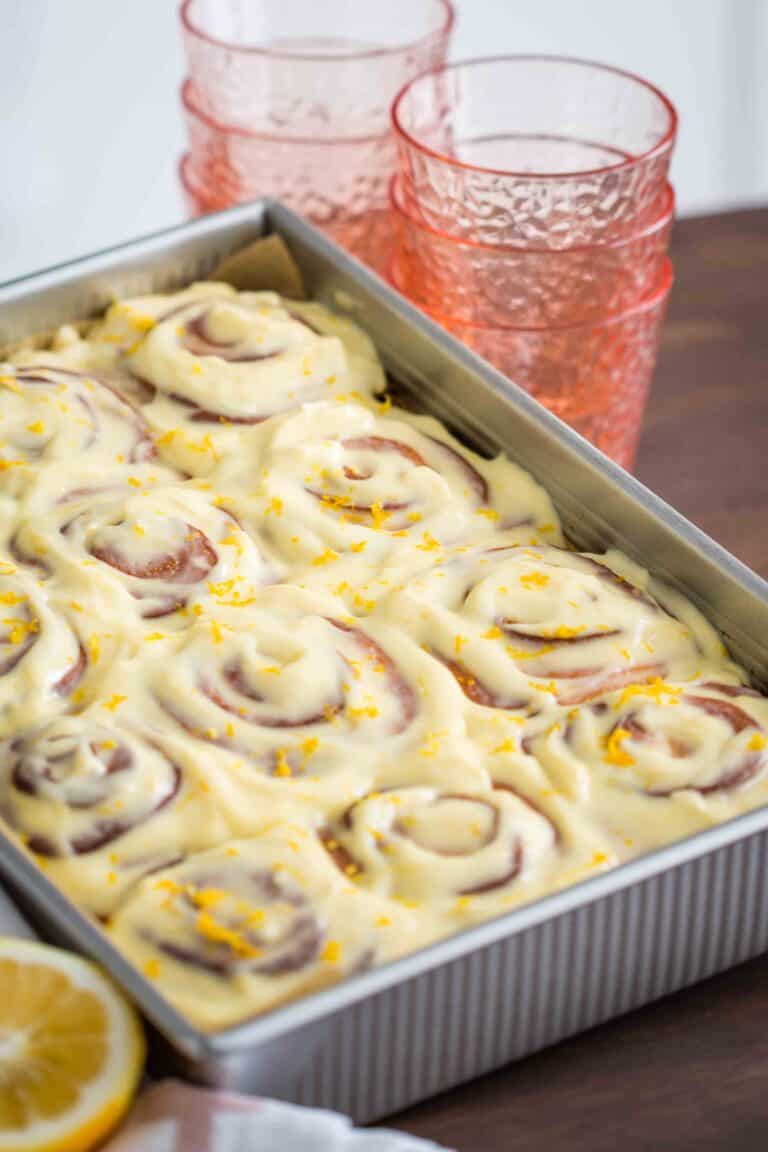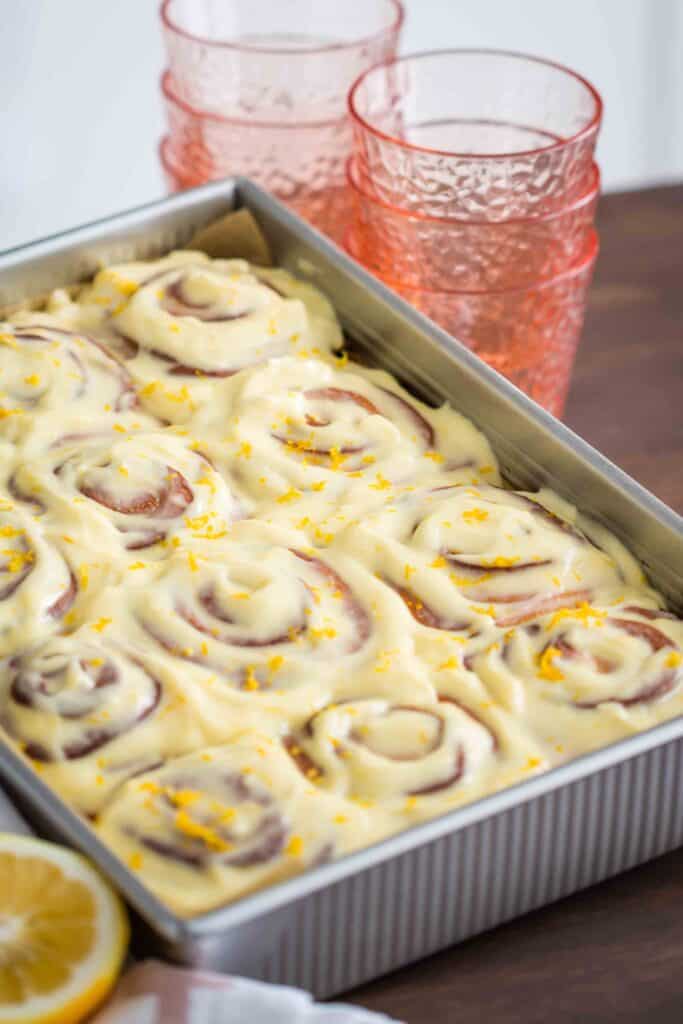 Happy steam oven baking, see you here again soon.
Have you made and enjoyed this recipe? I'd love if you'd be kind enough to rate and review it via the stars in the recipe card, or leave a comment below! Ratings and reviews help other readers to find and know whether one of my recipes will suit them.
Print Recipe
Lemon Buns
Sweet lemon-scented rolls with cream cheese frosting, these are like a cinnamon roll gone rogue!
Ingredients
For the frosting
8

oz

cream cheese

block/brick style, room temperature

4

Tbsp

unsalted butter

softened

3/4

cup

powdered sugar

icing sugar

1

lemon

zested and juiced
Instructions
Make the dough
Mix the milk and sugar together in a small bowl, then sprinkle the yeast over the top and leave to sit for 5 minutes.

3/4 cup whole milk,

2 1/2 tsp active dry yeast,

2 Tbsp granulated sugar

Put the flour, eggs, salt and melted butter in the bowl of a stand mixer fitted with the dough hook attachment. Give the yeast mixture a stir and tip into the bowl. Mix on low speed to combine everything for 2 minutes, then increase the speed to medium and mix until smooth and glossy, about 6 minutes. The dough will be very soft, so don't worry if it doesn't pull away from the sides of the bowl easily.

4 cups all-purpose flour,

3 eggs,

1 tsp fine salt,

1/2 cup unsalted butter
Do the first proof
Set your oven to dough proofing setting (or steam-only setting, if you don't have dough proofing), 38ºC/100ºF. Put the uncovered bowl in the oven for 40 minutes, after which the dough should have doubled in size.
Make the filling
While the dough proves, make the filling by rubbing the lemon zest into the sugar with your fingertips. Mix in the soft butter and set aside.

2 lemons,

3/4 cup granulated sugar,

6 Tbsp unsalted butter
Assemble the rolls
When the dough has finished the first prove, scrape it out of the bowl onto a floured bench. Gently press to knock out any large air bubbles, then roll it into a rectangle about 40cm/16 inches wide and 30cm/12 inches long.

Using an offset spatula or the back of a spoon, gently spread the butter and sugar mixture all over the dough, leaving a half inch of space on one of the long edges.

Roll the dough up tightly from the other long side, so you have a 40cm/16 inch long spiral. Put the entire roll into the fridge for 40 minutes or the freezer for 20 minutes; this makes it much easier to slice into pretty buns.

Carefully cut the chilled dough into 12 even pieces with a serrated knife. Lightly grease your baking pan, or line with parchment paper, and arrange the rolls evenly into it.
Do the second proof
Set oven to dough proving setting (or steam only setting) again, 38ºC/100ºF. Put the uncovered dish in the oven for 30 minutes. The rolls should look puffy and be starting to fill out the baking dish.
Bake the buns
Set oven to 350ºF/180ºC, combi steam setting (if you have variable steam settings, use 30% – if you can't vary your steam, just set to combi steam and let the oven take care of the humidity). Leave the pan in the oven while it heats up. Bake the rolls until deep golden brown and risen, about 25 minutes. Remove from oven and spread the cream cheese frosting over the hot rolls – it will melt in slightly and form a glaze as they cool. Serve warm or at room temperature.
Cream cheese frosting
Mix this up while your lemon buns are baking. Put all the ingredients into the bowl of a stand mixer and mix on low speed until smooth and creamy.

8 oz cream cheese,

4 Tbsp unsalted butter,

3/4 cup powdered sugar,

1 lemon
Notes
Makes 12 generous rolls. You can cut them smaller and make 16 smaller ones if you prefer.
You'll need a wide, shallow dish for baking these. I use a 9×12 inch (23x30cm) baking dish or a round 30cm/12 inch low cast iron pan. A

ceramic baking dish will work too.

A note on yeast: I use active dried yeast. If you're using instant, you can skip the first step and just mix the yeast, milk and sugar straight in with the dough. Instant yeast might take a little longer to complete the first prove, so allow anywhere up to 60 minutes.
If you'd like to make these ahead of time, prepare the recipe up to the second proof. Instead of doing this proof in the oven, cover the pan loosely and refrigerate overnight. The buns will slowly proof in the fridge. When you're ready to bake, take them out and proceed with the baking step. 
Nutrition
Calories:
467
kcal
|
Carbohydrates:
59
g
|
Protein:
9
g
|
Fat:
26
g
|
Saturated Fat:
15
g
|
Polyunsaturated Fat:
1
g
|
Monounsaturated Fat:
7
g
|
Trans Fat:
1
g
|
Cholesterol:
107
mg
|
Sodium:
280
mg
|
Potassium:
175
mg
|
Fiber:
3
g
|
Sugar:
17
g
|
Vitamin A:
872
IU
|
Vitamin C:
14
mg
|
Calcium:
63
mg
|
Iron:
2
mg
Do you want to use and love your steam oven more?

There are precious few resources to teach us HOW to use a steam oven in everyday cooking. I'm guessing that's why you're here! If you love cooking but aren't making the most of your combi steam oven, you aren't alone.

Steam Oven Insiders was created for you!

Benefit from my decade-plus of steam oven knowledge and training, delivered to your inbox twice monthly in bite sized, easy-to-implement tips and delicious recipes you'll actually want to cook. Insiders get access to every exclusive recipe and article within the members dashboard, so you'll never miss a thing.

Find out more right here