This post may contain affiliate links. Click here for more info.
Today I'm going to give you a steam oven recipe for a showpiece Christmas roast which isn't turkey – it's much easier and (I think) more delicious, and feels very luxurious with minimal effort. Yep, it's a glorious, fatty, tender-with-crispy-skin Christmas roast duck, in a combi steam oven.
This post is part 6 in a series of Christmas themed steam oven recipes and ideas. Here are all the others:
Combi Steam Cherry Tomato Tarts
Combi Steam Roasted Cauliflower Salad with dates, pomegranate and yoghurt dressing
Steam Oven Roast Turkey Round-up
Steam Oven Christmas Pudding with fig, apricot and orange
Combi Steam Fruit Mince Pies with walnut pastry
Roasting duck in a steam oven
I don't know why, but roasting a duck seems to strike fear, or at least apprehension, into the heart of many a cook.
Here's the thing though: if you can roast a chicken, you can roast a duck. And I'd go as far as saying that getting tender meat is even easier with duck because they have built-in self-basting properties thanks to a high proportion of fat. The only down side as far as I can tell is the necessity of cleaning the oven later, because it does get messy.
You might wonder why, with all that fat, you'd need to bother cooking duck in the steam oven – I mean, surely it'll turn out ok in a regular oven, right?
A regular oven will give you a very acceptable roast duck, but combi steam does a better job at making sure those meat fibres stay extra moist. The lower than usual cooking temperature cooks more gently to start with so the steam does the bulk of the work, and a quick hot blast at the end crisps everything up.
So. 5 ingredients including the duck itself, little more than an hour and you'll have yourself a very impressive Christmas roast duck, plus the most amazing rendered fat to roast your potatoes* in afterwards. And if you master this for Christmas dinner but want to try it again throughout the year without the festive flavours, you can just switch up the seasoning – I love Chinese 5-spice rubbed over the outside and some halved fresh plums tossed into the tray halfway through cooking so they break down into a soft, silky sauce to accompany the meat.
See you here again soon.
Do you want to use and love your steam oven more?

There are precious few resources to teach us HOW to use a steam oven in everyday cooking. I'm guessing that's why you're here! If you love cooking but aren't making the most of your combi steam oven, you aren't alone.

Steam Oven Insiders was created for you!

Benefit from my decade-plus of steam oven knowledge and training, delivered to your inbox twice monthly in bite sized, easy-to-implement tips and delicious recipes you'll actually want to cook. Insiders get access to every exclusive recipe and article within the members dashboard, so you'll never miss a thing.

Find out more right here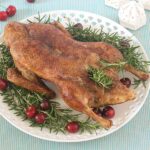 Print Recipe
Steam Oven Roast Duck
Roasting duck in a steam oven keeps the meat tender and juicy. You might never go back to your regular oven again!
This will feed 8 if it's part of a larger meal, or about 6 if it's the only meat you're serving.
Ingredients
4.5

lb

whole duck

2.1kg, fresh or completely thawed. If your duck is a different weight you may need to adjust cooking time

1 ½

tsp

flaky sea salt

1 ½

tsp

ground cinnamon

2

sprigs

rosemary

1/2

orange

chopped into a few pieces
Instructions
Set your oven to 340⁰F/170⁰C, combination steam setting. If your oven has variable steam settings, use 50-60%. If not, don't worry! Just set to combi steam at the correct temperature and the oven will figure out the humidity for you.

Rinse the cavity of the duck and pat the whole thing dry with paper towels. If your duck came in a sweaty plastic bag I'd recommend doing this the day before, or at least a few hours out, and returning it uncovered to the fridge so it can dry out a little.

Sprinkle a little of the salt inside the cavity then rub the rest of the salt and the cinnamon all over the skin. Put the rosemary and orange pieces into the cavity (don't be tempted to stuff too much orange in there, you want enough free space for heat to circulate and cook it properly). Use a skewer to poke several holes into the fattiest parts of the skin around the cavity, neck and thighs – this will help the fat to render out during cooking.

Put the duck on a large perforated stainless steel tray and slide it onto the middle shelf of the oven. Put a solid tray on the shelf underneath it to catch the juices and fat (there's going to be plenty and you do not want that on the floor of your oven!). Cook for 50 minutes.

When the 50 minutes are up, change your oven setting to 430⁰F/220⁰C, fan forced/convection (no steam). Take the duck out of the oven and give it a quick baste with all that lovely rendered fat, then return and cook for a further 15 minutes. At this point the skin should be golden and crispy and the juices should run clear when tested with a skewer (the internal temperature at the thickest point should be 167⁰F/75⁰C if you're testing with a thermometer).

Rest the duck in a warm place for at least 20 minutes before carving – if you want to 'hold' it for longer, cover with foil to help retain the heat (see headnote about crispy skin in this case). I think it's perfectly acceptable to serve this at a warm room temperature, in which case you could leave it to rest for anywhere up to an hour and a half before carving.
Notes
In Australia Christmas equals cherry season, which is great news as far as duck is concerned because they're a fantastic pairing. I've done a few roasted-cherry sauces to serve with duck, which are lovely, but I keep coming back to simple fresh cherries because uncooked, they have a vibrance and slight tartness which goes so well with the rich meat (pitted and tossed in a little orange juice is my favourite). If you're in the Northern hemisphere's wintery depths my pick for a fresh accompaniment would be a little composed salad of mandarin/clementine segments, flat leaf parsley and very finely sliced red onion.
My duck is spot on with the times below, but because every steam oven is a little different, you may wish to check for done-ness 10 minutes earlier just in case. I'd suspect those with pressurized-cavity steam ovens (definitely Miele, I think V-Zug and I'm sure there are several others) would need a few minutes less for cooking time.
If you find after it's rested that your duck skin is less than crispy, you can pop it back into a blistering hot dry oven (230⁰C) for no more than 5 minutes just before serving. You don't want to cook the meat any further or ruin all that lovely resting you've done, so as soon as the skin starts to sizzle again, take it out.
If you don't have a perforated tray with your oven, just set the duck on a rack over a solid roasting tray. The main thing is just to get it sitting higher than the tray so the bottom half doesn't stew in the pan juices and fat.
Nutrition
Calories:
1036
kcal
|
Carbohydrates:
1
g
|
Protein:
29
g
|
Fat:
50
g
|
Saturated Fat:
17
g
|
Cholesterol:
194
mg
|
Sodium:
597
mg
|
Potassium:
548
mg
|
Fiber:
1
g
|
Sugar:
1
g
|
Vitamin A:
447
IU
|
Vitamin C:
12
mg
|
Calcium:
36
mg
|
Iron:
6
mg
But I don't have a steam/combi-steam oven! Roast your duck in a regular/fan forced oven at 200⁰C/400⁰F for the entire cooking time. I'd hazard a guess it'll take around an hour and a half but you'll need to check it.
Did you like this post? You can subscribe right here if you'd like to receive my recipes and other steam-oven-related things straight to your inbox! I won't spam you, don't worry.
*My advice on the potatoes? Once the duck is done, cover it with foil to rest and keep warm. Steam peeled, diced and salted potatoes for 15 minutes at 100⁰C/212⁰F (steam-only) – I leave the steam oven open for a few minutes when I take the duck out to cool it down quickly so I can use the steam-only setting. Once they're steamed, change the setting to 200⁰C/400⁰F fan-forced (dry heat only, you want the outsides to get as crusty as they can in the next step). Shake the pan to rough up the edges of the potatoes, toss in a spoonful or two of that beautiful duck fat and mix it around, then return the pan to the oven for 25-30 minutes until the potatoes are cooked through with a golden, crunchy crust.
·