In the decade since I began talking about steam ovens on the interwebs, the advent of countertop steam ovens has been fascinating to watch.
Apart from one notable exception with Miele's countertop steam-only oven, these appliances didn't exist for residential homes until a few years ago. But oh how things change.
In a move that makes my steam-oven-loving brain very happy indeed, countertop steam convection ovens are now available all over the world, and they're actually very good; in some cases, comparable to their more expensive inbuilt cousins.
Read on to find out if a countertop steam oven is worth it, how much they cost and which steam countertop oven is best for you. Or go to my buyers' guide The 8 Best Countertop Steam Ovens in 2022.
This post may include affiliate links. As an Amazon Affiliate I earn from qualifying purchases (don't worry, it doesn't cost you anything!). Find out more about affiliate links.
Jump to different sections of this post:
What is a countertop steam oven?
A countertop steam oven, or a countertop steam convection oven, is a standalone appliance which sits – you guessed it – on your countertop.
In the past, convection steam ovens were only made by premium appliance brands, and only as inbuilt larger models. But over the last few years, a number of small appliance brands have developed and launched their own. Countertop convection steam ovens are smaller and less expensive, and don't need professional installation.
Convection steamer ovens for your counter may be smaller than more expensive inbuilts, but some have just as many features as the top end brands. Overall, the market varies from very small steam toaster ovens all the way through to fully-featured sous-vide-capable multi functional appliances.
How much do countertop steam ovens cost?
Countertop convection ovens with steam cost anywhere from around $299 up to $750 USD at the time of writing. You can occasionally get a good deal, so sales are worth looking out for.
Above: the Tovala Smart Oven sits at the lower end of the price scale for countertop steam ovens.
Below: the Anova Precision Oven is the top of the price range in this category.
As a comparison, an inbuilt convection steam oven will run anywhere from $1200 up to $8000 or more, plus installation.
If you're interested in buying a benchtop steam oven, take a look at my other article, The 8 Best Countertop Steam Ovens in 2022. It includes a comparison and cost breakdown of all the brands mentioned here.
Want to bake steam oven treats your family and friends will go crazy for? Get my book,
Steam Oven Baking: 25 sweet and stunning recipes made simple using your combi steam oven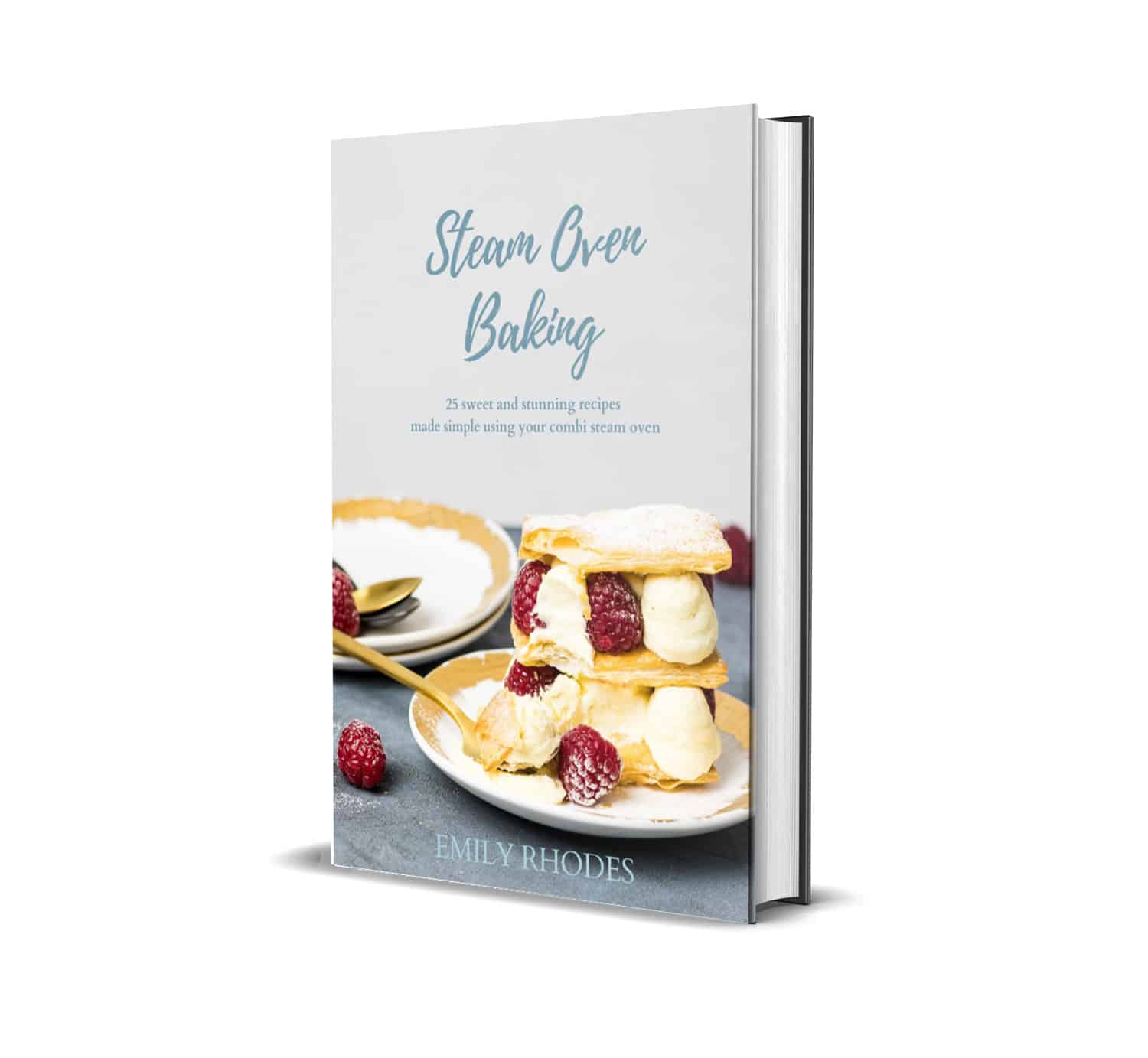 Features to look for in a countertop steam convection oven
Size
Oven capacity is the top thing most people look for in a countertop steam oven. It's definitely important, but it's worth knowing that if you plan to cook a lot with steam or convection steam, you may not need as much space as you do in a traditional oven. Food doesn't take as long to cook. And with steaming in particular, you don't need as much space between pans of food to get everything cooked evenly.
That aside, you'll find smaller steam ovens range from half a cubic foot to 1.5 cubic feet for internal capacity. If you're like me, that means absolutely nothing without seeing the appliance or making a few real-world comparisons. So here you go:
Small countertop steam ovens
On the smaller end of the range we've got the Sharp Superheated Steam Oven, the Cuisinart Convection Steam Oven and Balmuda The Toaster Steam Oven. All of these are 0.5-0.6 cubic feet internally, although they're different dimensions which affect the food you can put inside.
The Sharp oven is wide and flat, perfectly suited for a 12 inch pizza or toast but useless for a roast chicken.
Cuisinart's little combi steamer is the most conventionally oven-shaped of the small countertop steamers. It is large enough to cook a small chicken or a loaf of bread.
The Balmuda is all-around small but perfect for its purpose as a steam-assisted toaster.
Large countertop steam ovens
The largest countertop steam oven I know of is the Whynter, which bills itself as the Grande 40 Quart Counter Top Multi Function Steam Oven. That's a mouthful. But at 1.4 cubic feet it will fit a medium sized turkey, so it certainly gives you flexibility in cooking options.
The Anova Precision Oven is only a touch smaller, 1.2 cubic feet. I haven't compared the two ovens side by side but I think they'd be similar in terms of what fits inside. And having cooked a lot with the Anova, I can confidently say it also fits a decent sized turkey inside.
The obvious down side to choosing a countertop oven for maximum cooking space is that the larger the oven, the more space you need to accommodate it.
Cooking Programs
I have feelings about steam oven cooking programs. Namely, if you rely on programs or presets to cook everything, you aren't learning about the full value of cooking with combi steam.
There's a flip side though. The advantage of programs is that they can turn a confusing appliance into something you'll love using, and give a gentle intro to the world of steam cooking.
The array of cooking programs varies from brand to brand, but all the countertop steam ovens I've come across offer at least a handful of pre-set options.
Tovala and Anova are the clear winners when it comes to guided cooking for steam ovens. Along with their presets, they have app-based connectivity so you can run the oven via a smartphone, and access a huge library of guided recipes which are created specifically for their ovens.
Oven Accessories
At a bare minimum, your countertop steam oven will come with a pan, a rack and an instruction manual. The quality of those items is variable and unclear instruction books in particular are a bugbear for a lot of buyers.
Some steam oven brands have a range of accessories available to purchase separately. You can get additional steaming trays, racks, oven mitts and tools. You can also buy a lot of great steam trays from catering stores or online (and they're often cheaper and sturdier).
Above: stainless steel oven trays are your best friend when it comes to cooking in a steam oven.
Related: find out about the best cookware to use in a combi steam oven.
Do you want to use and love your steam oven more?

There are precious few resources to teach us HOW to use a steam oven in everyday cooking. I'm guessing that's why you're here! If you love cooking but aren't making the most of your combi steam oven, you aren't alone.

Steam Oven Insiders was created for you!

Benefit from my decade-plus of steam oven knowledge and training, delivered to your inbox twice monthly in bite sized, easy-to-implement tips and delicious recipes you'll actually want to cook. Insiders get access to every exclusive recipe and article within the members dashboard, so you'll never miss a thing.

Find out more right here
Post-purchase Support
In general, the more recognizable brands tend to have better customer service and support for their countertop steam oven products. The number one reason for low ratings and reviews for lesser-known brands is poor after-sales support if something goes wrong. It's not a reason not to purchase one of those ovens, just a heads-up that sometimes a slightly higher price may be worthwhile for the guarantee of being able to get support when it's needed.
The other way to find support for steam oven appliances is to see whether the oven you want has a group on Facebook where users share their experience. Many do. Or, shameless plug here, you can join my Combi Steam Oven Cooking with Steam and Bake group. It's inclusive and has members from across every brand of steam oven. Groups are a goldmine of help, support and knowledge, especially if you're new to the idea of steam oven cooking.
Want specific information on which countertop steam oven to buy? Check out The 9 Best Countertop Steam Ovens in 2022 for a full comparison and price guide!
Should you buy a countertop convection steam oven?
If you've made it to this point, you're probably still interested and still thinking about buying one of these appliances. So let's wrap it up with whether a countertop steam oven is actually worth it.
While manufacturers boast about the simplicity of cooking with steam, a little knowledge is required to get to the simplicity.
Reasons NOT to buy a steam oven
If you want an appliance you can turn on and understand instantly, countertop steam ovens are probably not for you. Most steam ovens take a little getting used to. There are decisions to be made and options to choose when you want to put your food in the oven.
Counter space can also be an issue. Smaller steam ovens don't have a huge footprint, but they're not as fully featured as most of the larger ones. So while a larger countertop oven can stand in for many other appliances, a small steam toaster hanging out on your bench won't do the same.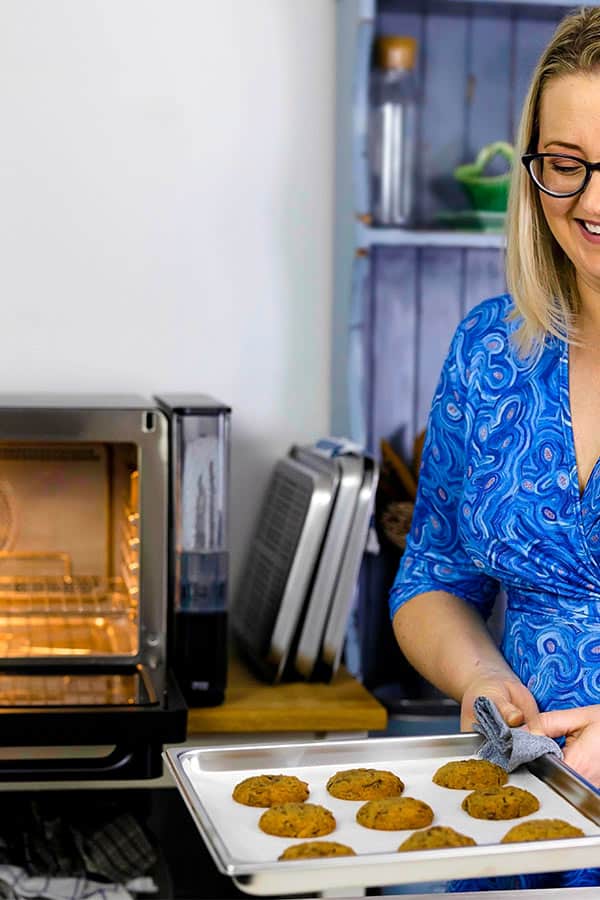 Reasons to buy a steam oven
If you enjoy cooking or you're into kitchen gadgets, and you have some counter space to spare, these ovens are fun and really useful. You don't have to use them just for steam cooking – they can be multifunctional, well-spec'd ovens in their own right.
There is a learning curve with steam oven cooking, but the plus side is some really amazing food. Once you master the basics of navigating the oven, you'll have the ability to impress family and friends with what essentially are simple 'throw it in the oven' kinds of recipes.
And we've reached the end!
I hope this overview of countertop steam ovens has been really useful. If you do end up buying one after coming to this page, I'd love it you'd leave a comment below. Let me know what you went with and why! Hearing from readers helps me understand what you all want and to answer questions in future articles.
Happy steam oven cooking, see you here again soon.