If you wanted to go all out making traditional turkey pot pies with puff pastry, you could cook turkey, cook the vegetables, and make your own puff pastry. But who has time for that?!
My aim with these turkey pies was to give you a delicious way to use up leftover cooked turkey, without needing to spend hours in the kitchen. We're using chopped leftover roasted turkey (or chicken, if you prefer), leftover roasted vegetables and bought puff pastry. That means you can have pot pies in the oven in about 20 minutes, because all you need to do is make a simple gravy.
This post may include affiliate links. As an Amazon Affiliate I earn from qualifying purchases (don't worry, it doesn't cost you anything!). Find out more about affiliate links.
What do you need to make turkey pot pies?
There's nothing too weird going on here, just leftovers in a delicious creamy sauce and crisp, flaky pastry lids.
Turkey (or chicken)
Obviously you'll need cooked turkey for your pot pies. Although if it's not turkey-time-of-year (aka Thanksgiving or Christmas), you can make this recipe with store bought rotisserie chicken. Chicken pot pies with puff pastry are every bit as good as their turkey counterparts.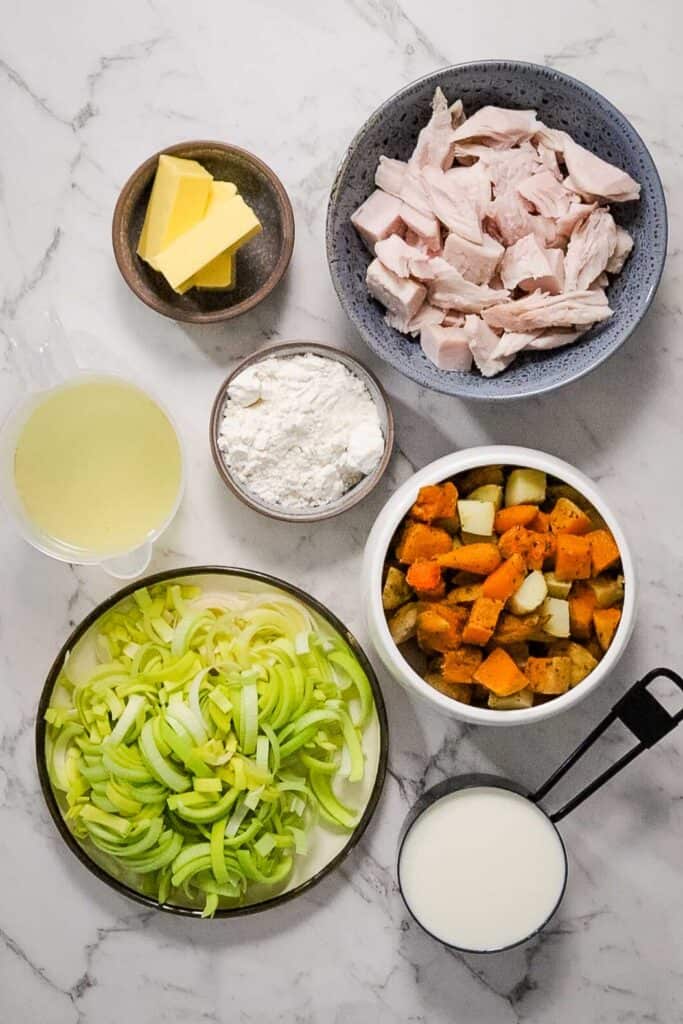 Vegetables
The vegetable component of my pot pies is cooked leeks and leftover roasted vegetables. I am not a fan of peas in pie, but you could throw a handful in. If you don't have roasted vegetables you can steam or roast some. Or make it easy on yourself and use mixed frozen veg. You won't even need to thaw those, just throw them in and give your pies a few extra minutes cooking time.
Sauce
One thing that's critical to a good pot pie is the sauce, or gravy. Not too goopy but not too thin, you want something that cooks up just thick enough to coat the back of a spoon. You can use onion as the base for the sauce flavoring, but I love leeks instead. They add depth of flavor and sweetness to the sauce.
Puff Pastry
As for puff pastry, if you can find an all-butter puff, definitely use that. If not, go for regular supermarket bought and pre-rolled sheets. It's almost as good and saves hours of rolling and chilling to make your own. Either way, if you have a steam oven, cook your pot pies in that so you get the benefits of extra flaky, extra puffy pastry from the added humidity in the oven.
Want more turkey recipes for your steam oven? Try these:
How to Roast Turkey in a Steam Oven
Sous Vide Turkey Breast with Herbs and Garlic
Turkey Salad with Noodles and Vietnamese Dressing
Should you make individual turkey pot pies or a large pie?
This is totally up to you. Individual pies are cute and the ratio of pastry to filling is higher. My husband would tell you that's the only way to go (in fact, he'd tell you the way to go is a double crust pie, but we're going for easy today so he's out of luck!).
For individual pies, you'll need ramekins, small baking dishes or ovenproof soup bowls. Something which holds about 12oz, or 1½ cups, is ideal.
If you like the idea of a large pot pie that can be plonked on the table and shared in varying quantities for different appetites, I've still got you covered. A single large turkey pot pie is impressive and just as tasty as its mini counterparts. For that, use a baking dish which holds 2 quarts/2 litres.
In the recipe card at the bottom of this post, I give preparation and cooking directions for individual AND large turkey pot pies, so take your pick.
Do you want to use and love your steam oven more?

There are precious few resources to teach us HOW to use a steam oven in everyday cooking. I'm guessing that's why you're here! If you love cooking but aren't making the most of your combi steam oven, you aren't alone.

Steam Oven Insiders was created for you!

Benefit from my decade-plus of steam oven knowledge and training, delivered to your inbox twice monthly in bite sized, easy-to-implement tips and delicious recipes you'll actually want to cook. Insiders get access to every exclusive recipe and article within the members dashboard, so you'll never miss a thing.

Find out more right here
How to make turkey pot pies with puff pastry
It really is simple to make this pot pie recipe, despite how impressive it looks and tastes.
Make sure you have your ingredients assembled and ready. Have the turkey and vegetables chopped, pastry thawed but chilled, and everything else measured out.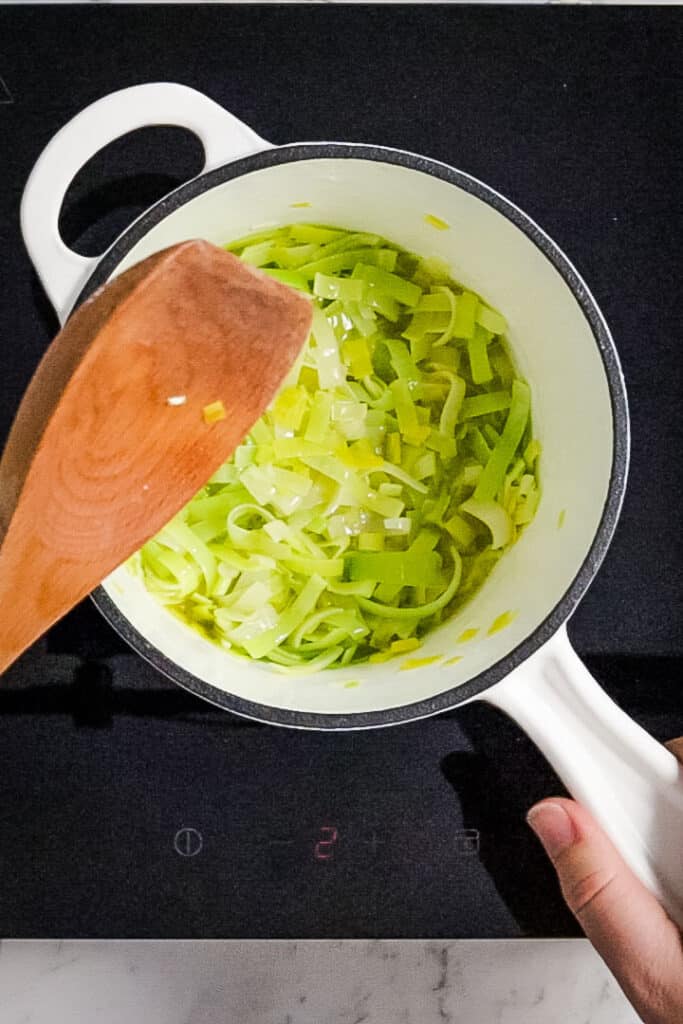 The first step is the sauce. Sweat the leeks in butter until they're nice and soft, then add the flour and cook for a couple of minutes.
Add chicken stock and milk in small amounts, whisking to incorporate it into the flour mixture. This is the hardest bit of the recipe (although not really hard!). Just make sure you fully incorporate the flour and liquids so you don't get lumpy sauce.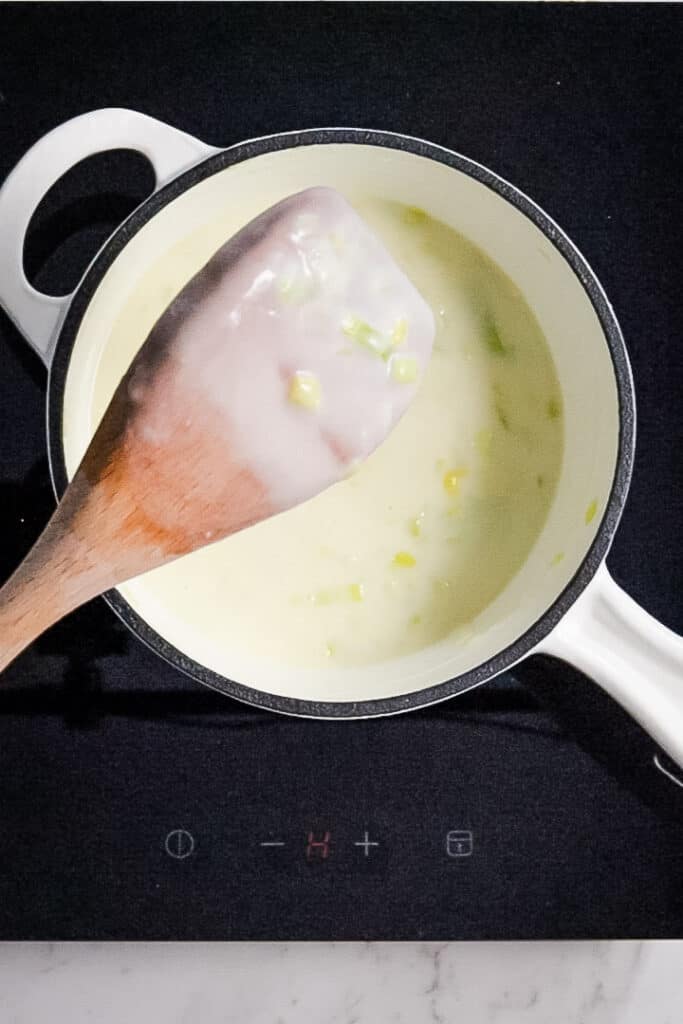 Bring the sauce to the boil, stirring constantly, and let it thicken. You're looking for a consistency like thick cream or runny yogurt. As soon as you reach that point, take the sauce off the heat and stir in the turkey, vegetables and any extra seasoning you like. Salt and pepper are my standards, along with a little thyme if you hadn't already seasoned the vegetables when you roasted them.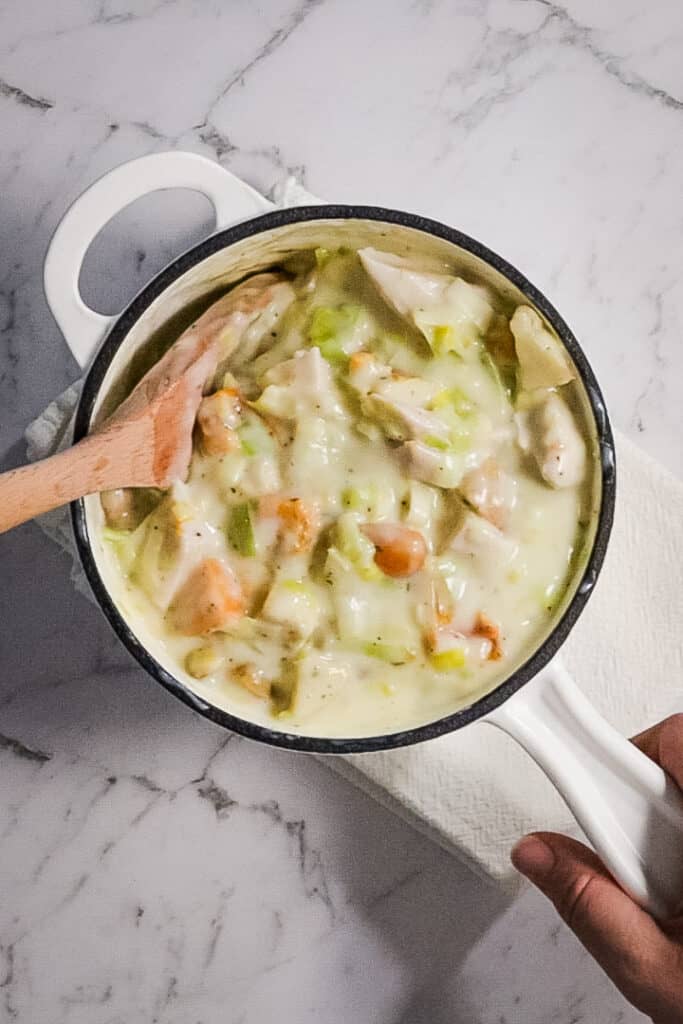 Pile that lovely filling into your dish (or dishes), then drape the pastry over the top. Let it drape and cover the entire top of the dish, trimming with a sharp knife about 3/8" (1cm) below the top. This way it will seal and cover the dish nicely, making a proper lid for the pies. Snip or slice a few little gaps in the pastry to allow excess steam to escape, and they're ready for the oven.
Time to bake! Put your pie or pies into the oven and cook until that pastry is golden brown, puffy, flaky and smells delicious.
Everyone in your house will be in the kitchen wondering what's for dinner while these cook. They smell that good. Take all that credit, no one else has to know you've just used up all your leftovers from the fridge!
Happy steam oven cooking, see you here again soon.
Have you made and enjoyed this recipe? I'd love if you'd be kind enough to rate and review it via the stars in the recipe card, or leave a comment below! Ratings and reviews help other readers to find and know whether one of my recipes will suit them.
Print Recipe
Turkey Pot Pies with Puff Pastry
These savory and creamy pies are the perfect way to use leftover roasted turkey or chicken and vegetables! You'll never look at leftovers the same way again.
Ingredients
Pie filling
3

Tbsp

butter

1

leek

finely sliced or 1 medium onion, diced

⅓

cup

flour

all-purpose/plain

1

cup

chicken stock

1

cup

milk

whole/full fat, or cream

1 1/2

cups

roasted vegetables

leftover, chopped see notes 200g

3

cups

cooked turkey

chopped into chunky pieces 420g

2

sheets puff pastry

I use all-butter puff which comes in a pre-rolled 10oz/300g sheet. Any store bought pre-rolled is fine.

1

egg
Instructions
Regular/conventional oven
Preheat oven to 375°F/190°C. Lightly grease the inside of 6 x 12oz/1½ cup ramekins or an 8 cup baking dish or casserole. Set aside.
Combi steam oven
Preheat oven to 400°F/200°C, combination steam setting. If your oven has variable steam settings, choose 50%. If not, don't worry! Just select combi steam at the correct temperature and the oven will work out the humidity for you. Lightly grease the inside of 6 x 12oz/1½ cup ramekins or an 8 cup baking dish or casserole. Set aside.
For both methods
Heat the butter in a saucepan over medium heat. Add the leek and cook, stirring often, until very soft, about 5 minutes.

Add the flour to the pan and cook for a further 2 minutes, stirring constantly.

Whisk in the chicken stock and milk, a little at a time. Whisk well after each addition, until the mixture smooths out. It'll be very thick to start with, but will loosen as you add more liquid. When all the liquid has been added, bring to a boil over medium heat, stirring constantly. Simmer until the mixture thickens enough to coat the back of a spoon, then remove from heat. Stir in turkey, then fold through the roasted vegetables. Add salt and pepper to taste.

1 cup chicken stock,

1 cup milk,

1 1/2 cups roasted vegetables,

3 cups cooked turkey

Fill the prepared ramekins or large dish with the turkey filling. Lightly beat the egg with a tablespoon of water in a small bowl, and set aside.

Cover the top of the dish/es with the puff pastry. It should hang ⅜ inch (1cm) over the edges of whatever you're cooking in, to allow for a good lid which covers the entire top of the pie. Trim any excess with a sharp knife. Cut a decorative shape for the top of each pie from any pastry scraps.

Brush the pastry all over with egg wash, then cut a few slits in the pastry to allow steam to escape.

Put the pie onto a sheet pan in case it bubbles over in the oven, and cook until the filling is bubbling and the pastry is puffed and golden brown, about 30 minutes for individual pies (20 minutes combi steam) or 45 minutes (30 minutes combi steam) for a larger pie. Serve individual pies in their baking dishes. For a large pie, cut through the pastry with a sharp serrated knife to make neat portions, then scoop the filling and pastry onto warmed plates.
Notes
This recipe is designed to use up leftover turkey (or chicken) and roasted vegetables. Feel free to make it with bought cooked meat, or to cook your own if you don't have leftovers. If you're cooking your own in a steam oven, I love this method for turkey, or this one for chicken.
I used leftover roasted potatoes, pumpkin and carrots for the pictured pies. The vegetables were lightly oiled and seasoned with mixed herbs before roasting; if you aren't using pre-seasoned veg in your pies you may wish to add a little thyme, rosemary or oregano to the sauce.
If you don't have roasted vegetables hanging around, try mixed frozen vegetables (no need to thaw, just put them in), or steam fresh vegetables and add those. Anything goes, you just need to have larger pieces chopped into bite-sized bits.
I use milk in this recipe, but if you want to go all-out you can use cream in the sauce instead.
It's not at all necessary, but if you've got cranberry sauce in the fridge, add a couple of tablespoons to the filling with the turkey and vegetables. It sweetens everything just a touch and adds depth of flavor to the pie.
Nutrition
Calories:
519
kcal
|
Carbohydrates:
36
g
|
Protein:
38
g
|
Fat:
25
g
|
Saturated Fat:
9
g
|
Polyunsaturated Fat:
3
g
|
Monounsaturated Fat:
11
g
|
Trans Fat:
0.2
g
|
Cholesterol:
95
mg
|
Sodium:
395
mg
|
Potassium:
269
mg
|
Fiber:
3
g
|
Sugar:
4
g
|
Vitamin A:
2800
IU
|
Vitamin C:
7
mg
|
Calcium:
96
mg
|
Iron:
3
mg