This post includes affiliate links. As an Amazon Affiliate I earn from qualifying purchases. Find out more about affiliate links.
On the face of things, a recipe for leftover turkey salad might not inspire joy in many of us. Leftovers in general are often the kind of thing we make into what I call a guilt dinner. We know we shouldn't waste the food but aren't really interested in eating it for the second (or third, or fourth) meal in a row.
Today I hope I can change that by sharing one of my favorite ways to use up cooked turkey or chicken. This turkey salad with noodles and Vietnamese dressing is something that's probably poles apart from how your meat was served up the first time around, and that is a good thing.
I don't want to rain on the roast turkey parade, because a big, glorious bird with gravy, roasted vegetables and wintery sides is a very special dinner. But once you've eaten it for two or three meals running, it can get a bit, well, stodgy. Sometimes you need to shake things up.
This noodle salad is everything a roast turkey isn't, in the best possible way: vibrant and colorful, crunchy and fresh, and full of South East Asian flavors thanks to the lime and chili dressing which positively hums with a great balance of sour, spicy and sweet. It'll take uninspiring leftovers and turn them into something you just want to eat over and over.
Using leftover turkey or chicken in salads
Once you've had your fill of roast dinners and you're still faced with a platter of poultry every time you open the fridge, it's time for salad. For some of us, a handful of chopped or shredded meat tossed through a green salad is enough to change things up, and that's fine. You do you.
Me, I want more, in the form of a salad that is big and hearty enough to not need anything else on the side, and vibrant enough to make me feel lighter than the previous turkey dinners have.
The lovely thing about this salad is that whether you're left with dark meat, white meat or a random combination of the two, you can slice or shred it any way you like and it'll work. I don't put the skin in here, because I don't love it cold, but apart from that anything goes.
Vietnamese dressing for turkey salad
This Asian style dressing is one of my favorites. Full of lime, chili and garlic, it's easy to mix up and wonderful poured over everything from steamed fish to grilled pork meatballs. In this recipe it marinates the meat slightly and coats the noodles, which can otherwise be a little bland, with plenty of flavor.
You'll see this dressing calls for fish sauce. If you're unfamiliar with it, fish sauce is a fermented sauce commonly used in South East Asian cooking, especially Thai and Vietnamese dishes. It's inexpensive and readily available online and from Asian supermarkets.
Alone, fish sauce is pretty stinky, but mixed with fresh lime juice, sugar and chili it turns into something delicious, salty and savory which can't really be replicated with any other ingredient (and the smell, which I really dislike, disappears). If you really can't get on board with the fish sauce, a light soy sauce can be substituted, but the depth of flavor won't be quite the same.
If you don't like things spicy, remove the seeds from your chili so you've got some flavor but not too much heat in the dressing.
Preparing your salad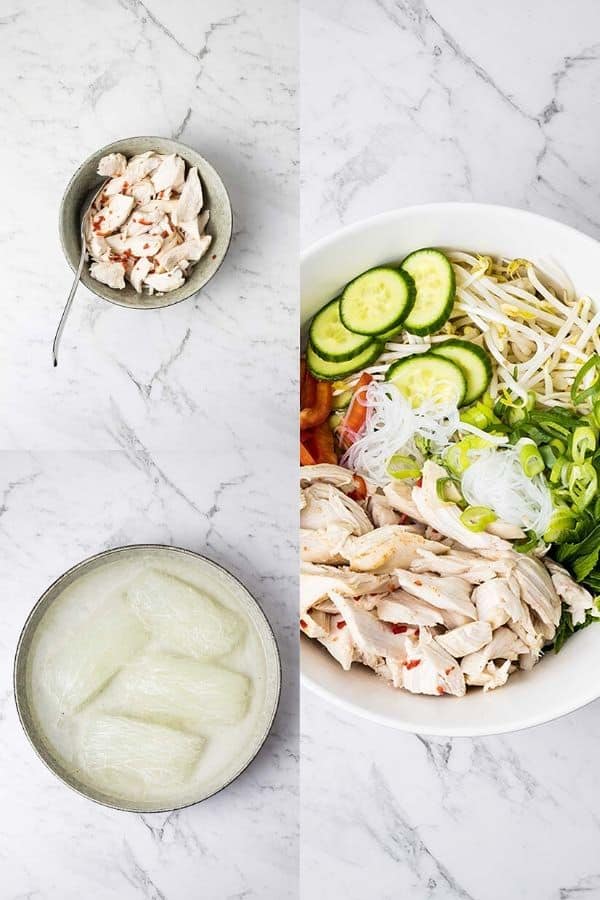 The prep for this recipe is mostly just washing and chopping vegetables and herbs, and soaking the rice noodles in hot water.
If you need to prepare some elements ahead, the dressing can be made and stored in a jar in the fridge for up to a few days. You can also slice or shred the meat and chop the vegetables up to a day ahead of time. I have cooked the noodles and stored them before, too, but I really prefer those done just before assembling the salad as they seem to take on the dressing more easily.
I hope if you've got chicken or turkey leftovers hanging about that you'll try this salad. It's a great simple meal and if you love it as much as I do, you'll be cooking a chicken or turkey breast every now and then just so you can use it in this dish!
Happy cooking, see you here again soon.
Print Recipe
Turkey Salad with Vietnamese Dressing
Got leftover cooked turkey or chicken? Turn it into this fresh, punchy and substantial salad with rice noodles, vegetables and my favorite Vietnamese chili and lime dressing.
Ingredients
For the dressing
1

clove

garlic

minced

1

red chili

minced (deseed if you don't like things too spicy)

2

limes

juiced

2

tbs

superfine sugar

caster sugar

3

tbs

fish sauce

to taste, you may need extra
For the salad
1

lb

cooked turkey

cold; cut or shredded into bite sized pieces (or use chicken)

7

oz

rice vermicelli noodles

dried (glass noodles also work here)

2

cups

beansprouts

1

cucumber

medium, sliced (peel if skin is tough)

1

red bell pepper

capsicum, small, sliced

3

scallions

spring onions, finely sliced

2

tsp

sesame oil

½

bunch

fresh cilantro

coriander, leaves picked

½

bunch

fresh mint

leaves picked

2

oz

roasted peanuts

or cashews, chopped (optional)
Instructions
Make the dressing
Mix all the ingredients together in a bowl, using the lesser amount of fish sauce. Mix in ¼ cup water and taste to check the balance of salty, sour and sweet. Add more lime juice or fish sauce to taste if necessary.
Make the salad
Prepare the noodles according to packet directions (the ones I use just need a 5-10 minute soak in boiling water, then a rinse in cold water). Drain well and cut into shorter lengths if they seem too long.

Mix half of the dressing with the turkey and set aside while you assemble the other ingredients.

Put the drained noodles, beansprouts, cucumber, bell pepper and scallions into a bowl with the dressed turkey and the sesame oil. Toss to combine, then taste and add more dressing as required.

Mix through the herbs, then pile the salad onto a serving platter. Scatter the nuts over the top and serve immediately.
Nutrition
Calories:
475
kcal
|
Carbohydrates:
62
g
|
Protein:
27
g
|
Fat:
14
g
|
Saturated Fat:
3
g
|
Trans Fat:
1
g
|
Cholesterol:
58
mg
|
Sodium:
1311
mg
|
Potassium:
693
mg
|
Fiber:
6
g
|
Sugar:
12
g
|
Vitamin A:
1345
IU
|
Vitamin C:
76
mg
|
Calcium:
80
mg
|
Iron:
3
mg
Over to you – if you try this recipe I'd love to know about it! Share your comments below or on Facebook, tag @steamandbake on Instagram, or pin all your favourite Steam and Bake recipes over on Pinterest!
Would you like more recipes and tips to help you cook with confidence? Join the mailing list to be alerted to new posts.