This post may include affiliate links. For more information about affiliate links and how they help this site, click here.
I'm sorry it's taken until Christmas week to share this Christmas rice salad recipe with you.
If you're a regular in these parts, you'll already know I've been somewhat preoccupied doing a little thing called publishing a cookbook. And I've been completely blown away by the support you've all given the Combi Steam Christmas book so far! It has far exceeded my hopes for a first self-published attempt, and I cannot wait to bring you another, larger book soon.
You might also be sorry I didn't share this herby, pistachio and cranberry-studded rice salad earlier, once you discover how great it is. If I'd been more forthcoming, you too could have been taking it to every social gathering all month long.
But you've still got Christmas day to come, and this is well and truly worthy of inclusion on the table. To be honest, I'll be making this salad right through the year. It's far too delicious to save just for festive season outings.
Festive season ingredients
If there's a definitive list of rules about Christmas ingredients, I am wilfully ignoring it here in favour of my own spin on seasonally appropriate inclusions.
This salad says Christmas to me because it includes tart-sweet dried cranberries, a Santa season staple. Mixed with a bright, zingy dressing, pistachio nuts, lots of fresh herbs and feta cheese, it looks so festively red, green and white that I don't know what else I'd call it.
There are any number of other things you could add to this dish. Roasted cubes of pumpkin would be nice, as would blanched green beans or asparagus. Or, if you wanted to make it more of a main course affair with extra protein, shredded cooked chicken or leftover turkey would be a great addition.
Why steam brown rice instead of boiling?
I'm a big fan of the nutty, slightly chewy texture of brown rice, especially in salads. It can stand up to being dressed and mixed with other ingredients without turning mushy, as white rice sometimes does. And I love cooking brown rice in my steam oven because its flavour is so much better than when boiled.
My unscientific studies in cooking rice show that steamed brown rice is far superior to boiled for a couple of reasons: firstly, the fairly obvious one that when you steam it, you aren't draining the cooking water and washing away a lot of flavour and nutrients. The other reason is that the steamed grains remain more intact and hold their shape better.
Definitely try this salad if you're in need of one more side dish for Christmas day. You can make it in the morning and finish dressing just before serving, so it's very low stress. And the leftovers will keep well for a couple of days in the fridge, perfect for those quieter post-Christmas meals.
Happy steam oven cooking, see you here again soon.
Do you want to use and love your steam oven more?

There are precious few resources to teach us HOW to use a steam oven in everyday cooking. I'm guessing that's why you're here! If you love cooking but aren't making the most of your combi steam oven, you aren't alone.

Steam Oven Insiders was created for you!

Benefit from my decade-plus of steam oven knowledge and training, delivered to your inbox twice monthly in bite sized, easy-to-implement tips and delicious recipes you'll actually want to cook. Insiders get access to every exclusive recipe and article within the members dashboard, so you'll never miss a thing.

Find out more right here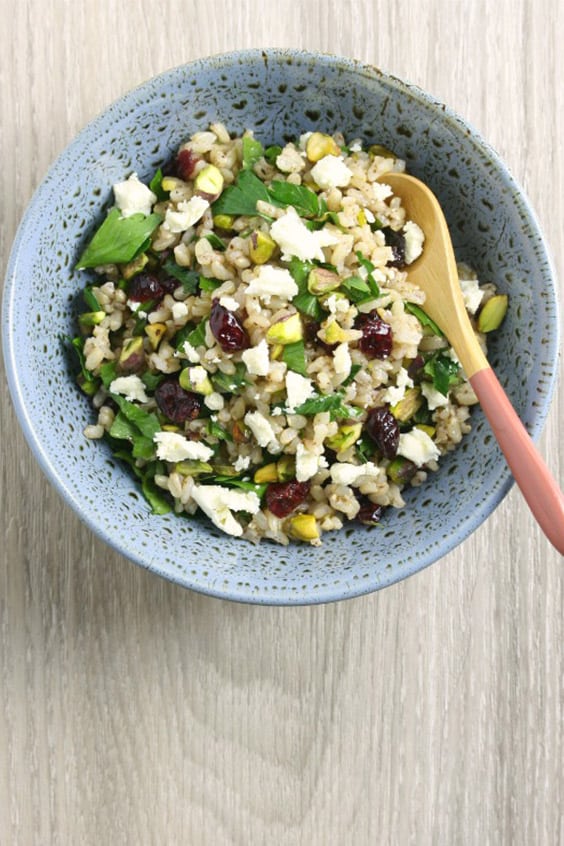 Print Recipe
Brown Rice Salad with Cranberries, Pistachios and Feta
This festive salad, studded with red cranberries, green herbs and pistachios and white feta is perfect as a Christmas side dish, but we love it all year round.
Instructions
Cook the rice
Mix the rice with 3 cups (750ml) cold water in a shallow stainless steel tray. Put in your steam oven and set to 212°F/100°C, steam setting (100% humidity). Cook for 40-45 minutes until the rice is tender. Fluff with a fork and set aside while you get the dressing ready.
Make dressing and assemble salad
To make the dressing, whisk the oil, vinegar, sumac powder and harissa paste in a small bowl.

Put the warm rice into a bowl. Add the cranberries, pour the dressing over and mix well to combine. Let the rice cool to room temperature. If you'd like to hold off serving for a while, cover the bowl at this point and put in the fridge until about 20 minutes before you're ready to serve. It'll keep for up to 8 hours like this.

When you're ready to serve, add the herbs to the rice mixture and stir to combine. Put into a serving bowl or spread out on a platter and scatter the nuts and Persian feta over the top. Serve at room temperature.
Notes
This serves 8 people comfortably as a side dish that's part of a buffet, or 4 as a more substantial meal salad.
Don't shy away from the quantity of herbs here – use a large bunch each of the mint and parsley. You want them to act as the leafy component of the salad and their freshness should offset the earthiness of the rice.
The harissa paste I use in the dressing is quite garlicky and spicy. If yours is less so, or you can't find harissa, feel free to add a minced clove of fresh garlic and some freshly chopped red chilli.
If you want to make this ahead of time, you can do it right up to the end of step 3. Add the herbs, nuts and cheese shortly before serving.
Leftovers will keep for up to 3 days in the fridge, although the nuts will soften over time.  
Nutrition
Calories:
342
kcal
|
Carbohydrates:
48
g
|
Protein:
7
g
|
Fat:
14
g
|
Saturated Fat:
3
g
|
Cholesterol:
11
mg
|
Sodium:
166
mg
|
Potassium:
221
mg
|
Fiber:
3
g
|
Sugar:
8
g
|
Vitamin A:
108
IU
|
Vitamin C:
1
mg
|
Calcium:
85
mg
|
Iron:
1
mg
Over to you – if you try this recipe I'd love to know about it! Please share your pictures with me on Facebook or tag them #whatsinthesteamoven on Instagram.
If you'd like more Steam and Bake recipes and steam oven inspiration,sign up for the mailing list right here. No spam, just an email every now and then to tell you the latest. Plus, you'll get access to the exclusive subscribers-only Combi Steam Cooking Facebook group. It's full of people at all stages of learning about combi steam cooking, and I'm in there answering your questions, posting videos, tips and cooking inspiration.
And if you're after more delicious combi steam salad recipes, the Salads Index page has plenty. Try the Cauliflower Salad with Dates and Yoghurt Dressing, or for more rice salad goodness, the Red Rice, Quinoa and Pumpkin Salad.