I began writing this red rice, quinoa and pumpkin salad post about two weeks ago, when it felt as though the temperature every day for the past YEAR in Perth had been enough to cause you to melt instantly into a puddle of sweat and heat-induced delirium should you dare step outside your air-conditioned house/office/shopping centre (in fact I think it had been that hot for only a couple of weeks, but still. Enough already).
For now, the first week of Autumn has brought relatively cool relief, if you deem 31˚C as brisk as we have been. For all you Northern Hemispherians suffering through seemingly endless winter, I say to you this: the grass is always greener (except when it's dehydrated, brown and crispy).
Anyway, the six-plus months a year of 'salad weather' we have means a lot of what we eat is minimally cooked because it's too hot to stand in the kitchen for hours. And the practicalities of life with a small child means the dishes which get repeated re-runs in our house are the ones which can a) be mostly pre-prepared, kept in the fridge and finished off 5 minutes before dinner, and b) be plated with minimal variations to suit both the adventurous and less-adventurous (read: chilli-loving and chilli-phobic) members of the family.
This salad hits all the right notes – I've made it several times with slight adjustments and every time it's been a winner. It's bright thanks to the apricots and feta, colourful, filling and can be doctored with extra spice. The ingredient list is long, yes, but once you've cooked the grains and pumpkin it's just an assembly job when you're ready to serve. I wasn't sure the small person would like it but the photos don't lie (side note: hungry little people and food photography may not be the best of friends. Or maybe they are exactly the kind of friends who make a lovely picture. You decide).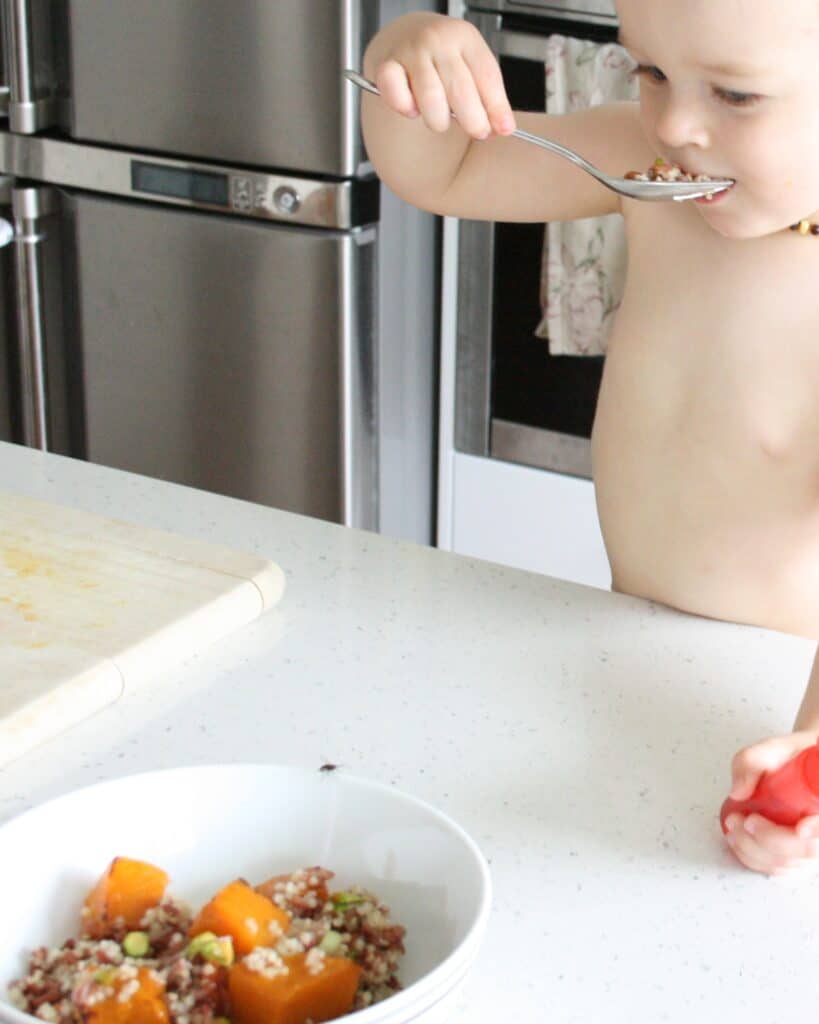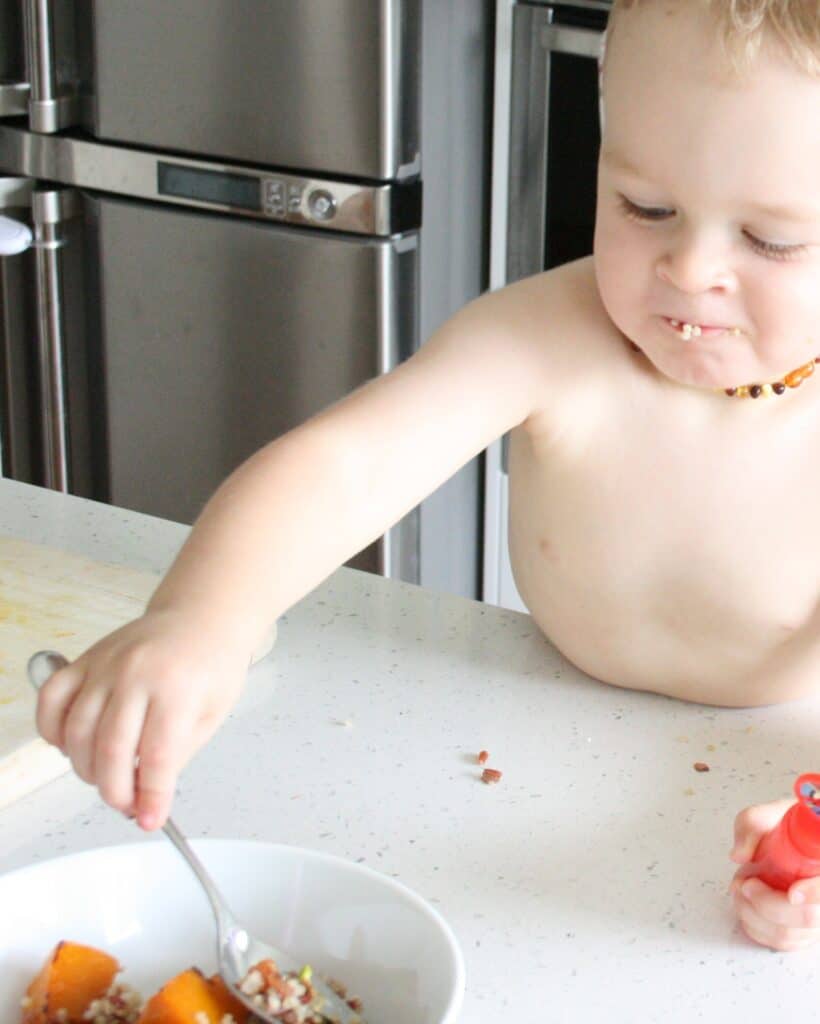 Do you want to use and love your steam oven more?

There are precious few resources to teach us HOW to use a steam oven in everyday cooking. I'm guessing that's why you're here! If you love cooking but aren't making the most of your combi steam oven, you aren't alone.

Steam Oven Insiders was created for you!

Benefit from my decade-plus of steam oven knowledge and training, delivered to your inbox twice monthly in bite sized, easy-to-implement tips and delicious recipes you'll actually want to cook. Insiders get access to every exclusive recipe and article within the members dashboard, so you'll never miss a thing.

Find out more right here
Print Recipe
Red Rice, Quinoa and Pumpkin Salad
This quinoa salad is hearty enough to qualify as a meat-free dinner but would be equally good as a side with lamb or chicken.

Ingredients
1

cup

white quinoa

rinsed and drained

1

cup

red rice

rinsed and drained

2

lb

pumpkin

peeled and cut into 3cm (1 inch) pieces; I used Kent pumpkin, butternut or another dense-fleshed variety would work too

¼

cup

olive oil

(or almond, macadamia, avocado oil – whatever tastes good to you

3

whole

limes

juiced

1/2

whole

orange

zested and juiced

1

small

garlic clove

minced

1

pinch

salt

½

cup

dried apricots

diced into small pieces

½

cup

shelled pistachio nuts

toasted and roughly chopped

4

scallions

sliced spring onions (white and light green parts)

1/2

bunch

mint

leaves picked, sadly omitted from my photos

4

oz

Persian feta

crumbled

1

red chili

finely chopped (optional)

Extra lime wedges

optional
Instructions
Set your oven to 100˚C/212˚F (steam only). Mix the rice with 1 ½ cups (375ml) water and put in the oven for 25 minutes.

While the rice starts cooking, mix the quinoa with 1 cup (250ml) water. Add it to the oven once the rice has been in for 10 minutes (ie 25 minutes total cooking for the rice, 15 minutes total for the quinoa). When the grains are done, remove from oven and fluff with a fork, then leave to cool.

Change your oven setting to 200˚C/400˚F, combination steam setting (if your oven has variable steam levels, choose 80%). Put the cubed pumpkin in and cook for about 20 minutes until tender and browned on the edges. Remove from oven and cool slightly.

While the pumpkin is cooking, mix the oil, citrus juices and zest, garlic, salt and pepper to make a dressing. Taste and adjust seasoning – if your fruits aren't particularly juicy you may need a little more lime or orange. The dressing should be a bit sharp and a bit oversalted as it'll get soaked up by the grains pretty quickly.

Once the rice and quinoa have cooled (you want them lukewarm), mix them in a large bowl with the dressing, apricots, pistachios, spring onions, feta, mint and half the chilli (if using). Gently toss the warm pumpkin through and, if you can, leave the salad to sit at room temperature for 30 minutes before serving so the dressing absorbs into the grains. Serve with more chilli and lime wedges.
Notes
Makes 4-6 big dinner serves, or 8-10 'side salad' serves
This is hearty enough to qualify as a meat-free dinner but would be equally good as a side with lamb or chicken. If you are like my husband you'd probably also prefer the addition of a little fried bacon into the mix.
I bought my red rice from an Asian supermarket, it was labelled 'Cargo Red Rice'. It would be lovely made with brown rice instead of the red if you can't find it.
I've made the salad without quinoa (just double the rice quantity), and I've served it both warm and cold. Leftovers keep for 3 or 4 days in the fridge, although the mint won't look as green and the citrus flavours in the dressing become a bit muted over time.
Nutrition
Calories:
300
kcal
|
Carbohydrates:
36
g
|
Protein:
9
g
|
Fat:
15
g
|
Saturated Fat:
4
g
|
Cholesterol:
13
mg
|
Sodium:
240
mg
|
Potassium:
739
mg
|
Fiber:
4
g
|
Sugar:
9
g
|
Vitamin A:
10350
IU
|
Vitamin C:
20
mg
|
Calcium:
123
mg
|
Iron:
3
mg