This post contains affiliate links. Find out more about affiliate links and how they help this site.
A proper roast chicken is something many of us are keen to master, and although it's not exactly hard to cook, it's not as easy to do it well. Thankfully, if you're lucky enough to have the option of a combi steam oven, you're already halfway to tender, juicy chicken. Today I'm going to help you absolutely win at this dish by showing you my preferred method of roasting a chicken with minimum fuss, maximum flavour and amazing speed in the steam oven.
Why use a steam oven to roast chicken?
The very thing which makes for delicious chicken skin – a high, dry heat – can make the meat underneath, especially the breast, feel a bit like you're chewing on a piece of cotton wool. I don't know about you, but bland, dry and tough are not words I want associated with anything I cook, especially not a chicken.
So, what to do? You do still need that high, dry heat, but you also need to retain as much moisture as possible in the chicken as it cooks.
That's where your steam oven comes in. I have heard a couple of veteran steam oven cooks say they'd buy one again just for the way it roasts a chicken, and though I might not go that far, it is a truly fantastic way to make this dish. The browning and crisping of the skin happens on top, while underneath, the moisture in the oven is working to make your chicken meat unbelievably tender.
Because steam cooks the bird faster than conventional dry heat, it hasn't lost all its juices by the time it's cooked through, and you'll get dinner on the table faster than you'd expect – in around 45 minutes for an average sized whole bird, and as little as 30 when you follow the butterflying method I'm talking about today.
Why is a butterflied chicken better to roast than a whole one?
To answer this question, we need to talk first about the difficulties of roasting a whole bird.
By design, whole chickens are not things which roast evenly. The darker, fattier leg and thigh meat needs more cooking than the white breast meat, so without careful attention you're always going to end up with overcooked breast by the time the legs are done. This isn't helped by the fact that when you roast a chicken traditionally, breast side up, that breast meat sits high and proud in the oven while the thighs are tucked away underneath, getting less direct heat and taking longer to cook.
A steam oven does help keep things moist, but it can't completely save an overcooked chicken breast while you wait for the legs to be done. There are tricks to overcome this issue, such as roasting the bird upside down for the majority of the cooking time, to protect the breast meat and expose the thighs to more direct heat. That works well, except you'll have to contend with turning over a searing hot chicken partway through cooking. And you'll have to do it without damaging any of the precious skin on the breasts, which will be soft and easily torn thanks to all the juices it's been sitting in.
Another trick is to cover the chicken breast with a protective layer of streaky bacon. The fat in the bacon slowly melts out and bastes the meat during cooking, keeping it moist. It's not a bad way to roast, but if you don't actually want the taste of bacon permeating its way through your chicken, it's not the way to go.
One of the whole-bird techniques I like best is to stuff a generous layer of flavoured butter just under the skin of the breast meat. It gives amazing flavour and the butter moistens and protects the chicken, but it's fiddly and not something I'm willing to do for a weeknight meal very often.
All those methods above are good and worth both the purchase and effort to cook, but my favourite way to get even cooking is to deconstruct the chicken a bit, removing the backbone and ribcage and flattening the whole thing out. It's better to roast because this partial deboning and flattening makes the meat more even in thickness, and splays the legs and thighs so they take the bigger hit of direct heat in the oven, slightly protecting the breast meat and making everything cook at about the same time. It might not be as traditionally roast chicken-y looking, but I will sacrifice looks for taste anytime when the cooking is this easy.
Deboning your chicken for roasting
You might think deboning a chicken is hard, but I can promise you it's not as long as you've got a decent (sharp) knife. If you're really worried about it, though, buy your chicken from a reputable butcher and ask them to take care of it for you. Although I'm comfortable doing the job at home, my local butcher puts my knife skills to shame and doesn't charge any extra for the privilege of a bird that's totally ready to season and roast.
If you do want to try deboning the chicken yourself, start by placing it breast side down on a board. Cut through the skin and down one side of the backbone with a sharp knife, then work your way carefully around the ribcage on that side, cutting as close as you can to the bones so you don't cut away too much meat. When you get to the wing and leg joints, twist each one until the bone pops out, then cut between the joints and the ribcage/carcass. Keep working your way around, lifting the meat and skin away with one hand as you cut with the other, until you've cut to the breastbone. Be careful not to cut through the skin, and don't worry too much if you cut away any small pieces of cartilage or bone as you go – you can trim these off afterwards.
You'll now have cut away half of the ribcage. Turn the bird around and repeat the whole process from the other side, until you've removed the entire ribcage and are left with a large, flat chicken that has only the leg and wing bones attached.
Now that you've got a perfectly prepared chicken, on to the recipe.
Do you want to use and love your steam oven more?

There are precious few resources to teach us HOW to use a steam oven in everyday cooking. I'm guessing that's why you're here! If you love cooking but aren't making the most of your combi steam oven, you aren't alone.

Steam Oven Insiders was created for you!

Benefit from my decade-plus of steam oven knowledge and training, delivered to your inbox twice monthly in bite sized, easy-to-implement tips and delicious recipes you'll actually want to cook. Insiders get access to every exclusive recipe and article within the members dashboard, so you'll never miss a thing.

Find out more right here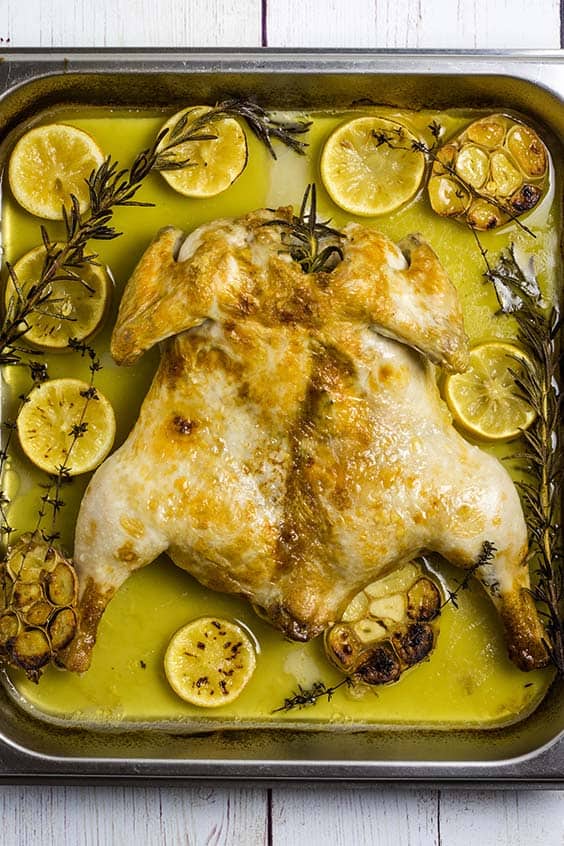 Recipe: Steam Oven Roast Chicken
Serves 4-6
I've stuck with the classic seasonings of lemon, garlic and herbs here, but feel free to mix it up with whatever takes your fancy. Plain old salt and pepper is just fine, or you can go all out with whatever type of spice blend or seasoning you like. The cooking remains much the same regardless of flavourings.
It might seem like the temperature I've given below is very high. It's correct – to get decent browning and crisping of the skin in the short time it takes to cook the chicken, you need a hot oven. If you still find your chicken isn't crispy enough by the time the meat's done, pop it under a very hot grill for a couple of minutes to finish off.
Time-wise, if your chicken is significantly smaller or larger than the weight I've given, adjust your cooking time down or up to suit. The easiest way to tell if it's done is with a probe thermometer – a good instant-read one is invaluable, especially if your steam oven doesn't have a meat probe accessory. The cooked temperature should read 74-75°C (164-167°F) in the thickest part of the thigh joint. Make sure the probe is touching meat, not bone, as that'll throw off your reading.
Ingredients
1 x 1.6-1.7kg (3.5-3.7lb) whole chicken, partially deboned as per the method above, to give a cooking weight of around 1.5kg (3.3lb)
2 whole lemons, sliced into 2.5cm (1in) rounds
2 heads garlic, halved crosswise (no need to peel or separate the cloves)
2-3 sprigs each of rosemary and thyme
50g (3 tbs) butter, very soft (olive oil is also fine if that's your preference, though butter makes for the most glorious lemony sauce)
Approximately 1.5tsp flaky salt
Method
1. Preheat oven to 220°C/430°F, combination steam setting. If your oven has variable steam settings, choose 30% (if not, doesn't matter! Just choose combi steam and let the oven figure out the humidity).
2. Spread the sliced lemons, garlic and herbs over the base of a baking tray (I prefer my lightweight stainless steel pans for quick heat conduction and easy clean-up). Season the flesh of the chicken with just a little salt, then turn it skin side up and lay it over the seasonings in the tray. Tuck in the wing tips and make sure the drumsticks are splayed outwards (see photos).
3. Pat the skin of the chicken dry with paper towel, then dot the entire surface with the soft butter. Season well with salt.
4. Put the tray in the preheated oven until the chicken is cooked through and golden, about 30 minutes. Remove from oven and set aside to rest in a warm place for 5-10 minutes before carving and serving. Discard the seasonings, but keep the precious cooking juices – you can reduce them down and thicken to make a gravy, or (my preference) just serve with the chicken as a buttery lemon-scented sauce.
Over to you – if you try this recipe I'd love to know about it! Please comment below and share your pictures on Facebook or tag them #whatsinthesteamoven and @steamandbake on Instagram.
Would you like more recipes and steam oven inspiration? Join the mailing list – there's no spam, just an email every now and then to tell you the latest news. When you sign up, you'll get an invite to the exclusive subscribers-only Combi Steam Cooking Facebook group, which is full of people at all stages of their combi steam journeys, and with many different brands of oven. It's a friendly, helpful space to learn and share with one another, and I'm always in there answering questions and sharing tips.
If you're after more ideas about what to cook in your combi steam oven, have a look at two of my site's most popular articles: this one on the best foods to cook using steam, and this one on the best foods for combi steam.