Today I want to teach you about roasting garlic in the oven. More specifically, in your combi steam oven. It's not a recipe as such, more a handy prep trick to have up your sleeve; one which will make your cooking life easier and more delicious. And who doesn't want that?!
Garlic is a staple ingredient in many kitchens, known for its pungent flavor and numerous health benefits. Roasting garlic isn't a new trick, but I bet you've never done it in your steam oven.
And while traditional roasting brings out the sweet and nutty flavors of garlic, it also tends to dry it out and reduce its health benefits. That's where steam oven roasted garlic comes in.
Roasting garlic in a regular oven usually means wrapping it carefully in foil, to make a kind of steaming pouch which stops it getting dried up while cooking. I think you know where this is going, right?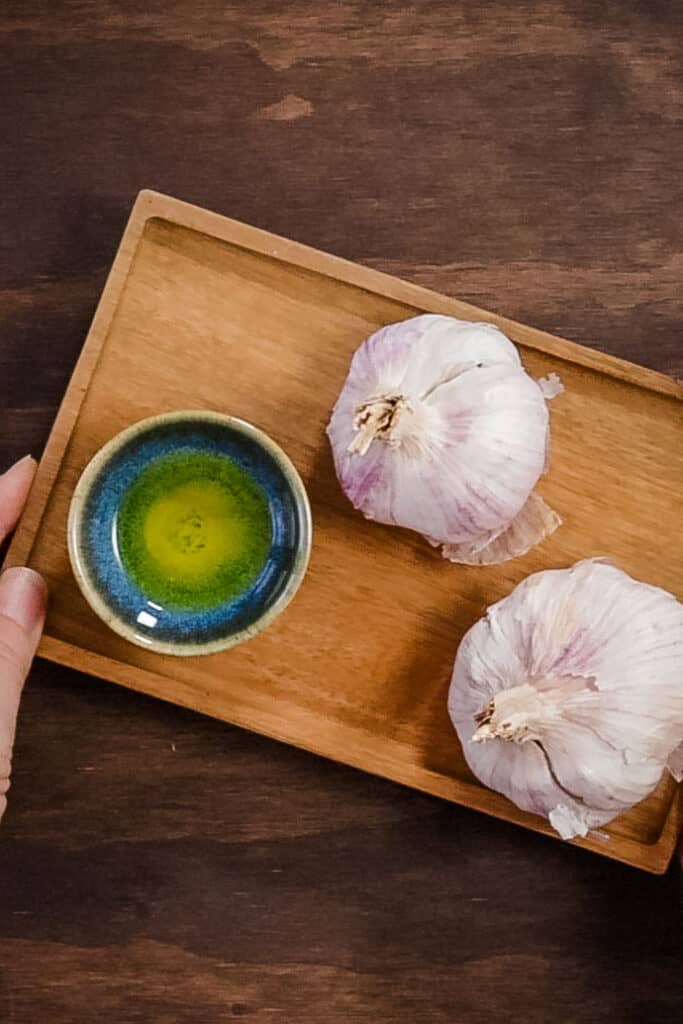 Steam oven roasting means no aluminum foil, no careful wrapping, no dried out roasted garlic. Just chuck it in and let the steam oven do its thing. Come back in fifteen or twenty minutes and you'll be met with the sweet, buttery, mellow aromas of soft and smooth roasted garlic.
This post may include affiliate links. As an Amazon Affiliate I earn from qualifying purchases (don't worry, it doesn't cost you anything!). Find out more about affiliate links.
What to do with roasted garlic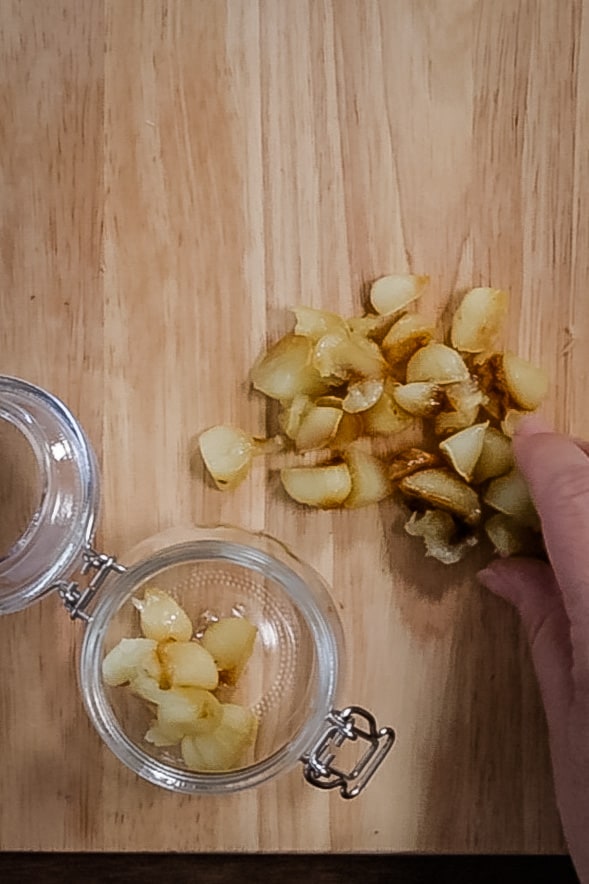 There are so many things you can do with roasted garlic cloves! They work pretty much everywhere you'd normally use fresh garlic, but they bring a sweeter and more mellow garlicky note to your cooking. Roasted garlic is also easier on the digestive system than fresh or raw garlic.
Here are some ideas to get you started, although I don't think it'll be long before you come up with your own favorite ways to use roasted garlic: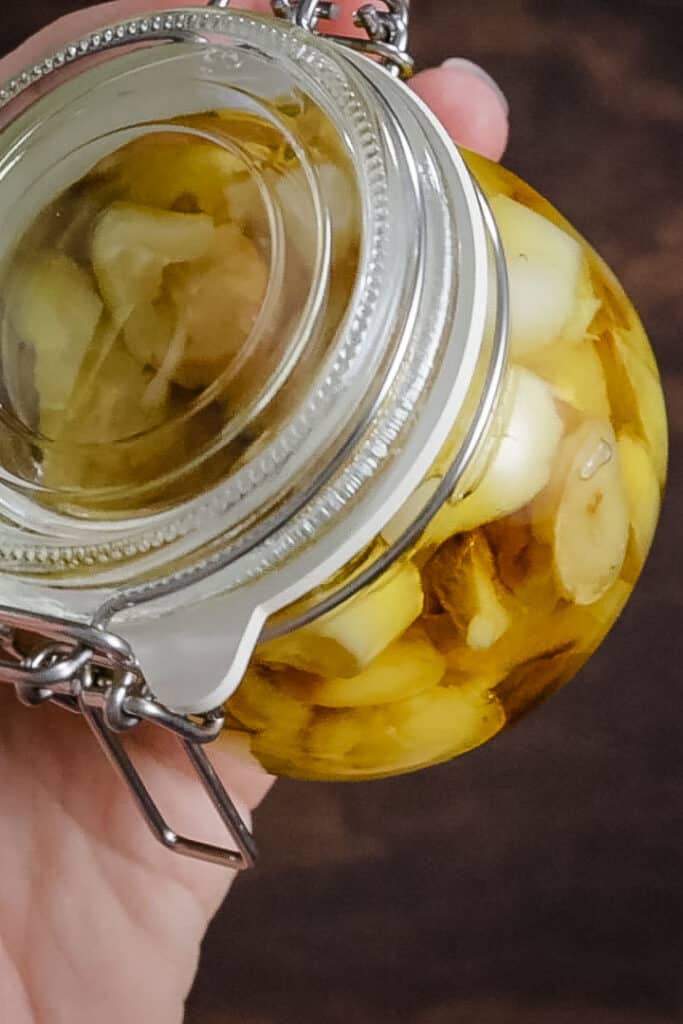 Mash the garlic cloves and spread onto bread (or toast) with a sprinkle of salt. Especially good with roasted cherry tomatoes, which you could cook at the same time as the garlic.
Make roasted garlic butter by mixing the mashed cloves with softened butter and herbs. And then use that butter to make roasted garlic bread, or sub it into my parmesan garlic bread twist!
Add to pasta; try it in the bechamel for a lasagne or macaroni and cheese, or add some to a tomato based pasta sauce.
Make a roasted garlic salad dressing by adding the mashed cloves to a homemade caesar dressing, vinaigrette or a yoghurt dressing.
Mix it into mayonnaise for roasted garlic aioli.
Enjoying this post? Here are some other ways of using your combi steam oven more!
Making Stock in your Steam Oven
How to Roast Peppers in a Steam Oven
Steam Oven Meal Prep and Batch Cooking
How to store roasted garlic
How long does roasted garlic last? Can you freeze roasted garlic? All your roasted garlic storage questions answered right here!
Roasted garlic can be stored in the refrigerator for up to 4 days or in the freezer for up to six months. Here are some tips for roasted garlic storage:
Allow the roasted garlic to cool completely to room temperature before packing it up for storage.
Place the roasted garlic in an airtight container to prevent it giving off odors to other foods in your fridge or freezer.
Store the roasted garlic in the refrigerator for up to 4 days, or in the freezer for up to six months.
Preserving roasted garlic: roasted garlic can be packed in oil, which will help to preserve its flavor and texture, and perfume the oil you're storing it in. It's my favorite way to store roasted garlic, because it's like a two-for-one with the oil and the garlic cloves. BUT – and this is critical to avoid the risk of botulism growth – you should only store oil-packed garlic in the fridge for up to 4 days. Any longer than that and you need to freeze it.
To use frozen roasted garlic, either thaw it in the refrigerator overnight or, if you're using it in cooked dishes, throw it in from frozen.
Roasting garlic in the oven: how to roast a garlic head or individual cloves
Roasting garlic in oven is ridiculously simple. If you don't have a whole garlic head, I'll tell you how to roast individual garlic cloves too.
Firstly, preheat your oven using the combi steam (or convection steam) setting. Cut a head of garlic in half crossways and put the two halves onto a baking tray or sheet pan. Drizzle a small amount of olive oil over the cut cloves.
That's it; now we roast!
Roast the garlic in the preheated oven until it's soft and beginning to turn golden. This will take as little as 20 minutes for very small heads of garlic or as much as 35 minutes for large heads.
Do you want to use and love your steam oven more?

There are precious few resources to teach us HOW to use a steam oven in everyday cooking. I'm guessing that's why you're here! If you love cooking but aren't making the most of your combi steam oven, you aren't alone.

Steam Oven Insiders was created for you!

Benefit from my decade-plus of steam oven knowledge and training, delivered to your inbox twice monthly in bite sized, easy-to-implement tips and delicious recipes you'll actually want to cook. Insiders get access to every exclusive recipe and article within the members dashboard, so you'll never miss a thing.

Find out more right here
Only have individual cloves of garlic to roast? No problem. In the case of single cloves, I don't bother with oil, or with cutting the garlic. I just scatter the unpeeled cloves onto a tray and throw them into the oven. Start checking after 10 minutes; when they are very soft and you can squeeze a clove easily between your fingers they're done. Individual garlic cloves are a little more finicky to squeeze out of the skins but the flavor is exactly the same.
I hope you've enjoyed this post, and that you'll start using roasted garlic for allll the things now that you know how good and how easy it is!
Happy steam oven cooking, see you here again soon.
Have you made and enjoyed this recipe? I'd love if you'd be kind enough to rate and review it via the stars in the recipe card, or leave a comment below! Ratings and reviews help other readers to find and know whether one of my recipes will suit them.
Print Recipe
Roasted Garlic in a Combi Steam Oven
Mellow and smooth, roasted garlic is a fabulous ingredient to have on hand for many dishes. Roasting in your steam oven is faster and easier than using a regular oven.
Ingredients
1

head

garlic

whole and unpeeled

1

tsp

olive oil
Instructions
Preheat your oven to Combination Steam, 350ºF/180ºC. If your oven has variable steam settings, select 50%. If not, don't worry! Just select combi steam at the correct temperature and the oven will work out the humidity for you.

Slice the garlic head in half across the middle and place both halves onto a baking tray. Drizzle the garlic with olive oil.

1 head garlic,

1 tsp olive oil

Roast until the garlic cloves are very soft and lightly golden, about 20-25 minutes (it may take anywhere up to 35 minutes for large heads of garlic).

When the garlic is done, remove it from the oven and allow to cool until you can handle it. Gently squeeze the cloves out of the skin and use or store for future recipes.
Notes
You can scale this recipe up to make as much roasted garlic as you like; in fact I'd recommend roasting 3-4 heads whenever you do it to make better use of your oven and because you're bound to use it up once you realize how delicious it is!
If you'd like to roast individual cloves of garlic instead of a head, just scatter the whole cloves onto your baking tray and omit the oil. Shorten the cooking time by about 5 minutes.
Use roasted garlic as an ingredient wherever you'd use fresh garlic. It's got a more mellow, sweet flavor and aroma but it's still pungent. It's especially good in dips, sauces and dressings, and wonderful spread onto toasted bread with salt sprinkled on top.
Store roasted garlic in an airtight container in the fridge for up to 5 days. Alternatively, wrap tightly and freeze for up to 2 months. If I have a lot of roasted garlic, I like to mash the cloves and mix with a little olive oil, then freeze in ice cube trays to throw straight into my cooking. Make sure you don't use that ice cube tray for ice once you've put garlic in it, though!
You can also store roasted garlic in a jar of olive oil in the fridge for up to 4 days (no longer, as it can become a risk for botulism growth when stored longer term). This has the bonus effect of perfuming the oil, which is great in dressings or cooking.
Nutrition
Calories:
77
kcal
|
Carbohydrates:
9
g
|
Protein:
2
g
|
Fat:
4
g
|
Saturated Fat:
1
g
|
Polyunsaturated Fat:
0.5
g
|
Monounsaturated Fat:
3
g
|
Sodium:
5
mg
|
Potassium:
112
mg
|
Fiber:
1
g
|
Sugar:
0.3
g
|
Vitamin A:
3
IU
|
Vitamin C:
9
mg
|
Calcium:
51
mg
|
Iron:
1
mg