Recently I was talking to a friend about how I use my steam oven for meal prep and batch cooking, and it occurred to me that I've never written about it here. That's a big oversight, because steam oven meal prep is something I do almost daily! Using my oven for mundane but essential cooking really helps to make the most of its capabilities.
If you have a family to feed, or you just like being well organized when it comes to meals each week, you are going to love steam oven meal prep.
Below, I'm taking you through all the ways I use my convection steam oven to make food ahead of time, and give you ideas of how I use that food when it comes to dinnertime (or breakfast, or lunch)!
This post may include affiliate links. As an Amazon Affiliate I earn from qualifying purchases (don't worry, it doesn't cost you anything!). Find out more about affiliate links.
What is meal prepping and batch cooking?
Before we go too far, let's have a quick chat about what exactly I mean by meal prepping and batch cooking.
If you visit Pinterest or Instagram and search for meal prep, you'll be inundated with cute pictures. Most of them feature perfectly organized plastic containers full of steamed chicken, brown rice and salad, or freezer bags stacked neatly full of diced vegetables and meat ready for roasting.
By all means, if you want to do that then go for it. Having every single meal portioned out and ready to heat or take to work sounds like a dream. I'm frankly a little envious if you can make that healthy utopia happen in your fridge. Alas, I am not that organized, and I also get bored (realllly bored) eating the same meal all week.
Meal prep in my house looks more like using my steam oven to batch cook (or part cook) different foods which are components of other meals. Or to make a dish which reheats really well so I can portion and freeze that for another time.
My steam oven meal prep is not as pretty as the Pinterest images but it works for me. I often store prepared foods in larger containers or bags in the fridge or freezer. Then I portion things out as needed for various meals, depending on how many of us are home for dinner.
Steam oven meal prep breakfast ideas
I've said it before, but if breakfast is your thing then your steam oven is a dream come true. This is especially the case if you want to prep ahead of time.
Oatmeal
As well as steaming regular oatmeal on the day as needed, you can prepare a big batch of pinhead or steel cut oatmeal ahead. Cooked steel cut oats reheat fantastically well and keep for up to 5 days in the fridge. Scoop out what you need each morning, steam until hot and serve. I've even reheated single servings from frozen using the steam function. There's no noticeable loss of texture or flavor, so definitely give it a try.
Eggs
Not into oatmeal? What about eggs? Scrambled eggs can be mixed up ready to go and kept in the fridge for a few days. Cook using steam when you're ready to eat them.
Or make Starbucks copycat sous vide egg bites. These are amazing little protein-packed delights that can be flavored in lots of different ways. They keep for days after cooking and can be eaten cold or reheated using a microwave or low temperature steaming.
What about steam oven boiled eggs? Just like a regular boiled egg, only you can cook dozens at a time, straight in the carton if you like! Boiled egg lovers and serious meal preppers rejoice, your staple protein just got so much easier.
Bacon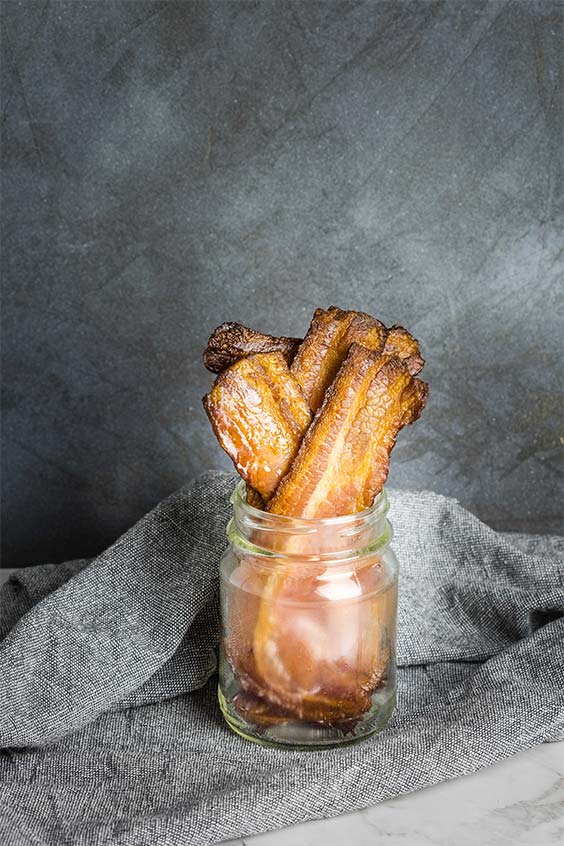 Yep, bacon, popped into a combi steam oven and left to do its thing! The end result is crispy and delicious meat that's really hands off.
Combi steam oven bacon stores well in the fridge for up to a week. I pop mine between layers of paper towel in a covered container. Either chop it to throw into other recipes or reheat full strips for a cooked breakfast.
Fruit
Stewed or roasted, cooked fruit is such a great freezer staple. I tend to stew firmer fruits like apples and pears, and roast softer and summer fruits. Freeze in containers that are enough for a few servings. Thaw in the fridge, where it'll keep for several days, and scoop over yoghurt with granola.
Would you like my FREE Quick Start Guide to Your Steam Oven?
Start learning what (and how!) to cook using your oven's steam and combi steam settings, with my instant downloadable guidebook, full of tips, links and ideas.
Click here to get the Guide sent straight to your inbox
Steam oven meal prep for lunches and dinners
Rice, grains and pulses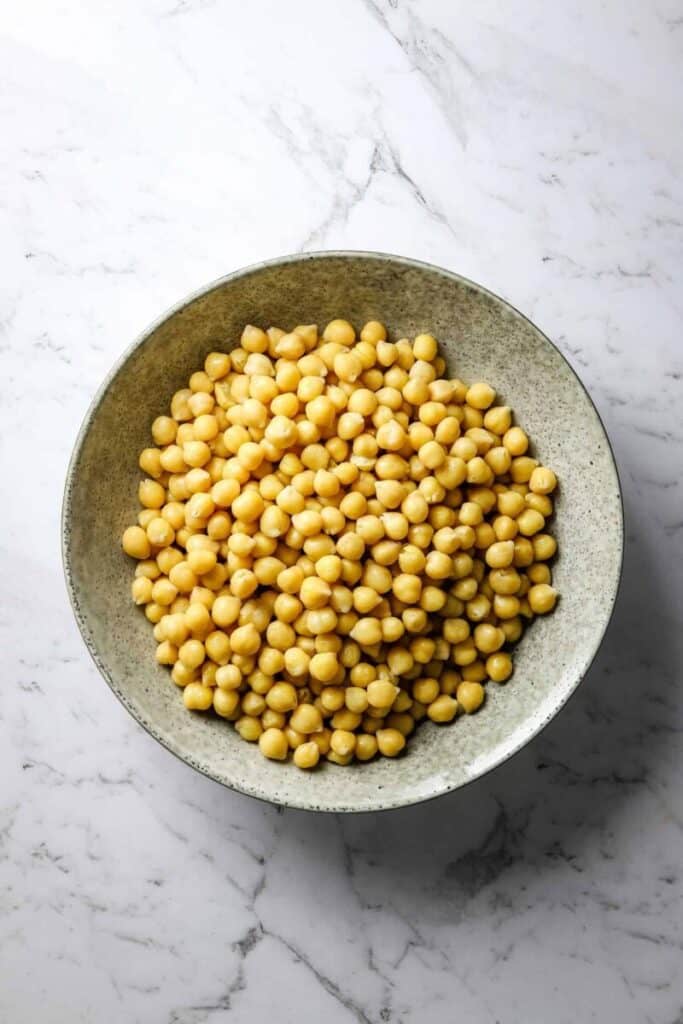 Somehow, having some cooked rice, couscous or chickpeas in the fridge makes me feel prepared for anything!
Rice becomes a side dish to a freezer meal, or the star of the show in fried rice. Or use it for one of my favorite Smitten Kitchen dishes, crispy rice with eggs and ginger-scallion vinaigrette.
Couscous can stand in for rice in loads of dishes, but I love it best as the grain component in this Moroccan chickpea salad. And that takes care of some of your chickpeas too!
For other chickpea 'things', turn them into hummus, throw them in a soup for extra protein or fry them until crispy in a little oil, add lemon juice and use them as a side to steamed fish or chicken.
Vegetables
I have been known to get excited about a glut of in-season produce. I'm sure I'm not the only one! Here are a few excess-vegetable ideas.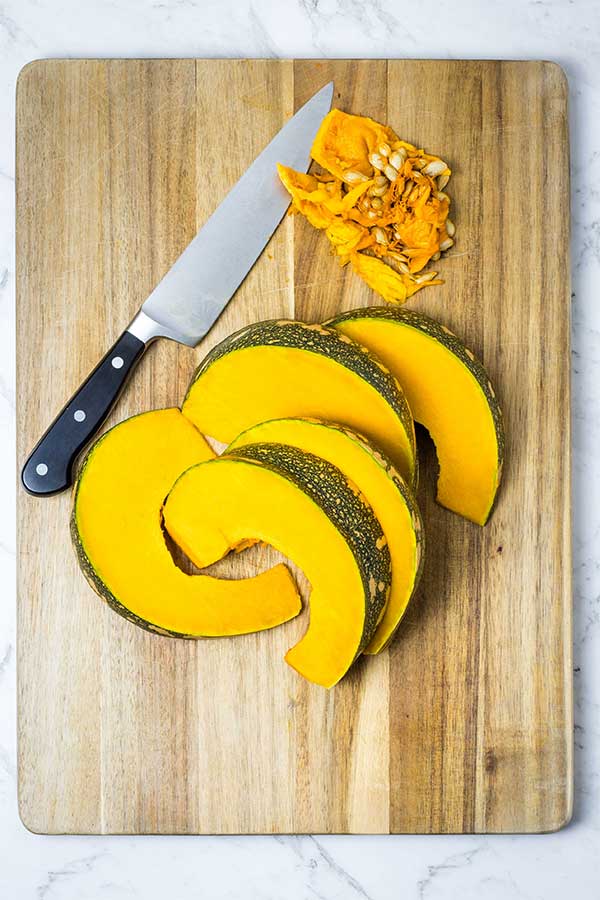 Steam oven roasted pumpkin can be turned into soup or salad, or pureed for future use (like this pumpkin cheesecake, spiced pumpkin cupcakes or classic pumpkin pie).
Once you've learned how easy it is to roast peppers in your steam oven, you'll never look back. I turn them into an amazing Syrian muhammara dip, or slice and pack in olive oil. Sliced peppers end up on pizza or in pasta sauces and gourmet toasted sandwiches.
Finally, you know those microwave-ready steam pouches of frozen veg you can buy at the store? Make your own! Chop your veggies into bite sized pieces ready for steaming, then freeze in bags or containers. Steam from frozen (not in plastic, just in a steam pan!) when you need a quick, healthy side dish.
Chicken
Sous vide chicken is the king of meal prep in your steam oven. Make a big batch, then wrap and freeze each breast individually for fast and flexible meal options. Chuck sliced chicken into a salad or pasta, make a fast vegetable curry and add chicken at the end to warm through, or shred and mix with a jar of salsa for speedy nachos.
Do you want to use and love your steam oven more?

There are precious few resources to teach us HOW to use a steam oven in everyday cooking. I'm guessing that's why you're here! If you love cooking but aren't making the most of your combi steam oven, you aren't alone.

Steam Oven Insiders was created for you!

Benefit from my decade-plus of steam oven knowledge and training, delivered to your inbox twice monthly in bite sized, easy-to-implement tips and delicious recipes you'll actually want to cook. Insiders get access to every exclusive recipe and article within the members dashboard, so you'll never miss a thing.

Find out more right here
Meat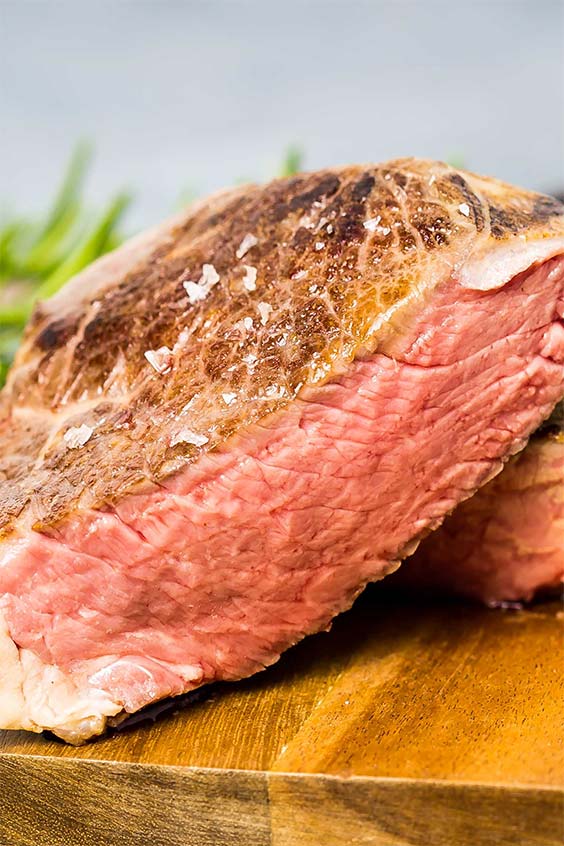 Just like sous vide chicken is a great meal prep staple, so is sous vide steak. Cook a big batch of steaks in your steam oven and freeze or refrigerate. Let them come to room temperature just before serving and sear briefly to color. You'll have perfectly cooked steak every single time. Or sear straight from the fridge, then slice and use in salads and sandwiches for meals that travel.
Meatballs are another meal prep favorite here. Mostly because my kids will always eat them! Sometimes I just make the meatballs and freeze them without sauce, which makes them really flexible for future meals. Other times I do the whole dish and just freeze meal-size portions.
These next two aren't classically meal prep kind of things, but they are great in batches: combi steam chili con carne and steam oven pulled pork are excellent to have around for easy meals.
Whew! If you've made it to the end, thanks for staying with me! I hope this article becomes one you bookmark and return to frequently when you need a little inspiration and organization in your kitchen.
If you have any great meal prep ideas for steam ovens, please share them in the comments! I'd love to know how you put your appliance to use day-to-day as a kitchen 'helper'.
Happy steam oven cooking, see you here again soon.
Want to bake steam oven treats your family and friends will go crazy for? Get my book,
Steam Oven Baking: 25 sweet and stunning recipes made simple using your combi steam oven