My easy homemade stromboli is just that – super easy! It's also the kind of savory, salty, bready thing most of us find it hard to say no to.
Think oozing melted cheese with ham and salami, all rolled up in soft, warm pizza dough with a crusty outside. Are you hungry yet?
Baking the stromboli in a steam oven makes it extra fluffy and tender, and it'll cook faster than if you do it in a regular oven. So if you have convection steam or combi steam settings on your oven, this is a great time to use them!
This post may include affiliate links. As an Amazon Affiliate I earn from qualifying purchases (don't worry, it doesn't cost you anything!). Find out more about affiliate links.
What is a stromboli?
Stromboli is really just a rolled-up pizza. Some people make it with sauce inside, but I've also seen a lot of recipes where just the toppings are rolled into the stromboli, with marinara sauce for dipping.
After trying both ways, I much preferred the version with sauce on the side, so that's what we're doing today.
I can't find much about the origin of stromboli, but the best detail I can find says it's an Italian-American thing. I'm going with that but if you know differently please enlighten me and I'll update here!
Somehow, taking the same ingredients and the same dough as pizza, but rolled up into a swirly, rustic log, seems much more exciting. No idea why, but it's one of those form things where the oozy cheese just seems so much more…oozy than it does on top of a pizza. Whatever it is, I like it and I know you will too.
Is yeasty, delicious home baked bread your thing? Mine too! Try these other great recipes
New York Style Bagels in a Steam Oven
How to Bake Bread in a Steam Oven
Ingredients for the best stromboli
Like I mentioned, we're going to use pizza dough for the 'base' of our easy homemade stromboli. It's simple to make your own dough and proof it in your steam oven. That said, I will not judge if you decide to buy ready made dough. It still counts. 😉
As with pizza, you can fill your stromboli with anything you like. I've kept it traditional and used ham, salami and loads of cheese.
Seeing as stromboli looks like it'll be a regular dish here (my kids LOVE it), I do plan to sneak some vegetables into future batches. And I have dreams of a garlic cream sauce and roasted broccoli stromboli. Non-traditional but I'm not sure stromboli is all that traditional anyway, so I'm willing to break the rules.
Use your imagination when it comes to stromboli fillings, taking your favorite pizza topping as a guide. Chicken, cured meats, olives, tomatoes, roasted vegetables and different types of cheese would all be welcome.
How to make stromboli at home
Now that you know what it is and how to tweak the ingredients, let's make easy homemade stromboli! Below is a visual guide, scroll down to the printable recipe card for the full recipe and ingredient measurements.
First you'll need to make your dough, if you're doing it from scratch.
Activate the yeast by putting it into a bowl with warm water, sugar and oil. Set aside for a few minutes to let the yeast start to bubble and foam, then add the flour and salt and mix everything to a smooth dough. I use a stand mixer for this but if you're feeling muscly then go for it by hand!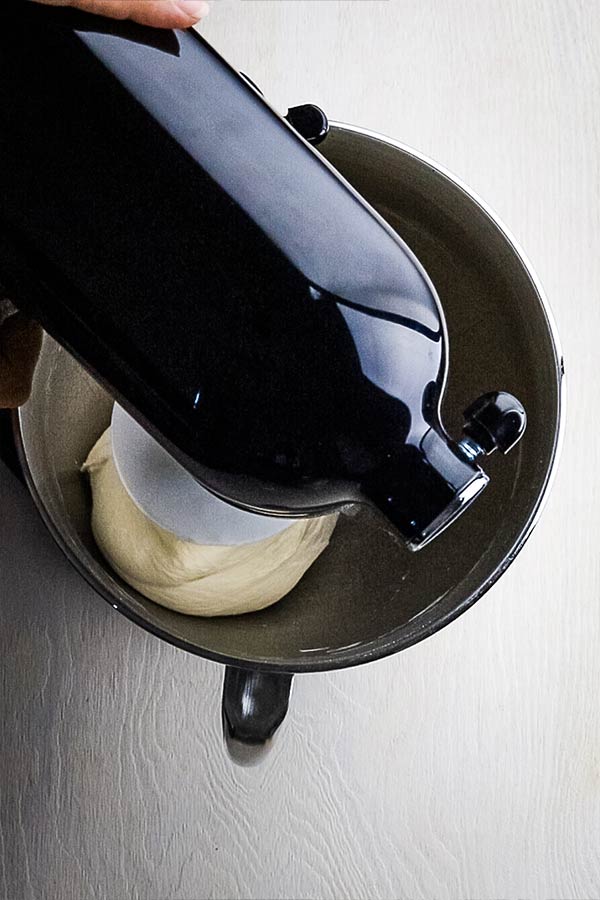 Leave your dough to proof, then when it's doubled in size get your fillings ready for assembly and turn on the oven.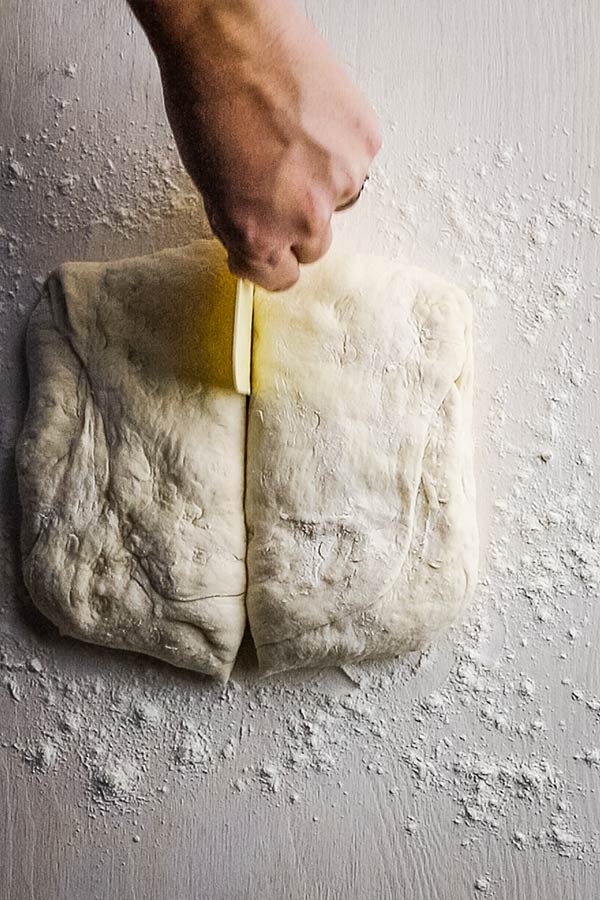 Turn the dough onto a floured surface and cut in half. Press or roll each piece out into a 9×12 inch (23x30cm) rectangle. I find it easiest to do this in 2 or 3 stages so it doesn't keep shrinking back when you're trying to shape it. When it gets hard to deal with, leave it alone for a few minutes, then come back and try again. The dough will have relaxed enough to stretch or roll it more.
Time for toppings! Or fillings. Whatever. The good stuff.
Mix together oil and crushed garlic, and brush it all over the rectangles of dough, leaving a 1-inch border around the edges.
Layer the ham, then salami, then cheese over the top of each rectangle, leaving the same border as you did for the oil. I used mozzarella and Swiss cheese for my stromboli, but anything semi-firm and melty is good.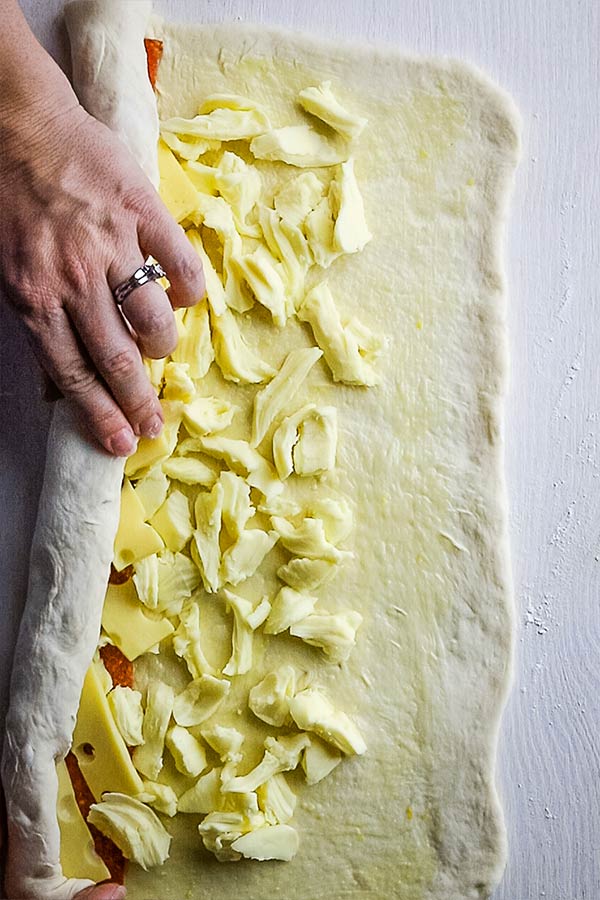 Time to roll up! Carefully roll each stromboli into a tight log from the long side. The fillings will creep towards the border as you roll, but keep tucking them back in so you've still got enough uncovered dough to make a nice seam underneath your logs. Scrunch and tuck the ends under once your dough is rolled up, to seal in all the fillings.
Transfer each stromboli to a parchment lined baking sheet, and use scissors to make a few incisions along the tops of them to allow steam to escape during baking. If, like me, your stromboli got a little stretched while you were rolling, put it diagonally onto the baking sheet.
Bake your gorgeous rolled bready delights until they're golden all over. They sometimes burst in the oven, but I like to go with it and view the bubbly cheese that leaks out as a bonus.
The hardest part of your homemade stromboli adventure has arrived: even though you'll want to tear straight into them as soon as they come out of the oven, hold off. They need a few minutes to cool, just a little, before you slice and serve. I promise it'll be worth the wait.
While you wait for the stromboli to cool a little, warm some marinara sauce and pop it into a bowl. This is one of those instances where store bought sauce will do just fine, but if you're lucky enough to have a stash of homemade sauce then definitely use that.
And you're done! Serve to rapturous delight and then rinse and repeat next time you want to feel great about your kitchen superpowers.
Happy steam oven cooking, see you here again soon.
Have you made and enjoyed this recipe? I'd love if you'd be kind enough to rate and review it via the stars in the recipe card, or leave a comment below! Ratings and reviews help other readers to find and know whether one of my recipes will suit them.
Print Recipe
Easy Homemade Stromboli
Filled with melted cheese, ham and salami, this Italian-inspired rolled dough is like a fancy pizza scroll. My stromboli recipe is so easy you'll make it over and over.
Ingredients
Filling
3

Tbsp

olive oil

2

garlic cloves

minced

10

oz

sliced ham

10

oz

sliced mild salami

12½

oz

mozzarella cheese

thickly sliced, torn or grated

7

oz

Swiss cheese

thickly sliced or grated

1/2

cup

marinara sauce

for serving (bought is fine, or make your own)
Instructions
Make the dough:
Put the water, yeast, sugar and oil into the bowl of a stand mixer. Give it a quick stir and set aside for 5-10 minutes until the yeast begins to bubble.

1 1/3 cups water,

2 tsp active dry yeast,

1 Tbsp granulated sugar,

2 Tbsp olive oil

Add the flour and salt to the bowl and mix on low using a dough hook attachment until the dough is smooth and elastic, about 8 minutes.

3 1/2 cups all-purpose flour,

1 teaspoon salt

Tip the dough onto a lightly floured counter and shape it into a ball. Put it back in the mixing bowl and into your steam oven.

Set the oven to 100°F/38°C, steam setting, or use the dough proofing setting if you have one. Let the dough proof for 40 minutes or until it's doubled in size.
Prepare the stromboli:
Preheat oven to 400°F/200°C, combi steam setting. If you have variable steam settings, use 50%. If not, don't worry! Just set to combi steam at the correct temperature and the oven will work out the steam for you.

Turn the dough onto a floured surface and gently knock out the air. Halve the dough and roll or stretch each piece into a 9×12 inch (23x30cm) rectangle. You'll probably find the dough doesn't want to stretch to this size immediately; if it keeps shrinking back when you're shaping, cover and leave it for 5-10 minutes to allow it to relax, then try again.

Once the dough is shaped, mix the oil and garlic together and brush over the surface of each rectangle. Layer the ham, salami and cheeses over the top, leaving a 1 inch border on all sides.

3 Tbsp olive oil,

2 garlic cloves,

10 oz sliced ham,

10 oz sliced mild salami,

12½ oz mozzarella cheese,

7 oz Swiss cheese

Carefully and tightly roll up the dough into logs, tucking the edges in as you go and making sure the filling is fully enclosed. Take it slow; you want nice even stromboli logs!

Transfer each stromboli to a parchment lined baking sheet. Make 3-4 incisions in the top of each roll to allow steam to escape. Bake until the dough is golden and cooked through, about 25 minutes.
Serve:
When the stromboli is cooked, allow to cool for 15 minutes, then cut into slices and serve with warmed marinara sauce for dipping.
Notes
If you don't want to make your own dough, you can use bought fresh pizza dough. I've used the frozen dough balls from Costco and they've been great. 
Feel free to change up the type of cheese or meat to suit your own taste. I do recommend you stick with one cheese that's got some flavor, rather than two very mild cheeses. 
I used a marinara sauce made by my talented stepmother, but bought is fine! Or make your own cheat's version with canned crushed tomatoes, garlic, olive oil, salt and a little sugar cooked together until thick and saucy. 
Nutrition
Calories:
613
kcal
|
Carbohydrates:
47
g
|
Protein:
31
g
|
Fat:
33
g
|
Saturated Fat:
14
g
|
Polyunsaturated Fat:
2
g
|
Monounsaturated Fat:
14
g
|
Cholesterol:
80
mg
|
Sodium:
1112
mg
|
Potassium:
288
mg
|
Fiber:
3
g
|
Sugar:
3
g
|
Vitamin A:
572
IU
|
Vitamin C:
1
mg
|
Calcium:
461
mg
|
Iron:
3
mg