This steam oven lemon ricotta cake, a firm favorite in our house, was the very first recipe I ever posted on this little blog, way back in February 2015.
How far we've all come with our steam oven cooking, and yet this is still something I bake regularly. I know a lot of you who've been here since the beginning do as well. Here it is updated and with new photos – if you've baked this cake before the recipe is the same, just with better directions now!
When I started using a steam oven, I found it quite easy working out vegetable and meat recipes. Most vegies cook beautifully in steam ovens, as do lots of meats (especially leaner cuts). Baking, however, was a bit more hit and miss.
Some baked goods – certain cakes, breads and things with puff pastry – are hugely improved by baking with the addition of steam, however a lot of the cakes I tried came out with the texture of a steamed pudding. Not a bad thing if you're going for a steamed pudding but not so great if you just wanted to make a regular cake!
This unassuming-looking loaf is a great exception, though. In a normal oven, it's a lovely super-moist cake with a nice crumb (and one I've made a number of times), but baked in a combi-steam it becomes something else altogether – dense but not doughy, and somewhere between cake and cheesecake in texture.
The ricotta cheese gives this cake a lovely texture – make sure you use a decent quality one. I prefer the firmer ricotta which can be bought, cut straight from a large wheel, at my local Italian deli. A tub is also fine, just drain it through a fine meshed strainer for a few hours before using so the excess liquid runs off.
Lemon ricotta cake is fragrant, not too sweet and needs nothing more than a spoonful of thick cream to make it worthy of afternoon tea guests. We have also been known to eat it for breakfast with unsweetened Greek yoghurt…yoghurt makes it a breakfast food…right?
Do you want to use and love your steam oven more?

There are precious few resources to teach us HOW to use a steam oven in everyday cooking. I'm guessing that's why you're here! If you love cooking but aren't making the most of your combi steam oven, you aren't alone.

Steam Oven Insiders was created for you!

Benefit from my decade-plus of steam oven knowledge and training, delivered to your inbox twice monthly in bite sized, easy-to-implement tips and delicious recipes you'll actually want to cook. Insiders get access to every exclusive recipe and article within the members dashboard, so you'll never miss a thing.

Find out more right here
How to make Lemon Ricotta Cake in a steam oven
This is a cake that's easiest made in a mixer because you need to thoroughly cream the butter and sugar with the eggs to create a light and fluffy batter. It can be done by hand with a whisk but you'll need big muscles.
First you'll put the butter, sugar and salt into your mixer bowl. Beat this on a low/medium speed for about 4 minutes until it's light and fluffy, and there's no grittiness left if you rub a little of the mixture between two fingers.
Add the eggs and beat them in one by one – make sure each egg is full incorporated before adding the next, then mix in the lemon juice and zest on a low speed. The lemon will almost certainly make the mixture curdle, but don't worry as it'll come back together in the next step.
Time for the flour and baking powder. Gently fold it through either on the lowest speed, or you can just fold it in with a spatula by hand. Let it almost mix in, then put in the ricotta and mix so the mixture is mostly smooth with just a few larger lumps of cheese left.
Spread the mixture into your lined pan (it will be very thick) and smooth the top, then bake until it's puffed and deep golden brown. This should take somewhere between 45 and 55 minutes. A skewer should test clean with just a few crumbs attached when the cake is done.
Let it cool as long as you can bear, then slice and serve!
Happy baking, friends, see you here again soon.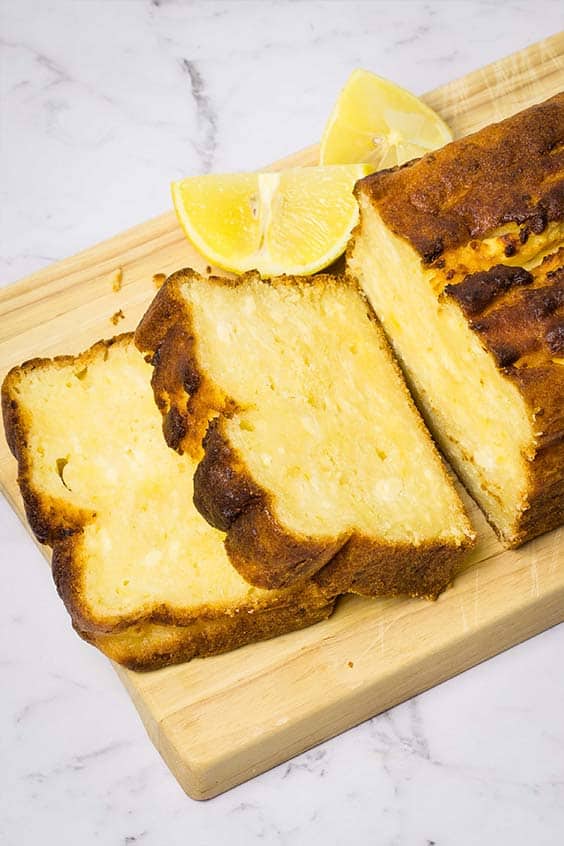 Print Recipe
Lemon Ricotta Cake
A golden-hued, dense cake that's somewhere between a regular cake and a cheesecake, this is a family favorite.
Ingredients
3/4

cup

unsalted butter

softened

1/4

tsp

salt

1 1/4

cups

superfine sugar

caster sugar (I have used both regular white and golden/raw caster sugar with equally good results)

3

eggs

2

lemons

zest and juice

1

lb

ricotta cheese

firm, broken into 3-4 large chunks

1 1/2

cups

all purpose flour

plain flour

1 ½

tsp

baking powder
Instructions
Preheat your oven to 180˚C/350˚F on combination steam setting. If your oven has variable steam levels, 80% steam will work here. If not, don't worry! Just set to combi steam at the correct temperature and the oven will figure out the humidity. Grease and line a loaf tin with baking paper so it comes up above the long sides (this will help you lift it out after cooking).

Whisk the flour and baking powder together in a bowl to combine, and set aside. I'm generally opposed to sifting my dry ingredients (read: too lazy), but you can do this if you wish.

Cream the butter, salt and sugar on medium speed in a stand mixer until light and fluffy. Add the eggs one by one, mixing well after each addition.

Mix in the lemon zest and juice on low speed, then add the ricotta and mix briefly (try not to mix it so the ricotta is completely smooth). The mixture will probably curdle when you put the lemon in – don't worry, it'll come back together later.

Gently mix in the flour and baking powder until combined. It won't be completely smooth because of the ricotta but try not to leave any big clumps of flour.

Pour the mixture into the lined tin and bake for 45 minutes, or until it's golden brown, puffed and tests clean with a skewer. Remove from oven and leave to cool in the tin for 30 minutes, then remove using the baking paper and cool completely on a wire rack.

Serve barely warm or at room temperature with thick cream or yoghurt. The cake will keep for 4-5 days in the fridge and leftovers can be reheated in the steam oven at 120˚C/combination steam.
Notes
Adapted from a recipe found at food.com
A little note about ricotta cheese: I usually buy mine cut from the wheel at an Italian deli – if you are buying it in a tub, get 500g and drain it in a fine-meshed strainer for a few hours in the fridge before using. Don't, whatever you do, use 'smooth' or 'light' ricotta here, it will affect the texture of the finished cake.
Also, you'll notice the cake puffs and rises in the oven, only to sink flat again once you take it out. That is completely normal for this recipe and doesn't mean it's a failure!
Nutrition
Calories:
392
kcal
|
Carbohydrates:
43
g
|
Protein:
9
g
|
Fat:
21
g
|
Saturated Fat:
13
g
|
Cholesterol:
109
mg
|
Sodium:
118
mg
|
Potassium:
180
mg
|
Fiber:
1
g
|
Sugar:
26
g
|
Vitamin A:
699
IU
|
Vitamin C:
11
mg
|
Calcium:
140
mg
|
Iron:
1
mg