This post may include affiliate links. As an Amazon Affiliate I earn from qualifying purchases (don't worry, it doesn't cost you anything!). Find out more about affiliate links.
Creme caramel (or flan, depending on where you live in the world) is a classic dessert.
At their best, these caramel custards are an elegant, silky and softly set custard with a golden sauce. They can be tricky to get right when it comes to texture, but I'm going to make it foolproof!
The recipe for creme caramel relies on cooking sugar into a liquid caramel, then pouring it into molds or jars. Vanilla custard is added and, usually, baked in a water bath in the oven until the custard sets. Chill, turn out and voila: set custard on the bottom with sticky, sweet sauce running over the top.
Today, we're going to make sous vide creme caramel instead of the water bath version, using your steam oven.
You can set a steam oven to the exact temperature for setting the cremes without overcooking them. No more eggy custards with rubbery edges, just a creamy, steamed custard dessert with perfect caramel sauce.
What's the difference between creme caramel, flan and caramel custard?
Call it whatever you want: creme caramel, flan or caramel custard, it's much the same thing.
The French version of the dessert, and the name I've always known it by, is creme caramel. In Latin America it's called flan, and I've seen it referred to as caramel custard in some US and British recipes.
The biggest difference I could find is that flan tends to be a large, single custard from which serves are cut or scooped, while creme caramel is an individual portion. The recipe and method, though, is fundamentally the same.
Wondering where creme brulee fits in here? That's a different thing; namely, a custard that's cooked in the same manner, but without the caramel in the base of the mold. Instead, creme brulee has a layer of sugar sprinkled over the chilled custard. The sugar is blasted with a blow torch (or a very hot grill/broil element) until it forms a thin, hard caramel or toffee layer. It's fabulous, just different. Want to make creme brulee? You'll find my recipe for that in the Steam Oven Baking cookbook!
Want to bake steam oven treats your family and friends will go crazy for? Get my book,
Steam Oven Baking: 25 sweet and stunning recipes made simple using your combi steam oven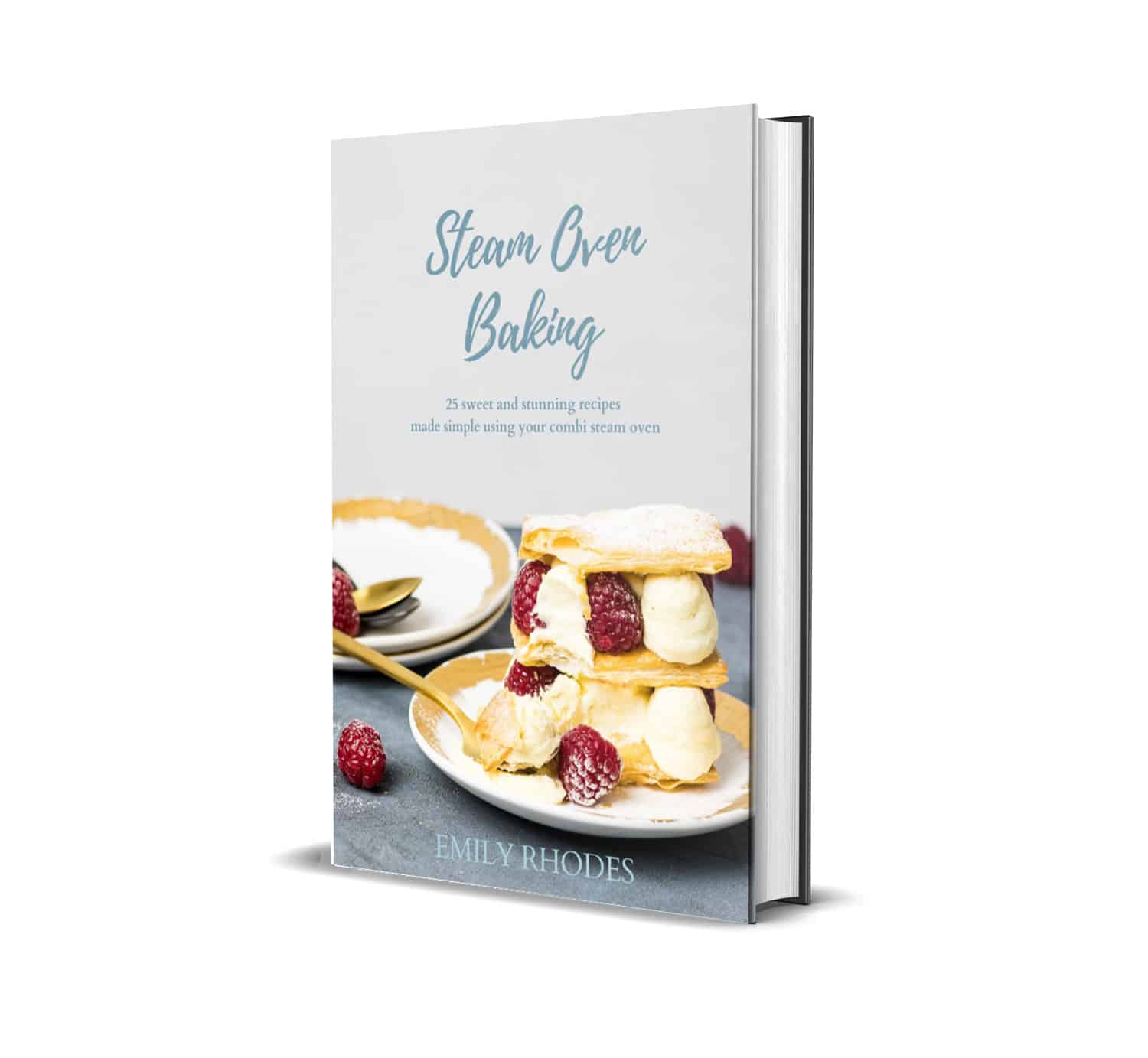 How to make the caramel for creme caramel
Making the caramel for a creme caramel is straightforward so long as you pay attention to it. Start with white granulated sugar or superfine sugar and cook it over medium heat with a small amount of water. You don't need to stir this mixture; in fact it's better if you don't! Just wait for the sugar to melt.
As it begins to melt, bubbling and changing to a brown rather than clear colour, give the pan a swirl. This will mix the brown caramelized sugar with the unmelted sugar.
What you're looking for is a deep golden amber caramel, but not black. The color will turn quickly at this stage so you need to keep a good eye on it.
If the pan starts to smoke you've taken it too far! There's no saving the caramel at that point and you'll make your finished dessert taste bitter. Throw it out and start again. It's happened to me more than once, and it's annoying! But better to start over than wreck all the custards you're about to make.
When your caramel is the right colour, work quickly, pouring it into your jars and swirling it around the base and up the sides of each. Set this aside to cool and harden while you prepare your custard.
How to make the custard for creme caramel
Now that the nerve-wracking part of making the caramel is over, let's move on to the custard. This part of the recipe is much less stressful, I promise!
The custard for creme caramel is a simple milk, cream, sugar and egg mix, spiked with vanilla bean.
Heat the milk, cream and vanilla to infuse the flavor, then whisk with sugar, eggs and egg yolks to make a custard base that gets gently cooked to set.
Custard flavor variations
If you don't have vanilla, or you want something different, there are a variations you can make to the custard.
Citrus scented creme caramels. Peel a large piece of orange or lemon zest and infuse this with the milk and cream instead of vanilla.
Coffee creme caramel. Add a single shot of espresso or 2 teaspoons of instant coffe, to the milk and cream mixture just before adding the sugar and eggs.
For a South-East Asian twist and grassy color, make pandan creme caramel by adding a couple of drops of pandan extract to the milk mixture. Pandan is from the leaves of a tropical plant and tastes kind of like a cross between vanilla and coconut. It's subtle in flavor and really lovely.
Do you want to use and love your steam oven more?

There are precious few resources to teach us HOW to use a steam oven in everyday cooking. I'm guessing that's why you're here! If you love cooking but aren't making the most of your combi steam oven, you aren't alone.

Steam Oven Insiders was created for you!

Benefit from my decade-plus of steam oven knowledge and training, delivered to your inbox twice monthly in bite sized, easy-to-implement tips and delicious recipes you'll actually want to cook. Insiders get access to every exclusive recipe and article within the members dashboard, so you'll never miss a thing.

Find out more right here
How to cook creme caramel
I mentioned up top that we'll be cooking these creme caramels in the steam oven today.
Set your steam oven to 175°F/80°C and put the prepared custards onto a pan. Put the pan into the oven and cook for 1 hour.
When your creme caramels are cooked they will be set with a slight jiggle in the centre. Cool the custards to room temperature on the counter, then chill overnight so the caramel softens and turns to a liquid sauce.
Storing and serving your custards
Creme caramel is very simple to serve. Run a thin knife around the inside edge of your jar and turn each custard onto a serving plate. The sauce will pour over the top of each custard as it comes out of the jar, so there's no extra plating needed!
These little caramel custards don't need adornment but if you really want to go further, add whipped cream for serving.
Cooked and chilled creme caramel will keep in your refrigerator for about 4 days. I don't recommend freezing as the custard can split and the texture will never be the same after thawing.
Give these custards a go next time you need a dessert to impress without causing you panic right before dinner.
Happy steam oven cooking, see you here again next time.
Have you made and enjoyed this recipe? I'd love if you'd be kind enough to rate and review it via the stars in the recipe card, or leave a comment below! Ratings and reviews help other readers to find and know whether one of my recipes will suit them.
Print Recipe
Crème Caramel
Silky soft creme caramel is the ultimate make ahead impressive dessert! Cook these sous vide style in a steam oven to avoid the need for a water bath.
Ingredients
For the custard
1

cup

milk

whole/full fat

1

cup

cream

whipping or pouring

1

vanilla bean

or 1 tsp vanilla extract

½

cup

superfine sugar

caster sugar

2

eggs

4

egg yolks
Instructions
Grease six 4oz (1/2 cup) ramekins or jelly jars with butter. Put them all onto a pan and set aside. Preheat oven to 176°F/80°C, steam setting (100% humidity).

Pour the milk and cream into a small pan. Scrape the seeds from the vanilla pod, if using, and add the seeds and pod to the pan. Bring to a simmer over medium heat, then turn off the heat, cover and leave to infuse while you make the caramel.

1 cup milk,

1 cup cream,

1 vanilla bean

Put the sugar for the caramel in a deep saucepan and just barely cover it with water. Bring to a simmer over medium heat, then cook until it's syrupy and turning a golden amber color. Quickly remove from heat and divide the caramel between the moulds. Swirl to evenly cover the bases and come a little way up the sides. Set aside.

When the infused milk has cooled until it's just warm, remove the vanilla pod. Add the sugar and whisk to combine. Tip in the eggs and yolks and whisk thoroughly, then pour the mixture through a sieve into a jug. Leave the mixture to settle for 15 minutes, then skim any foam from the top of the bowl.

2 eggs,

4 egg yolks,

½ cup superfine sugar

Pour the custard into the caramel-coated jars, dividing it evenly.

Cook the cremes for 1 hour, then remove from the oven. Cool to room temperature on the bench, then refrigerate overnight. The cremes need this overnight chilling and setting time so the caramel can soften into a liquid sauce.

To unmould, run a slim knife around the inside of each jar and invert on to plates, letting the liquid caramel run over the custard.
Notes
If you want to change the flavor profile of your creme caramels, omit the vanilla and add a large strip of lemon or orange zest to the milk at the infusing stage instead, for citrus-spiked cremes. Or add a shot of espresso or 2 teaspoons of instant coffee granules to make coffee cremes.
Cooked creme caramels will keep, well covered, in the fridge for up to 4 days. I do not recommend freezing them as the custard can split when thawed. 
Nutrition
Calories:
374
kcal
|
Carbohydrates:
43
g
|
Protein:
6
g
|
Fat:
21
g
|
Saturated Fat:
12
g
|
Polyunsaturated Fat:
1
g
|
Monounsaturated Fat:
7
g
|
Trans Fat:
1
g
|
Cholesterol:
243
mg
|
Sodium:
60
mg
|
Potassium:
118
mg
|
Sugar:
41
g
|
Vitamin A:
901
IU
|
Vitamin C:
1
mg
|
Calcium:
96
mg
|
Iron:
1
mg