The Basque burnt cheesecake seems to have taken the social media world by storm recently.
It seems that everywhere I look at the moment I see this burnished, golden-topped cheesecake, and eventually I had to give in to peer pressure and delicious looking photos and try it for myself.
I'm not sure why I waited so long. This is a dream of a dessert, silky and smooth on the inside and with a toasty caramelized top that works so well with the creamy filling.
While it works just fine in a regular oven, a burnt cheesecake is also great candidate for combi steam ovens. The addition of humidity makes it cook faster, brown very evenly and retain a really silky texture.
This post may include affiliate links. As an Amazon Affiliate I earn from qualifying purchases (don't worry, it doesn't cost you anything!). Find out more about affiliate links.
Why is it called Basque cheesecake?
Burnt Basque cheesecake is reportedly the brainchild of chef Santiago Rivera of La Viña in San Sebastian. He is said to have come up with the dessert in the early 1990s.
I'm not sure how Rivera came up with the idea; perhaps it was an accident or maybe he just knew the play between the creamy, sweet filling and the nutty burnt-sugar top would be a match made in foodie heaven. Whatever the reason, I'm glad for the innovation and even more so for how simple it is to make!
If the origin story is true, the burnt cheesecake has taken 30 years to hit the internet headlines, but I hope it sticks around now that it's here. I can tell you it will be made in my kitchen over and over again now that I've discovered it.
Do you love cheesecake as much as I do?? Try these other steam oven cheesecake recipes!
Ingredients for a burnt cheesecake
The classic burnt Basque cheesecake uses a pretty standard cheesecake filling; namely cream cheese, sugar, eggs and cream. A little flour gives the batter stability and helps bind the ingredients without making the whole thing too eggy.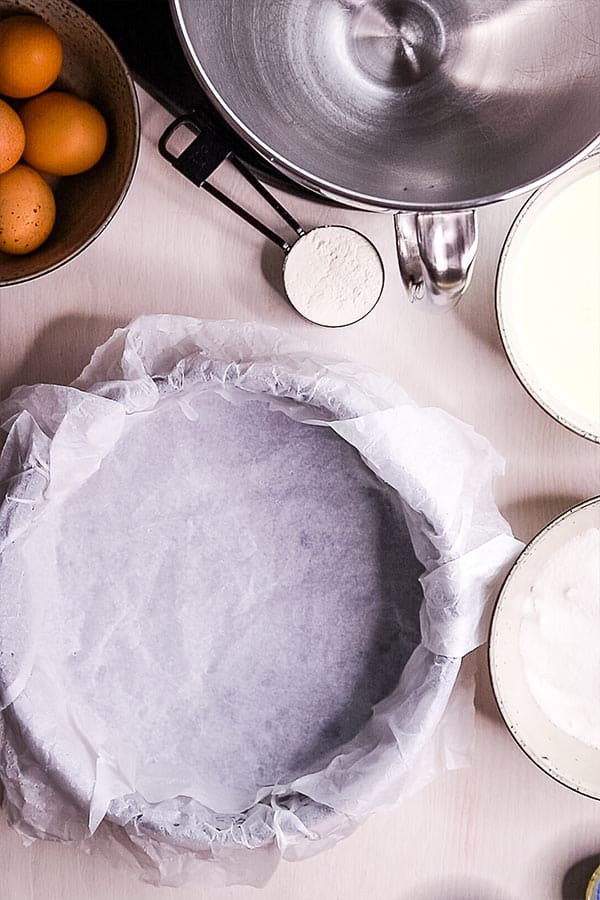 This is a crustless cheesecake, so you literally just mix everything up and pour it into the pan for baking. I thought I'd miss the crust but the burnt top gives enough of a taste and texture difference that I honestly didn't.
I've seen many variations on this recipe while researching and testing to come up with my own version. I like to scent my cheesecake with vanilla but I've also made it with lemon zest and juice to give it a really bright citrus flavor.
Once you've tried the basic recipe it would be easy to make your own version, adding different flavoring extracts, berries, coffee or chocolate to the filling.
Do you want to use and love your steam oven more?

There are precious few resources to teach us HOW to use a steam oven in everyday cooking. I'm guessing that's why you're here! If you love cooking but aren't making the most of your combi steam oven, you aren't alone.

Steam Oven Insiders was created for you!

Benefit from my decade-plus of steam oven knowledge and training, delivered to your inbox twice monthly in bite sized, easy-to-implement tips and delicious recipes you'll actually want to cook. Insiders get access to every exclusive recipe and article within the members dashboard, so you'll never miss a thing.

Find out more right here
How to make a burnt Basque cheesecake
The first thing we'll do is preheat the oven and line the pan. I've discovered a trick with lining the pan for Basque cheesecake. The cake is meant to be rustic and imperfect on the outside, so the lining can be imperfect too. The easiest way to do this is to screw the parchment paper into a ball and run it very briefly under a tap.
Dampening the parchment is something that's done for casseroles, where a circle of scrunched-and-then-flattened parchment is put on top of the food in the pot. Wetting the paper a little helps to retain moisture in the food and prevent the paper cover from drying out and burning. It also allows it to be much more pliable and flexible when you unscrunch. In the case of our cheesecake, it's much easier to press the parchment into the pan.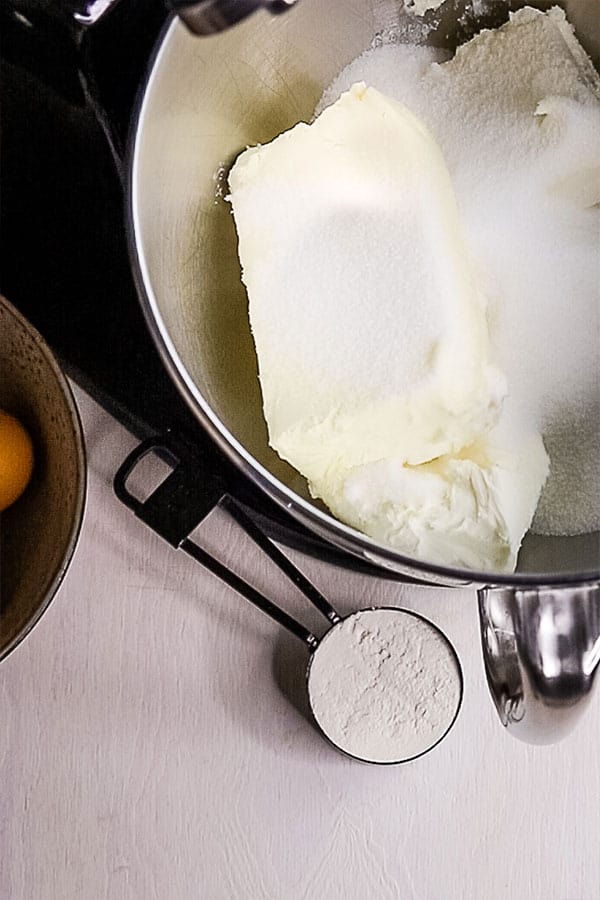 Now we get onto the making of the cheesecake itself. Make sure your cream cheese is at room temperature, it will become smoother much faster when you're mixing the batter.
Mix the cream cheese and sugar until smooth, then add the eggs 1 or 2 at a time, mixing well to make sure they bind with the cheese before adding the next.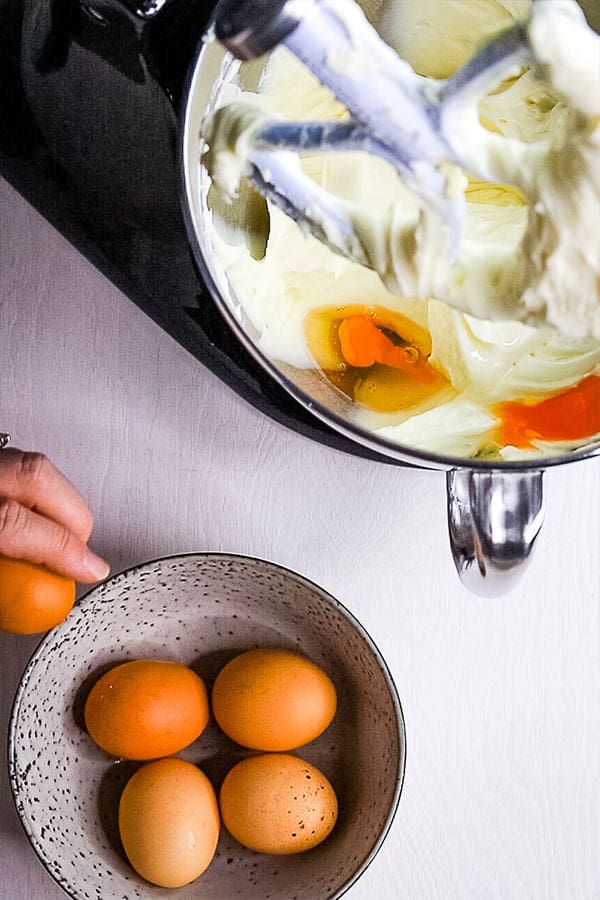 Add the remaining ingredients and mix on low until the batter is smooth.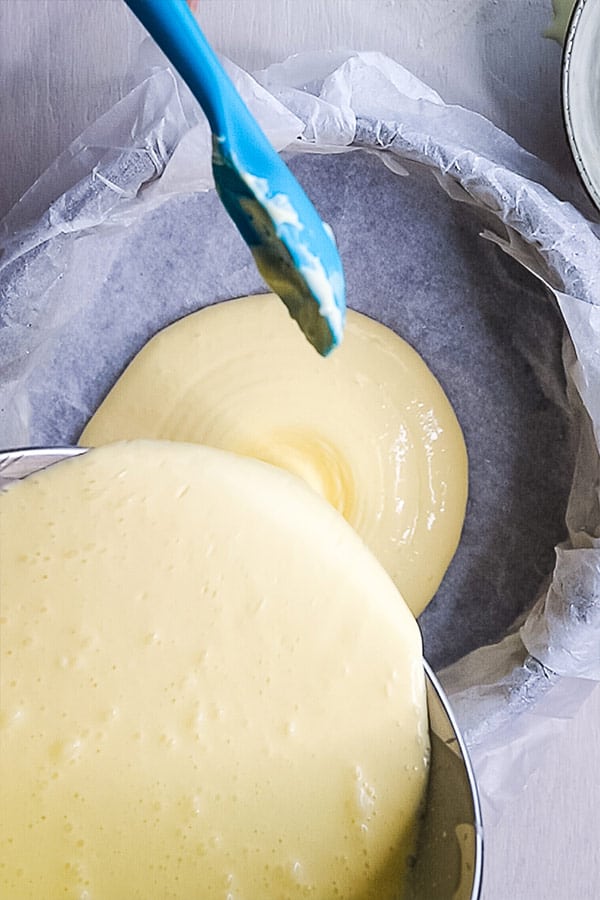 Pour the Basque cheesecake batter into the prepared pan and cook until it's jiggly and well browned on top. It will be very puffy when you take it out of the oven, and will seem wobbly and undercooked. Don't worry! The puffiness sinks down into a dense, custardy texture and the wobbly center will set when you chill the cake.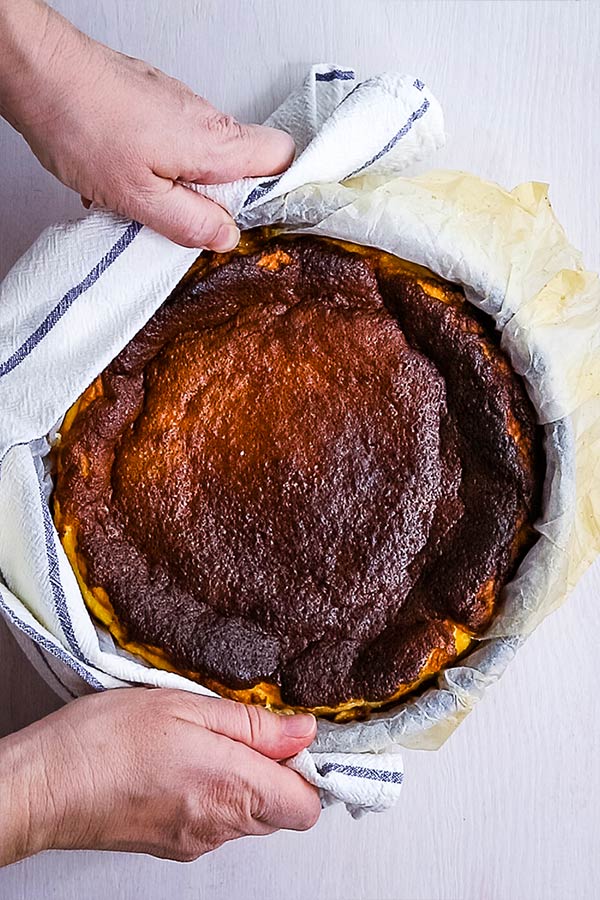 Cool the cheesecake at room temperature for a couple of hours, then put it into the fridge overnight. If you skip this extended chilling time cheesecake won't set properly – don't say I didn't warn you! I know it's tempting to cut into it early, but if you cut too early the center will spill out.
There you have it. I hope this cheesecake will become a regular feature in your dessert repertoire. It's a perfect bake-and-take dessert because once chilled it travels really well. It keeps for 5 or 6 days in the fridge, so you can bake during the week for a no-effort special dessert on the weekend.
Happy steam oven cooking, see you here again soon.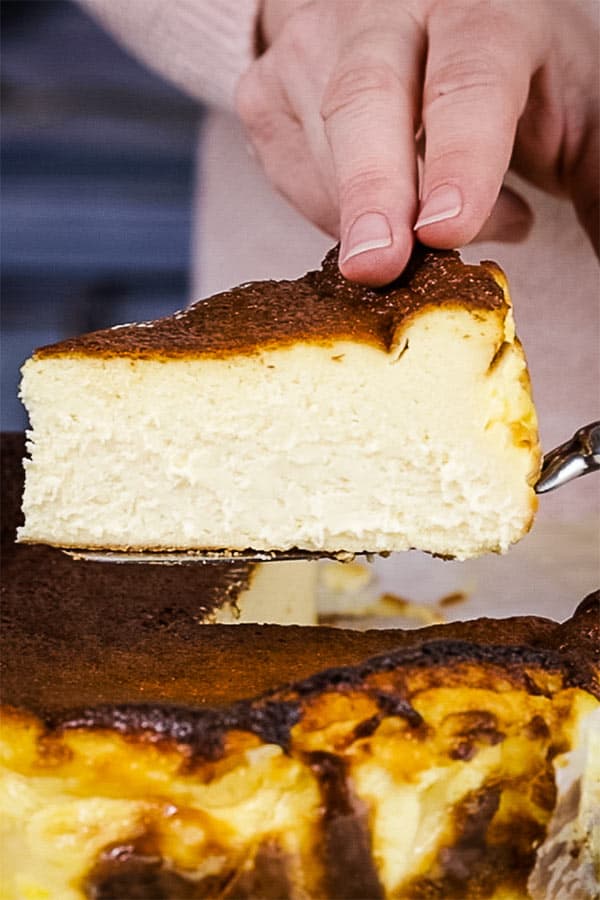 Have you made and enjoyed this recipe? I'd love if you'd be kind enough to rate and review it via the stars in the recipe card, or leave a comment below! Ratings and reviews help other readers to find and know whether one of my recipes will suit them.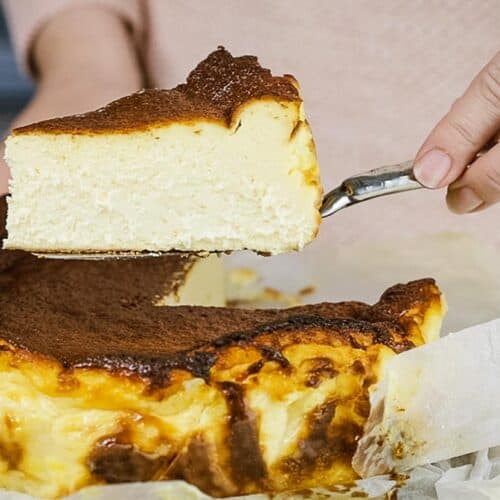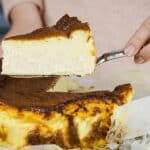 Print Recipe
Basque Cheesecake
This 'burnt cheesecake' is intentionally cooked at a high temperature to create a burnished, toasty top which complements the creamy interior perfectly. Try it for your next dinner party.
Ingredients
2

lb

cream cheese

full fat, room temperature

1 1/4

cups

superfine sugar

caster sugar (granulated will work in a pinch)

6

eggs

2

cups

heavy cream

1/2

tsp

fine salt

or 1 tsp Kosher salt

1

vanilla bean

split and seeds scraped (replace with 1 1/2 tsp vanilla extract if you don't have a bean)

1/4

cup

all-purpose flour

plain flour
Instructions
Preheat oven to 400°F/200°C, combi steam setting. If your oven has variable steam settings, select 30% (if not, don't worry! Just set to combi steam at the correct temperature and the oven will take care of the humidity for you).

Use two layers of parchment paper (baking paper) to line a 9 inch (23cm) round springform pan, overlapping the two layers and scrunching them into the pan and up the sides. I do this by scrunching the paper into a ball and then flattening it out again so it's more flexible to push into the pan. You don't need to get the paper smooth, it should be 'intentionally rustic'.

Put the cream cheese and sugar into a stand mixer with the paddle attachment fitted. Mix on medium speed until well combined and smooth, scraping down the sides as necessary.

2 lb cream cheese,

1 1/4 cups superfine sugar

Add the eggs, one at a time, with the mixer running. Mix each one in completely before adding the next.

Add the remaining ingredients and mix on low speed until completely combined. Don't mix longer than necessary as you don't want to aerate the mixture too much.

2 cups heavy cream,

1/2 tsp fine salt,

1 vanilla bean,

1/4 cup all-purpose flour

Pour the batter into the prepared pan and place into the preheated oven. Cook until the cheesecake is dark brown on top, puffy and very wobbly, approximately 55 minutes.

Cool the cheesecake to lukewarm on the counter; it will sink significantly in the center as it cools, this is normal.

Refrigerate the cheesecake for at least 8 hours or overnight to set. It needs to be completely cold before serving.

To serve, slice with a hot knife, cleaning the blade between each cut to get nice clean slices.
Notes
The cheesecake needs no adornment but if you really wanted to up the ante you could add a scoop of double or clotted cream on the side.

This cheesecake will keep, chilled and covered, for up to 5 days. It can be frozen, well wrapped, for up to 2 months. Thaw overnight in the fridge before serving.
The original version of this cake, as best I can tell, contained no vanilla, but I love the fragrance it adds. You could omit it if you prefer, or use the finely grated zest of a lemon instead. 
Nutrition
Calories:
518
kcal
|
Carbohydrates:
27
g
|
Protein:
8
g
|
Fat:
43
g
|
Saturated Fat:
24
g
|
Polyunsaturated Fat:
2
g
|
Monounsaturated Fat:
12
g
|
Trans Fat:
1
g
|
Cholesterol:
219
mg
|
Sodium:
386
mg
|
Potassium:
168
mg
|
Fiber:
1
g
|
Sugar:
23
g
|
Vitamin A:
1717
IU
|
Vitamin C:
1
mg
|
Calcium:
113
mg
|
Iron:
1
mg