This week I discovered the best cheat's cheesecake dessert I've ever tried, and they're perfect for the steam oven: raspberry cheesecake pastries.
They're portion controlled (well, they are if you stop at one), pretty, take minutes to put together and roughly a fifth of the cooking time of a full scale cake.
Oh, and they involve a combi steam oven's best friend, puff pastry. The only thing I think they might be missing is a delicious crumb crust, but, well, did I mention that puff pastry? Flaky, creamy, sharpened with lemon and not too sweet, they are definitely the best thing to come out of my steam oven this week, and now, hopefully yours.
I cannot in any way lay claim to creating these pastries, having found this photo on Pinterest a couple of months ago (BTW, I have been very busy over there! If you're ever in need of some inspiration, my boards are full of things which would work beautifully in your steam oven).
I thought about altering them to include, say, dark chocolate or nuts (both of which would admittedly be very nice) instead of the berries, but I ended up going back to the original because I find it so hard to go past anything involving raspberries and lemon. That said, I think they'd be fantastic with sliced strawberries and possibly even better with fresh pitted cherries. I'm not sure if you can tell but red fruits and cream cheese are hands down one of the best combinations I can think of.
There you go people – put your steam oven to delicious use and knock up a batch of cheesecake pastries for a very welcome morning tea contribution or even an indulgent brunch. And then commend yourself for baking something which tastes so much more difficult than it actually is.
Happy steam oven cooking, see you here again soon.
Do you want to use and love your steam oven more?

There are precious few resources to teach us HOW to use a steam oven in everyday cooking. I'm guessing that's why you're here! If you love cooking but aren't making the most of your combi steam oven, you aren't alone.

Steam Oven Insiders was created for you!

Benefit from my decade-plus of steam oven knowledge and training, delivered to your inbox twice monthly in bite sized, easy-to-implement tips and delicious recipes you'll actually want to cook. Insiders get access to every exclusive recipe and article within the members dashboard, so you'll never miss a thing.

Find out more right here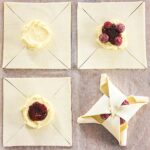 Print Recipe
Steam Oven Cheesecake Pastries with Raspberries and Lemon
Flaky pastry, creamy lemon-spiked filling and tart raspberries, these easy cheesecake pastries will be something you come back to over and over again.
Ingredients
8

oz

cream cheese

1 block , cubed, at room temperature (buy a decent branded one – I use Philadelphia)

1/4

cup

confectioners sugar

icing sugar

1

lemon

zested and juiced

2

sheets

puff pastry

each about 12"/30cm square, frozen is fine, it should be thawed but cold

3

tbs

raspberry jam

32

raspberries

about a cup depending on individual size – frozen is fine if you can't get fresh

2

tbs

confectioners sugar

extra, for dusting
Instructions
Preheat your oven to 400⁰F/200⁰C, combination steam. If your oven has variable steam settings, use 60%. If not, don't worry! Just set to combi steam at the correct temperature and the oven will figure out the humidity for you. Line 2 9×12"/23x30cm baking trays with parchment paper and set aside.

Put your cream cheese in the bowl of a stand mixer fitted with the paddle attachment. Add the icing sugar and mix on low speed to combine. Mix in the lemon zest and juice just until you have a smooth, soft mixture.

Take your pastry sheets and cut each one into quarters, then cut a small diagonal slit at the corner of each piece, extending about 3cm in towards the middle so you've got 8 little triangle 'flaps' (see picture for reference).

Divide the cream cheese mixture evenly between the pastry squares (about a tablespoon and a half for each one) and spread it into a rough circle in the middle of each, using the little cuts you made as guidelines. Top the cream cheese with the jam (no need to spread this out, it'll do its own thing in the oven), then place four raspberries at the outer edges of the cream cheese (again, see picture).

Pick up alternating flaps of pastry and fold them towards the middle, creating a pinwheel shape. Roll the other flaps in on themselves, pinching slightly where they meet the folded flaps to keep them rolled up while baking. Carefully transfer to the lined trays – I could comfortably fit 4 on each, giving space for expanding in the oven.

Bake for 12-14 minutes or until puffed and golden all over. Let cool slightly before dusting with icing sugar and serving warm.
Notes
I think you could easily scale these down to make the most gorgeous little mini pastries as a sweet finger food. Just alter the cooking time to suit.
When I made these a second time, I cooked one tray straightaway but froze the others, fully assembled but unbaked. When we wanted to eat them I just put them in the oven straight from frozen, where they baked up perfectly (I added 3 minutes to the cooking time). 
Nutrition
Calories:
486
kcal
|
Carbohydrates:
42
g
|
Protein:
6
g
|
Fat:
33
g
|
Saturated Fat:
11
g
|
Cholesterol:
31
mg
|
Sodium:
246
mg
|
Potassium:
113
mg
|
Fiber:
2
g
|
Sugar:
11
g
|
Vitamin A:
381
IU
|
Vitamin C:
10
mg
|
Calcium:
41
mg
|
Iron:
2
mg
But I don't have a steam/combi-steam oven! Bake your pastries in a 190⁰C fan forced oven for 20-25 minutes instead.