This post may include affiliate links. Find out more about affiliate links and how they help this site.
If you live, or have ever spent time in Australia, you'll know of the national affection for lamingtons.
The light sponge cake, cut into squares and rolled in chocolate sauce and a generous amount of unsweetened coconut, is a bakery staple and a source of nostalgia for many. Incidentally, the sponge which the whole thing hinges on can be baked very nicely using combi steam oven settings.
But that's not what I'm sharing today (sorry if you got all excited there). I think these are even better, and faster to make. A fun little tweak to my favourite new muffin recipe, the chocolate and coconut is added as a topping, to create a weird and wonderful lamington/muffin hybrid which goes down a storm at morning tea in my neighbourhood and almost certainly will in yours, too.
New one-bowl combi steam muffins
These muffins are based on a blueberry muffin recipe I spied in the wonderful new Smitten Kitchen Every Day book. I've altered it somewhat and changed the method to suit combi steam ovens, but what struck me when I saw the recipe was the thought that all along, I've been making muffins using one bowl for dry mix and another for wet, when in fact I could have been creating less washing up! So off to the kitchen I went, discovering that you can, in fact, make the humble muffin an even less demanding job than it already was. Bravo, Deb.
Needless to say, this is how I plan on making all my muffins from here on out – the basic batter should take on just about anything you want to put in it, and bakes up beautifully in combi steam, with craggy, perfectly crunchy tops and fluffy (but not too airy) insides.
Dip, roll, tap, repeat
You could mix these up, bake and eat just as they are, warm from the oven. That would be sensible, and most people you serve them to will be thrilled. But I got all carried away. It's a thing I do sometimes.
We were going to a friend's house for morning tea, and although I didn't have hours on my hands, I was keen to do something beyond a plain berry muffin. It was worth the extra effort, because these beauties are still being raved about a couple of weeks later. Not bad for all of 20 minutes work in the kitchen.
What's the lesson here? Despite the absolute non-necessity of the chocolate coconut topping, if you really want to bask in the glory of baking superstardom amongst your loved ones, spend the extra few minutes it takes to dip, roll and tap your muffins into the big leagues. The praise makes it so worthwhile for your ego.
Happy steam oven cooking, see you here again soon.
Do you want to use and love your steam oven more?

There are precious few resources to teach us HOW to use a steam oven in everyday cooking. I'm guessing that's why you're here! If you love cooking but aren't making the most of your combi steam oven, you aren't alone.

Steam Oven Insiders was created for you!

Benefit from my decade-plus of steam oven knowledge and training, delivered to your inbox twice monthly in bite sized, easy-to-implement tips and delicious recipes you'll actually want to cook. Insiders get access to every exclusive recipe and article within the members dashboard, so you'll never miss a thing.

Find out more right here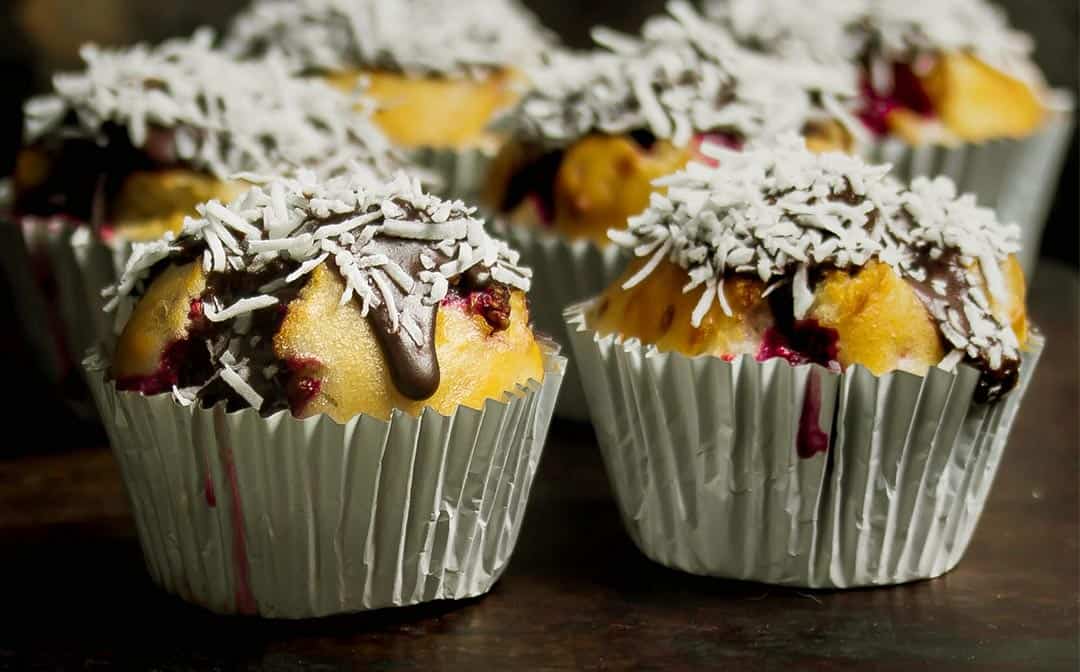 Print Recipe
Raspberry Lamington Muffins (Steam Oven Method)
Tender, raspberry-studded muffins get fancy dress with a chocolate glaze and coconut sprinkles. These one-bowl muffins are simple and much loved.
Instructions
Make the muffins
Preheat oven to 350°F/180°C, combination steam setting. If your oven has variable steam/humidity control, use 30% (if not, don't worry! Just set to combi steam at the correct temperature and the oven will figure out the humidity for you). Line a 12-hole muffin pan with cupcake cases (line all 12 holes if you'd like smaller muffins).

Put the oil, sugar, yoghurt and egg into a bowl and whisk to combine. Add the baking powder, baking soda and salt and whisk again.

Working quickly, as the baking powder and soda will now be activated, fold through the flours and then the raspberries.

Divide the mixture evenly into the prepared pan, and bake until the muffins are risen, craggy and golden, about 12 minutes. Remove from oven and allow to cool on a wire rack.
Glaze and top the muffins
Make the chocolate glaze by mixing the icing sugar, cocoa and oil together in a small bowl with 1-2 tbs warm water, until the mixture is smooth and pourable, about the texture of thick cream. Too thick and it won't stick to the muffins, too thin and it'll run off. Put the coconut in another small bowl.

Take the cooled muffins and one by one, turn them upside down and dip the tops into the chocolate glaze, allowing any excess to drip back into the bowl. Dip them into the coconut so it sticks to the glaze, gently tapping off any excess before turning right side up.

These are best served the day they're made, although they'll keep in an airtight container for a day or so at room temperature.
Notes
I am trying to cut down on sugar in many of my baked goods, without impacting flavour or texture too much. Here, I've dropped the sugar quantity from the original recipe by about a third. The small amount of chocolate glaze makes up for any lost sweetness, and I like the counterpoint of a less sweet muffin. If you're trying to cut down on refined sugar, I think coconut sugar or honey might work here, too.
I've tested these with straight up white flour and with a mix of half white, half whole-wheat/wholemeal. The whole-wheat ones are my favourite, but use whatever you prefer. 
You will have a little chocolate glaze and coconut left over, but if you make less it's hard to dip and roll the muffins in such a small quantity. If your coconut still looks 'clean' after you've dipped the muffins in it, you can keep it for another use.
Nutrition
Calories:
243
kcal
|
Carbohydrates:
32
g
|
Protein:
4
g
|
Fat:
12
g
|
Saturated Fat:
5
g
|
Cholesterol:
16
mg
|
Sodium:
46
mg
|
Potassium:
181
mg
|
Fiber:
3
g
|
Sugar:
17
g
|
Vitamin A:
40
IU
|
Vitamin C:
4
mg
|
Calcium:
49
mg
|
Iron:
1
mg
Over to you – if you try this recipe I'd love to know about it! Please share your pictures with me on Facebook or tag them #whatsinthesteamoven on Instagram.
Would you like more Steam and Bake recipes and steam oven inspiration? Join the mailing list – there's no spam, just an email every now and then to tell you the latest. When you sign up, you'll get an invite to the exclusive subscribers-only Combi Steam Cooking Facebook group, which is full of people at all stages of their combi steam journeys, and with many different brands of oven. It's a friendly, helpful space to learn and share with one another, and I'm always in there answering questions and sharing tips.
And if you're after more delicious combi steam baking recipes, the Cakes and Baking Index page has plenty. Try the Fudge Brownies with White Chocolate and Pecans, or, for more single serve goodness, the Little Combi Steam Custard Tarts.