This might be controversial, but I believe if you want to know how to cook couscous easily, you can't go past a steam oven.
Steamed couscous is a staple in my house. It used to be something that I made in the microwave, or just by pouring hot water over the grains in a bowl and letting it absorb. But since getting a steam oven I've used it to cook the best couscous. It's light and fluffy and gorgeous and I'm never going back.
The traditional way to cook couscous is steamed in a couscoussier (a made-for-purpose steamer basket), so a steam oven really replicates this but is easier to use.
What is couscous
Couscous is both the name of a dish and a North African staple food. Couscous the food is made from semolina (wheat) that's been dampened and rolled into little granules, then dried ready for cooking. The couscous most of us are familiar with in Western countries is the small, Moroccan variety which cooks in just a few minutes. It has granules smaller than a pin head.
Couscous the dish is based on the same food, and refers to steamed couscous with a richly spiced stew served over the top. Traditionally, the stew is cooked in a pot and the couscous sits in a steamer above the pot, becoming fluffy and also taking on the aroma and some flavors from the stew as it cooks.
Israeli couscous, sometimes called pearl couscous, is larger than Moroccan, about 1/8-1/4 inch in diameter. Lebanese couscous, also known as Moghrabieh, is larger again. These two varieties are usually toasted before drying, giving them a nutty taste and aroma. They take longer to cook than Moroccan couscous and the texture is more chewy than fluffy.
Today I'm showing you how to cook Moroccan couscous as it's the most commonly known. You can, though, use the guidelines below to steam other types of couscous, just allow longer for it to cook.
What to do with couscous
I think of Moroccan couscous as having similar uses to rice. It's great for bulking out proteins and vegetables, and soaks up sauces really well.
If you're keeping things simple, just steam your couscous using water and mix through a little butter or olive oil at the end for richness and fluffier texture. Done this way, I serve it with tagines, casseroles and curries; dishes which carry a lot of their own flavor and just need something neutral alongside.
If you want to get a little fancier, steam couscous using bouillon or stock for more flavour. It's then pre-seasoned and ready to stir into salads or to make warm couscous dishes, akin to a rice pilaf.
When you use a steam oven to make couscous, you can add a pan of vegetables and a protein like fish or chicken at the same time as your couscous is cooking. By this method you'll pull out a tray of couscous, vegetables and protein, creating a simple and healthy dinner in around 15 minutes.
When it comes to the larger-granule couscous varieties, I treat them like pasta. I still cook them by absorption in my steam oven, but I season and dress them after cooking, as you would sauce a pasta dish. These larger grains are excellent mixed with warm roasted vegetable dishes, or as an unconventional base for a pasta salad.
Want great recipes which make use of couscous? Try these:
Moroccan Couscous and Lamb Tenderloins
Red Rice, Quinoa and Pumpkin Salad (replace quinoa with couscous)
How to cook couscous
Preheat your steam oven to 212F/100C (100% humidity).
Put the dry couscous into a shallow pan. I use one of my stainless steel oven pans, as it conducts heat more evenly than ceramic or glass. Read my recent post for lots of cookware details if you're not sure which cookware is best to use in your steam oven.
Add the liquid to the couscous and stir. Remember you can use stock, salted water or regular water. And the water doesn't need to be hot; room temperature is fine.
Put the pan into the preheated oven and set the timer for 15 minutes.
At the end of cooking, remove the pan from the oven and drizzle a little olive oil or put a knob of butter on top of the hot couscous. Fluff couscous with a fork, mixing through the oil or butter as you do so. It should be very fluffy and light, and any clumps will easily break up when you put your fork through them.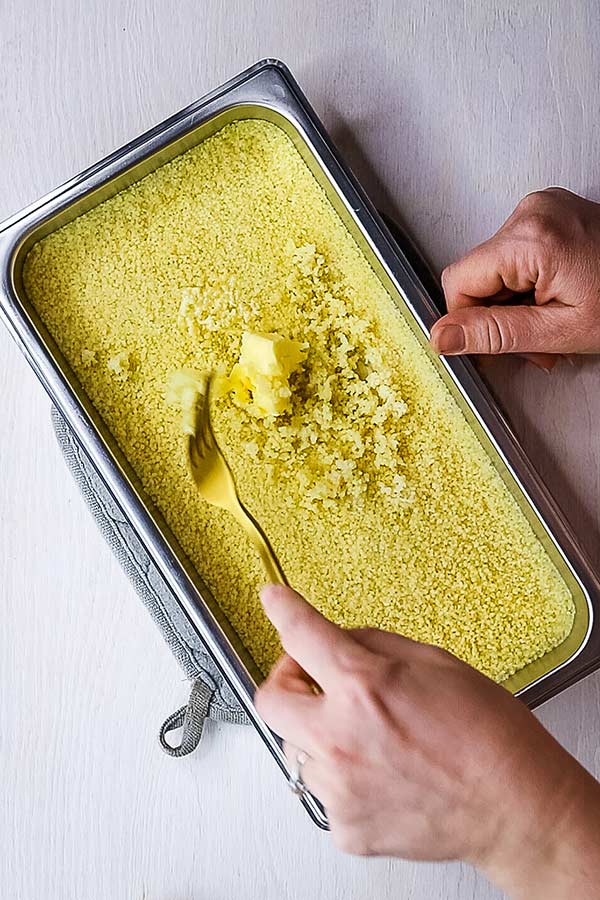 Easy! Now you've got perfectly cooked couscous ready to serve as a side dish, or to turn into a substantial meal.
If you enjoyed this post you may be interested in my guide to cooking rice in a steam oven. It lays out quantities, ratios and settings for almost any type of rice.
Happy steam oven cooking, see you here again soon.
Do you want to use and love your steam oven more?

There are precious few resources to teach us HOW to use a steam oven in everyday cooking. I'm guessing that's why you're here! If you love cooking but aren't making the most of your combi steam oven, you aren't alone.

Steam Oven Insiders was created for you!

Benefit from my decade-plus of steam oven knowledge and training, delivered to your inbox twice monthly in bite sized, easy-to-implement tips and delicious recipes you'll actually want to cook. Insiders get access to every exclusive recipe and article within the members dashboard, so you'll never miss a thing.

Find out more right here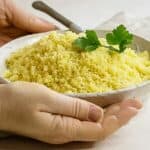 Print Recipe
Couscous
How to cook couscous for the fluffiest, most perfect texture imaginable!
Ingredients
1

cup

couscous

regular/small-grain, not pearl

1

cup

water

or stock

1

Tablespoon

butter

or olive oil
Instructions
Preheat oven to 212F/100C, steam setting (100% humidity).

Put the couscous into a shallow stainless steel pan and add the water or stock. Place the pan into the preheated oven and cook for 15 minutes.

1 cup couscous,

1 cup water

At the end of cooking, remove the pan from the oven and add the butter or oil. Fluff well with a fork, mixing in the butter/oil to coat the grains.

Use the couscous immediately as a side dish to a tagine, casserole or stew, or allow it to cool and use in a salad. Cold couscous will keep, covered in the fridge, for a few days.
Notes
If you'd like to cook larger grained couscous varieties by this method you absolutely can. Use 1 part couscous to 1 1/2 parts liquid in this case, and allow around 20 minutes steaming time, or until the couscous is chewy all the way through.
Traditionally, Moroccan couscous has Smen, a fermented butter, added to give it an earthy, savory, cheesy flavor. It's not common in Western countries so I've specified regular butter or olive oil instead. I was taught by a Moroccan cook that you can add a teaspoon or two of crumbled blue cheese with the regular butter if you want to approximate a similar taste to the Smen; it might sound strange but it really does make the couscous taste amazing.
Nutrition
Calories:
375
kcal
|
Carbohydrates:
67
g
|
Protein:
11
g
|
Fat:
6
g
|
Saturated Fat:
4
g
|
Polyunsaturated Fat:
1
g
|
Monounsaturated Fat:
2
g
|
Trans Fat:
1
g
|
Cholesterol:
15
mg
|
Sodium:
65
mg
|
Potassium:
145
mg
|
Fiber:
4
g
|
Sugar:
1
g
|
Vitamin A:
175
IU
|
Calcium:
26
mg
|
Iron:
1
mg