For me, the holiday season isn't complete without baking my traditional Christmas cake recipe at least once. Because though there are many Christmas recipes I love, having a big, rum or brandy-soaked homemade fruit cake tucked in the back of the pantry is critical to my holiday season wellbeing.
Traditional Christmas cake is packed with dried fruit and held together with the barest amount of cake batter. It's as much about the ritual of making as eating. There's something about the process of gathering and chopping all those fruits and soaking them; I don't really feel like my Christmas baking preparations can start in earnest until I've done it.
The reward for the ritual of baking this classic fruit cake? You can revel in the comfort of knowing you can sneak little slices, right through the holidays. It'll be there whenever you need a little pick-me-up sweet treat. If you're generous, you'll share with loved ones, or pop out a slice for Santa to help him through to Christmas morning. Though I wouldn't blame you if you wanted to keep the whole thing for yourself. No one even has to know it's there. 😉
This is a very rich fruit cake and I've passed it off as Christmas pudding, too. Warmed, with custard poured over the top, it's a perfect Christmas Day dessert. Hopefully that gives you an indication of how moist and lovely it is once baked and matured!
Is one fruit cake recipe nowhere near enough? If you're yet to find your perfect English Christmas fruit cake recipe, head on over to this collection of 8 Great English Christmas Fruit Cakes, from classic to modern. You'll be covered for fruity, boozy goodness no matter what your preferences.
This post may include affiliate links. As an Amazon Affiliate I earn from qualifying purchases (don't worry, it doesn't cost you anything!). Find out more about affiliate links.
Ingredients for the ultimate traditional Christmas cake recipe
Although fruit cake isn't difficult to make, the perfect traditional Christmas cake recipe requires careful selection of ingredients. This is particularly the case when it comes to fruit and alcohol.
Dried fruit
You need a variety of dried fruit, the base of which should be sultanas (or golden raisins), currants, and large, juicy raisins. Dates go in for sweetness and sticky texture, and then we lighten things up with cherries, pineapple, apricots and citrus. Those lighter fruits are where you can tweak and adapt to make the cake your own; I've settled on my favorite blend of dried fruits over the years but it's fine to mix and match a little. I've put some suggestions in the recipe card notes at the end of the post for you.
Alcohol or fruit juice
Once your fruit is sorted you need some kind of alcohol to soak it in. This partially rehydrates the fruit and infuses depth of flavor along with the moisture. Brandy or sherry are the traditional fruit soaks but I make my Christmas cake with spiced dark rum. More alcohol is brushed over the cake at the end of cooking, and again over the next few weeks. All that 'feeding' ensures a moist cake. Plus, it builds on the flavors you bake into it, as well as helping it to store for longer.
If you want a less conventional Christmas cake, use orange-flavored liqueur like Cointreau or triple sec. Or try amaretto for a nutty flavor.
If you don't want to use alcohol, that's fine. Many people don't, for taste, social or cultural reasons. In that case, soak the dried fruit in orange juice or apple juice, or tea. Just know that a cake without alcohol won't last as long as one with it. It will also need to be stored in the fridge instead of your pantry.
Spices and cake batter
The rest of the cake ingredients are pantry and spice cupboard staples. Flour, brown sugar, butter and large eggs, and a smattering of warm spices like cinnamon, cloves and nutmeg. A traditional Christmas cake recipe isn't meant to be highly spiced, so we'll go gentle on the quantities of those.
Preparing a traditional Christmas cake recipe
The full recipe and directions for this traditional Christmas cake recipe are at the end of this post, but here are the extended notes and tips. I'd recommend reading through if this is the first time you've baked the recipe.
Homemade Christmas cake requires a bit of prep time: not so much in the making, more in the waiting. You'll be waiting for the fruit to soak, and again for the cake to mature after you've baked it. I promise it's worth the wait, and this fruit cake recipe is very straightforward.
Fruit soak
At least a day, and preferably up to a week, before you want to bake your Christmas cake, you need to chop and soak the fruit. There are no fancy tricks, just mix it all up and cover, keeping it at room temperature until the next day, or until you're ready to bake. The further ahead you can do this, the more time the fruit has to take up the alcohol and become plump and boozy.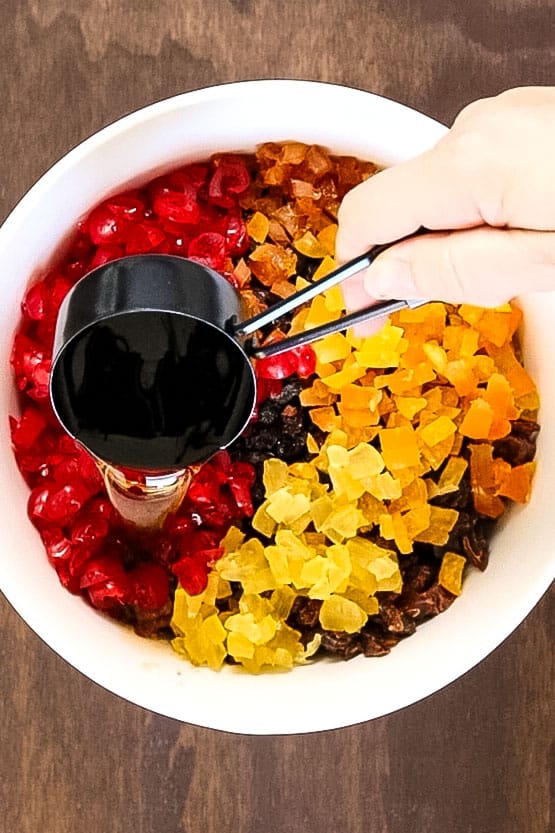 Cake tin preparation
When it's time to bake, begin by preparing the cake pan. Cut a triple thickness of parchment paper to fit the base and sides. I cut separate paper circle pieces for the base, and have the paper for the sides of the tin extend up a couple of inches above the top. This is the best way I've found to do it, and helps prevents the edges and top of the cake from overcooking. It's going to spend a long time in the oven so a properly prepared tin is essential.
Cake mixture
All the hard work's done now, and it's just a straightforward process of mixing and baking the cake batter. Butter and sugar gets creamed, eggs are added to the butter mixture, then dry ingredients.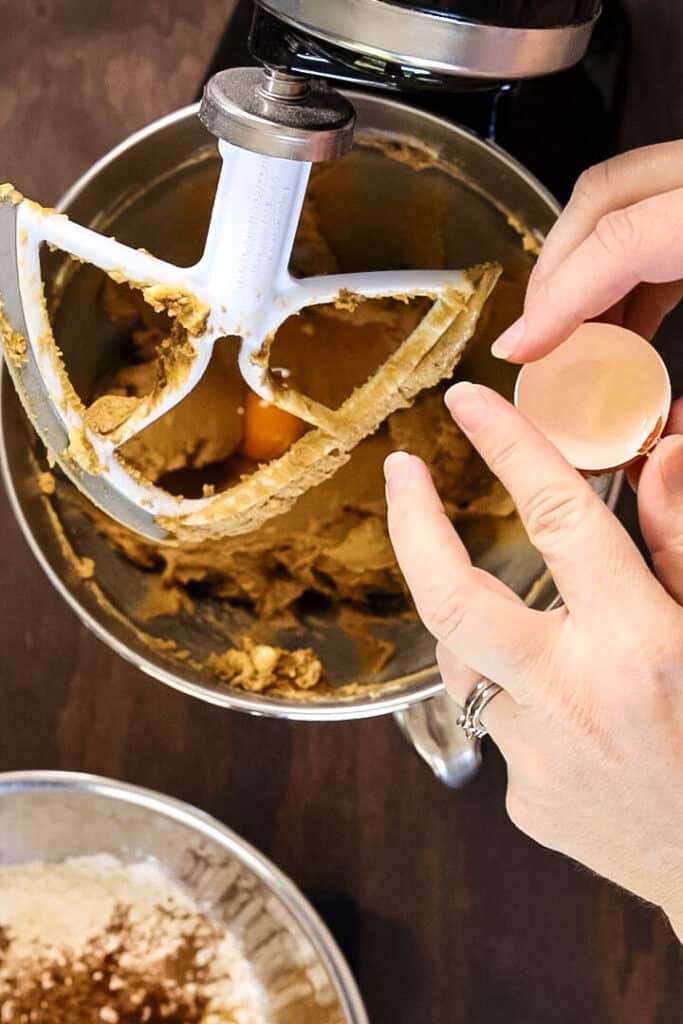 Tip in all the soaked fruit and stir really well. I do this part with a wooden spoon or a sturdy spatula as it's a heavy mix.
Scrape all that Christmas fruit cake batter into the prepared cake tin and smooth the top really well. If you smooth a small dip into the center of the cake, it'll bake up nice and flat, making things easier if you want to ice it later.
Bake the cake
Time to bake! Get the cake into a preheated oven and let it do its thing. Using a combi steam oven will cook the cake a little faster, but the finished results will be similar whether you use a conventional or a steam oven for this recipe.
Using different tin sizes for your traditional Christmas cake recipe
Want a smaller version of this cake, or have a different tin size than the original recipe calls for?
I use a 9 inch (23cm) round tin for this recipe, which is perfect for the quantity of batter. The same quantity also fits well into an 8 inch (20cm) square pan, or a deep 9×5 inch (23x13cm) loaf pan. For smaller cakes, you can get two 6 inch (15cm) rounds out of the mixture.
For different sized tins you'll need different cooking times, though the baking temperature remains the same. The variables in ovens and pan thicknesses mean I would always use the instant read thermometer test (next paragraph) to check for doneness when baking different sized or shaped fruit cakes.
How to know when your traditional Christmas cake is cooked
Traditional Christmas cake recipes have a long cooking time due to their dense mixture and the high moisture content from the fruits. Because of this, it can be hard to know exactly when they're done. A skewer or toothpick test doesn't work that well because the fruit impedes the cake batter from sticking to the skewer!
I've taken to temperature testing my cakes in recent years, as a far more reliable way to tell when they're done. It's especially good for these types of long-cooking cakes which are hard to judge solely by time or looks. If you have an instant read thermometer, it should read 206-209°F/97-98°C in the center of the cake. As soon as it hits that temperature, it's done.
If you're going just off visual cues, look for a deep golden brown colour all over the cake, and the slightest hint of the cake pulling away from the edges of the pan. The top should feel firm and just a tiny bit springy.
Storing a traditional Christmas cake
When your cake is cooked and removed from the oven, brush it all over the top with extra rum, brandy or other alcohol, and allow to cool completely in the tin set onto a wire rack. This helps it to settle and end up with a very even texture.
Once it's cooled, turn out the cake and wrap it well in a double layer of plastic wrap and then a layer of aluminum foil. Put it in an airtight container in a cool place, preferably somewhere that has a very even temperature day and night, and let it mature for at least a week and up to a month or more. You can unwrap it once a week and brush with extra alcohol to make it extra moist and help with the cake's keeping qualities.
Decorating traditional Christmas fruit cakes
Want a decorative Christmas cake? Most years I think about decorating and then end up leaving mine unadorned, but a marzipan layer and smooth royal icing on top is the classic decoration for a traditional British Christmas cake. You can buy marzipan at most good supermarkets now, and either make your own royal icing from scratch or buy royal icing mixture which just needs water added (when I need some, most often for gingerbread cookies, I buy the packaged one). After the cake has been decorated, store it in an airtight tin in a cool, dry place.
You can keep a Christmas cake, well wrapped and stored somewhere cool, for months. If you live in a hot climate I'd recommend putting it in the fridge after the initial couple of weeks maturation, and bringing slices to room temperature when you want to eat it.
I hope you love my traditional Christmas cake recipe, and that you bake one (or a few!) this Christmas season. If you do, I'd love to know about it in the comments below!
Happy Christmas cake baking, see you here again soon.
Print Recipe
Easy Traditional Christmas Cake Recipe
This recipe makes an English style fruit cake that's so rich and dense it can pass as a pudding! It's a classic British Christmas treat that's best made ahead and keeps for months. There are a lot of ingredients to chop but the mixing and baking isn't hard at all.
Ingredients
3

cups

sultanas

or golden raisins

1 1/2

cups

raisins

roughly chopped

1 3/4

cups

dates

pitted, finely chopped

1

cup

dried currants

sometimes called Zante currants

5

candied orange slices

finely chopped (my preference, mixed dried citrus peel is more traditional, see notes)

2/3

cup

candied cherries

chopped; I like red, you can use red, green or a mix

1/4

cup

chopped candied pineapple

1/2

cup

chopped candied apricots

1/2

cup

rum

or brandy, dry sherry or other alcohol, see notes

1

cup

unsalted butter

softened

1

cup

brown sugar

firmly packed

5

eggs

2

cups

all-purpose flour

plain flour

1

tsp

baking powder

1

tsp

ground cinnamon

1/2

tsp

ground cloves

1/2

tsp

ground nutmeg

3

Tbsp

rum

or other alcohol, extra
Instructions
Combine all the dried fruits with the brandy in a large bowl. Mix very well, then cover and set aside at least overnight. You can soak the fruit for up to a week, stirring and recovering each day.

3 cups sultanas,

1 1/2 cups raisins,

1 3/4 cups dates,

1 cup dried currants,

5 candied orange slices,

2/3 cup candied cherries,

1/4 cup chopped candied pineapple,

1/2 cup chopped candied apricots,

1/2 cup rum

Preheat your oven. For a regular oven, preheat to 265°F/130°C. For combi steam, set to the same temperature using Combi Steam setting, and no more than 30% steam (low steam). Line the base and sides of a deep 9-inch (22cm) round cake pan with a triple thickness of parchment paper, extending the sides up about 2 inches past the top of the pan.

Put the butter and brown sugar into the bowl of a stand mixer fitted with the paddle attachment, or use a large bowl and a hand beater. Mix until well combined but not fluffy.

1 cup unsalted butter,

1 cup brown sugar

Add the eggs to the butter mixture, one at a time, beating to combine after each addition. The mixture is going to look lumpy and curdled, that's normal.

Sift the dry ingredients into the butter and egg mix and mix to combine. Tip in the soaked fruit and any remaining liquid, and mix well. I prefer to do this part by hand with a wooden spoon, as the mixer blade has a tendency to squash the fruit.

2 cups all-purpose flour,

1 tsp baking powder,

1 tsp ground cinnamon,

1/2 tsp ground cloves,

1/2 tsp ground nutmeg

Scrape the cake mixture into your prepared pan and smooth out the surface. Bake until it's deep brown and form to the touch; 3 1/2 hours in a conventional oven or 2 hours 45 minutes in combi steam.

Brush the top of the hot cake with extra brandy, then cover and set aside to cool overnight in the pan. Turn out, brush with more brandy if you want to, then wrap well and store the cake in a cool, dark place for up to 2 months. It's at its best a few weeks after baking, so try to give it that long if you can.
Notes
Dried fruit notes:

Sultanas, raisins and currants; I'm referring in all cases to different varieties of dried grapes. They're commonly available in Australian and UK supermarkets but you may need to look online in the USA. 
I really dislike the mixed citrus peel that's commonly used in fruit cakes and puddings, so I always substitute it with glace (candied) orange slices for a similar but less bitter flavor. If you like peel, swap out the orange slices above for 1/3 cup chopped mixed peel. 
Everywhere you see 'candied' fruit listed above, I'm referring to fruits which are cooked in sugar syrup to preserve their color and flavor. Candied fruits may be sold as glace fruits depending on your location. 
The total overall volume of dried fruit is of most importance here, not the exact mix. I think it's critical to have a good amount of raisins/sultanas and some dates for texture and sweetness. After that, mix and match as you like depending on what you have or can get. Just make sure all your fruits are chopped into pieces no larger than the size of a single sultana/golden raisin.

Alcohol in fruit cakes: It's traditional to soak both the dried fruit and the finished fruit cake in alcohol, for flavor and preservation. What you use is up to you; spiced rum is my preference but my husband's English relatives would ALWAYS use brandy or sherry. Whiskey, orange liqueur (Cointreau) and even amaretto are also common. If you don't want an alcoholic cake you can soak the fruit in orange juice, and brush it with a simple syrup made of mostly orange juice and a little sugar after baking. Keep in mind a non-alcoholic cake won't keep as long as the boozy one, so it's best to freeze rather than store in the pantry in that case. 
Storage of fruit cakes: An alcohol-soaked cake will improve and keep, well-wrapped in a dark, cool place like the back of a pantry, for a couple of months at least. If you live in a warm climate or want to store it for longer than that, wrap tightly and put in the fridge for up to 2 months or freeze for up to a year.
Nutrition
Calories:
490
kcal
|
Carbohydrates:
87
g
|
Protein:
6
g
|
Fat:
13
g
|
Saturated Fat:
8
g
|
Polyunsaturated Fat:
1
g
|
Monounsaturated Fat:
4
g
|
Trans Fat:
0.5
g
|
Cholesterol:
82
mg
|
Sodium:
38
mg
|
Potassium:
622
mg
|
Fiber:
5
g
|
Sugar:
53
g
|
Vitamin A:
584
IU
|
Vitamin C:
2
mg
|
Calcium:
73
mg
|
Iron:
2
mg