This post includes affiliate links. As an Amazon Affiliate I earn from qualifying purchases. Find out more about affiliate links.
I've helped people work out how to make individual Christmas puddings in their steam ovens for years, but until now I haven't written about them here.
Honestly, I figured that for people in the UK, Australia or New Zealand, this most classic of Christmas desserts was something everyone has their favorite recipe for, so I couldn't provide much guidance except with cooking times. Yet every year, although I've shared a less-traditional steamed pudding which remains popular, I get requests to share my best classic pudding recipe, so here we are.
I have to confess to this not actually being wholly my recipe. It's based on one from the great (and sadly late, as of this year) Margaret Fulton, whose prolific recipes and writing on Australian cooking over the past 60 years or so did more to establish a national food identity than anyone else I can think of.
Fulton's recipe is a very traditional one for a single large pudding, and I've tweaked it slightly over the years to change the fruit and turn it into single serve puddings which cook in a quarter of the time.
The best fruit to use in Christmas pudding
I've seen pudding recipes calling for just about every dried or candied fruit under the sun, and others which simply use currants and raisins. In my mind, though, the real classics contain a mix of mostly dried vine fruits with a little mixed citrus peel.
While I like the traditional approach, I can never help but change things a little to suit my own tastes, and, if I'm honest, to lighten my puddings just a touch in a nod to the hot climate here at Christmas. For Northern hemisphere festivities I think the deep, dark puddings of old are welcome, but in a place where the temperature regularly tops 35 or 40 degrees Celsius (95-105°F) on Christmas day it's a bit much.
The lovely thing about the recipe below is that you can adapt the dried fruit as much as you like to suit where you live or your taste preferences, given three rules:
Firstly, make sure the total fruit weight remains the same. Second, make sure at least half the weight is vine fruits, which will will keep that traditional pudding taste and some depth of color. And third, cut any larger fruits into pieces roughly the size of a sultana so they mix and cook evenly.
If you're wondering about the exact fruits I've used in the photographed puddings: I go with half vine fruits (an even mix, or 135g each, of sultanas, currants and raisins), then make up the weight with equal quantities of candied ginger, apricots, candied orange slices, prunes and dried cranberries (80g each).
Tips for making individual Christmas puddings
We've discussed the best fruit to use, but there are a few other tricks worth knowing to get the best out of your pudding making.
Start by soaking your fruit and nuts the day before you mix and cook the puddings. This gives time for the alcohol to be absorbed into the fruit, plumping it and giving extra flavor.
The alcohol you use is interchangeable. Brandy is traditional, but orange liqueur, whisky or dry sherry also work nicely.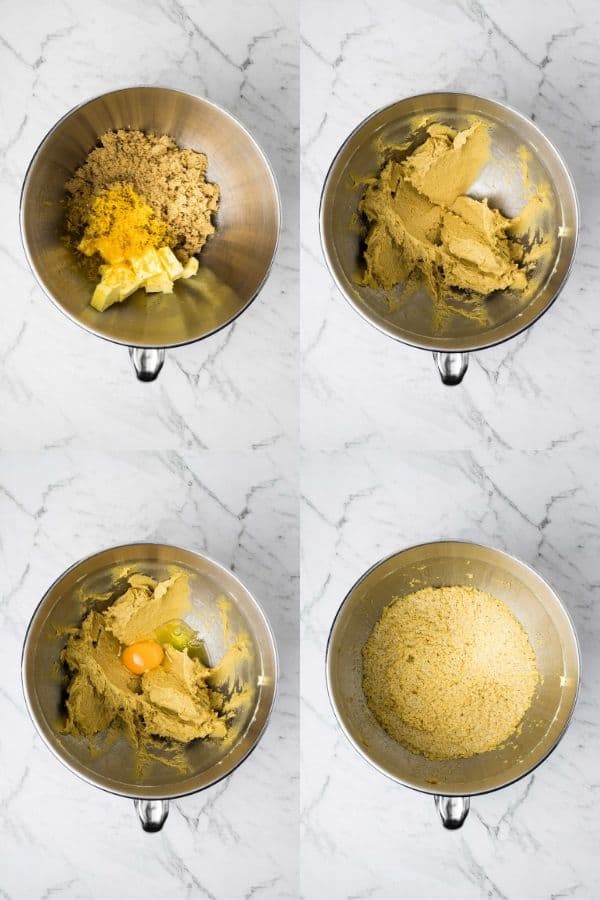 You can use muffin pans or small individual pudding molds to steam the puddings. Most people have a muffin pan so unless you really want the shape of a pudding mold you don't need to buy special bakeware.
Grease and line your pan or mold! A quick coating of nonstick baking spray or a rub with a little butter will do for the greasing step; to line, I just cut small squares of parchment paper to a size which will cover the base of each mold. If you want to go to the trouble of cutting tiny circles to fit exactly, be my guest, but I can't be bothered and if you push the mixture down into the molds properly before cooking, it's not noticeable once you turn out and remove the paper anyway.
Similarly, although it's a good idea to cover your puddings in the steam oven (they cook for a long time and you don't want any drips from the oven to ruin them), if you're using a muffin pan one large sheet of parchment pressed over the top of all the puddings is fine. No need for precisely cut circles to go on top.
Want to make one large pudding instead of smaller ones? You'll need a bowl/basin around 1.8qt/1.7l, and it will need to be steamed for 6 hours. I cover large puddings just with parchment paper, not foil (as is traditional for steamed puddings in a pot).
Storing and reheating Christmas pudding
After you've made your puddings, they'll benefit a lot from some time to mature. Kind of like humans, ha.
Puddings are traditionally made on the last Sunday in November (stir-up Sunday), but a little later is absolutely fine. They'll be good to eat a few days after making, but better if you can give them a few weeks.
To age your puddings, wrap them in wax paper and store in an airtight container. If you like a brandy or liqueur-soaked pudding, unwrap them every few days and brush with a little alcohol to build that depth of flavor (this also helps greatly with their keeping qualities).
If you're in a warm climate like me, store puddings in the fridge for maturing. In a cold climate they'll be fine in a cool pantry. And if you're really getting ahead and need to store them for longer than a few weeks, I'd recommend wrapping in cling film and foil, then freezing, where they'll happily sit for up to a year.
To reheat, steam individual puddings (uncovered) at 212°F/100°C on your oven's steam setting for 30 minutes. If you've made a larger pudding instead of single serves, you'll need to steam it for around an hour and a half to two hours (leave it in the pudding basin for this and turn out to serve).
Happy Christmas cooking, see you here again soon.
Print Recipe
Individual Steam Oven Christmas Puddings
Steamed Christmas puddings are a British classic. These small versions have the same traditional fruity taste but cook faster. They make a pretty dessert or a lovely food gift.  
Instructions
A day before you want to cook the puddings: put the fruit and almonds into a bowl and pour the brandy over the top, mixing to coat everything with the alcohol. Cover and leave overnight. 

The next day, grease a 12 hole standard muffin pan. Line the base of each greased muffin hole with a small piece of parchment paper and set aside. If you have small individual metal or ceramic molds feel free to use those instead.

Cream the butter, sugar, orange rind and juice until light and fluffy. Add the eggs, one at a time, beating to incorporate each one before adding the next. If the mixture curdles when the last couple of eggs are added don't worry.

Add the flour and spices to the butter mixture and mix just to combine, then add the breadcrumbs and soaked fruit and mix until well combined.

Divide the mixture evenly into the prepared pan, then cover the puddings with parchment paper to fit (you'll need a single large piece of paper for a muffin pan, or single pieces for individual molds).

Put the puddings into your steam oven and set to 212°F/100°C, steam only (100% humidity). Cook for 1 ½ hours, then remove and cool puddings before turning out of the pan.

Store the puddings wrapped in wax paper inside an airtight container, in the fridge for up to 3 weeks. Brush with extra brandy every few days during this time (optional). If you'd like to store them longer, freeze the puddings until the day of serving.Reheat puddings at 212°F/100°C, steam only (100% humidity) for 30 minutes (45 minutes from frozen). Serve with brandy butter or custard.
Notes
You'll need to soak the fruit and nuts overnight before making your puddings. Ideally, puddings should be cooked and then aged in the fridge (or a cool pantry, if you live somewhere cold) for a few weeks, but they'll be good to eat anywhere from a few days after cooking.
Use a combination of your choice when it comes to dried fruit. I like to make sure it's at least half vine fruits (raisins, sultanas and currants), but I always add a little candied ginger because I love it, as well as some candied orange slices and whatever other glace or candied fruit I have on hand for Christmas baking. Some stores sell pre-packaged mixed dried fruit; I really dislike it. The pre-packaged stuff generally contains candied peel with artificial citrus essence added to it, which smells and tastes awful.
This recipe makes a dozen half-cup puddings. If you'd like to make it as one large pudding instead, you'll need a bowl/basin around 1.8qt/1.7l, and it will need to be steamed for 6 hours.
Nutrition
Calories:
590
kcal
|
Carbohydrates:
89
g
|
Protein:
10
g
|
Fat:
23
g
|
Saturated Fat:
11
g
|
Trans Fat:
1
g
|
Cholesterol:
95
mg
|
Sodium:
168
mg
|
Potassium:
641
mg
|
Fiber:
9
g
|
Sugar:
57
g
|
Vitamin A:
584
IU
|
Vitamin C:
7
mg
|
Calcium:
204
mg
|
Iron:
4
mg
Over to you – if you try this recipe I'd love to know about it! Share your comments below or on Facebook, tag @steamandbake on Instagram, or pin all your favourite Steam and Bake recipes over on Pinterest!
Would you like more recipes and tips to help you cook with confidence? Join the mailing list to be alerted to new posts.