Parmesan Crusted Chicken is my quintessential go-to for a fast chicken dinner.
Although it was originally developed for regular oven baking, this crunchy crumbed chicken also happens to be an excellent showpiece for the benefits of a combi steam or convection steam oven. In fact, that's why I started making it!
My past colleague and I (hi, Diane!) were always after recipes to quickly and easily show off steam ovens during appliance demonstrations. One day, she came in with an oven baked parmesan crusted chicken recipe, pulled from a Donna Hay magazine. We tweaked it for the steam oven and it was an instant hit. Simple, impressive, and it perfectly shows how you can achieve super moist and tender meat with a browned, crispy exterior using convection steam settings.
Diane and I made variations on this recipe for hundreds of demonstrations. And although we got a little sick of it after a while, our customers never did; they were universally thrilled by both the dish and the ideas it opened up for them with their new steam ovens.
This post may include affiliate links. As an Amazon Affiliate I earn from qualifying purchases (don't worry, it doesn't cost you anything!). Find out more about affiliate links.
How to make parmesan crusted chicken
Like I said above, the original version of this oven baked crumbed chicken was designed for a regular oven. If that's what you're working with, go for it; add a few minutes to the cooking times in the recipe below and it'll be great.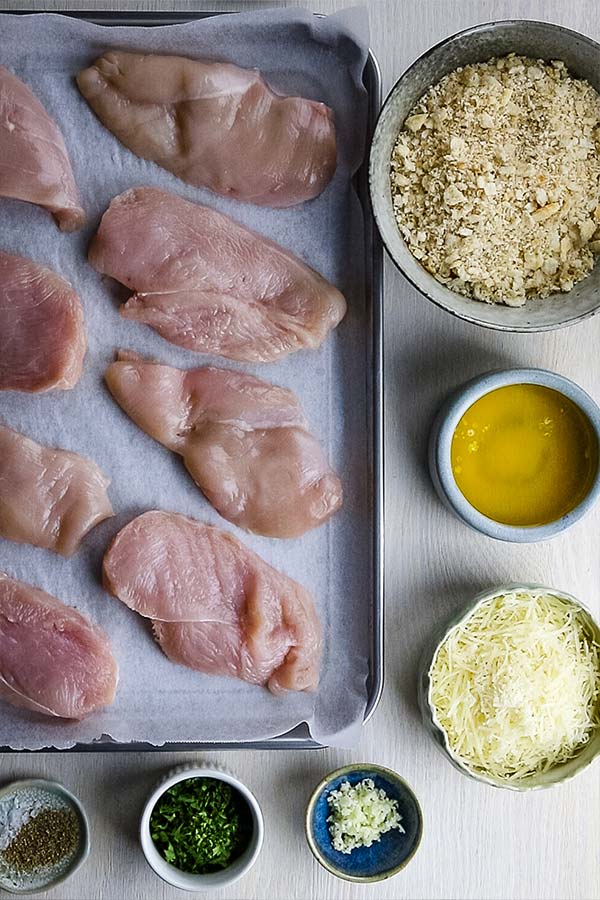 If, however, you're here for all the steam oven stuff, I want you to embrace your combi steam or convection steam oven settings for this dish. We're going high heat, high steam, fast cooking, maximum dinner joy. Ha.
First thing you're going to do is split your chicken breasts. Yes, you can use whole chicken breasts for this recipe, but for the juiciest chicken and the fastest cooking time, cut them in half to make two thinner pieces.
Pop the chicken onto a parchment-lined pan with a little space between each piece, then move onto mixing up your parmesan crumb crust.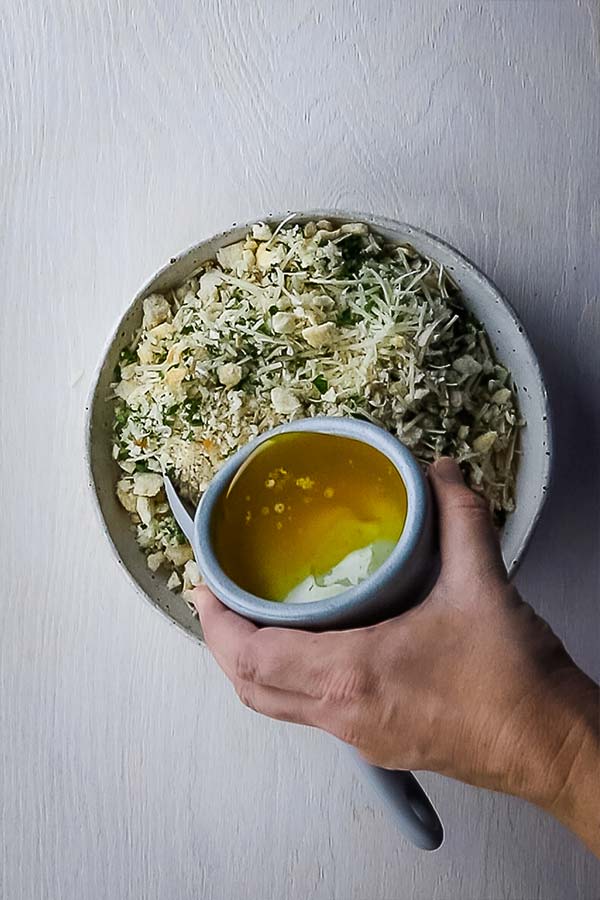 All the crumb ingredients can go into a bowl except for the melted butter. Toss together those ingredients until they're roughly combined, then add the butter and mix again. I find it easiest to do this with my hands.
Lightly press the crumb mixture onto the top of each chicken piece. You want it mounded nice and high! It's not going to look the neatest, and you're going to end up with some crumbs spilling off the sides. Remember, though, craggy crumbs on top means more surface area to get crispy and golden in the oven. Embrace the mess.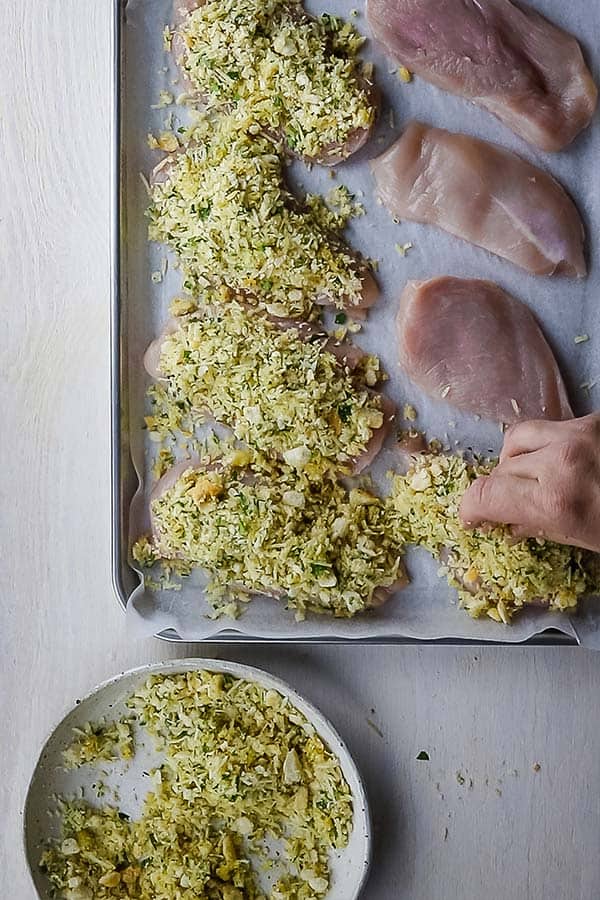 Bake your parmesan crusted chicken for about 12 minutes, or until the chicken is cooked through and the crumbs are deeply golden. Serve immediately, with one of the serving suggestions below. This is a dish which is ok reheated but it really tastes best freshly cooked.
Other fantastic convection steam oven chicken recipes
Would you like my FREE Quick Start Guide to Your Steam Oven?
Start learning what (and how!) to cook using your oven's steam and combi steam settings, with my instant downloadable guidebook, full of tips, links and ideas.
Click here to get the Guide sent straight to your inbox
Variations and serving suggestions for crispy crumbed chicken
Once you've mastered the basic idea of parmesan chicken, you can change and tweak in lots of different ways!
Oil instead of butter is an easy swap, and you can omit the garlic if that's not your thing.
I swap in all kinds of different herbs; rosemary or thyme are favorites, but any soft herb works well.
You can even swap out the parmesan if you don't feel like cheese (although, really, I don't think I've ever not felt like cheese), and add Cajun seasoning or Moroccan seasoning mix instead.
In the demo kitchen, we used to serve our parmesan crusted chicken with steam oven roasted carrots. At home I usually throw together a fast green salad and add tomato relish for those who want it. I have been known to fancy things up with Christmas rice salad or Moroccan chickpea salad, though. And in winter, cauliflower or potato mash is great alongside the crunchy crumbs.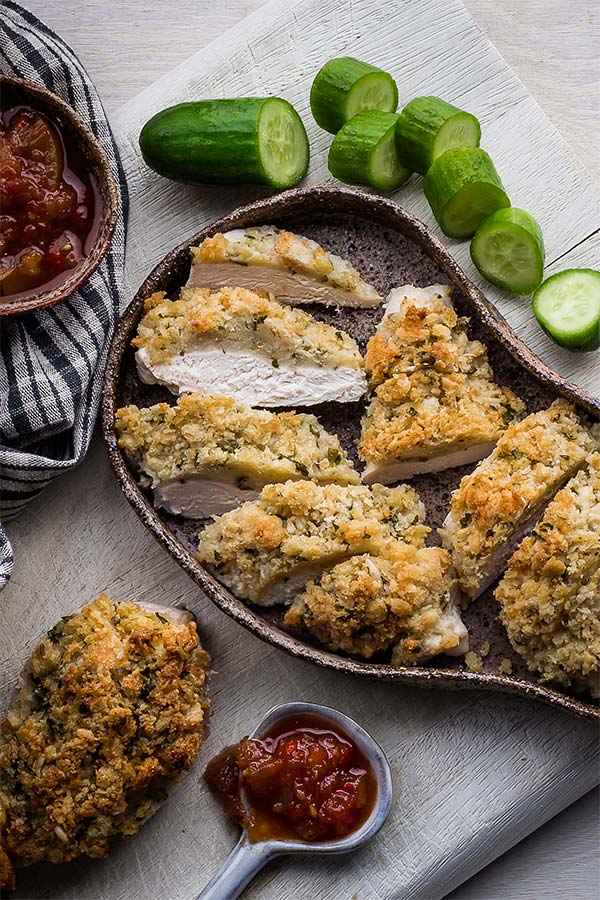 I can't wait for you to make this dish and I'm sure it'll become a well-loved regular at your house too.
Happy steam oven cooking, see you here again soon.
Have you made and enjoyed this recipe? I'd love if you'd be kind enough to rate and review it via the stars in the recipe card, or leave a comment below! Ratings and reviews help other readers to find and know whether one of my recipes will suit them.
Print Recipe
Parmesan Crusted Chicken
Juicy, tender, perfectly cooked chicken breast under a crispy and savory parmesan crumb crust. This dish is fast to put together and loved by just about everyone!
Ingredients
2

cups

breadcrumbs

fresh, white or wholemeal, your choice

1

cup

grated parmesan cheese

2

Tbsp

finely chopped parsley

or mixed herbs of your choice

1

clove

garlic

minced

4

Tbsp

butter

melted

4

chicken breasts

7oz/200g each breast, trimmed and halved to make 8 thin fillets
Instructions
Preheat oven to 400°F/200°C, combi steam setting. If your oven has variable steam settings, select 60% (high steam). If not, don't worry! Just set to combi steam at the correct temperature and the oven will work out the rest. Line a sheet pan with non stick parchment paper and set aside.

Combine the breadcrumbs, parmesan, parsley, garlic, butter, and a good amount of cracked pepper to taste.

2 cups breadcrumbs,

1 cup grated parmesan cheese,

2 Tbsp finely chopped parsley,

1 clove garlic,

4 Tbsp butter,

cracked black pepper

Lay the chicken into the prepared pan and top with the breadcrumb mixture. You want to pile it on top of each fillet and then press it down slightly, without squashing the life out of it.

Cook in the preheated oven until the chicken is cooked through and the crumbs are golden, about 12 minutes.

Serve with roasted vegetables or a green salad.
Notes
I recommend using breadcrumbs made from soft sandwich bread (stale is fine!) for this recipe. Firmer, sourdough type breads can make the crumb topping quite dense and chewy instead of light and crunchy.
You can simplify this dish by omitting the parsley and garlic, or add to it by including ground cayenne or other dried herbs and spices.
I've tried this recipe dairy free with oil instead of butter and dried, chopped seaweed instead of the parmesan, which gives it a salty umami hit. It's great. 
Your cooking time may need to alter a minute or two either side of the recommended times, depending on the thickness of your chicken breasts. 
Want to get ahead? Measure and prep all your ingredients up to 8 hours ahead of time, and top the chicken with the crumb mixture. Put the pan, loosely covered, in the fridge, and pop it in the oven 10-15 minutes before you want to eat. 
Nutrition
Calories:
681
kcal
|
Carbohydrates:
40
g
|
Protein:
65
g
|
Fat:
27
g
|
Saturated Fat:
13
g
|
Polyunsaturated Fat:
3
g
|
Monounsaturated Fat:
7
g
|
Trans Fat:
1
g
|
Cholesterol:
197
mg
|
Sodium:
1141
mg
|
Potassium:
991
mg
|
Fiber:
3
g
|
Sugar:
4
g
|
Vitamin A:
802
IU
|
Vitamin C:
6
mg
|
Calcium:
395
mg
|
Iron:
4
mg
Do you want to use and love your steam oven more?

There are precious few resources to teach us HOW to use a steam oven in everyday cooking. I'm guessing that's why you're here! If you love cooking but aren't making the most of your combi steam oven, you aren't alone.

Steam Oven Insiders was created for you!

Benefit from my decade-plus of steam oven knowledge and training, delivered to your inbox twice monthly in bite sized, easy-to-implement tips and delicious recipes you'll actually want to cook. Insiders get access to every exclusive recipe and article within the members dashboard, so you'll never miss a thing.

Find out more right here