Chicken Caesar Salad. Once upon a time this famous salad was all over every bistro and pub menu, with variable levels of authenticity and quality in the dish that arrived at the table.
It must have fallen out of favor because I rarely see it now, but that's all the more reason to make your own (excellent) version at home!
My chicken caesar salad is creamy and tangy, packed with crisp lettuce and bacon, crunchy croutons and salty cheese. I turn it into a main meal by way of sous vide chicken breast and perfect boiled eggs.
It's definitely not the fastest salad to put together, this one. It is worth every minute, though, and you can prep most ingredients well ahead of time so it's fast to get onto the table when it counts.
This post may include affiliate links. As an Amazon Affiliate I earn from qualifying purchases (don't worry, it doesn't cost you anything!). Find out more about affiliate links.
Homemade caesar salad dressing
Yes, I want you to make your own dressing for this recipe. I'm not apologetic about it.
Homemade caesar dressing is what lifts your salad from so-so to sublime, and it's really not difficult to make. In fact, you just throw everything into a blender or food processor and it's done in a flash.
Make my caesar salad dressing and you'll see why I'm so set on it.
Find my homemade caesar dressing recipe here.
Turning a salad into a substantial meal
Adding a few extras to your caesar salad will make it hearty enough for even the biggest eater.
I almost always put chicken, bacon and eggs into my caesar salad along with the ubiquitous croutons and dressing. And though you may not have thought to, all these things can be prepared ahead of time, ready for a quick dinner or lunch assembly on a busy evening or a rushed morning.
Want to make your caesar the same as mine? You'll want to prep chicken, bacon, eggs and dressing using these recipes:
Sous Vide Chicken without a bag
How to Cook Bacon in a Steam Oven
Perfect Steam Oven Boiled Eggs
Is caesar salad healthy?
Look, I think any meal where you prepare fresh, whole ingredients from scratch can be classed as nourishing, but whether you think this is a healthy dish kind of depends on your definition of healthy!
Made the way I prepare it, this chicken caesar salad is packed with protein and contains some fiber. It also contains a hefty amount of fat and salt, although you can (and I often do) greatly reduce this by using Greek yoghurt in the dressing instead of mayonnaise.
Caesar salad with a yoghurt dressing is what I'd call healthy. It's also absolutely delicious and I don't think it loses much at all in translation. Purists may argue but I love the yoghurt-dressed version and it's certainly a lot less heavy when you eat it!
Sous vide chicken for caesar salad
You could grill chicken for your caesar salad, but I love to batch cook sous vide chicken breasts in my steam oven and pop them in the fridge or freezer. They become the basis of so many great salads and fast-prep meals, and this salad is no exception.
Grab my sous vide chicken breast recipe and make the juiciest chicken breasts for your caesar salad.
Cooking bacon for your salad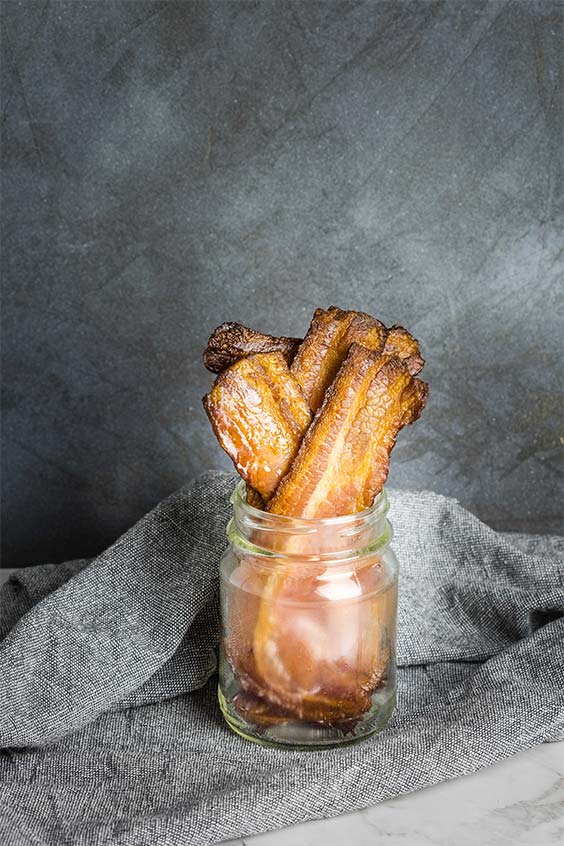 As with chicken breasts, I prepare cooked bacon ahead of time. Did you know you can freeze pre-cooked bacon in a sandwich bag, ready to quickly reheat in a frypan or your steam oven?! Knowing this has changed my life (and probably upped my sodium intake, haha).
I cook a tray or two of combi steam oven bacon and store the slices whole. For this salad, you can give the slices a quick refresh to warm through, then use scissors to snip your bacon straight into the salad.
Get my directions on how to cook bacon in a steam oven.
Cooking eggs for caesar salad
I love a poached egg in a caesar salad, and you can definitely go that route if you like.
For ease of preparation though, especially when I'm serving my whole family and don't want to poach multiple eggs on the spot, I make perfect steam oven boiled eggs. I keep them in the fridge for up to a week, and they just need to be brought to room temperature and peeled ready for the salad.
Make your own perfect steam oven boiled eggs.
Do you want to use and love your steam oven more?

There are precious few resources to teach us HOW to use a steam oven in everyday cooking. I'm guessing that's why you're here! If you love cooking but aren't making the most of your combi steam oven, you aren't alone.

Steam Oven Insiders was created for you!

Benefit from my decade-plus of steam oven knowledge and training, delivered to your inbox twice monthly in bite sized, easy-to-implement tips and delicious recipes you'll actually want to cook. Insiders get access to every exclusive recipe and article within the members dashboard, so you'll never miss a thing.

Find out more right here
Preparing a chicken caesar salad
As I've said, this dish is far quicker to make when you've prepared most of the ingredients ahead of time. The actual salad should go together only when you're ready to serve, so the lettuce stays crisp and the croutons crunchy.
I do like to toast my croutons just before making the salad; it doesn't take long and warm, freshly toasted bread is a thing of beauty, right?
Lightly toast your bread slices just to dry the outsides a little, then rub the cut side of a garlic clove over each slice.
Cut the crusts off your bread and chop into roughly ½ inch (1½ cm) cubes. Drizzle with olive oil and sprinkle with salt, then cook them until they're golden and just dried out.
Time to assemble your salad. Put the lettuce leaves into a large bowl and pour over half of your dressing. Mix well (I use my hands), then taste and see if you think you need more dressing. Adjust if necessary.
Put the dressed leaves into a serving bowl and top with the chicken, bacon, croutons and eggs. I like to drizzle a little extra dressing over at this point, particularly onto the chicken. You do you, though.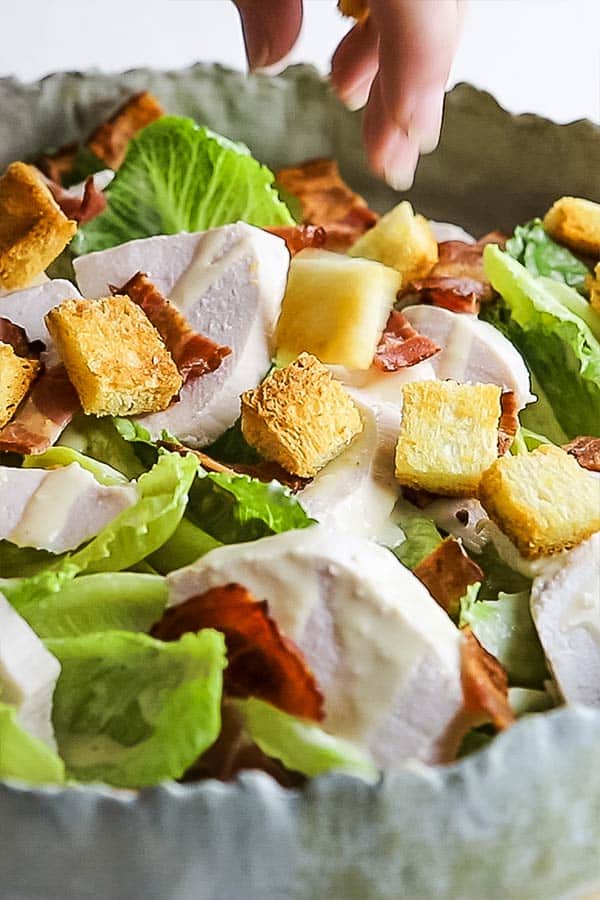 Grate the parmesan cheese over the top of the salad and serve immediately.
Happy cooking, see you here again soon!
Have you made and enjoyed this recipe? I'd love if you'd be kind enough to rate and review it via the stars in the recipe card, or leave a comment below! Ratings and reviews help other readers to find and know whether one of my recipes will suit them.
Print Recipe
Chicken Caesar Salad
A classic chicken caesar salad made with tender sous vide chicken, bacon, croutons and creamy homemade dressing.
Ingredients
Croutons
Salad
1

cos lettuce

1 large or 2 small, chopped, washed and dried

1

qty

homemade caesar dressing

see recipe

1

lb

chicken breasts

cooked and sliced (2 med breasts), see recipe for sous vide chicken breasts

5

oz

streaky bacon

cooked and chopped, see recipe for combi steam oven bacon

4

eggs

cooked/boiled to your liking, peeled and halved, see recipe for perfect boiled eggs

parmesan cheese

freshly grated, to finish
Instructions
Croutons
Preheat oven to 350°F/180°C, no steam (conventional heat).

Place the bread onto an oven tray and cook until it's just dried out on the outside.

Rub both sides of the bread with the cut garlic.

Remove crusts and cut into cubes – size is up to you but I go with roughly ½"/1½ cm cubes.

Return the cubed bread to the tray. Drizzle with olive oil and sprinkle with salt, then bake until golden, about 8-12 minutes. You may have to shake the tray once or twice during cooking to get evenly browned croutons. Set aside to cool.

1 Tbsp olive oil,

1/4 tsp salt
Salad
Place lettuce into a mixing bowl with half of the dressing. Toss well, then taste a piece and decide if you need extra dressing.

1 cos lettuce,

1 qty homemade caesar dressing

Transfer the lettuce to a serving bowl or platter. Top with the chicken and eggs, then scatter bacon and croutons over the top. Sprinkle with extra parmesan and serve with extra dressing on the side for those who like it saucy.

3 slices bread,

1 lb chicken breasts,

5 oz streaky bacon,

4 eggs,

parmesan cheese
Notes
Although you can make the separate components of this dressing well ahead of time, you should only put it together and dress it just before serving. 
Nutritional information is for dressing made as per my recipe, with full fat whole egg mayonnaise, and using the entire quantity of dressing. 
Nutrition
Calories:
431
kcal
|
Carbohydrates:
12
g
|
Protein:
36
g
|
Fat:
48
g
|
Saturated Fat:
12
g
|
Polyunsaturated Fat:
4
g
|
Monounsaturated Fat:
11
g
|
Trans Fat:
1
g
|
Cholesterol:
260
mg
|
Sodium:
687
mg
|
Potassium:
609
mg
|
Fiber:
1
g
|
Sugar:
2
g
|
Vitamin A:
895
IU
|
Vitamin C:
2
mg
|
Calcium:
65
mg
|
Iron:
2
mg