This post includes affiliate links. As an Amazon Affiliate I earn from qualifying purchases. Find out more about affiliate links.
If you're a banana bread fan, today will be a treat. This steam oven chocolate chunk banana bread is hands down the best version I've made, which is saying something because I've been devoted to my healthier combi steam banana bread recipe for a few years now.
There's a problem with my other favorite banana bread, though, and it's this. My kids, who were pretty indiscriminate about their baked goods for a long time, have matured somewhat and decided that cakes with more sugar, more butter and really great chocolate taste better than their healthier, refined-sugar-free counterparts.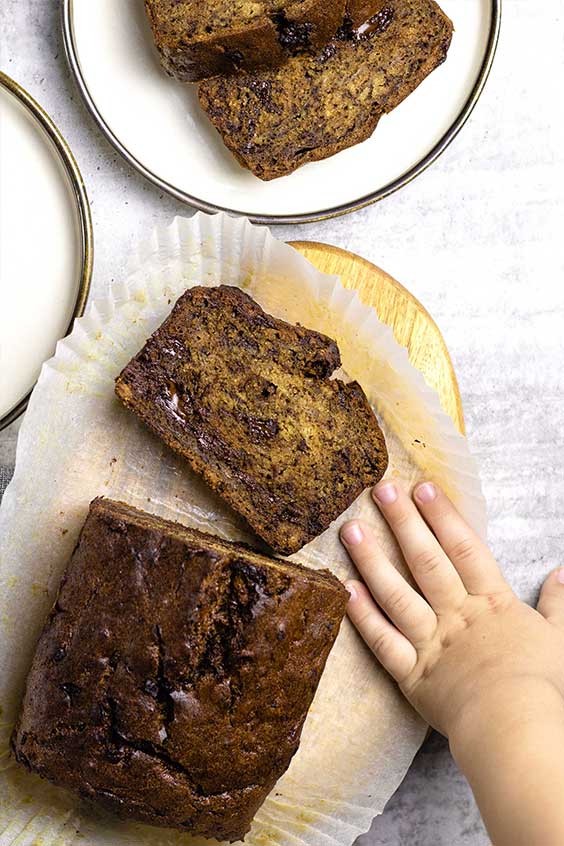 I'm sad about this state of affairs, but then I also think, who can blame them? Butter is better, and when I worry about them eating too much sugar, I can still take heart from the fact that they see mass produced, full of junk (and more sugar than even my sweetest baking) supermarket cakes for what they are and won't touch them.
Back to the chocolate chunk banana bread, though: the difference between this and my other banana bread recipe on this site is kind of like comparing a creamy ripened camembert cheese with a crumbly, aged cheddar. They both have their excellent points but one isn't actually better than the other. It just depends on what you're looking for.
When you want a deep, sticky and damp banana bread that's more akin to dessert than breakfast, this is the recipe to choose. Cooking it using combi steam enhances the texture, although even in a regular oven it would be a better loaf than most.
Do you want to use and love your steam oven more?

There are precious few resources to teach us HOW to use a steam oven in everyday cooking. I'm guessing that's why you're here! If you love cooking but aren't making the most of your combi steam oven, you aren't alone.

Steam Oven Insiders was created for you!

Benefit from my decade-plus of steam oven knowledge and training, delivered to your inbox twice monthly in bite sized, easy-to-implement tips and delicious recipes you'll actually want to cook. Insiders get access to every exclusive recipe and article within the members dashboard, so you'll never miss a thing.

Find out more right here
How to make a great loaf of banana bread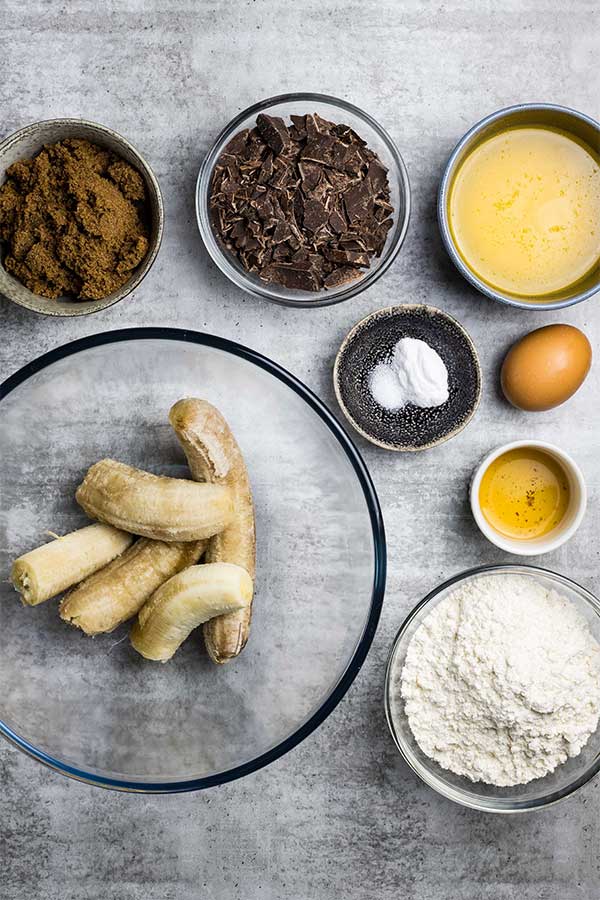 Happily, banana bread is easy to make. Mash a couple of bananas, stir in other wet ingredients, fold through a little flour and leavening and you're done! The best tip I can offer is to treat the mix like a muffin batter, meaning don't overmix once the flour is added or you'll end up with a tough, rubbery cake instead of something soft and tender.
Add-ins like today's chocolate chunks or perhaps a handful of blueberries will go a long way, but if your basic recipe is sound then you'd easily get away with no additions at all.
This recipe is forgiving of changes and substitutions, so I encourage you to make it your own:
The quantity of banana you add is subjective, so if you've got a little less or a little more just throw it in (though if you've got much less than a cup I'd recommend adding an extra egg for binding).
When it comes to fat, melted butter is my preference here for flavor and a more cakey crumb, but swapping it for a neutral-flavored oil will give a finished loaf that's more tightly and evenly textured, with excellent keeping qualities.
If you don't have brown or dark brown sugar, just switch it for regular granulated sugar. Your loaf won't be as dark as the pictured one but it'll work just fine.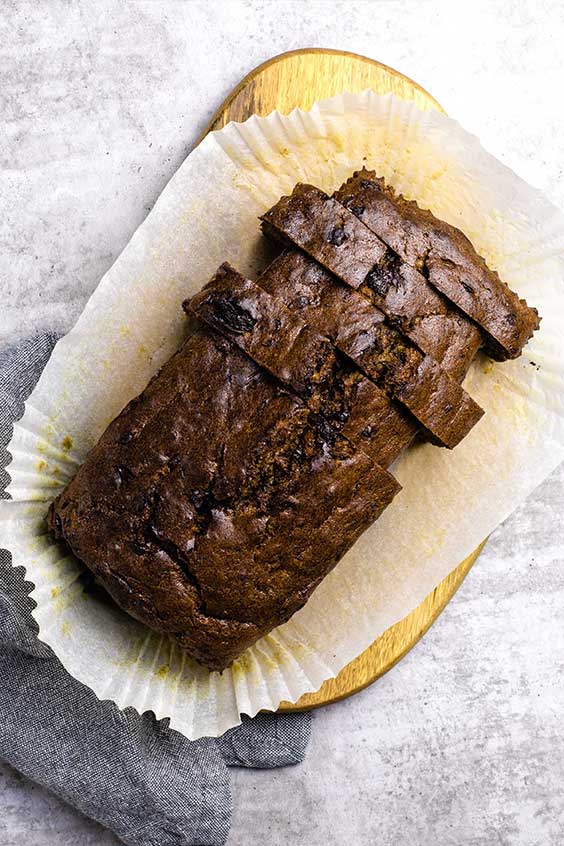 Using a steam oven to cook your banana bread
Banana bread is, in general, a fairly moist kind of thing, so baking it in a regular oven is perfectly fine. If you have the option of a steam oven, though, you're about to make the best banana bread you've ever tried.
What's different about baking it in a steam oven? Essentially, you're going to end up with a loaf that's softer and even more tender than normal. It'll cook 10-15 minutes faster than in your regular oven and be more evenly done, with a glossy, burnished top.
If you've been feeling daunted about baking in your steam oven and need something easy to get you started, or you just have a few overripe bananas languishing in the fruit bowl, mix up a loaf of this chocolate chunk banana bread. It'll only take a few minutes to get into the oven, and you'll be so glad you made the effort.
Happy cooking, see you here again soon.
Print Recipe
Steam Oven Chocolate Chunk Banana Bread
This is the banana bread to make for a no-holds-barred, sticky and satisfying cake style loaf,with generous chunks of chocolate. It keeps well for several days or can be frozen.
Ingredients
Wet mix
3

bananas

very ripe, medium/large sized, to give around 1½ cups mashed banana

½

cup

butter

1 stick, melted

¾

cup

brown sugar

I use dark but light will work

1

egg

large

1

tsp

vanilla extract
Instructions
Preheat oven to 350°F/180°C, combination steam setting. If your oven has variable humidity levels, use 30%. If not, don't worry! Just set to combi steam at the correct temperature and the oven will figure out the humidity for you. Grease and line a 9×5" (23x12cm) loaf pan with parchment paper or a loaf pan liner.

Use a potato masher or fork to mash the bananas in a large bowl. Add the rest of the wet mix ingredients and stir well to combine.

Put all the dry mix ingredients except the chocolate into the bowl, then stir with a large spoon until it's almost mixed. Add the chocolate and stir in to just combine.

Scrape the batter into your lined pan and bake until it's risen, golden and tests clean with a skewer, about 55 minutes (if you'd like to bake to temperature doneness, the inside of the loaf should read 208-210°F/98-99°C on a probe thermometer). Allow to cool in the pan for 10 minutes before turning onto a rack to cool completely.

Serve the banana bread in thick slices. I love it unadorned on the first day or two, after that I warm it slightly and spread with butter to serve.
Notes
Makes 1 x 9×5" loaf, approximately 8 slices.
This is the banana bread to make when you want a no-holds-barred, sticky and deeply satisfying cake style loaf, with generous chunks of dark chocolate. It keeps for several days at room temperature and freezes well.
The puddles of chocolate in this loaf can make it difficult to test for doneness. If you have a probe thermometer it's easy enough to check using temperature instead of relying on guesswork or a skewer, though. When it's done, the center of the loaf should read 208-210°F/98-99°C.
Nutrition
Calories:
356
kcal
|
Carbohydrates:
47
g
|
Protein:
4
g
|
Fat:
17
g
|
Saturated Fat:
10
g
|
Trans Fat:
1
g
|
Cholesterol:
41
mg
|
Sodium:
264
mg
|
Potassium:
303
mg
|
Fiber:
3
g
|
Sugar:
25
g
|
Vitamin A:
337
IU
|
Vitamin C:
3
mg
|
Calcium:
36
mg
|
Iron:
3
mg
Over to you – if you try this recipe I'd love to know about it! Share your comments below or on Facebook, tag @steamandbake on Instagram, or pin all your favourite Steam and Bake recipes over on Pinterest!
Would you like more recipes and tips to help you cook with confidence? Join the mailing list to be alerted to new posts.