Today we're going to make a glorious combi steam oven apple tarte tatin. Tender apples bathed in buttery caramel and sitting atop flaky, many-layered puff pastry is something pretty much everyone I know is happy to eat, given the chance, and I want all of you to know how easy this impressive dessert can be.
A combi steam oven makes the best tarte tatin I've ever produced. Maybe the best version I've eaten anywhere.
Anyway, the usual way to make the caramel for a tarte tatin is to melt the sugar and butter on the stovetop. Here, we're going to use the steam oven for the whole thing, start to finish, which cuts out one appliance and simplifies things.
Despite the horror and fear indicated by many people when it comes to caramelising sugar, that's the very hardest part of this recipe, and dare I say it's not actually difficult. Just make sure you don't go off to hang your washing/mow the lawn/play with your kids during that part of the recipe.
Also, it helps if you – unlike me this week – have a fully functional interior light in your steam oven to check on the caramel's progress! Turns out a new oven light is not an off-the-rack item so I'm waiting for my order to arrive. It makes for a lot of unnecessary oven door opening, and I currently have a torch sitting on the bench to help see what's going on in there (it's not nearly as useful as I would have thought given the reflection of the beam off the door)!
I have photographed my tarte unadorned because it was a spur of the moment bake, but for goodness sake go and get yourself some decent vanilla ice cream or thick cream to serve with yours. Plain and simple is good, with ice cream is so much better. I can't actually think of many occasions in life when the addition of ice cream would not be welcomed – don't kid yourself that this is one of them.
See you next week, all.
Do you want to use and love your steam oven more?

There are precious few resources to teach us HOW to use a steam oven in everyday cooking. I'm guessing that's why you're here! If you love cooking but aren't making the most of your combi steam oven, you aren't alone.

Steam Oven Insiders was created for you!

Benefit from my decade-plus of steam oven knowledge and training, delivered to your inbox twice monthly in bite sized, easy-to-implement tips and delicious recipes you'll actually want to cook. Insiders get access to every exclusive recipe and article within the members dashboard, so you'll never miss a thing.

Find out more right here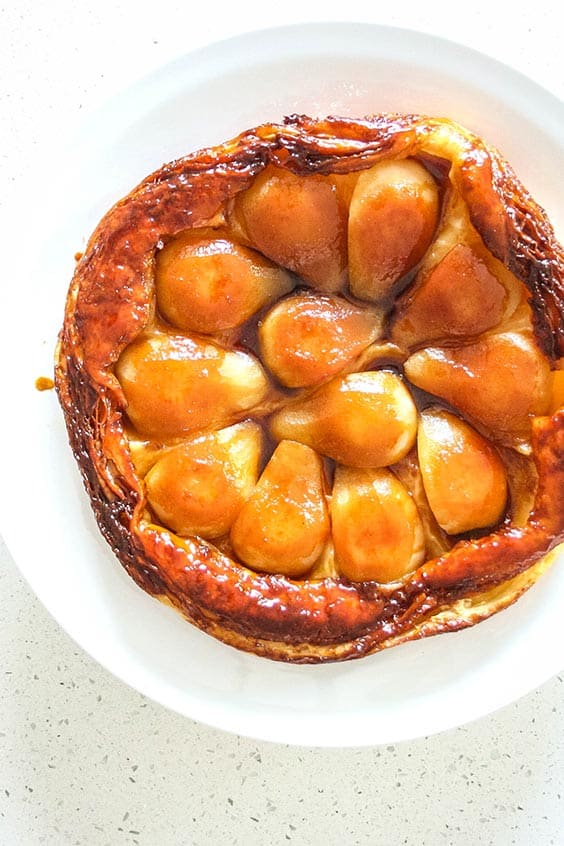 Print Recipe
Steam Oven Apple Tarte Tatin
Buttery, caramel glazed apples nestle into incredibly flaky pastry in this classic tart which gets baked upside down to make the most of puff pastry's qualities.
Ingredients
2

sheets

puff pastry

each about 12" square, the all butter one, bought/frozen is fine, thawed

2/3

cup

superfine sugar

150g caster sugar

2.5

oz

unsalted butter

60g cubed

½

tsp

salt

5

apples

medium, peeled, cored and quartered (I use Granny Smiths because they aren't too sweet and cook beautifully)
Instructions
Preheat your oven to 400⁰F/200⁰C, combination steam setting. If you have variable steam settings, use 50-60%. If not, don't worry! Just set to combi steam at the correct temperature and the oven will figure out the humidity for you.

Use a pastry brush or a spray bottle to moisten one sheet of pastry, then put the other sheet on top and gently roll them together. You aren't trying to make it a lot bigger, just creating a thicker piece of pastry for more structure in your finished tarte. Once you've done this, use a sharp knife to trim off the corners and make it a bit less square. Imperfect trimming is fine, and you don't need to cut an exact circle as you're going to tuck all the excess bits in later anyway. Put the pastry in the fridge until you need it.

Now for the caramel. Sprinkle the sugar evenly over the base of your pan and put it in the oven for about 5 minutes or until it's melted and turning a dark amber colour (see notes). Remove the pan from the oven and, working quickly to stop the sugar cooking further, drop in the butter and salt. It will spit and fizzle – let that die down then give the pan a gentle swirl to mix the butter and sugar together. If it starts to harden, don't worry as it'll melt again once it goes back in the oven.

Arrange the apple pieces cut side up in the pan so they are packed in quite tightly. Lay the pastry over the top and quickly tuck the edges down around the fruit. It's kind of like tucking a blanket around a sleeping child, and about as delicious. 😉 Cut a small cross in the centre of the pastry to release steam, then put the pan back in the oven and cook for 25 minutes, or until the pastry is puffed and golden brown all over.

Remove the tarte from the oven and immediately put a large plate upside down over the top of the pan. Use a folded tea towel or oven mitts to make sure you're holding everything safely, then flip it over and invert the tarte onto the plate. The quicker the better, you want all the sauce to end up on top of the tarte, not running out the side of the pan as you grapple with turning it. Lift off the pan to reveal your beautiful creation – I like to give the bottom of the pan a sharp tap with a wooden spoon to encourage all the fruit to come out, but if any bits remain just place them back on the tarte after you've turned it out.

Serve immediately with ice cream or thick cream.
Notes
You will need a 30cm (or similar size) heavy based cast-iron pan for this, or at the very least a large shallow cake tin (if it's deep you're going to have a lot of trouble turning it out after cooking). I use my absolute favourite all-rounder, this Le Creuset buffet casserole pan, which is by far the most used and useful cookware item in my kitchen. Don't use a pan which is light enough to warp in the oven as the finished tarte won't be cooked evenly and you run the risk of molten sugar splashing the inside of your oven when the tin warps.
Also, don't be lazy when it comes to peeling your apples. Little bits of peel left on the fruit don't look great for serving, but more importantly they get leathery during cooking and aren't nice to eat.
On the aforementioned caramel: the colour you want to stop at when caramelising the sugar is one I'd describe as dark amber, or maybe light maple syrup. Black and smoking means you have gone too far (no saving that, throw it out and start again), but not letting it get dark enough will leave you with something which is super sweet but not very complex. What you might notice, especially if your sugar isn't spread really evenly over the bottom of the dish, is that some parts of your caramel will be starting to look almost too dark while others are still clear or light golden. That's ok – give it a very careful swirl around to mix everything evenly and you'll probably come out with just the right colour. If not, pop it back in the oven for a further minute or two. It'll change in an instant from not dark enough to perfect to burnt, so keep a close eye on it.
Nutrition
Calories:
525
kcal
|
Carbohydrates:
60
g
|
Protein:
5
g
|
Fat:
31
g
|
Saturated Fat:
10
g
|
Cholesterol:
19
mg
|
Sodium:
300
mg
|
Potassium:
159
mg
|
Fiber:
4
g
|
Sugar:
29
g
|
Vitamin A:
283
IU
|
Vitamin C:
5
mg
|
Calcium:
15
mg
|
Iron:
2
mg
But I don't have a steam/combi-steam oven! People have been cooking tarte tatin in a regular oven for generations, and you can too. Everything remains pretty much the same, except I'd do the caramelising of the sugar on the stovetop over medium high heat. Don't stir it, just give the pan a gentle swirl every now and then as the sugar melts.