This post includes affiliate links. As an Amazon Affiliate I earn from qualifying purchases. Find out more about affiliate links.
These simple little mini pecan pies are something I've been making for years. They're always popular, maybe because a mini dessert that people can just grab and enjoy is less intimidating than cutting slices from a whole large pie? I don't know, but these two-bite delights are always one of the first things to disappear from the table when the sweet dishes are put out.
Baby pecan pies are also easier and faster to make than a larger pie, so they're something I turn to often as a last minute recipe when I have to take a share plate for a party.
This recipe is sturdy enough to keep and travel well, so if you have to drive or even fly to a Thanksgiving event over the next few weeks then mini pecan pies could just be the perfect take-along dessert.
I first started baking these as a combi steam oven demonstration dish. My work friend Diane found a similar recipe on a website and we adapted the ingredients and method thinking it would be a great way to show off how nice and fast combi steam baking could be. They were an instant hit and although both of us have long moved on from that job I've continued to tweak the recipe into what it is today. On occasion I've baked these pies in a regular oven too; they work very well, just give them around 5 minutes extra cooking time.
Pie crust for mini pecan pies
A standard pie crust is usually made with a classic shortcrust pastry, a mix of butter, flour and perhaps an egg yolk. A well-made shortcrust pastry is excellent but it's not very forgiving and it can be difficult to work with, especially if you're a pastry novice.
The easy food-processor crust for these mini pecan pies is a little different. It uses one of my favorite secret ingredients for pastry: cream cheese.
Cream cheese makes pastry more forgiving to mix and to work with. It also adds a nice richness and a slight tang that's great with very sweet fillings, and it bakes up into a pie crust that's lovely and tender. No one will notice there's cream cheese in there, they'll just tell you that the pastry in those pies is great (and probably ask you for the recipe) which will make you feel all the warm fuzzies about your baking skills.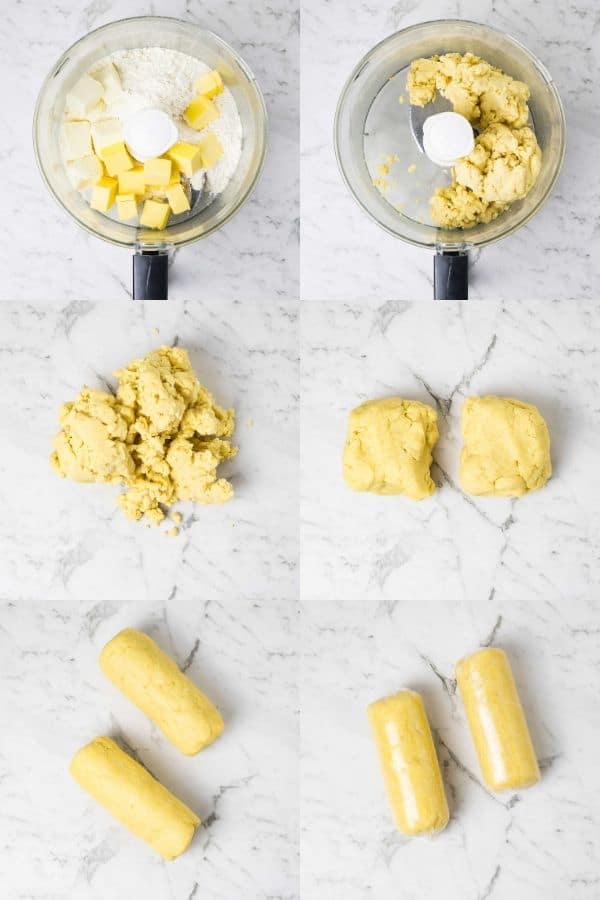 The other thing I do here which is different (and easier) is that there's no rolling out and cutting of pastry. Instead you'll just form the dough into logs and pop it in the fridge for a while, then slice it into little discs which are easy to squash into the patty pan or muffin trays you'll use to make the pies.
Filling for mini pecan pies
Pecans are obviously the central ingredient for these pies. The rest of the filling is made with pantry staples and mixes up in a minute or two.
A lot of pecan pie fillings use corn syrup as one of the ingredients. I sweeten my filling just with brown sugar, mostly because corn syrup is not that easy to get hold of in my part of the world.
If you like the taste and slightly softer texture that corn syrup gives to pecan pie filling you can definitely add some – just replace a few tablespoons of the brown sugar with corn syrup when you make the filling.
Tips to make the best mini pecan pies
There are a few little tricks I use to make these pies work for me, and to keep them super easy:
Double the pastry and freeze half for later. I almost always do this because a double batch of pastry neatly uses up one brick of cream cheese (otherwise I'm liable to find the other half mouldy in the fridge a couple of weeks later). The pastry can be made, shaped into logs and frozen for another batch of pies; it'll keep well for up to a couple of months and just needs to thawed in the fridge overnight before using.
Don't worry if the pastry isn't perfectly neat. When I'm putting the pastry into the patty pan or muffin holes, I squash it around a bit to make sure it's evenly covering the base and make sure I repair any tears or holes I see. Apart from that, though, I don't worry if it looks a little rustic around the edges. It always bakes up looking gorgeous anyway.
Pre-line the trays with the pastry and freeze for quick pie making later. If I know I'll need a batch of these soon I often make the pastry and line the trays, then freeze the entire tray ready to fill and bake. It means that on the day I need them, I can quickly put the filling together and bake the pies so they're fresh and warm for serving, without spending much time in the kitchen.
Substitute other ingredients for the pecans. Pecans are the traditional filling here, but these pies are also great with a mixture of different nuts (walnuts, macadamias and almonds work well), or with dates or chocolate chips substituted in for half of the nuts. The original recipe Diane and I developed always included dates to keep the ingredient costs down a little, and they were very popular (a lot of people never even realised the dates were in there!).
Make, bake and freeze for later. Though I often freeze the lined trays to fill and bake on the day of serving, I have also made and frozen the complete pies with great success. They can be defrosted in a couple of hours at room temperature and either served as-is, or reheated if you want warm pies.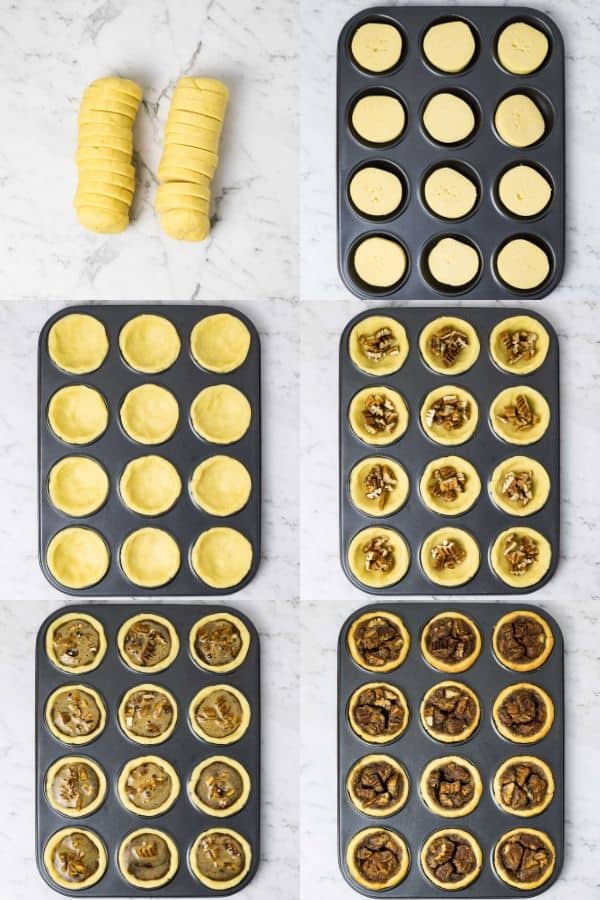 Whether for Thanksgiving or just because they look fantastic, I hope a batch or two of this sweet little pie recipe comes out of your steam oven in the near future. You and everyone else who gets to try one will be thrilled you made them.
Happy cooking, see you here again soon.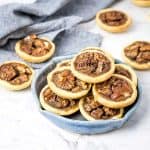 Print Recipe
Mini Pecan Pies (combi steam oven recipe)
Mini pecan pies are easy to make plus they keep and travel well. They're the perfect 'bring a plate' dessert for Thanksgiving (or any party!), just watch them disappear off the table!
Ingredients
For the pastry
4

oz

cream cheese

cold and cubed

4

oz

unsalted butter

cold and cubed (if you're in the US and just want to go with a single stick of butter, that'll work ok)

1 2/3

cups

all purpose flour

plain flour

¼

tsp

salt
Instructions
Make the pastry
Put the cream cheese, butter, flour and salt into a food processor and process just until it forms a mass. Turn out onto a lightly floured surface and knead a couple of times just to bring the dough together.

Split in half and form each half into a log about 1½-2" (4-5cm) in diameter. Wrap in cling film and refrigerate for at least 30 minutes.

While the pastry is chilling, make the filling. Put the eggs, sugar, spices, salt and bourbon into a jug and whisk with a fork to combine well. Set aside.

When you're ready to bake, preheat oven to 350°F/180°C, combination steam setting. If you have variable steam settings, use 40%. If not, don't worry! Just set to combi steam at the correct temperature and the oven will work out the humidity for you. Lightly grease two 12-hole patty pan trays or muffin trays.

Slice each pastry log into 12 thin discs and use these to line the greased trays. If you're using muffin trays the pastry just needs to come ½-¾" (1½ -2cm) up the sides of each hole, not all the way up. You want the pastry to make full contact with the bottoms of the trays so it browns properly, so don't be afraid to manipulate and push it in really well. This is a fairly forgiving pastry and easy to work with, so if there are any small holes or tears, just squash it back together to make a smooth surface. If you're in a hot climate and the pastry becomes too soft to work with easily, just put the whole tray in the fridge for 5-10 minutes then try again.

Divide the chopped pecans evenly between the pastry lined holes. Give the filling a quick stir to make sure it's mixed properly, then carefully pour it over the pecans so it comes almost to the top of each piece of pastry. It's worth taking your time with this step – if you overfill the pastry so the filling leaks over the edges it can be hard to remove the cooked pies from the trays later.

Bake the pies until the pastry is golden and the filling puffed (it'll sink down again once you remove the pies from the oven, which is fine), 12-15 minutes. Cool the pies to warm in the trays, then turn out and serve warm or at room temperature.

The cooked pies will keep for a couple of days in an airtight container at room temperature. They also freeze well for several weeks, just defrost at room temperature for a couple of hours. If you want to refresh the pies and serve them warm, they can be reheated using combi steam at 320°F/160°C for 4-5 minutes.
Notes
This recipe is easily doubled, and in fact I always make double the amount of pastry to use up a full brick of cream cheese. If I don't need that many pies I just form the extra pastry into logs, wrap well and freeze for up to a couple of months. Having that pastry already on hand makes the next batch of pies incredibly fast to put together.
Nutrition
Calories:
143
kcal
|
Carbohydrates:
14
g
|
Protein:
2
g
|
Fat:
9
g
|
Saturated Fat:
4
g
|
Trans Fat:
1
g
|
Cholesterol:
29
mg
|
Sodium:
72
mg
|
Potassium:
49
mg
|
Fiber:
1
g
|
Sugar:
7
g
|
Vitamin A:
204
IU
|
Vitamin C:
1
mg
|
Calcium:
18
mg
|
Iron:
1
mg
Over to you – if you try this recipe I'd love to know about it! Share your comments below or on Facebook, tag @steamandbake on Instagram, or pin all your favourite Steam and Bake recipes over on Pinterest!
Would you like more recipes and tips to help you cook with confidence? Join the mailing list to be alerted to new posts.