This post includes affiliate links. Find out more about affiliate links and how they help this site.
Sometimes I think a dish or a recipe is so simple that no one else could possibly need it in their life; such was the case with this combi steam oven crumbed fish.
It's something I've been throwing together for years in one form or another, sometimes with fish, others with chicken, and I didn't even really think of it as a recipe. More a quick fix for getting a meal on the table.
But the more I've shared on steam oven cooking here, the more I see that the simple dishes are the ones you all keep coming back to visit, and the ones you talk about. And the past few times I've made this steam oven fish dinner, I've wondered why I haven't shared how I do it.
Easy dishes which make us feel nourished (and yes, accomplished), are the saviours of dinner. They're the dishes I come back to over and over and the ones I know you all do too.
Cooking fish in your steam oven
I tend to cook fish one of two ways in my steam oven: gentle steam at a low temperature, or very hot and very fast using combi steam. Steaming is a good option when you want a soft, poached texture, and it's especially great for whole fish.
Combi steam, however, gives you that 'best of both worlds' thing. Make the most of the humidity to cook steam oven crumbed fish with a golden, crispy crust on top and tender, flaky flesh underneath. That's what we're going to do in today's recipe, using Japanese style panko breadcrumbs, flaked almonds and lemon zest for interest.
Feel free to play around with the ingredients I've listed. No flaked almonds? Try chopped pistachios or skip the nuts altogether. Lemon can be replaced with parmesan or finely chopped herbs. Or mix through some sumac, cumin and coriander for a middle eastern flavoured fish instead.
Combi steam oven chips
Potatoes are great, and a good twice-cooked chip or French fry is a true thing of beauty. But given this is not a website about deep fryers, and adding one to my kitchen might also add several unwanted inches to my waistline, I usually leave my fried food eating for when I dine out.
Instead, you'll more often find a sweet potato chip in my oven than a regular potato one, and after you try these I think you'll see why.
A couple of peeled and chopped sweet potatoes with a drizzle of oil, salt, herbs and garlic makes for a side dish every single person in my house will happily eat a pile of. That's no small feat, so now the biggest problem I've got is being able to fit enough of them into my oven at once.
Don't be afraid to get some good colour on your sweet potato chips. Because you're using combi steam, the insides will be soft and tender, but that almost-burnt dark brown colour you're going for adds so much flavour. It'll help get a bit of a skin on the outside rather than the sweet potato just being steamy and a bit floppy.
I also add a sprinkle of semolina flour to help with the skin/crust on my chips, but this is optional and if you don't already have some in the pantry, I wouldn't buy a bag just for this.
Happy steam oven cooking, see you here again soon.
Do you want to use and love your steam oven more?

There are precious few resources to teach us HOW to use a steam oven in everyday cooking. I'm guessing that's why you're here! If you love cooking but aren't making the most of your combi steam oven, you aren't alone.

Steam Oven Insiders was created for you!

Benefit from my decade-plus of steam oven knowledge and training, delivered to your inbox twice monthly in bite sized, easy-to-implement tips and delicious recipes you'll actually want to cook. Insiders get access to every exclusive recipe and article within the members dashboard, so you'll never miss a thing.

Find out more right here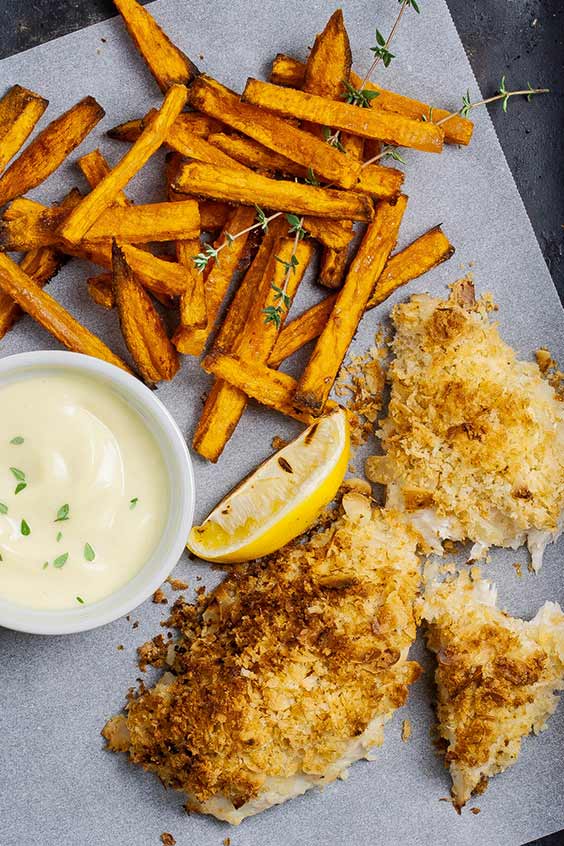 Print Recipe
Lemon and Almond Crumbed Fish with Sweet Potato Chips
This simple crumbed fish dinner is nutritious and really fast to put together – it's ideal for nights when you can't face being in the kitchen but don't want to resort to takeout.
Ingredients
For the sweet potato chips
2

lb

orange sweet potato

peeled and cut into 1cm (3/8") chips

3

tbs

olive oil

2

tsp

semolina flour

optional, see headnote

1

tsp

flaky salt

4

cloves

garlic

bruised, skin left on

4

sprigs

thyme
Instructions
Preheat oven to 230°C/450°F, combination steam setting. If your oven has variable steam settings, select 60-80% (if not, don't worry about this step, your oven will take care of this for you).

Spread the sweet potato chips over one or two baking trays in a single layer (I use my favourite solid stainless steel ones). If your steam oven is a full-size model you may be able to get away with only one tray, just make sure the chips are not really touching one another so they cook properly. Better to use two if you aren't sure. Drizzle the oil over the chips and sprinkle the semolina (if usinand salt over the top. Toss to combine, then tuck the garlic and thyme sprigs amongst the sweet potato. Place in the preheated oven for 15 minutes.

While the chips start cooking, place the fish fillets into another baking tray. Mix the rest of the ingredients together except the whole lemon and mayonnaise, and heap the crumb mix onto the top of each fillet, gently pressing it down.

When the first 15 minutes is up for the chips, add the fish and set your timer for a further seven to eight minutes, depending on the thickness of your fish. If you've used two trays for the chips, swap them over in the oven as the fish goes in, so they cook evenly.

When the fish is cooked, remove everything from the oven, discard herbs and garlic (or save that soft roasted garlic for another disand serve immediately on warmed plates with lemon mayonnaise on the side.
Notes
This crispy almond and breadcrumb topping hides perfectly flaky, juicy fish fillets beneath. Cooking both the chips and the fish very hot and fast using combination steam means they'll cook through and get golden without drying out.
You can prepare all the main elements of this ahead of time if you like. Chop the sweet potatoes up to a day beforehand and store in a container in the fridge. The crumb topping can be mixed up minus the lemon zest and oil, then kept in an airtight container in the pantry for up to a few weeks. I do this, making double or triple the quantity so I'll have some ready for busy nights. Just take out the amount you need, grate in the lemon and stir it through with the oil when you're ready to cook.
I serve this dish with a decent bought whole-egg mayonnaise, mixed with lemon juice and Dijon mustard to taste.
Nutrition
Calories:
700
kcal
|
Carbohydrates:
71
g
|
Protein:
44
g
|
Fat:
27
g
|
Saturated Fat:
4
g
|
Cholesterol:
85
mg
|
Sodium:
1234
mg
|
Potassium:
1499
mg
|
Fiber:
11
g
|
Sugar:
13
g
|
Vitamin A:
32223
IU
|
Vitamin C:
37
mg
|
Calcium:
181
mg
|
Iron:
5
mg
Over to you – if you try this recipe I'd love to know about it! Please share your pictures with me on Facebook or tag them #whatsinthesteamoven on Instagram.
Would you like more Steam and Bake recipes and steam oven inspiration? Join the mailing list to receive an email every now and then to tell you the latest.
And if you're after more delicious dinner recipes, the index page has plenty. There's sheet-pan salmon, potato and asparagus if you want more fish, a warming cauliflower and pumpkin soup, or maple, lime and ginger chicken tenderloins which are a bright and simple dinner!