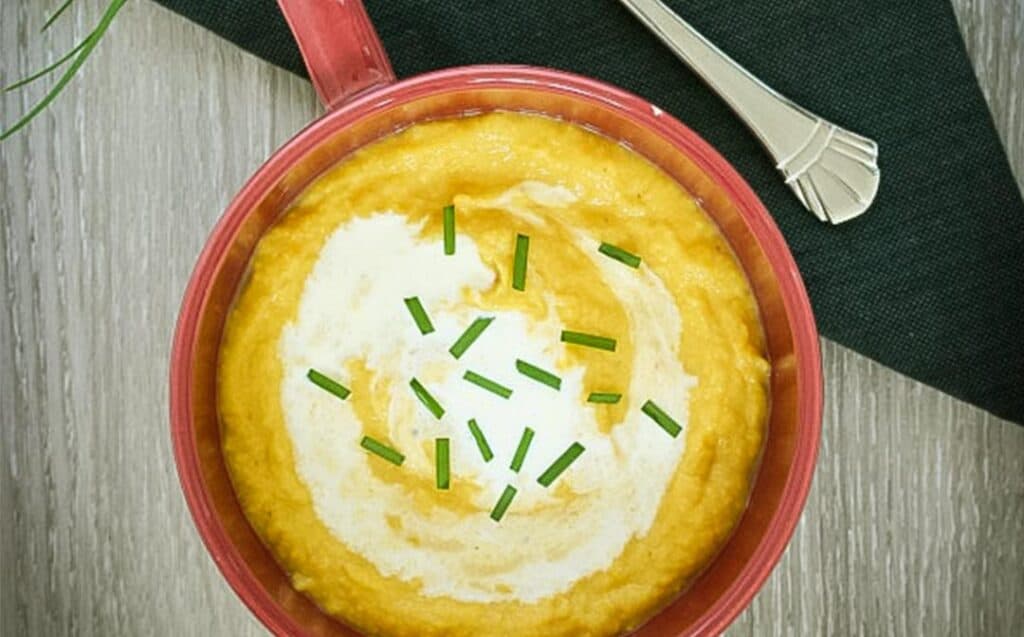 This post may contain affiliate links. Click here for more info.
I made another little steam oven recipe video to go with this week's post because it seems you can't get enough of them! You can view it here.
The past couple of weeks have been what you might call cray-cray at our place what with all the settling into school, daycare and new work schedules. I've needed a few meals to satisfy the 5-minute heat and serve factor, and this steam oven cauliflower and pumpkin soup with ginger, lemongrass and coconut fits the bill perfectly.
Yep, that's right – you can absolutely make soup in your combi steam oven. Great, huh?
This recipe is terribly inauthentic in terms of being true to any one cuisine type but I haven't had any complaints here.
The leeks usually lend themselves to European dishes while the ginger, garlic, lemongrass and turmeric are decidedly South East Asian, as is the coconut milk – though that could also be Pacific Rim, Indian or Caribbean in origin. Take your pick. I don't think the mish-mash of cuisines matters, as what you end up with here is something warming, cohesive, and full of depth. I love it.
I don't make all soups in my steam oven, but generally anything I intend to turn into a pureed soup – think root vegetables, cauliflower, sweetcorn, broccoli, peppers or zucchini – goes very well. The flavours of the vegetables get intensified by the humidity and remain soft enough to blend easily, so it's a great way to cook all your soup vegetables without having to stand and stir a pot to stop things catching before you add the liquid.
In today's case, I used my biggest cast iron casserole pot to sweat leeks, lemongrass, ginger and garlic at a lower heat before increasing the oven temperature and layering in spices, a head of broken-up cauliflower and some diced pumpkin.
No stirring, just cook until the pumpkin is tender and starting to brown, then puree with stock and coconut milk or cream.
It's easy, makes a huge batch of soup to keep in your fridge or freezer and there are countless ways to vary the flavour profile.
Don't like the Asian theme I went with? Try herbs like basil or thyme instead of the ginger/lemongrass/coconut, or drop in a big handful of baby spinach leaves to wilt before pureeing. That's the nice thing about soup – it's forgiving and changeable depending on what you have in the fridge.
I really hope today's post gives you an insight into how easy it is to put together a healthy, hearty soup in your steam oven using the method I've followed below. I'd love to hear about it in the comments or on Facebook if you give it a try.
Happy steam oven cooking, see you here again soon.
Do you want to use and love your steam oven more?

There are precious few resources to teach us HOW to use a steam oven in everyday cooking. I'm guessing that's why you're here! If you love cooking but aren't making the most of your combi steam oven, you aren't alone.

Steam Oven Insiders was created for you!

Benefit from my decade-plus of steam oven knowledge and training, delivered to your inbox twice monthly in bite sized, easy-to-implement tips and delicious recipes you'll actually want to cook. Insiders get access to every exclusive recipe and article within the members dashboard, so you'll never miss a thing.

Find out more right here
Print Recipe
Cauliflower and Pumpkin Soup with Ginger and Lemongrass
Hearty and warming, this soup is super easy to make in a steam oven, where there's no stirring!
Ingredients
3

tbs

olive oil

or coconut oil

2

leeks

sliced (onions are also fine but I love the more gentle flavour of leeks)

2

stalks

lemongrass

tender bottom parts only, bruised and sliced

2

cloves

garlic

roughly chopped

A thumb-sized piece ginger

roughly chopped

2

tsp

ground turmeric

or fresh turmeric, if you can find it where you are

½

tsp

cayenne pepper

optional

1

head

cauliflower

a large head, around 2lb, broken up into florets and stalks roughly sliced

1.5

lb

pumpkin

peeled and cut into 2.5cm/1" pieces

1 1/4

cups

coconut cream

1 x 9oz/270ml can

4

cups

vegetable stock

or chicken stock; you may need a little more depending on how thick you want the soup
Instructions
Set your oven to 248⁰F/120⁰C, combination steam setting. If you have variable steam, use 80%. If not, don't worry! Just set to combi steam at the correct temperature and the oven will figure out the humidity for you.

Put the oil in the bottom of a large casserole pot and tilt to coat evenly. Pile the leeks, lemongrass, ginger and garlic on top of the oil (no need to stir) and place in the oven for 12 minutes. Remove and increase the oven temperature to 356⁰F/180⁰C on combination steam setting.

Sprinkle the turmeric and cayenne pepper over the softened leek mixture, add the cauliflower and then pumpkin (again, don't worry about stirring).

Return the pot to the oven and cook until the vegetables are very soft and the pumpkin has just started to take on some colour at the edges – anywhere from 25-35 minutes. Remove from oven and allow to cool for 10 minutes.

Once the vegetables have cooled slightly, add the coconut cream and the stock and stir gently. Puree with a stick blender – my preferred method because everything stays in the same pot – or run batches through a food processor or blender. I like mine smooth but you could leave the soup slightly chunky. Thin with a little extra stock if it's too thick.
Nutrition
Calories:
237
kcal
|
Carbohydrates:
18
g
|
Protein:
4
g
|
Fat:
19
g
|
Saturated Fat:
12
g
|
Sodium:
499
mg
|
Potassium:
707
mg
|
Fiber:
3
g
|
Sugar:
6
g
|
Vitamin A:
7908
IU
|
Vitamin C:
46
mg
|
Calcium:
55
mg
|
Iron:
3
mg
But I don't have a steam/combi-steam oven! You can make this as you would any other soup on the cooktop, though might I suggest you roast the cauliflower and pumpkin rather than boiling them for extra intensity? I'd gently sweat the leek mixture while you roast the vegetables in a 180⁰C oven for about 30 minutes (lightly coat the veg with olive oil before you roast them lest they become dry and tough), then add them to the pot with the liquid, warm through and blend.
Did you like this post? You can subscribe right here if you'd like to receive my recipes and other steam-oven-related things straight to your inbox! I won't spam you, don't worry.
After other simple steam oven recipes? If you're not sick of pumpkin after today's post, I did something completely different with it a couple of weeks ago and made a Low Carb Pumpkin Loaf. Or maybe some more warming weeknight inspiration is your thing – try the Maple, Lime and Ginger Chicken. And there are lots of other great dinners listed in the Easy Meals index.