This post may contain affiliate links. Click here for more info.
Let's have a discussion about rice, shall we?
I have been going along thinking surely everyone knew how to steam rice, and using a steam oven to do so wasn't much of a jump. Except it turns out a fair few of you have asked for help with this exact topic recently, and it's brought to my attention the fact I need to write some more 'how to' posts so you can build your confidence and cooking repertoire with your wonderful steam ovens.
And so, a steam oven guide to cooking rice.
Rice is one of those things we should all be able to cook at the drop of a hat. Though the carb police might say otherwise, it's a great way to bulk out a meal and is more easily tolerated by (most) peoples' stomachs than bread or pasta. There are countless varieties of the stuff and if you can master cooking the main ones you'll always have the base for a quick dinner or a simple but filling salad at hand.
Cooking rice in the steam oven isn't much different to doing it in a rice cooker or by absorption in a pot (yes, that means you should give away your rice cooker now that you have a steam oven, you won't be needing it anymore!). When you use the steam oven there are some variations for rice to liquid ratios and slight adjustment of cooking times but overall it's pretty simple. Plus you'll get the bonus of perfectly cooked rice without having to worry about lowering the heat of a pot on the cooktop enough, or scrubbing out the stuck-on layer at the bottom of your rice cooker after dinner (or maybe that was just my rice cooker…).
The guide below is not exhaustive but it covers all the major varieties of rice I ever cook in my steam oven. If there's something not listed you'll probably be able to figure it out based on one of the other types of rice. I hope you find the guide useful and can return to it over and over until you've memorised your favourites.
Happy steam oven cooking, see you here again soon.
PS Wait, I forgot to mention the video I made this week! Be nice, it was a first attempt at ANYTHING video related so there's lots of room for improvement, but it's a great quick-mix recipe to try in your steam oven. You can have a look at it right here, and if you want to see more videos, follow me on Instagram or Facebook, or sign up to the Steam & Bake mailing list. I'm planning more simple recipe tutorials in this style as they're easy to follow and (relatively) easy to put together.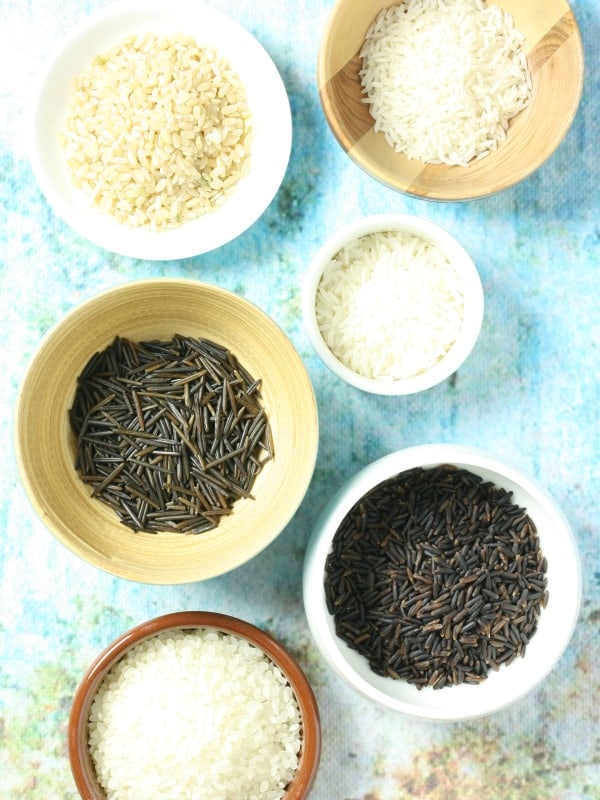 A Steam Oven Guide to Cooking Rice
A note about rice: the cooking times (and sometimes the quantity of liquid needed) for rice can vary according to how old your rice is and how humid your climate. I tend to buy and use rice within about 6 months at most (very old rice can be quite 'dry', requiring a touch more liquid and often longer cooking times).
And a note about cooking vessels: the below measurements work for rice cooked in a thin, even layer in a stainless steel tray. Most people will be able to use the solid trays which come with the oven for this. I use the smaller (1/3 size) tray for 1 cup uncooked rice, and the larger (2/3 size) for 2-3 cups uncooked rice.
After some meals to show off your now-perfect rice? I'll be posting a new rice salad recipe video on Facebook in a day or two, but in the meantime, try the Maple, Lime & Ginger Chicken or (one of my favourites) Asian Style Sticky Beef.
Did you like this post? You can subscribe right here if you'd like to receive my recipes and other steam-oven-related things straight to your inbox! I won't spam you, don't worry.