This recipe has been updated and republished on August 15, 2019, from its original 2016 version.
I first made these steam oven sticky beef ribs over a year ago, and at the time I was so excited to share it with you. The simplicity! The tastes-like-so-much-effort-but-takes-so-little smug feeling!
Anyway, I have no idea what happened but it was relegated to the archives of unpublished posts and it's taken me until now to come back to it. I made it again this week – it was just as good, and just as easy as the first time – and I felt mean for not posting about it earlier.
My 3 year old calls this sticky beef (or, more accurately, 'sssstickybeef') and can happily mow through a full adult portion, so it's safe to say this is a pretty family friendly dinner.
Whatever you call it, this is ridiculously easy to put together, requires almost no attention once it's in the steam oven (apart from maybe having to top up your water tank if your oven isn't plumbed) and tastes amazing.
It's definitely impressive enough to serve to guests, if, unlike us, you actually have people wishing to come to your house around dinnertime. Though it disappoints me, it's probably not surprising that two tiny and very noisy people with their associated dinner/bath/bedtime routines can put off all but the most intrepid of visitors (ie, those who also have tiny people in their lives and can therefore handle the utter chaos that is 6pm).
Maybe when the less intrepid see this they'll be more inclined to invite themselves over. And if not, more for us.
How to make sticky beef ribs
If you're like me, you'll feel like it's cheating to put this recipe together. It literally takes me 5 minutes to get it into the oven and I pay it very little attention once it's there, apart from a couple of turns of the meat. And the payoff is huge: meltingly tender, sticky and savory, and deeply flavored.
Here's how to do it.
<ingredient shot>
First, get your ingredients together: meat, dark soy sauce, water, brown sugar and a few aromatics. I use very meaty beef ribs which have been left in large pieces, though you could ask your butcher to cut them down into short ribs if you want them to be a little easier to handle and serve.
Put everything except the meat into a baking dish (I use one of my favorite low cast iron casserole pans).
Ginger, garlic, chilli and star anise are classic South East Asian flavors and in this case you can just roughly slice the ginger, squash the garlic with skin still on and throw them all in.
Give it all a stir.
Add the meat and turn to coat it in the marinade. If you have time, put it in the fridge for an hour or two so the flavors really get into the meat.
If you need to get it straight into the oven you can skip the marinating time. I've done this a few times and it still comes out deeply flavored and delicious.
Put the marinated meat into a cold oven, turn it on and cook, turning occasionally so the meat is evenly coated in the sauce during cooking, until it's falling of the bone and shreds easily.
For larger ribs like this I usually allow 3-3 1/2 hours, if they're cut down into short ribs they'll take around an hour less.
The finished dish will be very dark and quite saucy, which is exactly what you want.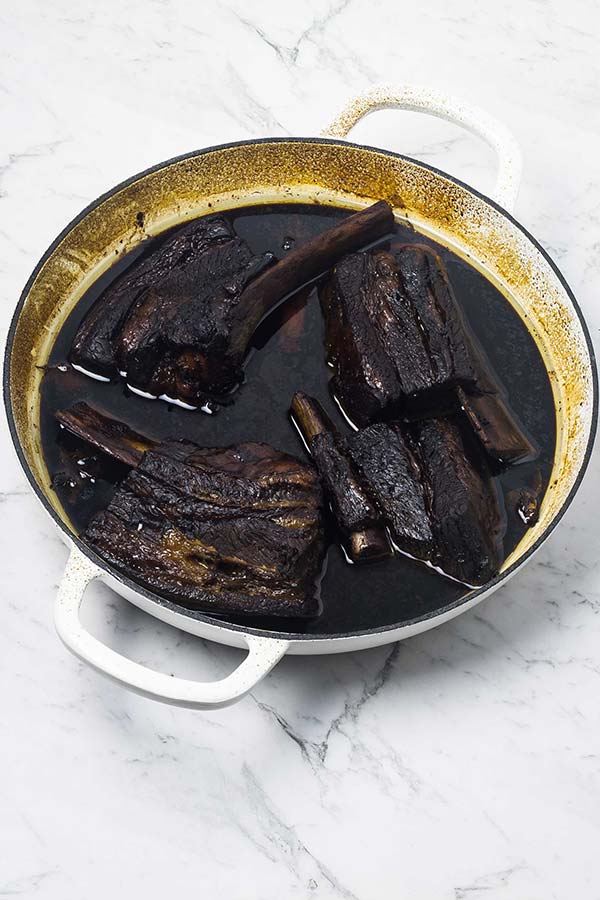 The fat and sinew in the meat will have melted down and you'll have a reasonable layer of fat on top of the sauce by the end of cooking. I find the easiest way to deal with this is to remove the meat carefully and set aside, then spoon off most of the fat before returning the meat to the dish for serving.
And there you have it! Gloriously sticky and saucy beef ribs, slow cooked in far less than the usual time in your steam oven.
Happy cooking, see you here again soon.
Do you want to use and love your steam oven more?

There are precious few resources to teach us HOW to use a steam oven in everyday cooking. I'm guessing that's why you're here! If you love cooking but aren't making the most of your combi steam oven, you aren't alone.

Steam Oven Insiders was created for you!

Benefit from my decade-plus of steam oven knowledge and training, delivered to your inbox twice monthly in bite sized, easy-to-implement tips and delicious recipes you'll actually want to cook. Insiders get access to every exclusive recipe and article within the members dashboard, so you'll never miss a thing.

Find out more right here
Print Recipe
Asian Style Sticky Beef Ribs
These beef ribs are soft, sticky, salty and sweet, and deeply flavored with soy, ginger and star anise. They also take a mere 5 minutes to get into the oven, making them them your next low-fuss dinner party hit.
Ingredients
2.6

lb

beef ribs

1.2 2lb 10oz, I use ones which are meaty and about 6 inches long, but the equivalent of shorter-cut ribs is fine

½

cup

dark brown sugar

½

cup

dark soy sauce

4

cloves

garlic

peeled and squashed

1

piece

ginger

a piece about 1"/2.5cm, sliced

3

star anise

whole

1

red chilli

sliced (or a couple of whole dried chillies)

½

cup

water
Instructions
Mix everything except the meat in a baking dish or deep tray. Put the meat in, turn to coat and marinate in the fridge for a couple of hours (note: the time I used beef cheeks, I didn't have time to marinate and they were still really great. I think the same would apply to the ribs as they spend quite a while in the oven sucking up all those flavours). You'll find the marinade doesn't totally cover the meat but that's fine.

When you're ready to cook, set your oven to 120⁰C (combination steam). If your oven has variable steam settings, use 60-80%. If not, don't worry! Just set to combination steam at the correct temperature and the oven will take care of the humidity for you.

Cook for about 3 ½ hours, turning the meat over a couple of times during cooking (I start the ribs bone-up, then make sure they're turned meat/fat side up for the last hour or so, for the fatty top layer to get nice and melting). If your steam oven isn't plumbed, you will probably have to top up the water once or twice during cooking.

The dish is done when the meat will easily shred with a fork. Serve with steamed rice and greens, and extra sliced fresh chilli and cilantro leaves.
Notes
The ribs I buy are what I would call 'full' ribs rather than short ribs – they're about 15cm/6in long and quite meaty, with a good covering of fat on the top, and I use four to make up the weight required. If short ribs are easier for you, use those and allow around an hour less cooking time.
I've made this with both beef ribs and beef cheeks. For cheeks, you will likely need to cook for longer, up to about 4-4 1/2 hours. For this quantity of sauce I use four beef cheeks about 10oz/300g each, cut in half. Because they have no bones (and are very rich) you'll get more portions.
If you want to make ahead, you can fully cook this dish, pop it in the fridge for up to 3 days and just reheat when you're ready to serve. It freezes well too. For freezing I generally shred all the meat from the bones, discarding the excess fat and connective tissue, and put it into double zip lock bags with the sauce. This makes for easy defrosting and serving on a busy night.
We like to eat our ribs with steamed rice to soak up the sauce, and a herby salad.
Nutrition
Calories:
338
kcal
|
Carbohydrates:
21
g
|
Protein:
30
g
|
Fat:
15
g
|
Saturated Fat:
6
g
|
Cholesterol:
85
mg
|
Sodium:
1181
mg
|
Potassium:
617
mg
|
Fiber:
1
g
|
Sugar:
19
g
|
Vitamin A:
71
IU
|
Vitamin C:
11
mg
|
Calcium:
37
mg
|
Iron:
4
mg
But I don't have a steam/combi-steam oven! Put it in your slow cooker. You may want to brown the meat first, and cook for around 6 hours, but otherwise it should come out pretty similar.