This post includes affiliate links. Find out more about affiliate links and how they help this site.
Christmas baking (well, all Christmas cooking, if I'm honest) is my absolute happy place when it comes to being in the kitchen. This is saying something given I'm happy to be in the kitchen in general. So I'm very excited to be sharing my favorite panforte di Siena, or Siena cake recipe, with you.
This Siena cake, made with white chocolate, honey and nuts got quite a few questions when I shared it on Facebook a few weeks back. Lots of you were keen for the recipe, which makes my baking heart so very pleased! It's lovely knowing I have plenty of kindred spirits who also enjoy gifting homemade food at this time of year. Is it just me or are we a dying breed?!
The recipe is one I've been baking for almost 20 years. Based on something I tore out of a magazine (from which the scrap of paper is long since lost), I heavily adapted it to change the fruits and spices. Thus I'm not sure how truly authentic it is compared to a true Siena cake! Nevertheless, it's fabulous and each Christmas I gift it to a few new lucky people. I also make sure I bake enough to keep the loyal fans from years previous in stock, or I might have a riot on my hands.
What is panforte di Siena?
Panforte, or Siena cake, is Italian in origin. The word panforte is the literal translation of words 'strong bread'. I assume the strong part is a reference to sturdiness rather than strength of flavour, but I may be wrong. Panforte is indeed sturdy stuff, with nuts and candied or dried fruits, held together with a small amount of batter. It always contains honey and a hefty dose of spices, and many versions include chocolate.
There are as many variations of panforte as there are people who bake it. I was told once that the more traditional ones are firmer and darker than mine, with the potential to keep for a year or more.
This version is heavy and dense but still slightly fudgy. It might not be the most traditional Siena cake recipe, but it's fantastic and keeps very well for a good few months, improving with age.
I hope you'll get a chance to try baking a panforte di Siena for your own Christmas table. A word of warning: some of the ingredients (especially the glace fruits) can be hard to source. They are available from decent gourmet grocers though, especially around Christmas. If you're going to the trouble of finding ingredients, I recommend you make a double batch – one for you and one to gift.
I bake multiple batches of this cake most years, and I've learned a few things about packaging and shipping them over the years! Have a look at my gifting tips at the end of the recipe below.
Happy Christmas baking, see you here again soon.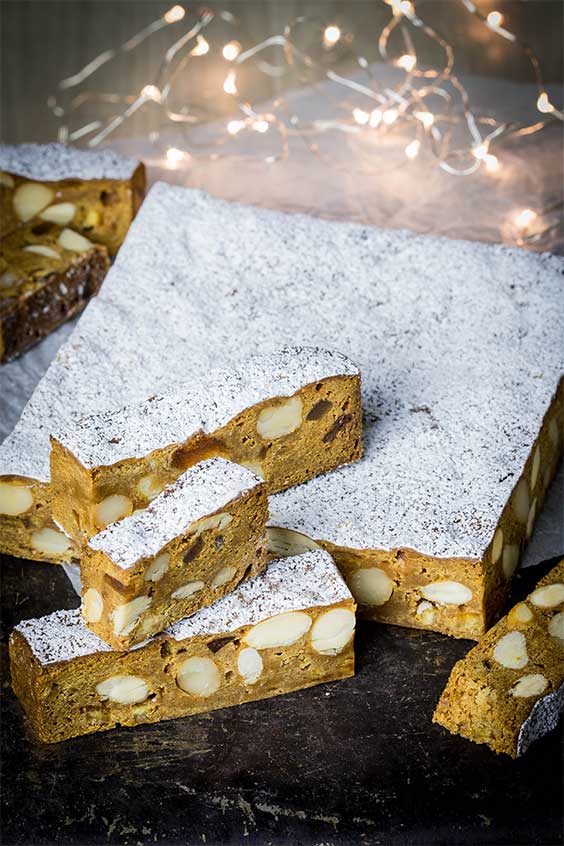 Do you want to use and love your steam oven more?

There are precious few resources to teach us HOW to use a steam oven in everyday cooking. I'm guessing that's why you're here! If you love cooking but aren't making the most of your combi steam oven, you aren't alone.

Steam Oven Insiders was created for you!

Benefit from my decade-plus of steam oven knowledge and training, delivered to your inbox twice monthly in bite sized, easy-to-implement tips and delicious recipes you'll actually want to cook. Insiders get access to every exclusive recipe and article within the members dashboard, so you'll never miss a thing.

Find out more right here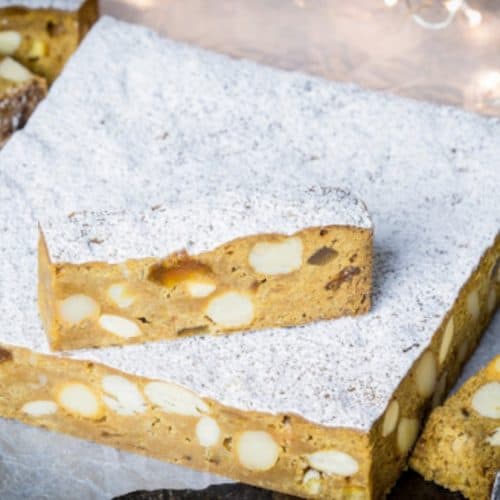 Print Recipe
Siena Cake (Panforte di Siena) with Ginger, Apricots and Macadamia Nuts
This panforte makes a wonderful Christmas cake to serve or to give as holiday gifts!
Instructions
Preheat oven to 150°C/300°F, fan forced (convection) setting. Grease a 22cm/9 inch round cake pan and line the base with baking paper.

Put the chocolate and honey in a pan over very low heat, stirring often, until the chocolate is melted and the mixture smooth. If your stove doesn't go down to a very gentle low heat I'd recommend doing this step using a double boiler so you don't burn the chocolate.

Combine the flour and spices in a bowl and whisk to combine. Add the fruits and nuts and give everything a stir to coat them in the flour.

Add the chocolate/honey mixture to the bowl and stir well. I find clean hands easiest for this as the mixture is very stiff. Make sure everything is evenly mixed and there are no lumps of flour remaining.

Scrape the mixture into the prepared cake pan and press out gently with your hands or the back of a spoon until it's even. Bake until golden but soft, about 45 minutes. Let it cool slightly, then run a thin knife around the edge of the pan to loosen the sides.

Cool the panforte completely in the pan, then turn it out and wrap well in aluminium foil for storage. Keep in a cool dark place and when you're ready to serve, dust it with powdered sugar and cut into thin wedges.
Notes
For the white chocolate: d

on't use really cheap baking chocolate here, though you don't have to go to the upper extreme and use super expensive stuff either.

I've made this recipe in many different quantities and pan sizes, from the single large cake version listed below right up to batches of ten times that, baked into dozens of small cakes. Though you'll need good arm muscles to mix larger batches, it's a recipe that scales well.
The flavour improves after baking and though you can eat your panforte immediately, I think the best time to eat this is 2-3 weeks after it's baked, when the spices and fruits have had a chance to settle and blend with one another. The cake will keep, well-wrapped in a cool dark place, for up to a few months.
Take care not to overcook your panforte. The cake should be lightly golden all over but still quite soft to touch when it comes out of the oven. It will firm up as it cools, and even if you've been a bit cautious and under-baked it, it'll just be a little more fudgy than normal. I promise no one will notice.
You'll see I've simply noted 'chopped' for the glace fruits, without giving a guide to what sized pieces to aim for. It's up to you – finely chopped fruit will give a finer texture, roughly chopped makes for a chunkier panforte. I like to chop the ginger and orange into roughly 6mm/¼ inch pieces so they distribute evenly through the batter, but I make the apricots/peaches about twice that size for a bit of textural interest. See the prep photos for an idea of what I mean.
Nutrition
Calories:
296
kcal
|
Carbohydrates:
41
g
|
Protein:
4
g
|
Fat:
14
g
|
Saturated Fat:
5
g
|
Cholesterol:
4
mg
|
Sodium:
23
mg
|
Potassium:
177
mg
|
Fiber:
2
g
|
Sugar:
32
g
|
Vitamin A:
133
IU
|
Vitamin C:
1
mg
|
Calcium:
62
mg
|
Iron:
1
mg
Gifting tips:
I usually gift these in smaller, 10cm/4 inch rounds, or bars cut from a larger square cake (see main photos). They're a great inclusion in a hamper of several different Christmas treats, though a whole large one would be a generous and special gift.
Panforte ships well and can handle the temperature variations of most postal services quite comfortably. If you are gifting a single large panforte, I suggest you put it onto a cake round or a piece of card cut to size before wrapping, because they're a little soft to transport otherwise.
For gifting, dust the cake with a fairly generous layer of powdered sugar, then wrap in baking paper and brown paper tied with a pretty ribbon, or clear cello/plastic. If I'm shipping and it'll be more than a couple of days before it reaches the recipient, I often try to track down some non-melt powdered sugar so the cake still looks gorgeous when the recipient unwraps it.
Over to you – if you try this recipe I'd love to know about it! Please share your pictures with me on Facebook or tag them @steamandbake on Instagram.
Would you like more Steam and Bake recipes? Join the mailing list – there's no spam, just an email every now and then to tell you the latest. I love my subscribers and they're always first to hear about what's going on in the Steam and Bake world of cooking.
If you're after more delicious Christmas recipes, the Combi Steam Cooking at Christmas digital cookbook has plenty, or you can try the spiced fruit mince tarts recipe from the book right here on the site.