Designing a kitchen with a steam oven can be very exciting. It could also see you riddled with anxiety, depending on how much you know about these appliances. Maybe you've been thinking about buying a steam oven for a long time, or maybe you never knew they existed until an appliance sales person mentioned their benefits.
This article will help you decide if adding a steam oven to your kitchen meets your cooking goals. We're also covering the nitty gritty details. You'll find out exactly what to consider if you want to integrate a steam oven into your kitchen design, and how to mix and match your other appliances. After all, you want to cover all bases, and no one needs an appliance sitting unused in their kitchen.
Whether you're a just-get-everyone-fed family cook, a gourmand or an appliance geek (or, like me, all of the above), I hope you'll find something useful here.
This post may include affiliate links. As an Amazon Affiliate I earn from qualifying purchases (don't worry, it doesn't cost you anything!). Find out more about affiliate links.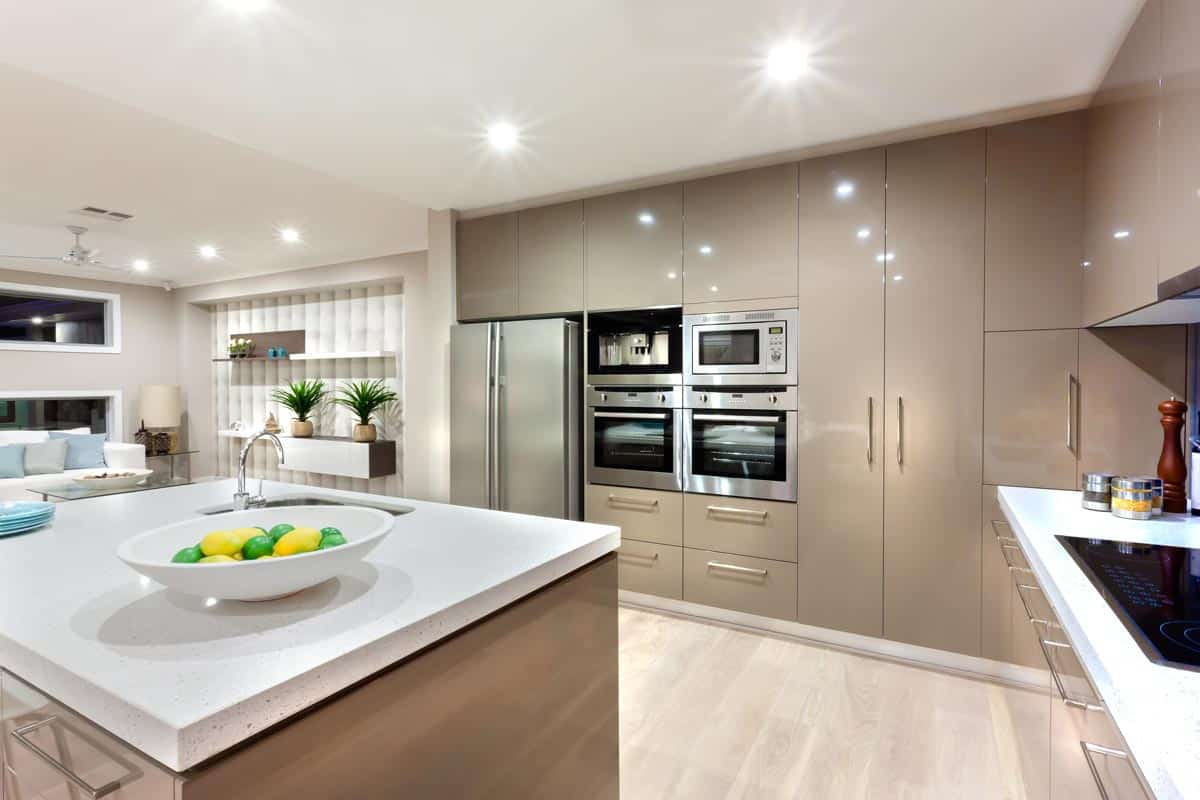 Benefits of designing a kitchen with a steam oven
Whether you're remodeling or building from scratch, you're about to create a kitchen space that meets your specific cooking needs and preferences. That's really fun, but you want to get it right.
In many cases, your new kitchen design will come after years of working in a less-than-fabulous space, so you're going to appreciate your new kitchen all the more.
These are some of the benefits you can expect from using a combi steam oven.
Speed
Combi steam ovens cook food faster than traditional ovens. Although it depends on the type of food you're cooking, most dishes cook somewhere between a third and two-thirds faster than their conventional counterparts. Without getting too technical, steam ('wet' heat) distributes heat into your food more efficiently than dry heat. The combination of that wet heat and high oven temperatures is a game changer for speedy meals.
Versatility
Combi steam ovens provide a range of cooking options. Whether you want straight steam, convection, or a combination of the two, you'll have the ability to cook a wide of foods in a variety of ways.
Although a sales rep will talk up the gourmet baking or fancy party dishes you can make, the real beauty of combi steam (for me, at least) lies in its versatility for everyday meal preparation. Think one-pan and one-pot dinners, rice, pasta, tender vegetables and simple baking. All made simple and versatile using added steam.
Healthier Cooking
In a steam oven, you'll cook food which retains moisture and nutrients that can be lost through other cooking methods. Healthy cooking is not, by any means, all you can do (see the chocolate and dessert indexes on this very site for proof of many indulgent steam oven recipes!). But it's a great benefit for most of us when it comes to getting nutritious meals on the table every day.
Energy Efficiency
Combi steam ovens can be more energy efficient than conventional ovens. This varies from brand to brand, according to the size and specifications of the model you choose. Many steam ovens have a smaller capacity than regular ovens. This means they don't require as much energy to heat and run. Don't be fooled by the size; you can fit a surprising amount into a small oven, thanks to the better heat circulation of steam. And the shorter preheat times and shorter cooking times make for a more efficient cooking experience in general.
Ease of Cleaning
I hesitated whether to include this point because I know some people disagree. But in over a decade using and cleaning a huge number of steam ovens, I find them easier to clean.
Combi steam ovens are designed to be easy to clean, with many models now featuring self-cleaning options. Some are smaller, so there's less surface area to get dirty in the first place. For many dishes, using steam cuts down on food splatter, and prevents splatter from adhering as much to the insides of the oven. This means that you can spend less time cleaning up after cooking and more time doing, well, anything else.
If you want a more in-depth look at cleaning steam ovens, my article on how to clean a steam oven will help.
Can you get rid of other appliances if you're designing a kitchen with a steam oven?
Combi steam ovens offer a range of cooking benefits, and they can definitely replace other appliances in your kitchen. Here are some appliances you may be able to forgo by adding a steam oven:
Microwave
Combi steam ovens can be used to reheat food, and they do a much better job of it than a microwave! See my article on whether a steam oven can replace your microwave for a more detailed look at this topic in particular.
Toaster Oven
If you purchase a compact size or countertop steam oven, it should perform all the tasks you'd normally use a toaster oven for. Yes, including toast. Ditch that toaster oven and claim back some much needed counter space.
Slow Cooker
Combi steam ovens are basically a big slow cooker that you can put any ovenproof dish into! They can be used to cook food slowly and with plenty of moisture. Plus, you have the added benefit of better food visibility because you don't need a lid on your pot. No more bulky slow cooker.
Stovetop or benchtop steamer
This is self explanatory, right? You'll be steaming all the things in your steam oven from here on out! So you can reduce the clutter of a plug-in countertop steamer or a bulky steamer basket that goes on top of a pot.
Have you visited the Steam & Bake Shop yet? It's the best place on the web for Steam Oven Recipe Books and other helpful steam oven content!
Designing your kitchen to integrate a combi steam oven
The all-important 'how'! Here are my best tips to help you place your new oven perfectly in your kitchen layout.
If you're including a steam oven in your kitchen, be sure to discuss these points with your kitchen designer. If you're designing for yourself, keep them in mind so you end up with the most functional space possible: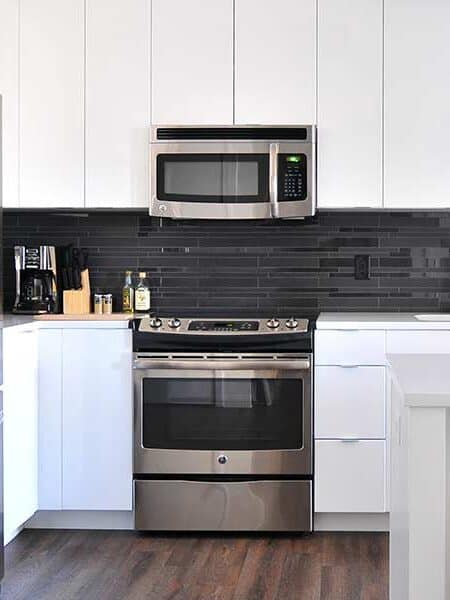 Consider your overall mix of appliances when including a steam oven
This so often gets overlooked and I've definitely done it myself! Now it's my first step in thinking about the design of a kitchen to include a steam oven.
Think about exactly what, and what size, ALL your appliances will be when designing with a steam oven in mind. Pay particular attention to:
Do you want or need another oven as well as the combi steam, so you have the flexibility to cook steamed dishes and baked dishes at the same time?
Do you really need that 6-burner stove or cooktop if you'll be using your steam oven a lot? I have made this mistake, installing a large and expensive 6-zone induction cooktop in a new kitchen. After using my appliances, I realized a 4-zone model would have been just fine. Once you begin to use a steam oven you'll do a lot of steaming, sauteing and 'one pan' dishes in the oven instead of on your cooktop. I also use my steam oven for prep of things like bacon, eggs, vegetables and grains. These are all foods I would have prepared in a frying pan or saucepan before.
Will you be ditching the microwave, toaster oven, slow cooker or steamer to make way for the steam oven? Most kitchen designers will automatically include a spot for a microwave, so make sure you let them know if you won't be using one anymore.
Consider size and placement of your steam oven
This sounds obvious, right? I mean, you'll just put a steam oven where a normal oven would go! Maybe. But maybe not.
Combi steam ovens come in a range of sizes, so it's important to choose one that fits your kitchen's dimensions. You can buy a full sized oven with combi steam features, a compact combi steam or a countertop steam oven. What works for you size-wise will impact a little on placement.
You can place a full sized steam oven where you would have put a regular oven. Or, if you're fortunate enough to have a full sized conventional oven AND a full sized combi steam, place them in a stack or side-by-side in the wall. Two ovens installed together make a great impression and become a design element in themselves.
Consider the ergonomics of your oven placement too. Although you can install a steam oven under the counter, it's not my first preference. They release a cloud of steam if you open them while operating, meaning an unplanned steam facial if you're opening from directly above. If you wear glasses, you'll also have momentarily obscured vision! Under-bench isn't as safe if you have little kids running around, either. If you have no choice due to layout constraints, it'll work. Given a choice, I always recommend an eye-level installation.
**Edited to add: I have had feedback from a couple of people with under-counter installs and they disagree with my preference for eye level installation! Their points are valid, and although I still believe eye level is the optimal placement, wanted to add their reasons here. One is that having your steam oven installed under the counter means you can pull trays from the oven and place them directly onto the counter above, without hot or dripping pans all over the kitchen. Another is that it can be easier to reach into the back of the oven for cleaning, and (related) that if you are *ahem* vertically challenged, it's more ergonomic than a steam oven placed at the top of a two-oven stack. All of which to say, take note of how you will use your kitchen and your oven, and install accordingly. What suits you may not suit everyone, and that's ok.
Countertop ovens give you the flexibility to move the unit around. It's likely you'll just leave yours in one spot once you've found the right place, though. If you have the luxury of a walk-in pantry, putting a countertop steam oven in there is a great idea. It will free up bench space in the main part of the kitchen.
Do you want to use and love your steam oven more?

There are precious few resources to teach us HOW to use a steam oven in everyday cooking. I'm guessing that's why you're here! If you love cooking but aren't making the most of your combi steam oven, you aren't alone.

Steam Oven Insiders was created for you!

Benefit from my decade-plus of steam oven knowledge and training, delivered to your inbox twice monthly in bite sized, easy-to-implement tips and delicious recipes you'll actually want to cook. Insiders get access to every exclusive recipe and article within the members dashboard, so you'll never miss a thing.

Find out more right here
Think about design aesthetics of your kitchen appliances
Combi steam ovens come in a range of designs, so it's important to choose one that fits your kitchen aesthetic. You can choose from a range of finishes, including stainless steel, black, gray and white.
If you're buying all new kitchen appliances and installing within sight of each other, I like to opt for the same brand and range so everything looks cohesive. Otherwise, install the combi steam in an area away from your other appliances so it looks deliberately different.
Choose the right features
Combi steam ovens come with a range of features, so it's important to choose an oven that meets your cooking needs. This is not a one-size-fits-all purchase! Features to consider include multiple cooking modes, touch screens, pre-programmed settings and the ability to vary your humidity or steam levels. Taking a deep dive into what features are actually useful to the way you cook is critical. My post on understanding and using steam oven humidity levels is a great place to start with that.
If you aren't sure on the features of the steam oven models you're looking at, most manufacturers offer some kind of pre-purchase cooking demonstrations. These demos are designed to help you understand what you're buying. You'll be able to view someone using the oven and ask questions about the features. In some cases you'll be able to touch and feel various brands, giving you more of a comparison. Many demos are free and they're a brilliant way to explore combi steam before you commit to a pricey appliance.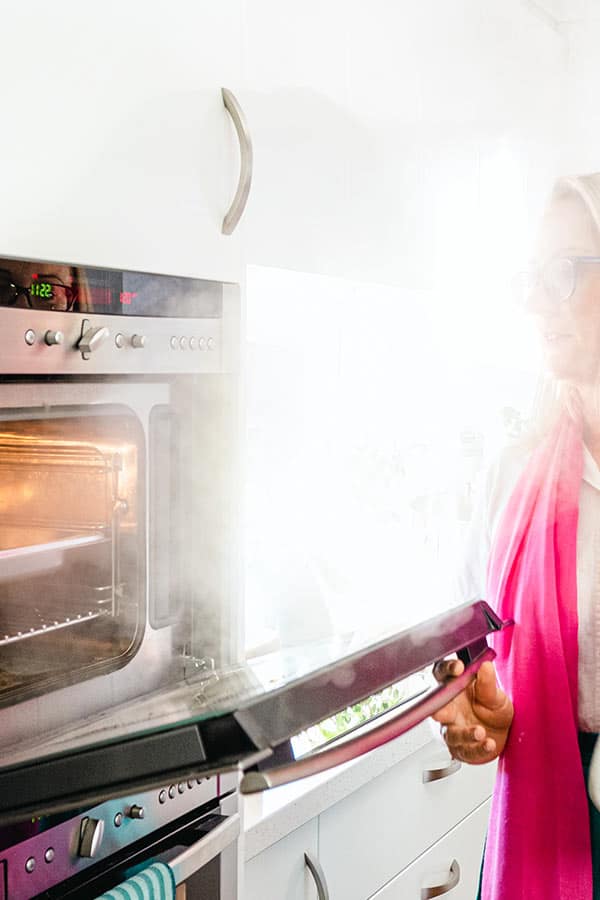 Consider ventilation
When cooking with a steam oven, moisture is produced. It's not a big deal because most ovens have good ventilation built into their design, but you still need to consider it in your plan. Ensure your kitchen has good airflow and an adequate ventilation system (a decent range hood/vent hood is plenty, and most kitchens have a hood installed as part of their cooktop setup).
One thing to note: painted or laminate cabinets above a steam oven are fine, so long as your kitchen overall has some ventilation. I get a lot of questions about whether steam coming out of the oven can damage the cabinet finish! I've never, ever seen it to be a problem and I've looked at and cooked in countless home kitchens with steam ovens.
Plan electrical and plumbing connections
Before installing a combi steam oven, ensure your kitchen has the necessary electrical and plumbing connections. Many steam ovens can be run off a standard oven connection. Plumbing is more variable; if your oven is a tank model you don't need to be close to a water connection but if you opt for plumbed you'll need water run to the oven.
Get a qualified electrician and plumber to help determine what kind of connections you'll need and ensure they're installed safely and correctly to save yourself problems later.
That about covers things! Thanks for reading all the way to the end. Designing your kitchen to include a steam oven really does provide a range of benefits, including healthier cooking, versatility, time-saving, energy efficiency, and ease of cleaning. With proper planning, a steam oven can be a valuable addition to your kitchen, making cooking faster, easier, and just plain fun.
I'd love to know if you found this article helpful! If you did, you can sign up for my email list for more information and steam oven recipes. Or leave a comment on this post and let me know if you decided to include a steam oven or not in your new kitchen!