One question I get asked a lot is how to use the humidity, or steam, levels in a combi steam or convection steam oven.
Every manufacturer makes their ovens a little differently, so it can be hard to know what to do when you see a recipe for a steam oven that doesn't make sense with your oven's interface.
Today I want to address understanding and using steam oven humidity levels, so you never have to wonder how to approach it again. Instead, you can simply go forth and tweak the settings on your oven to work with any steam oven recipe.
If you're new to steam oven cooking or you find the whole thing overwhelming, this is a great article to bookmark and come back to. There's a lot of information about understanding your oven settings below. Reading through a few times should help cement it in your mind.
This post may include affiliate links. As an Amazon Affiliate I earn from qualifying purchases (don't worry, it doesn't cost you anything!). Find out more about affiliate links.
Understand steam oven settings across different brands
Before we get into how to use the steam settings in your oven, you need to know what you're working with.
Understanding your oven is the biggest hurdle to feeling confident about steam oven cooking. If you know how to drive the appliance, it's instantly less daunting turning it on.
Many (though not all) steam ovens have the option of selecting a steam level when using a combi steam function. The way you operate the levels differs depending on the oven.
Different types of combi steam ovens
Here's a rundown of the different types of combi steam oven interface you'll find, and some of the main brands offering each type. Note there are many more brands of steam oven than I refer to, these are just a few major ones:
Some steam ovens use percentages, where the user chooses their percentage in combination with the oven temperature. Miele, Gaggenau and Anova are examples of steam ovens with percentage designation.
Some ovens have the option to add low, medium, or high steam levels to the oven's cooking or baking settings. AEG, Neff and Siemens all offer this.
Some combi steam ovens have no option to alter humidity, offering instead a combi steam or convection steam function where the appliance determines the amount of steam based on the temperature or setting. You'll commonly see these functions referred to as something like 'convection plus steam' or 'hot air plus steam'. Wolf, Thermador and VZUG operate with this type of interface. It doesn't give the user as much control over the amount of steam, but that's not actually a bad thing! I love this type of steam oven, especially for people who haven't used steam ovens before. They're very user friendly, you just set the temp and the oven takes care of the steam.
The difference between steaming and combi steaming
When it comes to steaming, using temperatures up to 212°F/100°C, you'll rarely have the option to vary the humidity level. This is because true steaming is done at 100% humidity. It's helpful to separate steaming from combi steaming in your mind, as it makes using the oven settings easier to understand.
I think of it like this: less than 212°F/100°C is steaming (always 100% humidity), more than 212°F/100°C is combi or convection steaming (potential to vary humidity).
Things can become more complex if you introduce features for sous vide cooking, which many steam ovens have now, but for today's explainer we're leaving that out.
Want more helpful info about buying and using a steam oven? Try these articles:
What Type of Steam Oven Should You Buy?
7 Questions to Ask Before Buying a Steam, Combi Steam or Convection Steam Oven
The Best Cookware to Use in a Steam Oven
9 Recipes to Cook in Your Steam Oven This Year
Does it really matter whether you can set steam levels with your oven?
I want to let you in on something I feel very strongly about when it comes to steam oven cooking. It doesn't matter what type of steam oven you have, nor whether you can set steam levels when you turn it on! So long as you feel comfortable operating it, you've got the right oven.
I've used, and helped people select for their kitchens, all the different kinds of steam ovens over the past decade. And when someone asks 'what's the best steam oven to buy?', my answer varies depending on many factors.
Apart from budget, which is where many of us start, there are other things to consider. Cooking style and experience, the location of your home and the layout of your kitchen should impact your choice. More than that, the way your brain learns and retains information will help you figure out the best steam oven for you.
Sometimes, the answer is no steam oven at all! Sometimes, it's 'the one that's already in the house you just moved into'.
Mostly, though, it's whichever steam oven feels like the best fit. If you have the luxury of choosing between several brands, ask yourself which oven feels easiest to operate. Are the buttons and dials easy to navigate? Does having the ultimate control over single-percentage selection of steam levels overwhelm you? Or does that sound fun?
In the end, you're the only one who can decide which steam oven is the right one. Whether you can set varying steam levels should just be one part of your decision making process.
Would you like my FREE Quick Start Guide to Your Steam Oven?
Start learning what (and how!) to cook using your oven's steam and combi steam settings, with my instant downloadable guidebook, full of tips, links and ideas.
Click here to get the Guide sent straight to your inbox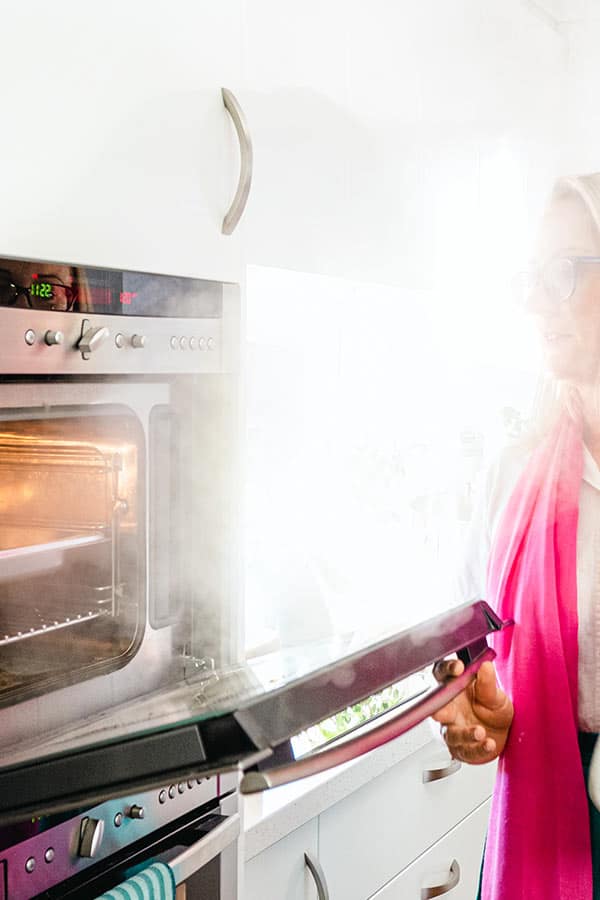 Applying your oven's steam settings to recipes
As someone who writes a LOT of steam oven recipes, let me say this: it's impossible to write recipes which cover oven settings across all brands.
Understanding and using steam oven humidity levels does take some getting used to, but I try to make it approachable. No matter what brand your oven, I want you to be able to cook the recipes here and feel confident in the results.
Over my years of doing this, I've come up with a standard way of writing my recipes. That standard does include steam percentages in recipe directions. Why? Because they're usually the most complex of the oven setting variables, and I want anyone to be able to jump in and cook the dishes. Writing the most detailed instructions I can means I cover most bases.
If you have an oven with the ability to set steam percentages, that's great. Find a recipe, turn your oven on using the relevant settings and away you go.
What if your steam oven uses low/med/high designations? Or you can't alter your steam or humidity levels?
What if you want to cook a combi steam recipe from elsewhere, and the directions are different to how your oven works?
Read on.
Here's how I recommend you approach things if your oven doesn't use humidity percentages:
If you have a combi steam oven with no option to select humidity or steam levels, use the combi steam setting (sometimes called convection steam) and the oven temperature listed. One of my ovens works this way, and all my recipes have been tested in it with success.
If your appliance gives the option to select low, medium or high steam levels when you cook, use the following to select the right option:
Recipes calling for up to 40% humidity: low steam
Recipes calling for 40-60% humidity: medium steam
Recipes calling for more than 60% humidity: high steam
A note on steam oven cooking times
Because of the many ways combi steam ovens are manufactured, and their differing methods of producing steam, cooking times are always a guide.
I'm confident in the timing of my recipes but be mindful that in some ovens they may take a few minutes less, others a few minutes more. Once you've been using your oven for a while, you'll find you can predict if dishes cook faster or slower.
Whew! I know that's a lot of information, and a lot of use of the words 'steam oven settings'. Ha. But I hope it's helpful in understanding and using steam oven humidity levels. The more you cook with steam, the easier it feels. And the more you'll come to love it. 😉
Happy steam oven cooking, see you here again soon.