This post may include affiliate links. For more information about affiliate links and how they help this site, click here.
Banana bread is a favourite for so many of us, but it's traditionally full of refined sugar. I've adapted my recipe and done away with the extra sweetness so I can eat this any time I feel like it, minus the sugar-loading. Cooking banana bread in a combi steam oven means you'll end up with a golden crust and a loaf which stays really moist.
I know many of you are deep in the throes of Thanksgiving food this week, so I wasn't sure whether to post this. But then I thought maybe not EVERY meal eaten during Thanksgiving week should include turkey or pumpkin.
And so I give you a healthy combi steam banana bread. It's a great respite from all the richness of the big meal, and won't require you to do anything difficult in the kitchen. Make a loaf now, freeze it in slices and toast them whenever you feel the need over the holiday weekend.
The best banana bread
The recipe I'm sharing today is the simplest and healthiest version of banana bread I've come up with, containing zero refined sugar and mixing up quickly with one bowl for wet ingredients and another for dry.
Is it the best banana bread? That probably depends who you ask! I fall into the camp of people who prefer a less sweet, more breakfast-appropriate loaf, so it's perfect for me.
My kids, predictably, prefer something akin to the soft, sticky, incredibly sweet cake commonly sold in chain cafes as banana bread. If that's your thing too, you'll probably want to look for another recipe (though I'd still recommend baking it in combi steam, which is perfect for banana bread of all types).
What makes the perfect combi steam banana bread?
I was actually a latecomer to enjoying banana bread. Never one for fresh bananas, I also steered well clear of anything involving them in baked form for a long time.
I got a surprise when I was served a soft, tender loaf at a friend's house a few years ago and discovered I actually liked it! I'd only meant to try it in the interests of being a decent guest, but greedily ate a whole fat slice and wanted more.
Since my turn to the pro-yellow-fruit-in-baked-goods brigade, I've been on a mission to bake the perfect loaf. In all, I think I've tried maybe a dozen recipes over the past couple of years, and I've discovered a few things.
In almost every recipe, I found halving the sugar is completely acceptable and really doesn't change the structure of the finished product much. What it does change is the length of time the loaf stays fresh. I think we all know sugar is a preservative, so be aware that using less means you shouldn't keep the loaf much longer than a day or 2 without freezing it. In today's recipe, I've removed the sugar altogether save for a little honey, though I have used an extra banana for natural sweetness. I have actually made this recipe without any extra sweetener at all (it was once, by accident, because I forgot to include the honey. Ha. But it still tasted good enough to eat the entire loaf, so there you go).
In general, the quantity of bananas is pretty forgiving. A lot of recipes which call for 3 or even 4 bananas work just fine with 2 or 3. Just be aware that recipes with low or no extra sugar need enough bananas to keep them sweet and moist.
Want a dairy free loaf? This recipe uses oil (rice bran or a light olive oil are my preference), and I have successfully replaced the milk with almond or coconut milk
When I'm feeling indulgent, I'm partial to dark chocolate chunks as an addition, or pieces of candied ginger. Nuts or whole blueberries work too. A couple of spoonfuls of cocoa powder are also welcome (cut down the flour by an equivalent amount), and I love spices mixed into the batter. Those chocolate chunks can get messy if you want to toast slices of your banana bread, but it's delicious enough that I don't care what it looks like. I haven't written any additions into the recipe below, but suffice to say add whatever you like – around a half cup to a cup of whatever you fancy will be about right.
As far as the ultimate perfect banana bread goes, I think I'll leave it open to interpretation. But today's recipe is a very good start.
Happy steam oven cooking, see you here again very soon with a BIG announcement about the Combi Steam Cooking at Christmas digital book. I'm so excited and can't wait to share what I've been working on.
Do you want to use and love your steam oven more?

There are precious few resources to teach us HOW to use a steam oven in everyday cooking. I'm guessing that's why you're here! If you love cooking but aren't making the most of your combi steam oven, you aren't alone.

Steam Oven Insiders was created for you!

Benefit from my decade-plus of steam oven knowledge and training, delivered to your inbox twice monthly in bite sized, easy-to-implement tips and delicious recipes you'll actually want to cook. Insiders get access to every exclusive recipe and article within the members dashboard, so you'll never miss a thing.

Find out more right here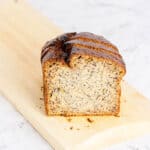 Print Recipe
Banana Bread (no refined sugar)
Banana bread is a favorite for many people – try this healthier and really easy steam oven banana bread which contains no refined sugar, and you'll be able to enjoy it more often!
Ingredients
Wet mix
4

bananas

medium, or 3 large, overripe ones work best

2

eggs

large

1/2

cup

vegetable oil

or olive oil

1/4

cup

milk

almond or coconut milk work if you want a dairy free loaf

2

tbs

clear honey

1

tsp

vanilla extract
Instructions
Preheat oven to 350°F/180°C, combination steam setting. If your oven has variable humidity levels, use 50%. If not, don't worry! Just set to combi steam at the correct temperature and the oven will work out the humidity for you. Line your loaf tin with parchment paper to extend up over the sides.
For the wet mix
Use a potato masher or fork to mash the bananas in a large bowl. Add the rest of the wet mix ingredients and whisk to combine.
For the dry mix
Put all the dry mix ingredients in a bowl and whisk to combine. Pour in the wet mix and stir with a large spoon until it's just mixed.

Scrape the batter into your lined tin and bake until it's risen, golden and tests clean with a skewer, about 50 minutes. Allow to cool in the tin for 10 minutes before turning out onto a rack to cool completely. Serve in thick slices with butter or a smear of ricotta cheese.
Notes
Banana bread will keep in a container at room temperature for a day or two after baking. After that I recommend freezing slices and defrosting as you need. Toasted with butter is my favourite way to serve.
As mentioned above, this can be made dairy free by substituting almond or coconut milk for the regular milk.
You'll need a loaf tin measuring 23 x 13 x 7 cm (9 x 5 1/2 x 3 inches) for this recipe. This is the one I use, along with these loaf tin liners. They make it so easy to get a cake or quickbread into the oven. No mucking around with greasing, cutting baking paper and carefully lining your tin, just chuck one in and you're done. They are also available in various round tin sizes, so if you're like me you might want to stock up.
Nutrition
Calories:
254
kcal
|
Carbohydrates:
33
g
|
Protein:
5
g
|
Fat:
13
g
|
Saturated Fat:
9
g
|
Cholesterol:
33
mg
|
Sodium:
143
mg
|
Potassium:
297
mg
|
Fiber:
3
g
|
Sugar:
10
g
|
Vitamin A:
88
IU
|
Vitamin C:
4
mg
|
Calcium:
44
mg
|
Iron:
1
mg
Over to you – if you try this recipe I'd love to know about it! Please share your pictures with me on Facebook or tag them #whatsinthesteamoven on Instagram.
If you'd like more Steam and Bake recipes and steam oven inspiration, sign up for the mailing list right here. No spam, just an email every now and then to tell you the latest. Plus, you'll get access to the exclusive subscribers-only Combi Steam Cooking Facebook group. It's full of people at all stages of learning about combi steam cooking, and I'm in there answering your questions, posting videos, tips and cooking inspiration.
And if you're after other delicious combi steam recipes for loaf cakes and breads, the Cakes and Baking Index page has more. Try the Low Carb Pumpkin Bread, or maybe my favourite Lemon Ricotta Cake.