This creamy hummus recipe is my go-to classic, easy hummus that we can never get enough of here. Based on a famous Ottolenghi hummus recipe, my version has a few tweaks to make the smoothest, creamiest dip imaginable.
I go lighter on the garlic and tahini than the original, and heavier on the lemon. But the biggest change is in how I cook my chickpeas.
Ottolenghi's hummus has you saute soaked pulses with baking soda (bicarb soda) before boiling, to rough up and soften the skins. I skip that altogether in favor of steaming my chickpeas. Steamed chickpeas are easier and every bit as creamy and soft-skinned as the ones you'll get using the baking soda saute.
If you love hummus but you've never made your own, I really want you to give this a try. I promise it'll take very little hands-on kitchen time, and you'll be rewarded with a light and creamy hummus like no other.
This post may include affiliate links. As an Amazon Affiliate I earn from qualifying purchases (don't worry, it doesn't cost you anything!). Find out more about affiliate links.
Why make creamy hummus at home?
Hummus is one of those things a lot of us buy, a lot of the time. I always thought making your own hummus at home was a little pointless. I mean, chickpeas and tahini can only ever taste like one thing, right?
Wrong.
Homemade hummus, blended with the exact amounts of tahini paste, garlic and lemon to suit your own tastebuds, is so far superior to the deli cabinet staple at the supermarket. They're almost not the same food.
As much as the taste, amazing homemade hummus is about texture. Hummus that's been blended from freshly cooked, warm chickpeas is almost fluffy. It hasn't had to be pumped into plastic tubs and transported all over the country, and it shows.
There is one bit of kit you need for great homemade hummus, and that's a food processor or a blender. A food processor is preferable (I have a Magimix and wouldn't be without it), but you can definitely make blender hummus if that's what you've got. You'll just have to scrape down the sides of the jug more often while it's blending, so you get an evenly smooth puree.
Did you know you can use your steam oven to help prepare other delicious dips? Try these amazing dip recipes for a mezze or tapas party that's sure to impress
Is homemade hummus good for you?
Homemade hummus is a great healthy choice.
Hummus is relatively low in fat and high in protein, fiber and complex carbs. The fat it does contain comes from sesame seeds, which are a great source of magnesium, calcium and B vitamins. Overall it's a great way to get more whole foods and plant based foods into your diet.
Although I've seen hummus recipes with olive oil blended into the dip, traditionally hummus doesn't contain olive oil. It does often come with a drizzle of oil on top for serving, though.
We go through plenty of hummus here because the kids like it, and it's an easy snack that travels well.
How to store and serve hummus
When you've made hummus from scratch, it won't keep as long as a sealed pot from the supermarket. It doesn't contain preservatives and hasn't been heat sealed, so you should keep it in the fridge and eat within 3-4 days.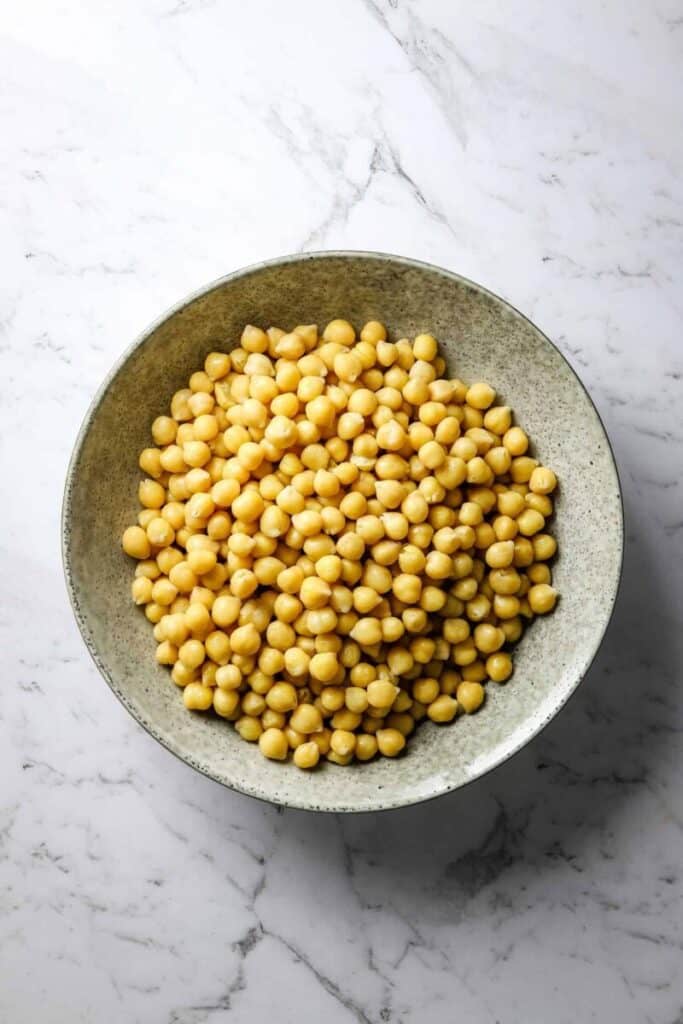 Hummus freezes very well, so you might want to double the recipe and freeze portions for another time. Just pop frozen hummus in the fridge to thaw. If you can be bothered, give it a quick puree again in the food processor before serving. It helps the texture come back to fluffy and creamy. If that sounds too hard (I get it, this is meant to be easy, right?), just give it a thorough stir once it's thawed.
You can serve hummus just as it is, with crudites and crackers. Or make the extra effort and swirl olive oil over the top with chopped parsley and a sprinkle of paprika. Whatever you do, make sure your hummus is served at room temperature for the best texture and flavor.
How to cook chickpeas for hummus
You can use canned chickpeas for hummus, but I really, really recommend you cook from dried if you have time. It doesn't take much effort, just a little forward thinking so you can soak the chickpeas the day before.
As I mentioned up top, I steam my chickpeas. With a steam oven this is easy and gives very consistently soft and lovely chickpeas. Baking soda in the cooking water helps soften the skins, eliminating the need for peeling in order to get smooth hummus.
If you don't have a steam oven, you can follow Ottolenghi's method for boiling chickpeas. His instructions have you briefly saute soaked and drained chickpeas with half a teaspoon of baking soda. This helps to loosen the skins so they come away more easily during cooking. Once you've done the baking soda saute, cover the chickpeas with water and bring to the boil, scooping off any scum and simmering until done.
With either method, make sure you cook the chickpeas until they're very soft rather than just tender. Tender chickpeas are great for salad or stew but for hummus they should crush easily between two fingers, ensuring a smooth puree.
I'd love to hear if you make this creamy hummus recipe, and if you find it better than store bought!
Have you made and enjoyed this recipe? I'd love if you'd be kind enough to rate and review it via the stars in the recipe card, or leave a comment below! Ratings and reviews help other readers to find and know whether one of my recipes will suit them.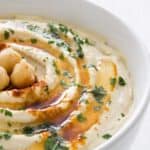 Print Recipe
Creamy Hummus
Using softly steamed chickpeas all but guarantees the creamiest textured hummus. I love plenty of tahini paste and lemon but a little less garlic than some recipes call for; feel free to adjust to your taste. You'll need a food processor for this recipe, and you should soak the chickpeas the day before you want to make your hummus.
Ingredients
1½

cups

dried chickpeas soaked overnight and cooked as per my how to cook chickpeas post (the chickpeas should be hot or warm to make the hummus)

1

cup

tahini

sesame seed paste

5

Tbsp

lemon juice

freshly squeezed, more or less to taste if necessary

2

cloves

garlic

minced, more or less to taste if necessary

6

Tbsp

water

ice cold; you may need a little extra

1¼

tsp

fine salt
Extra virgin olive oil

for serving
Instructions
Drain the chickpeas and place in a food processor. Process until you get a stiff paste. You may need to scrape down the sides of the bowl a couple of times to get all the chickpeas blended.

With the processor running, add the tahini, lemon juice, garlic and salt. Slowly pour in the iced water and continue mixing until you get a very smooth and creamy paste, about 4-5 minutes. This seems like a very long time but it will give you the most amazing, almost fluffy texture.

1 cup tahini,

5 Tbsp lemon juice,

2 cloves garlic,

1¼ tsp fine salt,

6 Tbsp water

Transfer the hummus to a bowl and press plastic wrap directly onto the surface to stop a skin forming. You can serve straight away with a good drizzle of olive oil on top, but it tastes best after it's sat for an hour so the flavours mellow and meld together.
Notes
Hummus will keep in the fridge for up to three days. It can be frozen for up to a couple of months.

If frozen, thaw the hummus overnight in the fridge and run it through the food processor briefly before serving, or give it a very good stir.

Always serve hummus at room temperature for the best flavour. A drizzle of olive oil, chopped parsley and smoked paprika sprinkled over the top make a pretty and tasty addition.
Nutrition
Calories:
322
kcal
|
Carbohydrates:
30
g
|
Protein:
13
g
|
Fat:
19
g
|
Saturated Fat:
3
g
|
Polyunsaturated Fat:
8
g
|
Monounsaturated Fat:
7
g
|
Sodium:
384
mg
|
Potassium:
479
mg
|
Fiber:
8
g
|
Sugar:
4
g
|
Vitamin A:
46
IU
|
Vitamin C:
7
mg
|
Calcium:
84
mg
|
Iron:
4
mg
Do you want to use and love your steam oven more?

There are precious few resources to teach us HOW to use a steam oven in everyday cooking. I'm guessing that's why you're here! If you love cooking but aren't making the most of your combi steam oven, you aren't alone.

Steam Oven Insiders was created for you!

Benefit from my decade-plus of steam oven knowledge and training, delivered to your inbox twice monthly in bite sized, easy-to-implement tips and delicious recipes you'll actually want to cook. Insiders get access to every exclusive recipe and article within the members dashboard, so you'll never miss a thing.

Find out more right here