This post may contain affiliate links. Click here for more info.
This post is part 2 in a series of Christmas steam oven recipes (part 1 here!), and today we're veering over to the sweet side with gorgeous fruit mince pies in your combi steam oven.
Fruit mince pies are a British/Australian Christmas staple, but if you're in another part of the world I hope that won't stop you trying them out. They represent just about all the things I love in festive eating – buttery richness, spices and fruit spiked with alcohol. I've given these ones a bit of a revamp by way of walnut pastry instead of regular sweet shortcrust, and I absolutely love them, both for serving to holiday guests and for gift giving.
The original idea for these steam oven fruit mince pies stemmed from some leftover pastry I had when I made Deb's Linzer Torte last year (the original recipe for which is actually Maida Heatter's). I've been making the torte for the festive season ever since Deb posted it on her blog and it's become a standout favourite in my rotation of Christmas treats and gifts. But I hate wasted pastry and given the intended use for this one is for it to be filled with jam, I figured fruit mince wasn't too much of a jump.
Off I went, merrily cutting and pressing walnut pastry offcuts into my patty pan tins and filling them with laboriously made fruit mince. Then I decided these little pies were worth a try in the steam oven, because on prior occasions I'd had success with other sweet pastry using a combi steam setting.
Well. They were glorious. The house filled with the scent of properly aged fruit mince, spices and nuts, and I pulled a pretty tray of pies from the oven, already thinking about how I was going to package them up as a gift for a friend.
Then, people, I went to turn them out and it became apparent that someone must have come along and superglued all those little pies right into the tins, for they would not budge.
In the end I carefully dug the contents out in pieces with a butter knife and we had them, in all their smashed glory, scattered over vanilla ice cream. All was not lost, but I was bitterly disappointed that for all their promise I couldn't make a passable fruit mince pie with the most festive pastry I know of.
A year on and I was ready to try again – thank goodness because I've managed to make things work a lot better this time around. I've modified the pastry so it's now more in the pastry camp than the cakey/biscuity camp. It's still somewhat finicky but the trade-off is its flaky, crumbly shortness when baked. Plus, although nut pastry can be a bit fragile to work with, it's actually quite forgiving, meaning you can press it back together easily if it cracks, and any offcuts can be squashed back together and re-rolled several times before they become tough.
I had no trouble getting these ones out the tins, save for the first attempt where I tried to remove one as soon as they'd left the oven and broke it in half. If you, unlike me, have some patience and let them cool for 10 minutes they should come out perfectly.
I haven't given a recipe for the fruit mince below as I made mine last year and had it stored in the freezer, and (gasp) I didn't write down exactly what I put in it. Suffice to say it's lovely and packed with all sorts of dried fruits plus some spices, suet and fresh grated apple, and a hefty amount of dry sherry.
You could use any fruit mince recipe (there's a very good one here, I prefer it without the almond extract), or buy a ready-made jar instead and doctor it with a grated peeled apple for lightness and a splash of whatever liquor you like. Bourbon is nice if that's your thing, as is orange liqueur or sherry. I can almost guarantee no one will know you didn't make it yourself.
I feel I should also mention this: if you love the tiny stars in the pictured pies but are thinking I must have way too much time on my hands, fear not. Most days finding time to brush my hair is a feat, so intricate pastry work is not in my repertoire for now. I have amassed a large collection of cake decorating tools over the years – all sadly currently out of service, apart from occasional creation of single-digit birthday cakes – and these plunger cutters are a fantastic way to perk up your pastry without much effort at all. Never again will you have to be picking tiny shapes out of a tin cutter with a toothpick, not that I know anyone crazy enough to have ever done that.
My husband is a huge fan of fruit mince pies so we get through a fair number of these on our own at Christmas, but I also like to package some up in little boxes to give as gifts. Should you do the same you might end up with the recipients expecting a repeat gift next year, but I think there's something lovely about that, not to mention flattering to your baking ego!
I really hope you give them a try, they're quite special and might encourage you to try other sweet pastries in your steam oven too.
See you here again soon for more Christmas steam oven recipes.
Do you want to use and love your steam oven more?

There are precious few resources to teach us HOW to use a steam oven in everyday cooking. I'm guessing that's why you're here! If you love cooking but aren't making the most of your combi steam oven, you aren't alone.

Steam Oven Insiders was created for you!

Benefit from my decade-plus of steam oven knowledge and training, delivered to your inbox twice monthly in bite sized, easy-to-implement tips and delicious recipes you'll actually want to cook. Insiders get access to every exclusive recipe and article within the members dashboard, so you'll never miss a thing.

Find out more right here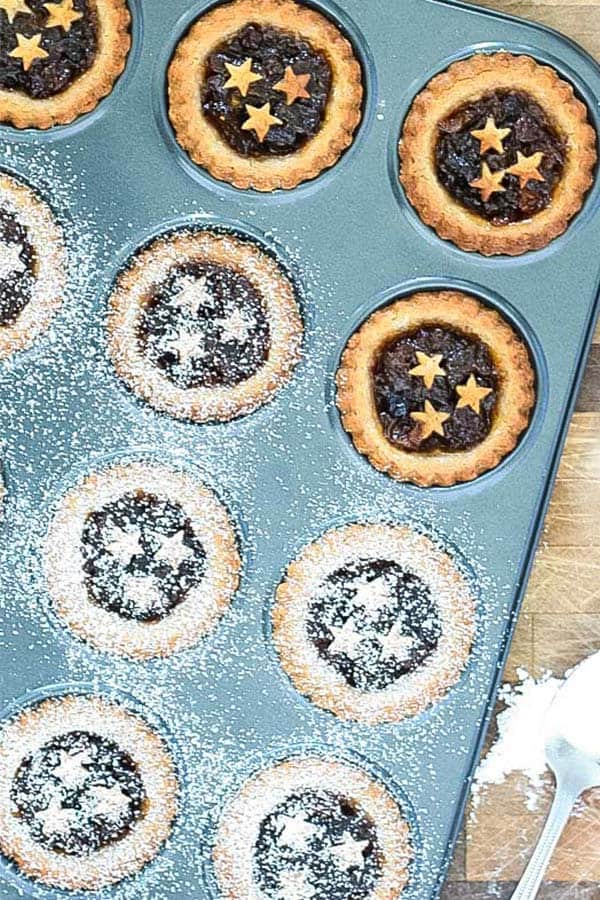 Print Recipe
Fruit Mince Pies with Walnut Pastry
Deeply spiced vine fruits, apple and citrus combine to make the most intensely Christmassy filling for this incredible walnut pastry. Baking fruit mince pies in a steam oven will change the way you bake them forever.
Instructions
Make the pastry
Put the walnuts into the bowl of a food processor and process until they are finely ground but not a paste. Add the rest of the dry ingredients and pulse to combine.

Add the butter and pulse again until the mixture resembles breadcrumbs, then drop in the egg yolk and lemon zest. Run the machine until the dough just comes together in a mass – you may need to add a tablespoon or two of chilled water if it's too dry. This will depend a bit on climate and on the oiliness of your walnuts. What you're looking for is a dough which comes together easily but isn't too soft – it shouldn't be sticking to your fingers when you pinch a piece off to check it.

Turn the dough out onto a large piece of cling film, pat it into a disc about 1"/2.5cm thick, then wrap and refrigerate for at least 30 minutes or up to 24 hours.
Make the pies
When you're ready to make the pies, preheat your oven to 375⁰F/190⁰C, combination steam setting. If your oven has variable steam settings, use 30% here. If not, don't worry! Just set to combi steam at the correct temperature and the oven will figure out the humidity for you. If your pans aren't non-stick, give them a light grease.

Using a little flour to dust the bench and rolling pin, roll the pastry out to approximately 1/8"/3mm thick. With a round cutter a little larger than the holes in your pan (mine is fluted but plain is fine), cut enough circles to fill your tins and gently lay them into the holes, pressing to the bottom. If any cracks appear in the pastry just press it back together gently, it should seal up fine while cooking.

Roll any offcuts back together on a piece of silicone paper and cut decorative stars or other shapes for the tops of the pies – I like to do this and then transfer the whole sheet of silicone paper to the fridge to firm up the cut pieces while I fill the pies. It makes them much easier to transfer without ruining the shapes.

Put about a teaspoon of fruit mince into each pastry case, then top with your cut shapes. Bake the pies until the pastry is golden and the mince bubbling, about 11 minutes. Remove from the oven and leave to cool for 10 minutes before carefully removing the pies and dusting with icing sugar to serve.
Notes
You can easily halve, or double, this recipe.
The pies will keep in a container at room temperature for 2-3 days before the pastry starts to soften a bit. They'll keep in the freezer, in an airtight container, for about 6 weeks, and just need half an hour or an hour on the bench to defrost before serving.
As far as the pastry goes, I do not want you to fear it. It comes together easily in a food processor and if you find it's a bit soft to handle when you're cutting it out, just return it to the fridge for 10-15 minutes then try again. I've been known to do that two or three times over the course of a couple of hours, in between kids asking for snacks/toys/stories/more snacks, then dropping the snacks all over the floor necessitating clean-up before they get trekked through the house. As for the rolling and cutting, you should easily be able to knead the scraps together and roll out again at least a couple of times so long as you don't use a horrendous amount of flour to roll it out on the first go (because of the high fat content, the dough will absorb a lot of flour – the more it takes in, the tougher it will get when you re-roll it).
A dark coloured baking tray/tin makes a huge difference to the browning on the bases of pastries in the steam oven. The silver coloured/stainless steel trays frequently cause me problems with soggy pastry, especially when my fillings are quite moist or the item larger than canape size. The tins I use for my fruit mince pies are what I refer to as patty pan tins but I see Amazon calls them mince pie pans (link here). I have 4 so I don't have to wait to turn things out when I'm baking a large batch of something, and I find them useful for all manner of little tarts and pies. The tins are inexpensive and the non-stick coating means if I'm filling them with buttery pastry I don't have to bother greasing each little hole, so that's a win.
Nutrition
Calories:
165
kcal
|
Carbohydrates:
20
g
|
Protein:
2
g
|
Fat:
9
g
|
Saturated Fat:
3
g
|
Cholesterol:
17
mg
|
Sodium:
92
mg
|
Potassium:
39
mg
|
Fiber:
1
g
|
Sugar:
13
g
|
Vitamin A:
154
IU
|
Vitamin C:
1
mg
|
Calcium:
11
mg
|
Iron:
1
mg
But I don't have a steam/combi-steam oven! You can cook these in a 400⁰F/200⁰C conventional/fan forced oven for about 15 minutes instead. The pastry will be a little drier but no-one will know except you.
Did you like this post? You can subscribe right here if you'd like to receive my recipes and other steam-oven-related things straight to your inbox! I won't spam you, don't worry.