Whether you prefer a large, classic New York cheesecake or love the idea of indulging in individual portions, sous vide cheesecake is a foolproof way to achieve the creamiest, dreamiest dessert with perfect texture every time.
This cheesecake recipe, or some variation of it, is my go-to dessert when I'm entertaining. It's a simple, indulgent crowd pleaser and (the best bit) can be made well ahead of time.
In this post, we'll delve into sous vide cheesecakes, exploring both whole cakes and individual jars, and I'll explain why sous vide is the ultimate method for cheesecake perfection.
This post may include affiliate links. As an Amazon Affiliate I earn from qualifying purchases (don't worry, it doesn't cost you anything!). Find out more about affiliate links.
The benefits of sous vide cooking for cheesecakes
Before we get into the nitty-gritty of making sous vide cheesecakes, let's talk about why this cooking method is a game-changer.
Sous vide, which means "under vacuum" in French, involves cooking food in a consistent, low temperature environment; either a water bath or a steam oven. Purists would say it MUST be a water bath and a vacuum bag, but the results either way are almost identical.
Sous vide offers some specific advantages when it comes to cheesecakes:
1. Precision: Maintaining a precise temperature is crucial when making cheesecake. Sous vide eliminates the risk of an oven that runs too hot or too cold, resulting in a perfectly set, creamy cheesecake.
2. No over or under-baking: Traditional cheesecakes can be finicky, with concerns about cracks and knowing when the cake is cooked. With sous vide, these worries become a thing of the past. Say goodbye to cracked tops and uneven baking.
3. Even texture: The gentle and controlled cooking of sous vide ensures your cheesecake never gets dry or grainy, and comes out with a texture that's completely even all the way through.
Want to bake steam oven treats your family and friends will go crazy for? Get my book,
Steam Oven Baking: 25 sweet and stunning recipes made simple using your combi steam oven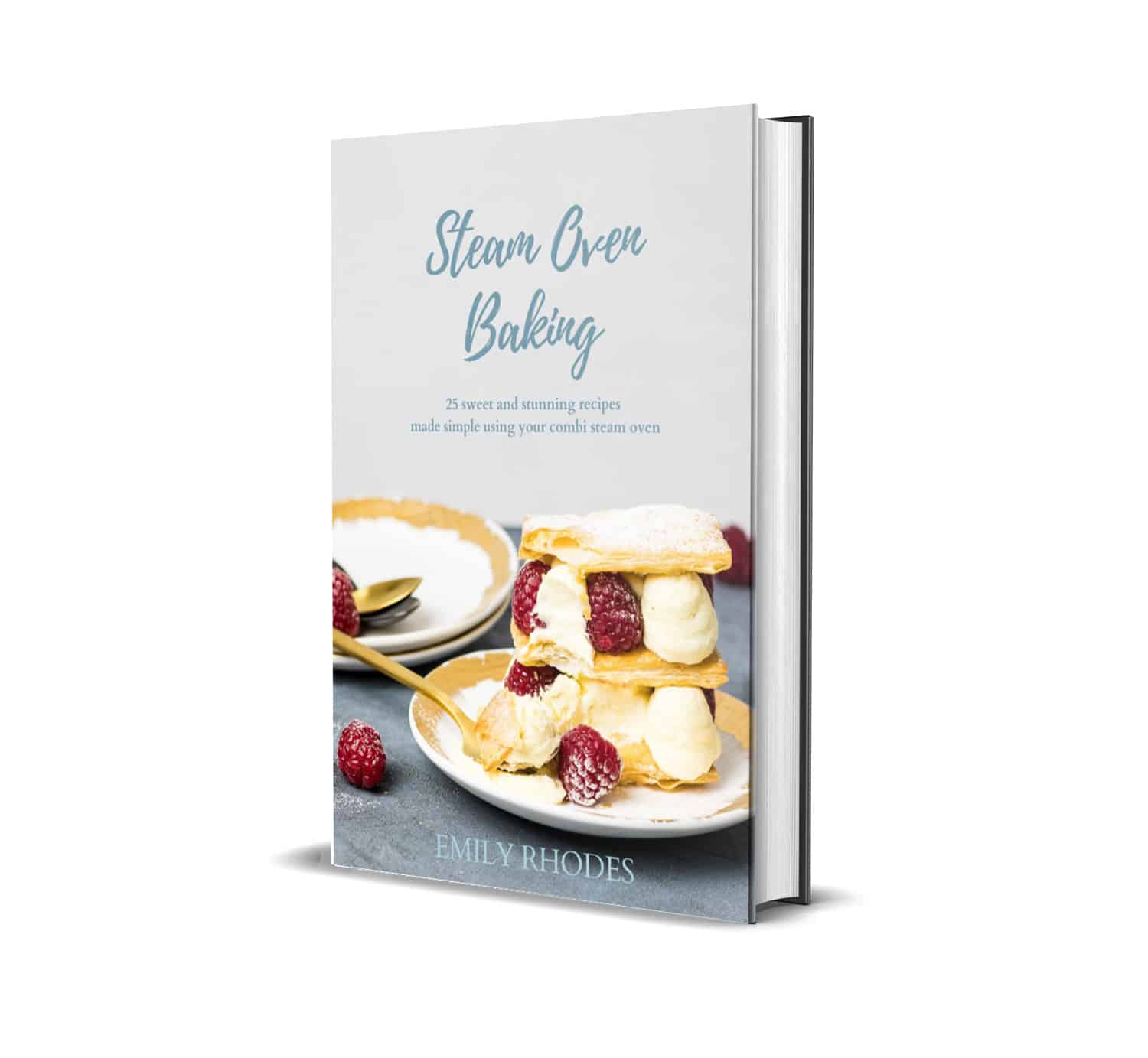 Water bath or steam oven sous vide cheesecake?
While sous vide is the star of the show for cooking cheesecakes, you have a couple of options when it comes to how you go about applying the technique. Both of these methods can yield exceptional results, but there are some differences to consider.
1. Water Bath: The traditional sous vide water bath method of cooking involves immersing your cheesecake into a container of temperature-controlled water. An immersion circulator heats the hot water bath to the correct temperature, cooking your cake evenly.
Because you need to submerge the cheesecake, a water bath is best suited to individual cheesecake cooked in jars. The lidded jars (I use 4-ounce glass mason jars or canning jars) can be fully submerged. A whole cheesecake in a pan makes that much harder to achieve.
Mini cheesecake in a glass jar is also adorable, and perfect for large parties because no one needs to slice and serve from a large cake. Just scatter a few berries on the top of each one and hand them out!
2. Steam Oven: Some steam ovens come with sous vide capabilities, making it possible to achieve the same consistent temperature control as a water bath. If you have a steam oven, it's a very convenient option.
I now cook all my sous vide cheesecakes in a steam oven. I love that it allows me to cook an entire large, traditional cheesecake with the textural benefits of sous vide.
Love this cheesecake? Try these other cheesecake recipes!
Mint Chocolate Cheesecake with Oreo Crust and Peppermint Candy
Step by step sous vide cheesecake
The full recipe for sous vide cheesecake is below in the printable recipe card. Read on for my visual walk-through, plus notes on adapting from a whole cake to small jars.
Before you start with this sous vide cheesecake recipe, you'll need either a 9-inch (23cm) springform pan or 10-12 small glass jars with lids. For a springform, line the base with parchment paper so it's easier to remove the finished cake.
If you're going for mini cheesecakes, you can cut down the ingredient quantities. I've successfully done this recipe using three-fifths of the mixture, which fills 10-12 4oz jars. The exact ingredient quantities for mini cheesecakes is below in the recipe card notes.
Start out by making the crumb crust. I love ginger cookies for cheesecake but a graham cracker crust is more traditional. Choose whatever you prefer; I've also used digestive biscuits for the crust mixture, they're commonly available in the UK and Australia.
Blitz the cookies in the bowl of a food processor, then tip them into a large mixing bowl. Stir in melted butter until it looks like damp sand.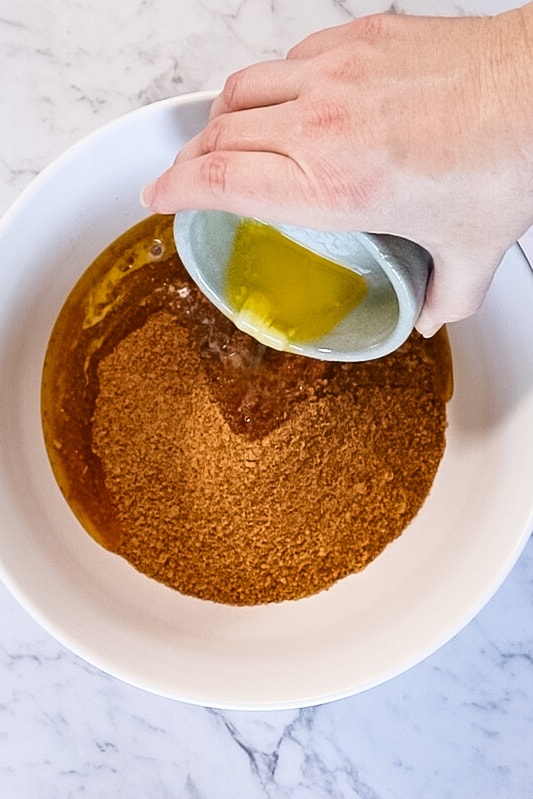 Spread this mixture into the base and up the sides of your springform pan, pressing down well with the base of a glass.
If you're making individual cheesecakes, divide crumb mixture evenly between your jars, and press into the base of the jar. Put the finished crust/s into the freezer to firm up while you make the filling.
Give your food processor bowl a quick rinse and then make your cheesecake mixture. Process room temperature cream cheese with sugar until it's smooth, then add the lemon juice, eggs and cream (or sour cream), and process again. You may need to use a rubber spatula to scrape down the sides of the bowl once or twice to ensure all the filling is smooth.
Pour the cheesecake filling into your crust or divide between the jars, leaving about half an inch (1.25cm) headroom at the top of each one. Jar lids should be screwed on to seal but don't twist them too tight or they could explode when cooking.
For cooking the whole cheesecake in your steam oven, cover the top of the pan with plastic wrap or aluminum foil to avoid the cake getting wet. Place it in the oven to cook for 2 hours. Smaller, jar cheesecakes need one hour at the same temperature. If you're using a sous vide bath, preheat the water using your sous vide machine before immersing the jars to cook for an hour.
At the end of cooking, cool the cheesecake in the switched off oven or in the water bath for an hour, then refrigerate for at least a few hours to set and firm up.
There you have it; perfect cheesecake! I don't think a classic cheesecake needs much adornment, so I generally just opt for a pile of fresh berries served alongside to cut through the richness of the cake. If you want to take it a little further, spread a layer of steamed lemon curd across the top of the cheesecake before serving.
Don't want to serve your cheesecake the same day? Store cooked cheesecake in the fridge for up to 4 days, or cover and freeze for up to a couple of months. Thaw it in the fridge before serving.
Have you made and enjoyed this recipe? I'd love if you'd be kind enough to rate and review it via the stars in the recipe card, or leave a comment below! Ratings and reviews help other readers to find and know whether one of my recipes will suit them.
Print Recipe
Sous Vide Cheesecake
Sous vide cheesecake is absolutely the creamiest, most perfectly textured cheesecake you'll ever try. It's evenly cooked edge to edge and an outstanding special event dessert.
Ingredients
For the crust
12

oz

ginger cookies

in Australia I use ginger nuts; in the USA gingersnaps or graham crackers plus a teaspoon of ground ginger would work.

1/4

cup

unsalted butter

melted
For the filling
40

oz

cream cheese

full fat brick style (5 x 8oz packages), softened

1

cup

granulated sugar

2

lemons

juiced

5

eggs

large, at room temperature

1/3

cup

heavy cream
Instructions
Make the crust
Preheat oven to Steam or Sous Vide setting, 175°F (80°C), 100% humidity. Line the base of a 9" (22cm) springform pan with parchment paper, sealing the collar of the pan around the paper and leaving an overhang sticking out at the sides.

Put the cookies in a food processor and pulse until they form crumbs. Pour in melted butter and mix using the food processor. Press the crumbs into the bottom and up the sides of the prepared pan, compacting as much as possible. Put the pan in the freezer for 20 minutes.

12 oz ginger cookies,

1/4 cup unsalted butter
Make the filling and cook
Make the filling. Rinse and dry your food processor bowl. Put the cream cheese and sugar into the processor and run until well mixed and smooth. Add the remaining filling ingredients. Run the processor again, just until the mixture is smooth. Don't overmix because your cheesecake will end up with air bubbles.

40 oz cream cheese,

1 cup granulated sugar,

2 lemons,

5 eggs,

1/3 cup heavy cream

Pour the filling over the chilled crust and tap the pan lightly on the counter to remove excess air. Cover the top of the pan with aluminum foil, then place in the oven and cook for 2 hours.

At the end of the cooking time, the cheesecake should be set but with a wobble in the center. Let it cool in the switched-off oven for an hour, then carefully remove the foil so you don't get condensation on top of your cake. Allow to cool for a further hour, then refrigerate for at least 4 hours (overnight is best) or up to 3 days.

When you're ready to serve, carefully run a thin-bladed knife around the edge of the cake to loosen, then remove the collar from the pan and transfer the cheesecake to a serving plate. Dress with sliced fresh fruit if you like, or go completely unadorned. Serve in thin slices.
Notes
If you're going for mini cheesecakes and don't want to make so many, you can cut down the ingredient quantities. To fill ten x 4oz jars, use the following quantities: 

For the crust, 6oz (170g) cookies and 2 Tbsp melted butter.
For the filling, 24oz (750g; three standard sized bricks) cream cheese, a scant 2/3 cup (120g) sugar, the juice of 1 large lemon, 3 eggs and 3 Tbsp cream.

You can use other cookies for the crust. I love ginger against the creaminess and lemony tang of the filling, but a regular digestive biscuit or graham crackers would be more traditional.
Don't want a lemon cheesecake? Omit the lemon juice and replace it with a teaspoon or two of vanilla paste or extract.
You can swirl fruit preserves or berries through the filling before cooking, if you like. If you're using preserves make sure they aren't too wet as that will alter the texture and can split the filling.
Nutrition
Calories:
532
kcal
|
Carbohydrates:
44
g
|
Protein:
9
g
|
Fat:
37
g
|
Saturated Fat:
20
g
|
Polyunsaturated Fat:
2
g
|
Monounsaturated Fat:
11
g
|
Trans Fat:
0.2
g
|
Cholesterol:
162
mg
|
Sodium:
423
mg
|
Potassium:
243
mg
|
Fiber:
1
g
|
Sugar:
26
g
|
Vitamin A:
1332
IU
|
Vitamin C:
5
mg
|
Calcium:
113
mg
|
Iron:
2
mg
Do you want to use and love your steam oven more?

There are precious few resources to teach us HOW to use a steam oven in everyday cooking. I'm guessing that's why you're here! If you love cooking but aren't making the most of your combi steam oven, you aren't alone.

Steam Oven Insiders was created for you!

Benefit from my decade-plus of steam oven knowledge and training, delivered to your inbox twice monthly in bite sized, easy-to-implement tips and delicious recipes you'll actually want to cook. Insiders get access to every exclusive recipe and article within the members dashboard, so you'll never miss a thing.

Find out more right here