This post contains affiliate links. Find out more about affiliate links and how they help this site.
If you've never baked a cake in your steam oven, this simple Steam Oven Chocolate Cake is where I'd recommend you start.
Today's chocolate cake recipe began as a vehicle for frosting to use up some of leftover burnt caramel sauce from this burnt caramel monkey bread. I thought a deeply flavored chocolate caramel frosting would be perfect on a classic chocolate cake. Turns out I was right, but it's not why we're here.
I've never been that happy with the way my go-to chocolate cake baked in my steam oven, and somehow my quick and easy baking intentions degenerated into a quest to update my recipe so it suited combi steam. The old recipe was fine and the texture of the cake was lovely and tender with added steam, but it didn't rise evenly and sometimes ended up with enormous air pockets baked into the batter. Not so pretty.
Along the way I ended up tossing the caramel frosting in favor of something simpler, so now, here we are, finally, at what I'd like to call a simple steam oven chocolate cake with a simple frosting. The way is littered with chocolate cake cast-offs deemed unworthy of further development but my husband's work colleagues must either be thrilled with their bounty of ok-but-not-perfect cakes, or never want to see a chocolate cake again. Ha.
What happens when you bake cakes using combi steam
In the many years I've been cooking and developing recipes, I've learned a few things about steam oven cakes and baking.
The first is that you can adapt almost any 'regular' cake recipe to be cooked in your steam or combi steam oven, but you probably shouldn't. I mean, mostly they'll come out ok, but as you may have heard before, baking is a science. It involves chemical reactions between various ingredients plus (usually) leavening/raising agents and heat.
If you're trying to cook a recipe in your steam oven which you've made for years in a standard convection oven (exactly where I was at before this crazy caper kicked off), it will likely bake up with an entirely different texture than you're used to.
The biggest reason for this: steam is in itself a leavening agent, and it impacts the way your cakes and other baked goods rise in the oven. Sometimes that impact is good, but if you don't understand exactly what's going on with your ingredients you might be in for a not so happy surprise! Hello peaked, over-risen cake with enormous cracked canyons running across the top, or something which is so dense and pudding-like it almost isn't a cake at all.
Looking for other steam oven cake recipes? Try these:
Apple Spice Cake with Cream Cheese Frosting
Four Ingredient Chocolate Truffle Cake
Do you want to use and love your steam oven more?

There are precious few resources to teach us HOW to use a steam oven in everyday cooking. I'm guessing that's why you're here! If you love cooking but aren't making the most of your combi steam oven, you aren't alone.

Steam Oven Insiders was created for you!

Benefit from my decade-plus of steam oven knowledge and training, delivered to your inbox twice monthly in bite sized, easy-to-implement tips and delicious recipes you'll actually want to cook. Insiders get access to every exclusive recipe and article within the members dashboard, so you'll never miss a thing.

Find out more right here
Baking powder and baking soda as leavening agents
Want a brief lesson in leavening agents, baking and steam ovens? Read on! Or if you're only here for the cake, just continue on down the page to the recipe (I won't be offended, promise).
So here it is – most cake recipes employ one or a combination of baking powder, baking soda, air, steam and yeast to make them rise during baking. We'll leave yeast-risen cakes out of this particular discussion, but there's a more in depth summation of how that works here if you're interested.
Baking soda and baking powder look pretty similar, and their purpose in baked goods is similar: to provide leavening via the release of carbon dioxide. That does NOT mean they're directly interchangeable, though, because they work in different ways.
Baking soda, also sold as sodium bicarbonate or bicarbonate soda, is a base which needs an acid to react with in order to provide the tiny bubbles of carbon dioxide which make your baked goods rise. Think lemon juice, vinegar, buttermilk, sour cream, honey, cocoa or lots of others!
Baking powder is a ready-mixed acid and base combination which, when it gets wet, reacts to form carbon dioxide. You can use it in baked goods where you don't want to add anything else acidic to the mix.
If a recipe calls for baking soda but you don't have any, you can use baking powder instead (though you'll have to use roughly double the stated quantity).
You can't replace baking powder with baking soda, though, unless you add something acidic as well. Cream of tartar will work if need be – I substitute ¼ tsp baking soda and ½ tsp cream of tartar for every 1 tsp baking powder. It's not a perfect swap and probably won't rise as much as the baking powder would have, but it will do in a pinch.
I don't suggest using more of the baking soda and cream of tartar mix to get more rising as too much baking soda can leave your baked goods with a bitter, fizzy aftertaste.
Air as a leavening agent
This one is pretty simple. If you can get air into your batter or dough, it provides lift to your baked goods.
Generally this is in the form of beating butter or egg whites to incorporate air bubbles, then carefully mixing in the remaining ingredients in order not to knock out too much air before baking. Using air as a leavening agent is very often (but not always) done in conjunction with baking powder or baking soda.
Steam as a leavening agent
This is where things get interesting, fantastic and sometimes frustrating when you're baking in a steam oven.
Steam acts as a leavening agent in all baked goods to some degree, because the water content in your food will turn into steam when it gets hot enough, causing the molecules to spread out and the food to expand.
The extra moisture in the oven cavity when you use a steam oven means the water in your food doesn't evaporate as quickly – that's great for retaining moisture and tenderness but can create chaos with baked goods in particular.
Can we bake a cake now?!
Almost! I'm trying to bring things neatly back to steam oven chocolate cake.
The go-to recipe I've made for about the past fifteen years is quite dense (in a good way), with an almost-mud-cake texture when made in a conventional oven. In the steam oven it was giving me all sorts of trouble.
My recipe uses baking powder as a leavening agent, but the combination of the baking powder and steam was causing the cake to rise so quickly and so much that it kept ending up with huge cracks and peaks on top. Worse, in large round cake or loaf cake form it baked up with a huge hole through the middle, which is pretty unattractive when cut. The giant holes didn't happen when I made it in cupcake form but I was still getting those cracks. It really bothered me despite the fact the texture and taste were really great.
After much experimentation I have settled on a couple of things.
The first thing I've done is adapt my recipe to one using baking soda. The lift it gives to the cake in the steam oven is lovely but not so extreme that it causes the aforementioned cracking and holes.
But the biggest change? Layers, people. Before I began using a steam oven for a lot of my cooking, I baked most cake recipes as one single large cake (and I have baked A LOT of cakes in my lifetime). If I wanted them to become layer cakes I just split them after baking (plus it didn't require multiple tins to be greased and lined).
Now? I am more than happy to grease and line an extra tin, because using my steam oven I can get the cooking time to less than half of any previous efforts, and the texture is SO GOOD. Lighter than a mud cake but heavier than a sponge, with a soft, moist crumb and keeping qualities which extend for days.
Incidentally, if you want to see the difference between baking as one single cake or as two separate layers, have a look here. The one with the peaks and valleys is today's recipe baked in a single tin for 55 minutes, and the other two are exactly the same recipe split in half and baked in the same tin for 22 minutes apiece.
What you can't see in that photo is the difference in the crumb – the split batch is even, soft and springy while the one-tin batch is heavy and dense under a thick and uneven crust (it's not a bad cake even then, but side by side the split batch is the outright winner for both looks and eating).
The final result, after all the experiments, is the recipe below – Simple Steam Oven Chocolate Cake.
It uses two bowls and a whisk. No melting, no beating, and, if you're lazy like me, not even any sifting. I'd call that a pretty great recipe and it'll be my new go-to cake for baking in the steam oven at our house. I hope you like it.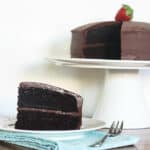 Print Recipe
Simple Steam Oven Chocolate Cake
This steam oven chocolate cake uses two bowls and a whisk. No melting, no beating, and, if you're lazy like me, not even any sifting. The key is baking the cake in layers for a fast, even cook which results in a soft, springy and even texture.
Ingredients
For Sour Cream Chocolate Frosting
Instructions
Grease and line the bases of two 9 inch/22cm cake tins (or one if that's all you have – you can turn out the first cake, pour the batter in for the second and bake in two batches. The second cake won't rise quite as much because the batter sits around, but the difference is negligible). I have these great cake tin liners which I love and try to always keep around.

Preheat your oven to 320⁰F/160⁰C, combination steam setting. If your oven has variable steam settings, use 60% (if not, don't worry! Just set to combi steam at the correct temperature and the oven will work out the steam level for you).

Put all the dry ingredients in a large bowl and give them a whisk to combine. I don't sift but if your baking soda in particular is lumpy, give it a quick sieve so you don't end up with fizzy lumps in your cake.

Put all the wet ingredients except the water into another bowl and whisk to combine. Pour the wet mixture into the dry mixture and whisk until it's just smooth. Add the water and mix gently to incorporate.

Divide the batter between your two tins and bake them for about 22 minutes, or until they're springy and test clean with a skewer. Leave to cool in tins for 5-10 minutes before turning out to cool completely.
Sour Cream Chocolate Frosting
Melt dark chocolate, then stir in room temperature full fat sour cream until it's incorporated and you have a smooth, shiny mixture. You can use this straightaway as a pouring consistency frosting (if you only want a thin coating), or wait for it to cool and thicken slightly before spreading over the cooled cakes.
Notes
This makes one 22cm/9" cake with two layers. If you'd like to make it in a smaller tin I'd suggest splitting the batter in thirds and adjusting the cooking time down a few minutes, because the deeper the batter, the higher the risk of the dreaded cracked top and too-dense texture.
You'll see there is no chocolate in the cake, only cocoa. Use the very best you can afford – my absolute favourite is the Barry Cacao Extra Brute. Yes, it comes in a big bag, and yes, I buy it in that quantity. It keeps for ages in a cool, dark place and I find I get through a bag or two a year. You'll taste the quality of the cocoa in the finished cake and I always figure there's no point wasting your time in the kitchen for inferior baked goods.
I've called for milk + lemon juice in this recipe because it's what I most often have available, but if you have buttermilk hanging around in your fridge, use that instead as your acidic component.  
Don't be tempted to use 'light' sour cream, the water content means your frosting might seize.
The frosted cake will keep, covered, for about 4 days.
Nutrition
Serving:
1
slice
|
Calories:
643
kcal
|
Carbohydrates:
62
g
|
Protein:
7
g
|
Fat:
42
g
|
Saturated Fat:
29
g
|
Cholesterol:
43
mg
|
Sodium:
357
mg
|
Potassium:
433
mg
|
Fiber:
6
g
|
Sugar:
36
g
|
Vitamin A:
240
IU
|
Vitamin C:
0.4
mg
|
Calcium:
97
mg
|
Iron:
6
mg
Over to you – if you try this recipe I'd love to know about it! Please share your pictures with me on Facebook or tag them @steamandbake and #whatsinthesteamoven on Instagram.