This post includes affiliate links. Find out more about affiliate links and how they help this site.
Old fashioned baked macaroni and cheese is hands-down my favorite comfort food. Because it's simple to make and my kids love it, it's also on high rotation at my dinner table. I hope today's old fashioned macaroni and cheese recipe means it'll become a much-loved dish at your place too.
Macaroni and cheese is definitely one of those dishes where everyone who makes it has their own take on how it should be.
Some prefer just cheddar or Monterey Jack cheese in there, some like to mix it up with lots of gourmet cheeses and let's not even go down the rabbit hole of whether you should add bacon, herbs or other veg into the baking dish.
What I present here is my own take on baked macaroni and cheese. It has three types of cheese – parmesan in the sauce, mozzarella and Swiss on top, and though I am known to add bacon or some steamed cauliflower and broccoli, I've kept it simple here to give you a great base recipe you can tweak to make your own.
These days I bake my mac and cheese in a combi steam oven, for speed and improved texture, but for years before I had a steam oven I happily made it in a regular oven, and I've given both methods below.
Want to know what else you can cook in your steam oven?
Get my steam oven cheat sheets, with more than 35 ideas for the best types of foods to cook in your steam or combi steam oven.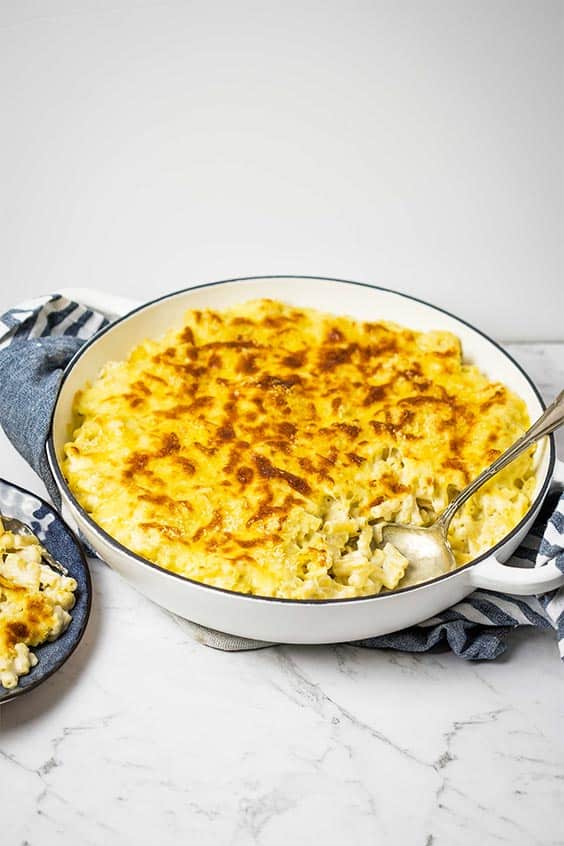 The best pasta shapes for old fashioned macaroni and cheese
Macaroni is, obviously, the classic when it comes to a good mac and cheese, but there are plenty of other pasta shapes you can use. I like elbows, fusilli and orecchiette for something different.
The key is to remember that using shapes which are much larger or smaller than macaroni will affect how the sauce coats and cooks with the pasta.
Pasta is starchy stuff and very small shapes like risoni (orzo) or stelline have the effect of gumming up your lovely creamy cheese sauce (plus, they kind of get lost in the dish so the texture is all a bit samey). Very large pasta shapes like rigatoni mean you need to bake your macaroni and cheese in a larger dish, so the sauce has to go further and tends to make the finished dish a little dry.
Other comfort food dishes you might like:
Oven Baked Meatballs in Tomato Sauce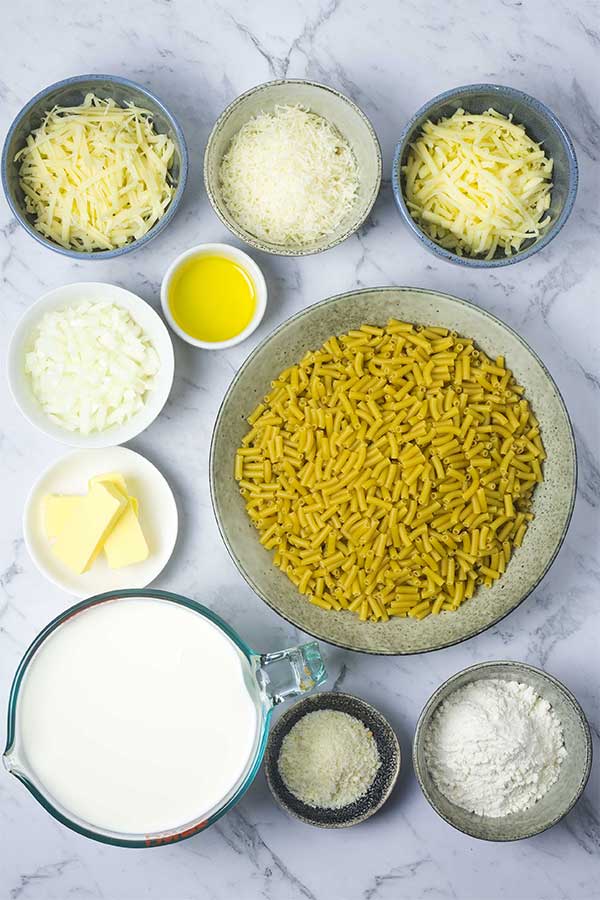 The best type of cheese for baked macaroni and cheese
This is a contentious issue! The taste of the cheese you use really comes through in the finished dish, so choose something you enjoy.
I like a mix of cheeses to add different qualities: parmesan for savory, umami depth of flavor; mozzarella for that stretchy, stringy pull and mild creamy taste, and Swiss or gruyere for nuttiness and great melting texture.
Something like a semi-matured or sharp cheddar is also great in macaroni cheese. It helps the top layer to brown really well, and adds a good salty hit in the sauce.
Essentially, anything which melts well is going to be welcome in macaroni cheese. This goes for less obvious melting cheese choices like cream cheese or a creamy blue, as well as many firm cheeses.
Making white sauce (bechamel) for macaroni and cheese
Is a fear of making bechamel sauce the reason you don't bake your own macaroni and cheese?
Bechamel, or white sauce, seems complicated if you haven't made it before but as long as you follow the process and don't mind a bit of stirring, it's really not difficult.
The best tip I can offer for white sauce is to add your milk to the cooked flour and butter slowly, stirring or whisking in a little at a time until it's smooth and thick. Once you get to that point, you can dump in the rest of the milk and it should mix through nice and smoothly.
Make sure you stir continuously and keep scraping the bottom of the pan as the sauce cooks and thickens. I like my favorite olive wood spatula for this job, it makes it easy to get the whole base of the pan while you stir.
Tips for cooking the best old fashioned macaroni and cheese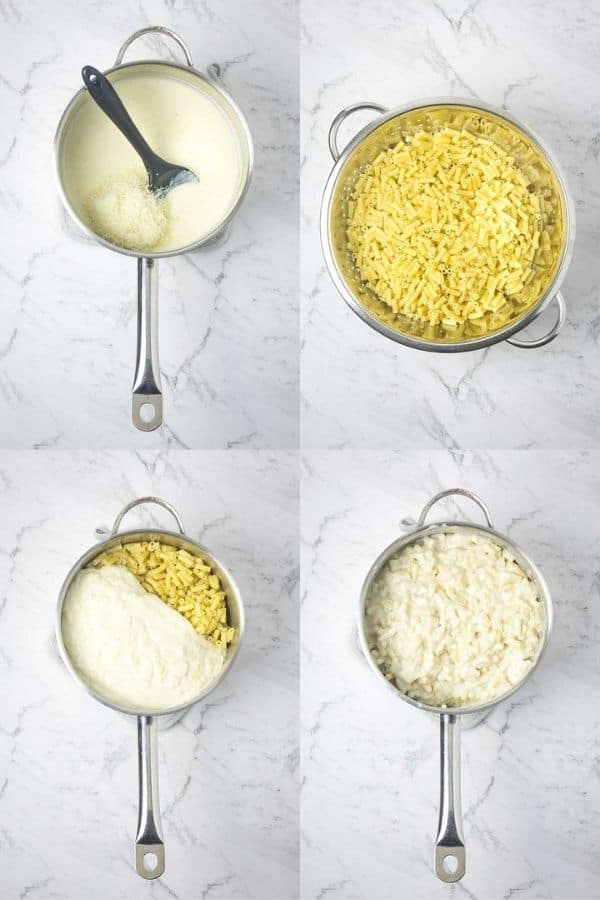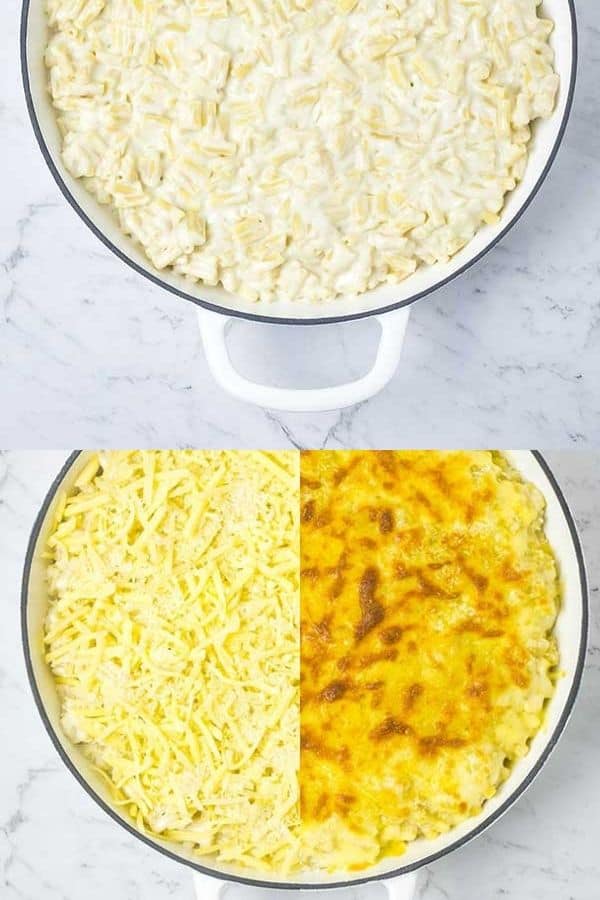 Feel free to mix up the types of cheese in this recipe to suit your own tastes. If you enjoy it, blue cheese is lovely melted through the bechamel, and cream cheese will give even more richness and some body to your sauce without it becoming too stretchy. Any type of hard melting cheese is a good bet for the top.
Given how often we eat this, I try to keep some semblance of health by making a relatively restrained mac and cheese in terms of cheese quantity. If you love things extra oozy and cheesy you may want to double the amounts of cheese below.
We often cook a pan of chopped bacon using combi steam, and stir this through the sauce before mixing in the pasta. Hold back a little to sprinkle over the top of the dish if you love crispy bacon bits.
Want more depth of flavor and a slight kick to your macaroni? Add a teaspoon of mustard powder and a pinch of cayenne pepper to the sauce when you're whisking in the milk. I don't do this for my kids but if I'm baking mac and cheese for myself I love it.
Mostly I prefer to just serve veg on the side of our mac and cheese, but mixing in steamed or blanched broccoli or cauliflower, or a couple of handfuls of spinach or some frozen peas will boost the veg content if you'd like this to be a more balanced meal.
If you want to prepare this ahead, you can make the entire dish right up the end of step 8. Instead of mixing the sauce through the pasta and baking immediately, let the sauce cool to room temperature before mixing with the pasta. Finish to the end of step 9 then refrigerate until you're ready to bake (up to a day). If you're baking from cold you'll need to add a few minutes to the cooking time.
Happy cooking, see you here again soon.
Do you want to use and love your steam oven more?

There are precious few resources to teach us HOW to use a steam oven in everyday cooking. I'm guessing that's why you're here! If you love cooking but aren't making the most of your combi steam oven, you aren't alone.

Steam Oven Insiders was created for you!

Benefit from my decade-plus of steam oven knowledge and training, delivered to your inbox twice monthly in bite sized, easy-to-implement tips and delicious recipes you'll actually want to cook. Insiders get access to every exclusive recipe and article within the members dashboard, so you'll never miss a thing.

Find out more right here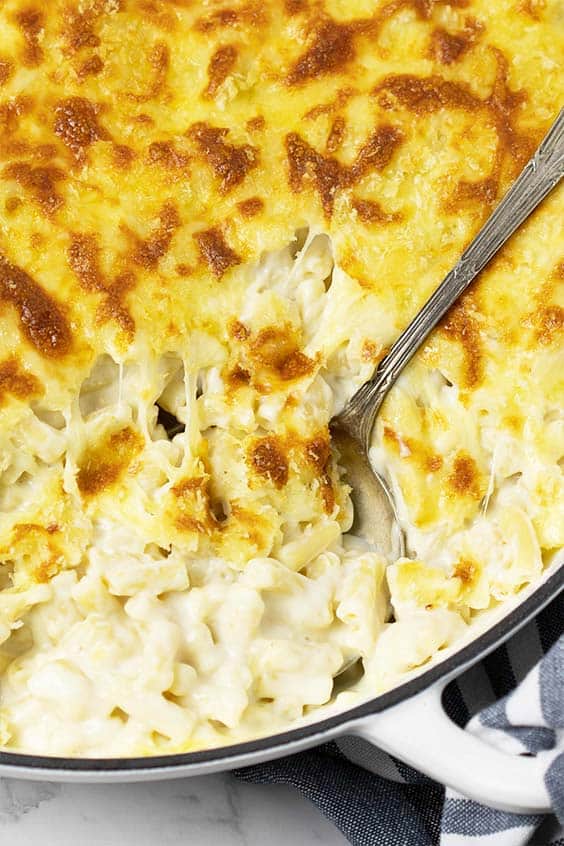 Print Recipe
Homemade Macaroni and Cheese  
Smooth, creamy and super cheesy, macaroni cheese is our family's favorite comfort food. Do your taste buds a favour and learn to make it from scratch instead of using the boxed variety.
Ingredients
1.1

lb

dried macaroni

or other short pasta shapes

1

tbs

oil

1

onion

small, finely chopped

3

tbs

butter

½

cup

all purpose flour

plain flour

4

cups

milk

whole/full fat

½

cup

grated parmesan cheese

Salt and pepper to taste

½

cup

grated mozzarella cheese

½

cup

grated Swiss cheese

3

tbs

dried breadcrumbs

I use panko crumbs
Instructions
For conventional oven cooking, preheat oven to 350°F/180°C. For combi steam oven cooking, preheat oven to 400°F/200°C, combination steam setting. If your oven has variable steam, use 50%. If not, don't worry! Just set to combination or convection steam and the oven will figure out the steam level for you.

Fill a large pot of water for pasta and put it on the stove to boil. Once it comes to the boil, salt well and add the pasta. Cook pasta for 1 minute less than the packet directions (you want it to be slightly undercooked as it'll finish cooking in the oven later), then drain and set aside.

While the pasta gets going, heat another large pot over medium heat. Add the oil and onion to the pan and cook, stirring, until the onions have softened, about 5 minutes.Add the butter to the pan and let it melt. Put the flour in and stir to form a paste, then let it bubble, stirring constantly, for a minute or two to let the flour cook.

Add the milk. Start by adding about a cup, stirring vigorously as you pour it into the pan so it blends with the flour and butter. If it gets a bit lumpy at this stage, don't panic. Just grab a whisk, add a touch more milk and whisk like crazy to beat the lumps out. The onions mean it won't be completely smooth but if the flour is incorporated properly you won't see any large lumps in there. Once you have a mostly smooth, fairly thick mixture, add the rest of the milk and stir or whisk until it's incorporated.

Turn up the heat and stir constantly, scraping the bottom of the pot as you go, until the mixture boils and thickens. This will take 5-10 minutes but don't concentrate on the time, rather the thickness of the mixture. The sauce should coat the back of a spoon, something like the thickness of double or thickened cream. Don't let it get too thick or it'll be gloopy when you eat it rather than silky. If it does seem too thick, add a touch more milk at the end of cooking to loosen.

Remove the sauce from heat and let it sit for a minute or two, then stir through the parmesan cheese until it melts. Add salt and pepper to taste.Mix the pasta through the sauce and pour everything into a baking dish. Sprinkle with the mozzarella and Swiss cheeses then scatter with breadcrumbs.
To bake in conventional oven
Bake until the cheese and crumbs are golden and the sauce is bubbling, about 30 minutes. If you find the macaroni cheese is bubbling but not as golden as you like, switch to the broil setting for the last 3-5 minutes. Serve immediately.
To bake in combi steam oven
Bake until the cheese and crumbs are golden and the sauce is bubbling, about 15 minutes. Serve immediately.
Nutrition
Calories:
642
kcal
|
Carbohydrates:
84
g
|
Protein:
26
g
|
Fat:
22
g
|
Saturated Fat:
11
g
|
Trans Fat:
1
g
|
Cholesterol:
54
mg
|
Sodium:
366
mg
|
Potassium:
474
mg
|
Fiber:
3
g
|
Sugar:
12
g
|
Vitamin A:
649
IU
|
Vitamin C:
1
mg
|
Calcium:
429
mg
|
Iron:
2
mg
Over to you – if you try this recipe I'd love to know about it! Share your comments below or on Facebook, tag @steamandbake on Instagram, or pin all your favourite Steam and Bake recipes over on Pinterest!
Would you like more recipes and tips to help you cook with confidence? Join the mailing list to be alerted to new posts.