This post includes affiliate links. Find out more about affiliate links and how they help this site.
Chinese steamed rice rounds out meals as a starchy and filling side. White rice, simply steamed with water, is the most common but today I want to bring rice into its own and make it the star of the meal.
Enter Seasoned Chinese Steamed Rice. This is an easy recipe for perfect rice that makes a savory, tasty side dish, but it can also be dressed up with a fried egg and pickled or steamed vegetables to become a complete meal. Plain rice gets color and umami depth from dark soy sauce, oyster sauce and Chinese rice wine, then we layer in big flavor with garlic, ginger, star anise and sesame.
Seasoned Chinese steamed rice is a minimal-prep alternative to Chinese fried rice, with no need for a wok or lots of oil, and no need to have leftover rice already on hand. It's great reheated the next day, so make double and cover yourself for a couple of meals!
The best way to steam rice
I make Chinese steamed rice in my steam oven, but you can replicate this recipe easily in a rice cooker or even a dish set inside a bamboo steamer. The ingredient quantities and amount of water or stock remain the same if you don't have a steam oven, just follow the directions of your rice cooker or steam for around 25 minutes in a bamboo steamer.
If you're steaming rice in a steam oven, a lightweight stainless steel pan (or another nonreactive metal pan) is the best way to do it. A shallow layer of rice and the thin pan provide quick heat transfer and even cooking, making for rice which is uniformly steamed all the way through, with fluffy, separate rice grains. We don't want mushy rice.
Want more steam oven cooking ideas? Get my Steam Oven Cheat Sheets, with more than 35 approachable and inspirational ideas that'll make you a more confident steam oven cook!
What type of rice to use for Chinese steamed rice
There isn't really one right kind of rice for this dish. Most long-grain rice types will work, as well as some varieties of medium-grain rice.
Jasmine rice would be my first pick for its fragrant and plump grains, but a regular long grain rice is just fine too. I've used basmati rice in a pinch and it was good, but it's not generally used as a Chinese rice variety. If you're a rice snob maybe you'll want to steer clear of it!
I would not recommend short-grain rice, sushi rice or glutinous rice for this recipe. Short grain rice becomes a bit gluggy and we really want fluffy rice here.
Seasonings for Chinese style rice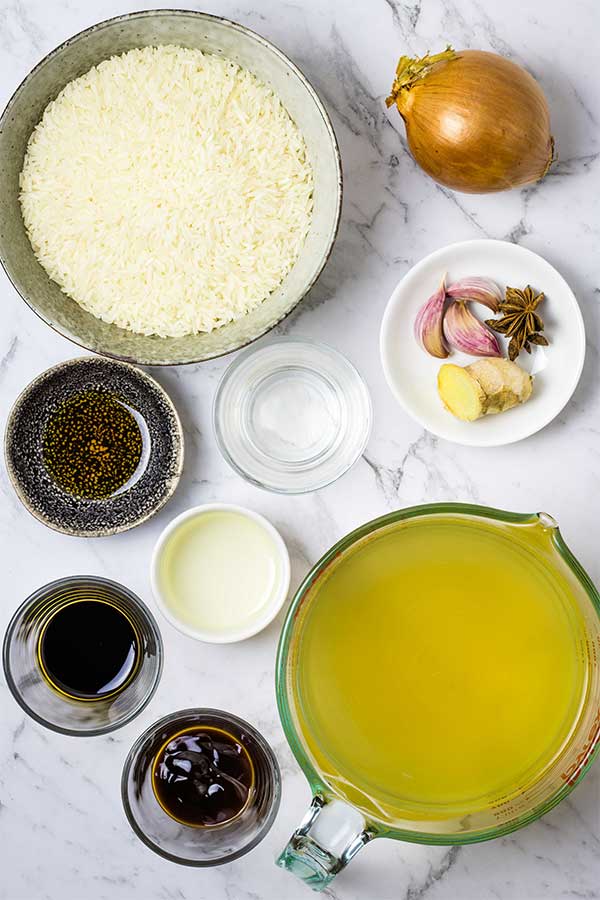 There are as many seasonings for rice as there are world cuisines, from lemon, garlic and herbs in the Mediterranean to tomatoes and peppers in Mexico or coconut and pandan leaves in South East Asia.
When it comes to this Chinese seasoned rice we're going to use flavors which are traditional to Chinese cooking: soy and oyster sauces, Chinese rice wine (Shaoxing wine), garlic, ginger, onions and toasty sesame oil. You can buy the sauces, sesame oil and cooking wine at Asian supermarkets and some grocery stores.
This dish may not be all that authentic, but everything in it is, and the taste will remind you of all the good things about Chinese food! The ingredients help build layers of complexity and flavor in the rice in a fairly short time and with minimal effort.
Have a look at some of my other great steam oven rice recipes here:
Steam Oven Guide to Cooking Rice (with downloadable chart for all different types of rice!)
Christmas Rice Salad (not just for Christmas!)
Mushroom, Pancetta and Zucchini Risotto
What to serve with seasoned Chinese steamed rice
Seasoned Chinese steamed rice can be served with tofu, vegetables, chicken or fish. I particularly like it with bok choy or other Asian leafy greens, and it's a perfect accompaniment to quick stir fries of vegetables and protein.
My absolute favorite accompaniments are lightly pickled raw vegetables and a fried egg, making for a punchy and nutritious meat-free dinner (I got the inspiration for the pickled veg and egg combination from Smitten Kitchen's crispy rice and egg bowls, which are the best way I know of to use up leftover brown rice).
The vegetables and fried egg can be prepared while the rice cooks, and there's enough flavor in the rice that no extra dressings are required (unless you want to spice things up with a little Sriracha sauce, which I can definitely recommend).
If you want to try the pickled veg idea too, add half a teaspoon of sugar to a quarter cup of rice wine vinegar. Toss through a couple of handfuls of thinly sliced cucumber and carrot, then leave to sit for around 15 minutes. Drain off the vinegar mix to serve. I love this quick pickle method to give vegetables a lift, and if there are any leftovers they're great tossed through a salad. The vegetables will keep in the fridge for several days, so you can easily prepare them ahead of time.
Do you want to use and love your steam oven more?

There are precious few resources to teach us HOW to use a steam oven in everyday cooking. I'm guessing that's why you're here! If you love cooking but aren't making the most of your combi steam oven, you aren't alone.

Steam Oven Insiders was created for you!

Benefit from my decade-plus of steam oven knowledge and training, delivered to your inbox twice monthly in bite sized, easy-to-implement tips and delicious recipes you'll actually want to cook. Insiders get access to every exclusive recipe and article within the members dashboard, so you'll never miss a thing.

Find out more right here
How to make seasoned Chinese rice
Ready to get cooking? Here's how to make your own seasoned Chinese steamed rice.
Preheat your oven to Steam, 212°F/100°C (100% humidity), and put the oils, onion, garlic, ginger and star anise into your pan.
Steam for 5 minutes, which is just long enough to soften the onions and start releasing all those delicious flavors, so they can infuse into the rice as it cooks.
While the onion mixture starts cooking, mix the chicken stock with the soy and oyster sauces and the rice wine If you're making stock from a bouillon cube or powder, it's fine to mix it up with cold water.
Mix in the rice and stir well before adding any liquid. When you stir rice, it covers each grain with the oniony, garlicky, gingery oil and helps you achieve lovely fluffy, individual grains after cooking.
Add the stock mixture and stir. Give the pan a very gentle shake to help the rice sit in an even layer.
Return the pan to the oven and cook for 20 minutes, then fluff the rice with a fork and leave to sit for a minute or two before serving. Pile that delicious, fragrant rice into bowls and serve!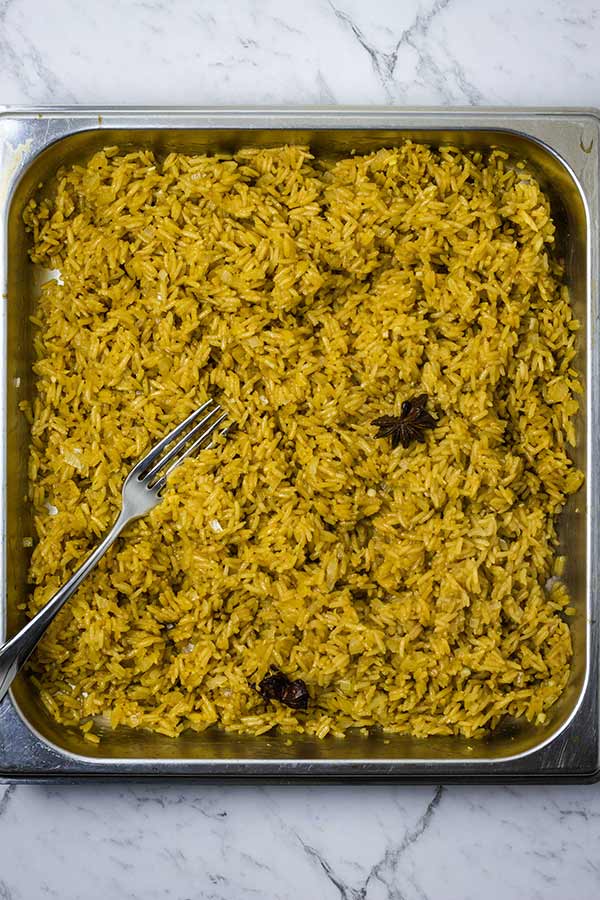 If you have leftovers, reheat using your steam oven. The rice will come out as though it's been freshly cooked.
Happy cooking, see you here again soon.
Print Recipe
Seasoned Chinese Steamed Rice
All the flavor, none of the fuss. This rice is made in one pan in the steam oven (or a rice cooker or bamboo steamer), with classic Chinese ingredients for a deeply savory dish. Add a fried egg to turn it into dinner.
Ingredients
1

tbs

oil

something neutral, sunflower is ideal

1

tsp

sesame oil

3

cloves

garlic

minced

1

knob

ginger

1-inch piece, grated

1

onion

small, finely chopped

2

star anise

whole

2

tbs

Chinese rice wine

Shaoxing wine

2

tbs

oyster sauce

1

tbs

dark soy sauce

3

cups

light chicken stock

750ml or vegetable stock

2

cups

long grain rice

400g

2

scallions

green onions, sliced, to serve (optional)

pickled cucumber

to serve, optional (see post for details)

pickled carrot

to serve, optional (see post for details)

6

eggs

1 egg per person, fried, to serve (optional)
Instructions
Preheat oven to 212°F/100°C, steam only setting (100% steam).

Put the oil, sesame oil, garlic, ginger, onion and star anise into a large stainless steel pan and give it a stir. Put in the oven for 5 minutes.

While the garlic, ginger and onions start cooking, mix the vinegar, oyster sauce, soy sauce, pepper and chicken stock together in a jug.

When the timer goes off, add the rice and stock mixture to the onion mixture. Give it all a stir and return to the oven for 20 minutes.

At the end of cooking, fluff the rice with a fork and allow to stand for 1-2 minutes before serving with scallions, pickled vegetables and a fried egg.
Notes
This rice is adapted and simplified from one over at the wonderful Recipe Tin Eats blog, for one-pot Chinese chicken and rice. I've removed the chicken altogether, slightly adapted the ingredients and altered the method for steam oven cooking.
If you don't have or like oyster sauce, Nagi's original recipe recommends hoisin sauce as a substitute, and that's what I'd go with too. The flavor will be a little sweeter and spicier but it does give the depth you need.
The Shaoxing wine, a staple Chinese ingredient, is something you may not have if you don't cook much Asian food, but it's worth seeking out a bottle. It's readily available at Asian supermarkets or online, fairly inexpensive and keeps for a long time in the pantry. Shaoxing wine is a standard addition to many marinades and Chinese style dishes and I find myself pulling it out at least a couple of times a month. If you really can't get it, 1 tablespoon of rice wine vinegar would be the closest substitute.
Nutrition
Calories:
294
kcal
|
Carbohydrates:
54
g
|
Protein:
8
g
|
Fat:
4
g
|
Saturated Fat:
1
g
|
Trans Fat:
1
g
|
Sodium:
372
mg
|
Potassium:
233
mg
|
Fiber:
1
g
|
Sugar:
1
g
|
Vitamin A:
41
IU
|
Vitamin C:
3
mg
|
Calcium:
37
mg
|
Iron:
1
mg
Over to you – if you try this recipe I'd love to know about it! Share your comments below or on Facebook, tag @steamandbake on Instagram, or pin all your favourite Steam and Bake recipes over on Pinterest!
Would you like more recipes and tips to help you cook with confidence? Join the mailing list to be alerted to new posts.