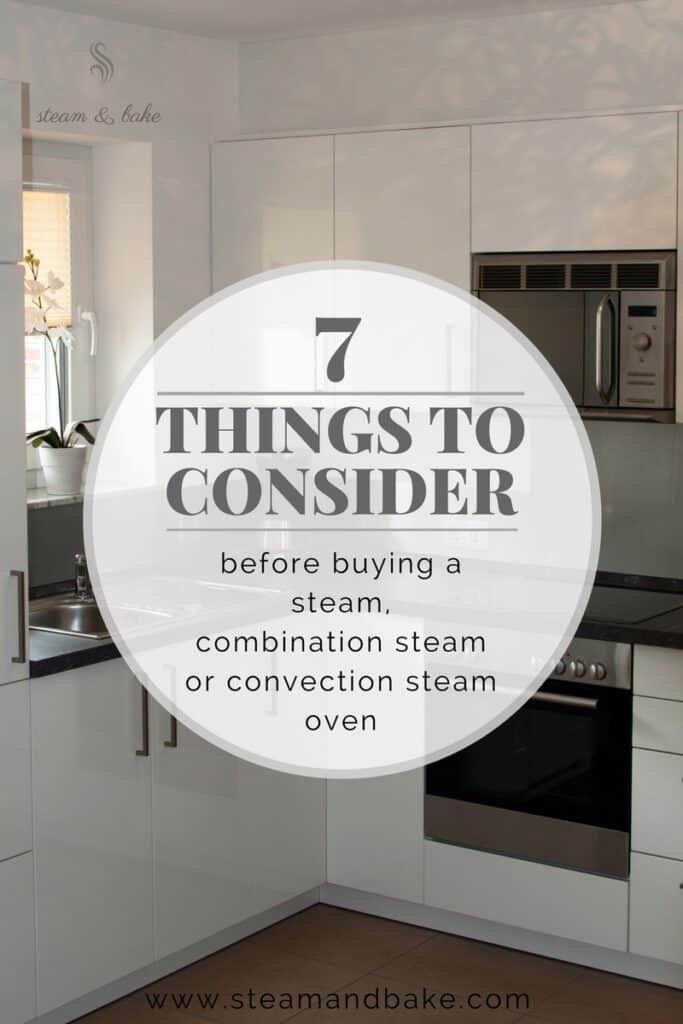 Something a bit different for you today: I have been receiving lots of questions from people at the pre-purchase stage. So I think it's time to have a chat about kitchen appliance selection. A buyer's guide, if you will. If you're new to the whole concept and wondering if a steam oven is something you should even consider, I'd also encourage you to take a look at this 'What is a Steam Oven and why should I buy one?' post.
This is a LONG post, so settle in. In fact, you might want to grab a coffee (or a glass of wine!) and make a few notes for yourself as you read through.
For most of us, designing a kitchen or replacing appliances is a major investment and we expect our new appliances to work hard for a long time. So it's a great idea to have a think before you spend up big on products which don't suit your situation or space.
Following are some questions to ask yourself before you commit to buying a steam oven – or even before you head off to a store to look. Many are relevant things to ask yourself about buying kitchen appliances in general – they are the key questions I ask people during face to face product demonstrations or classes as it helps clarify what they're really looking for.
A steam oven buyer's guide – 7 questions to ask yourself
1. Should I buy a steam-only, a combination/convection steam or a steam assisted oven? What's the difference?
If budget allows (see the next point) I would always recommend a combination or convection steam oven. It gives you far more usability because the appliance will function as a steam-only; combination/convection steam AND a regular convection oven.
The only people for whom I wouldn't recommend a combination steam oven are those who genuinely plan to steam most of their food. You can do a lot with a steam-only oven (far more than just fish and vegetables – think grains, pulses, eggs, puddings, curries, slow cooked casseroles, pasta, reheating leftovers and proving bread dough to name a few), but for me, if an appliance is going to take up space in my kitchen I want it to do as much as possible. And a combination or convection steam oven will do all of those steaming duties plus it'll work as a second* convection oven when you're cooking for a crowd. It also has fantastic combination settings which leave food browned on the outside and super moist and tender on the inside.
*Note, for many kitchens a steam oven alone won't be sufficient as a lot of models are compact appliances. If you're cooking for more than 2 people on a regular basis you'll want the additional space a full sized oven offers. There are a few brands now offering a full sized, full steam/combination steam/convection oven in one (AEG, Asko, Miele, Neff and V-Zug are the ones I'm aware of but I'm sure there are more), but the majority of steam ovens are smaller appliances. I'd still want two ovens even with a full-sized steam oven because I'm often running both at the same time cooking different components of a meal.
To confuse matters further, another option which has become more common in the past couple of years is a steam-assisted oven. If you go this route, the oven won't function as a true steam oven because you can't do full steam, but you can add moisture (often at varying levels of intensity) to your regular convection cooking. They are a great help if you cook a lot of roasts, large cakes and breads as they'll help keep those foods nice and moist during cooking. It's sort of a 'best of both worlds' scenario, and can be a good option if you don't have the budget or space for two ovens but want some steam functions. AEG, Asko, Kitchenaid, Miele, Neff and Westinghouse (and probably others I'm not aware of!) all have some form of steam assisted oven.
2. What's your steam oven budget?
I know, it always comes back to money, right? Well, if you're fortunate enough to be researching a steam oven purchase I'd imagine you're not on the poverty line, but for the great majority of buyers cost does come into the equation somewhere (if your funds are unlimited, lucky you – go buy a Gaggenau fully plumbed model and come back for recipe inspiration once it's installed!).
Most steam oven buyers are doing a full build/kitchen overhaul, not just adding this single appliance to an existing space, so I'm going to address the budget issue in that context.
There's probably a total kitchen budget you have to stick to and that will need to cover far more than just a steam oven – probably some combination of a conventional oven, microwave, fridge, dishwasher, cabinets, benchtops, the list goes on. So it might be a matter of shifting funds around to get everything you want. If you want to spend up on very premium appliances, can you scale back on the cabinetry somewhere? Or can you choose a more basic conventional oven from that premium brand in order to still have your steam oven as well? Maybe you can do away with a microwave altogether and save some money there (a combi steam oven will certainly do most – but not all – the jobs your microwave does now, and I know of a lot of people who don't put microwaves in their new kitchens).
I will make a comment about the affordability of steam ovens here – they are relatively expensive appliances, and you mostly get what you pay for. If build quality and cooking performance are really important to you, don't buy the cheapest one you can find. The cost saving now might come back to haunt you later in the form of inferior parts or poor cooking/heat distribution.
Another thing to consider regarding cost is the installation. A non-plumbed (or tank model) steam oven is a fairly straightforward electrical install, but a plumbed version will have a higher installation cost because of the water and drainage pipes associated with it. This can vary a lot depending on where your ovens are situated and how far they are from your main kitchen water supply, so if you're concerned about the installation cost it's a good idea to get a quote before you buy the oven.
3. Are you prepared to experiment with recipes and learn to use a steam oven?
If you can cook, you can use a steam oven. But there is some learning involved, and you will need to devote at least a bit of time to trying out the recipes you like to cook in order to adapt them.
Steam oven cooking is faster than conventional oven cooking, and some steam ovens have variable steam settings you can use when the oven is in combination/convection steam mode. They all need experimentation to use to their fullest capacity, it's not always a straightforward 'take 20% off the regular cooking time' approach.
If you love trying new things in the kitchen, a steam oven will be a joy. If you're a cook who likes to follow the rules and never strays from a written recipe, make sure you can find enough nice looking recipes to get you through the first few weeks until you're comfortable enough to try going it alone (you can go to the recipe index or my Pinterest boards for some inspiration!). Otherwise you might end up only ever cooking steamed vegetables in your fancy new oven.
If your mind is made up to buy a steam oven, a great way to kick start your learning is to check whether the brands you're interested in offer a demonstration, and/or a post purchase class to teach the basics of using your oven once it's installed. If you're far away from a major metropolitan area it might be an issue, but otherwise they are worth seeking out. I live in a relatively small metro area but I know that Gaggenau, Neff, Bosch, Electrolux, V-Zug, AEG, Asko, Smeg and Miele all offer steam oven cooking demonstrations in my city. I'd go so far as to say if you have to travel a couple of hours to get to a demonstration it's still worthwhile before you potentially commit a few thousand dollars to buying.
Do you want to use and love your steam oven more?

There are precious few resources to teach us HOW to use a steam oven in everyday cooking. I'm guessing that's why you're here! If you love cooking but aren't making the most of your combi steam oven, you aren't alone.

Steam Oven Insiders was created for you!

Benefit from my decade-plus of steam oven knowledge and training, delivered to your inbox twice monthly in bite sized, easy-to-implement tips and delicious recipes you'll actually want to cook. Insiders get access to every exclusive recipe and article within the members dashboard, so you'll never miss a thing.

Find out more right here
4. Are you happy to maintain and clean a steam oven?
I'm the first to admit the inside of my steam oven doesn't always look pristine, however cleaning is not something you can ignore completely or you'll end up with a stinky appliance which doesn't work.
Cleaning varies according to your brand and model but in general your cleaning duties will involve wiping out the oven after using it (just a quick wipe out with an absorbent cloth usually does the job) and occasionally descaling the appliance as you would for a coffee machine (most models will let you know when it's time to descale so you don't have to wonder, and the descaling itself is pretty automated).
In addition to the above, if your steam oven has an evaporator dish in the bottom you'll need to soak up the leftover water after each use so it doesn't smell and get unnecessarily dirty. These jobs are in addition to general oven cleaning, but the plus side to cleaning a steam oven is that you can use a steam clean function which will soften baked on grime and make it much easier to get off.
Some of the higher end steam ovens now have self-cleaning functions, which are great although I'd still recommend a wipe of the inside cavity after each use to keep it looking and smelling fresh, and to minimise the frequency of needing to run a cleaning setting.
5. Will a steam oven fit your kitchen layout?
Theoretically you can install a steam oven anywhere in a kitchen, but I would never recommend putting one under your benchtop.
When you open the door of these appliances while cooking, the steam vapour rushes upwards – this is totally normal and it dissipates around the kitchen very quickly without issue (no, it won't affect your cabinetry or cause damp issues). It does have the potential to cause serious burns if you're standing directly in front of it, though. For this reason every salesperson, manufacturer and kitchen installer should know and recommend that you only situate a steam oven at the top of a 'stack' of appliances. Mine is at head height, directly above my regular oven. I might mist up my glasses if I'm standing in front of it when I open the door but the bulk of that hot steam just rushes straight up above me and disappears. And it never ever runs the risk of burning my kids because they won't be able to reach and open the door until they're well and truly old enough to understand the dangers.
I have, in a few instances, seen steam ovens installed under-bench but only in exceptional circumstances – mostly in small apartment kitchens where there is no space to do a wall installation (and where there are no kids to worry about). In all these cases the ovens have been high end models with the option to press a button and condense the steam inside the oven before opening the door, which minimises the risk of burns.
6. Do you want pre-programmed cooking settings or are you happy with manual settings?
Most brands offer a number of pre-programmed functions in their steam ovens which can help enormously when you're starting out but. To be honest, though, they won't help you all that much if you want to learn and adapt your own recipes down the track. Here's why: with the majority of pre-programs you don't actually know which function – or sometimes even what temperature – the oven is running on. So you might get, say, a fantastic roast chicken program where you just pop in the weight of the food and press start, but if you want to know what the oven's doing you'll need to start using the manual settings.
I know people who use their program settings and love them, but if that's you make sure the programs in the oven you're looking at are actually useful! Some brands contain a lot of European-centric programs for foods which cooks in the USA, UK or Australia/NZ never have occasion to make. Mine, for instance, has a setting for pork knuckle and another for pheasant. Neither of which I'm ever likely to make.
7. If you're buying more than one appliance, do the steam oven brands you're looking at have a good overall appliance selection?
You'll find the premium brands have a more extensive selection of appliances across the board, which may be important to you if you're fitting out a whole kitchen. You might get away with using a different brand for your cooktop and your oven/s because they're rarely right next to each other unless you have a range cooker, but if you're looking for a regular/convection oven and a steam oven you'll more than likely want them to match. Make sure you can get what you want in the brand's other appliances too.
And there you have it. If you're looking to buy a steam-only, combination steam or convection steam oven, I hope the above has helped give you a better idea of exactly what will work for you.
A bit of research and knowledge of your requirements is so valuable – I think steam ovens are fantastic but I also know they aren't for everyone. Only you will know whether buying a steam oven is worth it for your home, and which brand is best. Make sure you do your homework and if you decide to go for it, you'll be well informed before you hit the stores and start getting pitched by sales staff.
If you are purchasing a steam oven for your home, don't forget to sign up to the Steam & Bake mailing list to receive recipes, tips and occasional subscriber-only information about using your exciting new appliance! You can join the subscribers list here. Don't worry, I will never spam you.