This post contains affiliate links. Find out more about affiliate links and how they help this site.
Oh, hello there, Easter! How did you sneak up on us so quickly?
Just a quick stop by today, because I want to share this outstanding recipe so that you too can have a four ingredient steam oven chocolate truffle cake in your life. A pot, a few ingredients, and a loaf pan, and you've got yourself an incredibly easy and very sophisticated bake-ahead dessert, all ready to slice and serve whenever it takes your fancy. You know, like at Easter.
Using combi steam settings when you bake this cake completely removes the need for baking with a water bath, which is how I would have made this recipe before I had a steam oven. I cook it at a low temperature with a lot of steam, and although you can bump the temperature up so it cooks a bit faster, I prefer the soft, silky texture I get from the low and slow approach.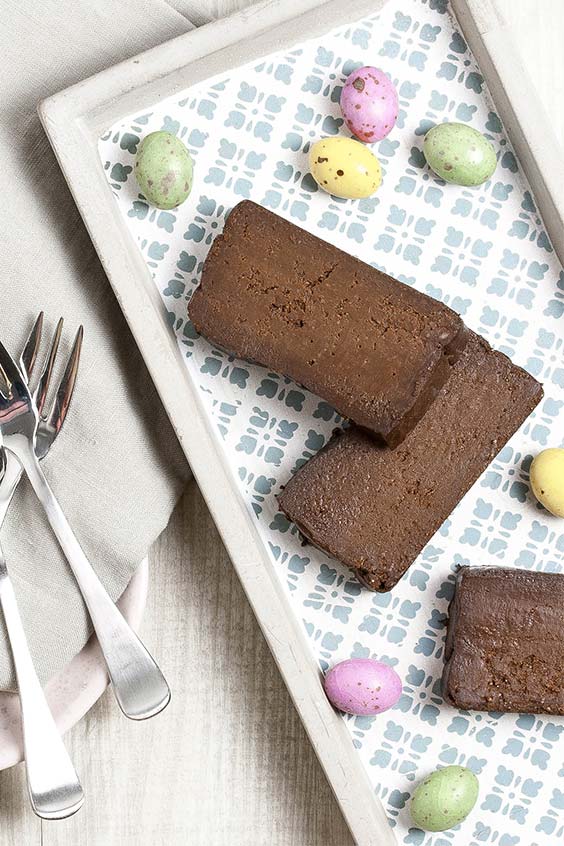 What is a chocolate truffle cake?
This cake is more of a rich chocolate dessert, somewhere between a silky chocolate truffle and a fudgy brownie. The steam oven cooks it very gently, setting and firming up all the ingredients so it's like eating slices of the best chocolate tart filling you've ever tried. It's not particularly sweet, though you could make it more so by using a mix of milk and dark chocolate, rather than just dark as I've done.
Having eaten a fair few slices of this during the recipe testing phase, I can tell you it tastes best on the second and third day after baking, although it's pretty amazing right from the start.
To make this beauty, all you do is melt the best quality chocolate you can find with cream and a little honey, mix with eggs and pour into a pan. Bake, chill and slice, and you'll feel far more accomplished that the recipe would have you believe.
A note on the festival of chocolate (eggs)
You, like me, might be just a tiny bit cranky at the commercialism which sees egg-shaped chocolate in the shops the day after Christmas. Even with that offensively early start to egg season, and the fact this Easter falls much earlier in the calendar than last year's did, it feels like the coming weekend has done some kind of sprint to arrive and take us all by surprise.
I'm not averse to eating a chocolate egg or fifteen, but as I get older, I find I prefer a baked-with-love chocolate dessert over almost anything I can find on a supermarket shelf, and that's what I'd rather give people when we catch up over the long weekend, too. Maybe you're the same? If so, I hope you'll try this recipe. It's not just for Easter, but if you're looking for a good excuse to try it out, here's your chance.
Happy steam oven cooking, and happy Easter if you celebrate it. See you here again soon.
Do you want to use and love your steam oven more?

There are precious few resources to teach us HOW to use a steam oven in everyday cooking. I'm guessing that's why you're here! If you love cooking but aren't making the most of your combi steam oven, you aren't alone.

Steam Oven Insiders was created for you!

Benefit from my decade-plus of steam oven knowledge and training, delivered to your inbox twice monthly in bite sized, easy-to-implement tips and delicious recipes you'll actually want to cook. Insiders get access to every exclusive recipe and article within the members dashboard, so you'll never miss a thing.

Find out more right here
Print Recipe
Four Ingredient Steamed Chocolate Truffle Cake
This rich, decadent dessert is like eating slices of the best chocolate tart filling you've ever made. It only uses four ingredients and it's ridiculously easy.
Ingredients
14

oz

dark chocolate

400g chopped; use the best quality you can get your hands on. 65-75% cocoa solids is ideal. Remember lower cocoa solids = sweeter cake

1 1/4

cups

pouring cream

1/4

cup

clear honey

4

eggs

large, whisked and strained to remove any large bits of white
Instructions
Preheat oven to 250°F/120°C, combination steam setting. If you have variable steam settings, select 80%. If not, don't worry! Just set to combi steam at the correct temperature and your oven will take care of the humidity for you. Line a 10×5"/25x12cm loaf pan with parchment paper and set aside.

Put the chocolate, cream and honey in a saucepan over low heat and let it melt, stirring occasionally. It's done as soon as everything is smooth and glossy – don't let it get too hot, or you'll scramble the eggs in the next step.

When the chocolate mixture is ready, stir in the whisked and strained eggs until everything is well combined.

Pour the batter into the lined pan and bake until the cake is set with a slight wobble in the center, about 1 hour. Remove from oven and let it cool to room temperature, then refrigerate overnight before slicing into thin pieces with a hot knife to serve.
Notes
Inspired by this recipe from Wholefood Simply, which is absolutely brilliant if you're looking for a dairy free, refined sugar free version of what's below.
As I mentioned above, you need to use the best chocolate you can in this recipe, and I'd add that the same is true for the honey. There are so few ingredients that there's nothing to hide behind in terms of flavour. If it doesn't taste good before you mix it into the batter, your finished cake isn't going to be amazing either.
If you really want to live dangerously, and increase the ingredients list to (gasp) five, a little orange zest or some vanilla bean paste would be lovely additions. I like to bake it unadulterated, but serving with a dollop of crème fraiche is welcome. When serving, I slice and plate the cake cold, but leave it for around 15 minutes before serving, so it's still cool but warmer than fridge temperature.
This cake will keep, covered, in the fridge for up to 5 days. If you're not going to eat it in that time, wrap individual slices and freeze for up to 2 months.
Nutrition
Calories:
376
kcal
|
Carbohydrates:
26
g
|
Protein:
6
g
|
Fat:
28
g
|
Saturated Fat:
16
g
|
Cholesterol:
100
mg
|
Sodium:
43
mg
|
Potassium:
341
mg
|
Fiber:
4
g
|
Sugar:
17
g
|
Vitamin A:
413
IU
|
Vitamin C:
1
mg
|
Calcium:
59
mg
|
Iron:
5
mg
If you try this recipe I'd love to know about it! Please share your pictures with me on Facebook or tag them #whatsinthesteamoven on Instagram.
Would you like more Steam and Bake recipes and steam oven inspiration? Join the mailing list. When you sign up, you'll get an invite to the exclusive subscribers-only Combi Steam Cooking Facebook group, which is full of people at all stages of their combi steam journeys, and with many different brands of oven. It's a friendly, helpful space to learn and share with one another, and I'm always in there answering questions and sharing tips.
And if you're after more delicious combi steam chocolate recipes, the Cakes and Baking Index page has plenty. Try the fudge brownies with white chocolate and pecans, the simple steam oven chocolate cake, or last Easter's chocolate ricotta cake.