When I meet someone new and tell them my job is teaching people how to use a steam oven, their first question (after the initial blank stare) is usually 'are steam ovens worth it'?
Wondering whether a steam oven is worth the money is front of mind for potential buyers, too.
It's understandable: most people looking at buying one are also spending money on a kitchen remodel or home build, and they want to invest their dollars on the things which will bring the greatest rewards at the end of the process.
A short history of domestic steam oven technology
Before I answer the question of whether a steam oven is worth it, a quick history for you.
Domestic steam oven technology has been around for about 25 years. French brand De Dietrich lays claim to selling the first in-home steam ovens in 1997, with Gaggenau launching the first fully plumbed versions in 1999.
Gaggenau's build quality is still widely regarded as the benchmark for home steam ovens. Since they launched, though, most major kitchen appliance manufacturers have also added steam and combination or convection steam ovens to their ranges.
At last count (in December 2021), all of these brands had at least one steam oven appliance in their range, and I'm sure I've missed a few:
AEG
Anova
Asko
Baumatic
Beko
Blanco
Bosch
Cuisinart
Electrolux
Fisher and Paykel
Gaggenau
Ilve
Jenn Air
KitchenAid
Maytag
Miele
Neff
Panasonic
Samsung
Siemens
Smeg
Steel Cucine
Technika
Thermador
V-Zug
Wolf
Zanussi
So what is a steam oven and how is it different to a combi steam oven?
Essentially, a steam oven cooks using wet heat, through the input of steam to the oven cavity. They steam food in the same way as a stovetop steaming basket which sits on top of a saucepan, but with greater ease, efficiency and control.
A combination steam oven (confusingly also referred to as a steam oven!) goes one step further, combining the functions of a traditional convection (dry) oven with steam to produce dry heat, wet heat or a combination of the two.
Combination steam (or convection steam) ovens are truly multi-functional; using the dry and wet heat in combination produces food which is golden brown and crunchy or crispy on the outside, yet incredibly moist on the inside. Think the best roast chicken you've ever eaten, unbelievably flaky puff pastry and tender, perfectly textured bread.
Some steam or combi steam ovens have a water tank in the side or top of the oven which runs into a small reservoir at the bottom of the oven. The tank is manually filled, and the evaporator heats up to produce the steam. Other models create steam outside the cavity before injecting it in.
You can also buy fully plumbed combi steam ovens, which have the bonus of not needing to be refilled or emptied by hand. Both versions are efficient and easy to use once you know the basics.
How expensive are combi steam ovens?
Wondering whether you should blow the kitchen budget and put a steam or combi steam oven on the must-have list?
Before we go too far into their many benefits, I should say straight up that the initial cost of these ovens can put some people off. That said, if you've found your way here you're probably thinking about buying one (if you haven't already done so), and you might have had a look at a few different models.
Combi steam ovens are generally more expensive than steam-only ones, but they offer far more versatility. Unless you steam almost everything you eat, if you're already in the market for one, the extra investment in a combi steam oven is worthwhile.
Steam-only ovens in Australia currently cost anywhere from $1600 to $7000 and combination steam around $2200 to a huge $14000. It's a sizeable investment in what will be, for most people, additional to a traditional larger oven rather than a replacement. On the plus side, it's worth noting that in our house and many others I know of, the combi steam is used a LOT more than the regular oven despite its smaller size.
Why buy a steam/combination steam oven?
I know, you're probably still wondering, are steam ovens worth it? Really and truly?
I get it, I do. It took me a good six months of working with one every day to decide this for myself, but once I made that decision I'd never go back. My combi steam oven has fundamentally changed the way we cook and eat at home and has been worth every cent.
There are lots of reasons for this, but the main one? The food I cook in it tastes better.
I love cooking, I love sharing that cooking with others, and I love eating. So no matter what else might be great about these appliances, that's what clinches the deal.
Though a sales rep might tell you otherwise, no single appliance can do every kitchen task and do it well. It stands to reason that I can't make absolutely everything in my combi steam oven. I'm ok with that.
A steam oven is one tool to help you create amazing food, but there's a reason I have another oven, a food processor, a mixer and myriad other little appliances and gadgets to help out (ummm, so I might be a kitchen junkie. Out and proud).
In many cases, steam and combi steam ovens are smaller than traditional wall ovens. Don't be put off by this, as you can 'stack' the food you cook in them much more efficiently than in a traditional oven.
Do you want to use and love your steam oven more?

There are precious few resources to teach us HOW to use a steam oven in everyday cooking. I'm guessing that's why you're here! If you love cooking but aren't making the most of your combi steam oven, you aren't alone.

Steam Oven Insiders was created for you!

Benefit from my decade-plus of steam oven knowledge and training, delivered to your inbox twice monthly in bite sized, easy-to-implement tips and delicious recipes you'll actually want to cook. Insiders get access to every exclusive recipe and article within the members dashboard, so you'll never miss a thing.

Find out more right here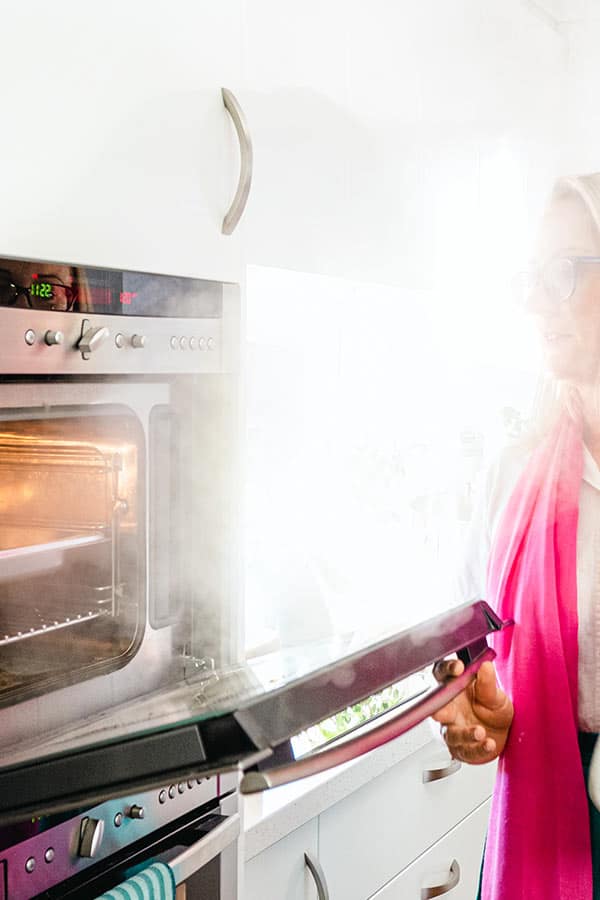 For instance, you can easily cook enough protein (chicken, fish, prawns, meat, tofu etc), plus vegies and rice for a family of 5-6 people, all in one hit – you achieve this by using three shelves of the oven, rather than one shelf (or maybe two) to cook a comparable amount of food in a larger oven.
Smaller steam ovens are also great for a quicker heat up time, and are more efficient to run.
Cooking time savings are another bonus. Cooking times vary depending on their density, size and shape but overall you can expect to cook things 20-30% faster using steam or combination steam than in a traditional oven. And you can do it without sacrificing texture, flavour or nutrients as you do in a microwave. Yay. I and my 5pm-dinner-eating kids thank the combi steam oven nearly every day for the speedy arrival of their evening meal.
Want to be a healthier cook (who doesn't)?
Though you can make pretty much anything unhealthy if you try hard enough, cooking with steam, for me at least, means I use less added fat in my meals.
That's not to say I never use fat on food which goes in my combi steam oven. Far from it. It's just that I can make a decision to have a healthier dinner without feeling like I'm missing out taste or texture-wise.
A tray of roasted veg done 'naked' in the combi steam will yield moist, flavour-packed vegetables with golden brown outsides. To achieve a similar result in my regular oven I have to coat everything liberally with oil, to help with browning and prevent the outsides becoming leathery. Similarly, steaming or combi steaming chicken, fish and meat will give moist and juicy results even if you don't coat it with fat, as you would in a frying pan or oven.
Lastly on the health topic, steaming food locks in nutrients more effectively than baking, frying, grilling or boiling. So you're winning on the vitamins and minerals side of things.
I want to buy a steam oven – how do I choose?!
If you're in the market to buy a steam or combi steam oven, start by checking the websites of brands you like. Compare what's out there (it changes all the time). When you've done that, go and look at the options in person.
Press buttons, open and close doors, flick switches – don't be shy, that's what display models are for. Make sure the appliance is comfortable to use and sturdy enough in terms of build quality.
Finding a good salesperson who knows what they're talking about is key. Shop around a bit. Steam and combi steam appliances require more complex knowledge than a lot of other ovens, so if your salesperson doesn't actually know how to describe the benefits and differences between models, find one who does.
Be guided by your budget, but also think about functionality and how an appliance should work for you: if you hate the idea of soaking up water in the bottom of the oven after cooking, look at a plumbed or steam injected model. If you just love steamed food and don't use an oven much, maybe a steam-only model is best.
Would you like my FREE Quick Start Guide to Your Steam Oven?
Start learning what (and how!) to cook using your oven's steam and combi steam settings, with my instant downloadable guidebook, full of tips, links and ideas.
Click here to get the Guide sent straight to your inbox
There are lots of practical considerations and sometimes you can whittle down the options quickly just by figuring out where and how an appliance needs to be placed in your space.
Also, don't be swayed by a salesperson touting all the fancy things you'll be able to make in your new oven if those fancy things are not actually what you like eating or cooking already. New kitchen appliances should help you improve the things you already like to cook and eat; they're unlikely to change your basic nature!
A lot of brands now offer assistance by way of in-depth product and cooking demonstrations, so it's well worth going to a couple of these before you make a selection. Demonstrations are generally run by each brand rather than by the retailers, though you can often book through a retailer. Most are free or will reimburse the cost of the demonstration if you buy their brand.
I hope this helps if you've been wondering, are steam ovens worth it?! If you'd like to read more, or ask questions about cooking with a steam oven, come over and join my free Combi Steam Cooking Facebook group. It's a welcoming place for new and experienced steam oven cooks to chat, ask questions and share ideas. I'd love to see you there.
See you here again soon.