Today I want to show you how simple food prep can be. We're making stock in your steam oven!
I talk a lot about how much I love using my combi steam oven for basic kitchen tasks. Par-cooking, batch cooking, meal prep and reheating are things I do all the time, and I want you to get that kind of use from your oven too.
This stock, or broth, is as easy as throwing everything into a pot and walking away. The only problem is that once you've done it, you'll never have an excuse not to make your own stock!
This post may include affiliate links. As an Amazon Affiliate I earn from qualifying purchases (don't worry, it doesn't cost you anything!). Find out more about affiliate links.
Why should you bother making stock in your steam oven?
Stocks and broths are the foundational liquids of most soups and a whole host of sauces, casseroles and stews. It would be hard to imagine cooking without them.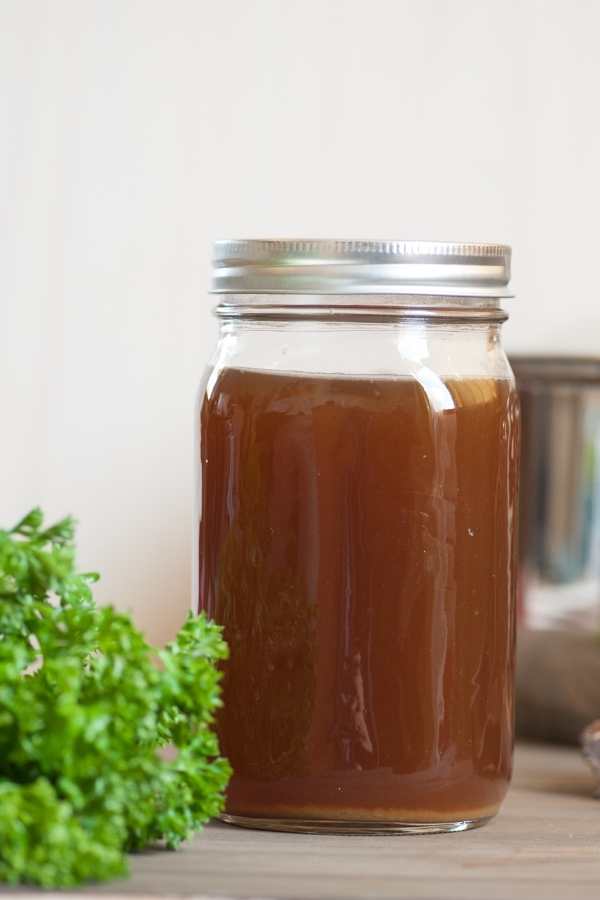 Although there are some great quality pre-made stocks and broths available, and I am a big fan of using those when you need to, homemade is nutritionally better and very simple to make. Homemade broth is also far cheaper than bought, and uses up the meat bones and vegetables we often throw away.
Stock is traditionally made on the stovetop and requires careful simmering to extract the best flavor from the ingredients. It needs to be cooked low and slow enough that bitter compounds aren't extracted. Those bitter compounds will make your stock murky instead of clean-tasting and savory.
In your steam oven, the job is made simple because the pot won't boil over and the ingredients are cooked at a slow, steady temperature. There's no risk of the liquid getting too hot and boiling out the bitterness from your ingredients.
How to make stock in your steam oven
I'm giving directions for a light chicken stock today, because it's the most commonly made in my house. You can use this method for any type of stock though. I've added variation notes at the end of the post, to adapt for dark chicken stock, beef/veal stock or vegetable stock.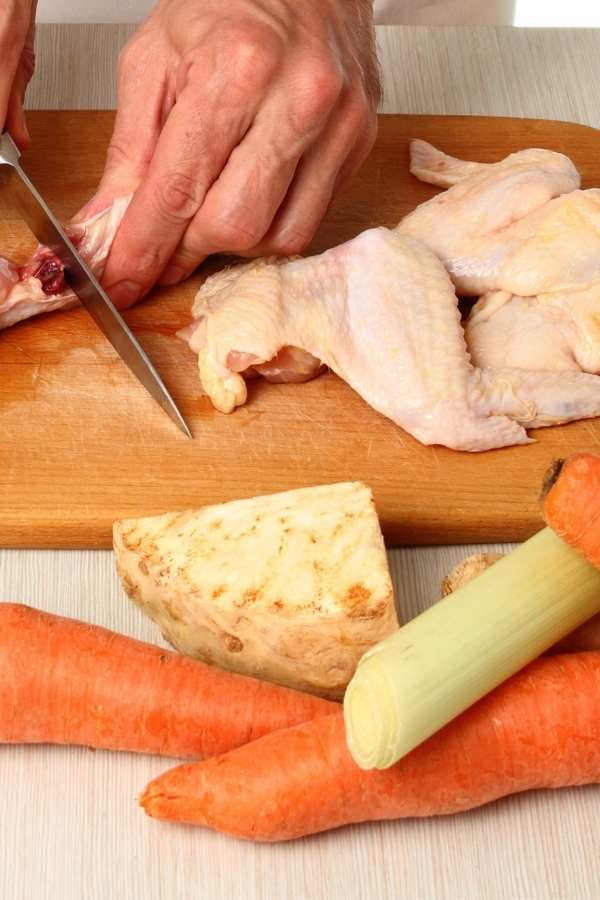 To make your stock, you just need to have everything chopped into large pieces of roughly the same size. Go for chunks the size of a quarter of a carrot.
All your ingredients go into the pot or a large stainless steel oven pan, and straight into your oven.
Leave everything alone in there for a good couple of hours. This stock is forgiving, so if it ends up being 3 hours before you get back to it that's fine.
It's time to strain! Catch all that precious liquid in a bowl or pot, leaving behind the solids which have now given up their flavor. I press down on the solids in the strainer, as they hold onto a fair bit of liquid.
If you want a very clear stock, you can double strain using a piece of muslin or cheesecloth. I don't often bother, unless I'm making a clear broth and presentation is critical.
You can use the stock immediately, but if you want to skim the fat off, it's easier to chill it first. The fat will set on top of the stock and lift off easily when cold.
Would you like my FREE Quick Start Guide to Your Steam Oven?
Start learning what (and how!) to cook using your oven's steam and combi steam settings, with my instant downloadable guidebook, full of tips, links and ideas.
Click here to get the Guide sent straight to your inbox
What to do with homemade stock or broth
A container or two of steam oven stock in the freezer is always welcome. Use it as a base for just about any kind of soup. Include it as the liquid in a braise, casserole or stew. Or make a fast chicken noodle soup. Cook noodles and combine them with shredded sous vide chicken, adding stock and seasoning to taste. You can also use your stock to cook grains like rice and couscous for extra flavor.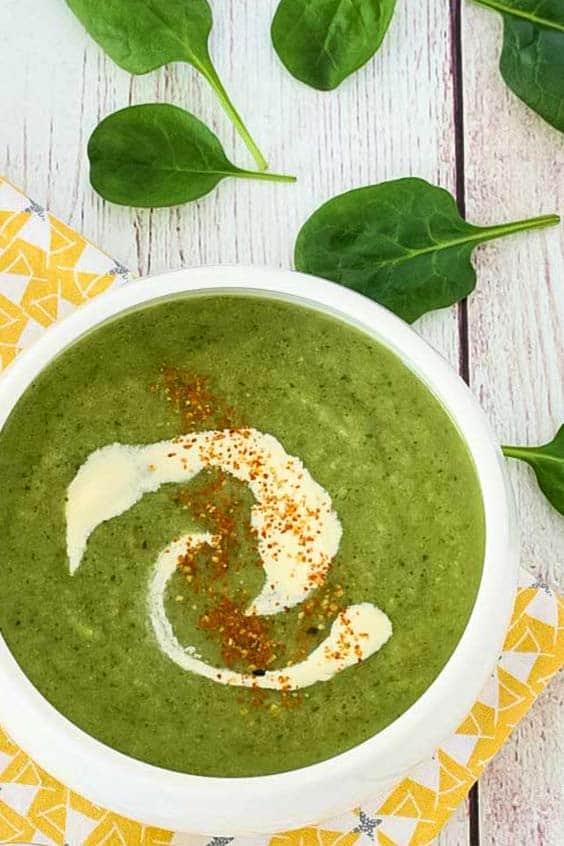 Try some of these recipes if you need ideas:
Enjoy making stock in your steam oven, and I'll see you here again soon.
Have you made and enjoyed this recipe? I'd love if you'd be kind enough to rate and review it via the stars in the recipe card, or leave a comment below! Ratings and reviews help other readers to find and know whether one of my recipes will suit them.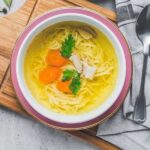 Print Recipe
Steamed Chicken Stock
Making stock or broth in a steam oven is the easiest way to have a nutritious, flavorful soup or casserole base on hand all the time!
Ingredients
2

lb

chicken wings

or 1-2 whole chicken carcasses, cut roughly into large pieces

2

carrots

scrubbed and cut into 3-4 pieces

2

stalks

celery

washed, leaves left on, cut into 4-6 pieces

2

brown onions

bulb end trimmed, skin left on, cut in half

1

leek

washed well, bulb end trimmed, sliced thickly

5

stalks

parsley

washed and torn up

2

bay leaves

whole

10

peppercorns

lightly crushed
Instructions
Put all the ingredients into a large pot or a deep stainless steel pan. Add 1 1/2 quarts (1 1/2 litres) cold water to cover the ingredients, and put the pot, uncovered, into your steam oven.

2 lb chicken wings,

2 carrots,

2 stalks celery,

2 brown onions,

1 leek,

5 stalks parsley,

2 bay leaves,

10 peppercorns

Set your oven to 212°F/100°C, 100% humidity, and cook for 2 hours.

Strain the stock through a sieve, pressing down on the solids to extract as much flavor as you can. If your stock looks too cloudy and you'd like it more clear, you can strain it again through a double layer of muslin.

If you'd like to add salt to your stock you can do so now (see note). Try a teaspoon to start with, then adjust by adding small pinches until it tastes right.

Refrigerate the strained stock overnight, then lift off the layer of fat which has solidified on the top. The stock is now ready to use. It'll keep in the fridge for a few days, or frozen for up to 3 months.
Notes
I do not add salt when I cook stock, preferring to leave it unsalted and adjust seasonings when I use it in a dish later. If you prefer salted stock, I recommend adding it to taste after cooking and straining, as this will give you the best indicator of taste in the finished stock. 
You can change up the meat or vegetables to whatever you like here, taking the stock in different directions according to what you've got on hand or what you want to make with the finished stock. I sometimes add celeriac to my stocks because I love the flavor. I'll also add a clove or two of garlic if I'm planning on making something garlicky from the finished stock. 
For Dark/Golden Chicken Stock: Before making the stock, roast the chicken wings or carcasses in a 400°F/200°C oven for 20 minutes. Add the rest of the ingredients and proceed with the recipe. 
For Beef (or veal) Stock: swap out the chicken for the same weight of beef bones (available from your butcher, ask if they'll cut them to fit in your pot if they're very large!). Before making the stock, roast the bones in a 400°F/200°C oven for 20 minutes. Add the rest of the ingredients and proceed with the recipe. Cook beef stock for 3-4 hours rather than 2 hours; it will give a much better flavor. 
Want to use cooked chicken or meat bones? You absolutely can. Make sure if you're using a chicken which had stuffing in it, that you remove all the stuffing as this won't do your stock any good. If you're using a very well-picked over carcass or bone, you may need a little more meat bones by weight than the recipe calls for above. Also be mindful that most roasted meats have had salt on them in the cooking process, so your stock seasoning needs to be adjusted. 
For Vegetable Stock: omit the chicken, double the quantities of all the vegetables. Add 1-2 large tomatoes, roughly chopped. Proceed with the recipe.
The nutritional content for this recipe is based on a serving size of 1 cup, and without salt having been added to the stock. Values will be different if ingredients are altered. 
Nutrition
Serving:
1
cup
|
Calories:
120
kcal
|
Carbohydrates:
6
g
|
Protein:
4
g
|
Fat:
3
g
|
Saturated Fat:
1
g
|
Polyunsaturated Fat:
1
g
|
Monounsaturated Fat:
1
g
|
Trans Fat:
0.2
g
|
Cholesterol:
87
mg
|
Sodium:
105
mg
|
Potassium:
317
mg
|
Fiber:
1
g
|
Sugar:
2
g
|
Vitamin A:
3000
IU
|
Vitamin C:
6
mg
|
Calcium:
37
mg
|
Iron:
1
mg
Do you want to use and love your steam oven more?

There are precious few resources to teach us HOW to use a steam oven in everyday cooking. I'm guessing that's why you're here! If you love cooking but aren't making the most of your combi steam oven, you aren't alone.

Steam Oven Insiders was created for you!

Benefit from my decade-plus of steam oven knowledge and training, delivered to your inbox twice monthly in bite sized, easy-to-implement tips and delicious recipes you'll actually want to cook. Insiders get access to every exclusive recipe and article within the members dashboard, so you'll never miss a thing.

Find out more right here