This post may include affiliate links. For more information about affiliate links and how they help this site, click here.
Never thought to make soup in a steam oven? A little imagination will turn your appliance into a kitchen wonder and leave boring steamed dinners for dust.
I get asked a LOT about what you can make in a steam oven besides fish, chicken and steamed vegetables.
Today, I'm going to give you guidelines and a simple recipe for something I make often in my steam oven, but which most people never think of: soup. Yes, I could make it on the stove, and in some cases I still do, but there are certain soups which are easier and taste better for being steamed. This one, which I refer to as 'green soup' for obvious reasons, is one of them.
If soup's your thing, I did a video of a steam oven pumpkin soup recipe a few weeks back, too.
What makes steam oven soup better than stove top soup?
Sometimes nothing. If you're making a chunky soup with lots of ingredients which get added at different times in the cooking process (think minestrone, for example), I feel like it's not really worth all that opening and closing of the oven and you'd be better off making your soup the good old fashioned way on the stove.
If, however, you're making something with relatively few ingredients – ingredients which are generally just sautéed a bit, boiled and pureed, then soup in a steam oven is a wonderful way to go. It won't take you much less effort than doing it on the stove, but it certainly won't take you any more. And – here's the reason it's worth doing – the resulting soup has so much more flavour than if you'd boiled your ingredients for ages in a saucepan.
Less liquid, more flavour
This probably seems obvious, but making soup in a steam oven means the liquid you put into the pot or pan doesn't evaporate away during cooking. And do you know what that means? More flavour. More nutrients. More yum.
Make sure you don't go overboard adding stock to the pot here – you'll likely find around half the usual amount you'd add is enough. Remember, you can always add more liquid and more seasoning, but it's hard to remove it!
Happy steam oven cooking, see you here again soon.
Do you want to use and love your steam oven more?

There are precious few resources to teach us HOW to use a steam oven in everyday cooking. I'm guessing that's why you're here! If you love cooking but aren't making the most of your combi steam oven, you aren't alone.

Steam Oven Insiders was created for you!

Benefit from my decade-plus of steam oven knowledge and training, delivered to your inbox twice monthly in bite sized, easy-to-implement tips and delicious recipes you'll actually want to cook. Insiders get access to every exclusive recipe and article within the members dashboard, so you'll never miss a thing.

Find out more right here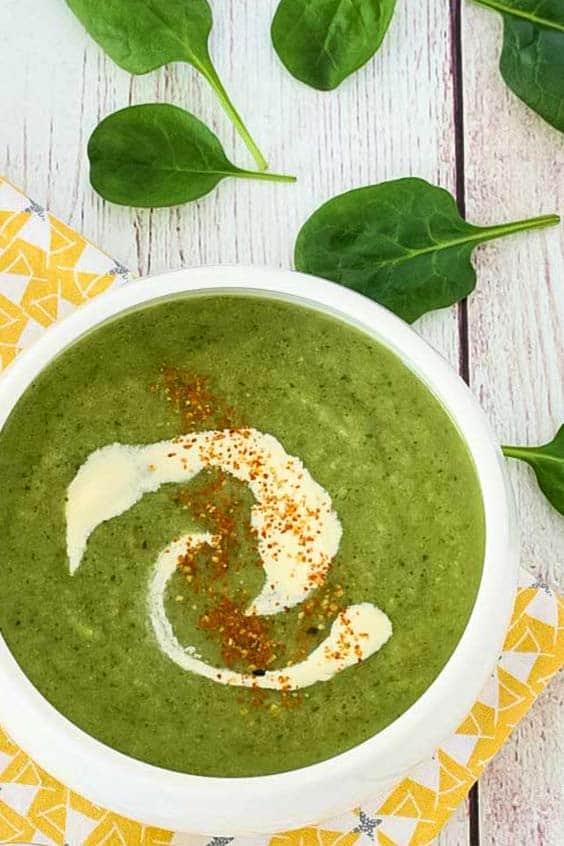 Print Recipe
Broccoli, Zucchini and Spinach Steam Oven Soup
This vibrant green soup is packed with nourishing and filling vegetables. We're using a steam oven to cook it, which means less liquid is required and more nutrients stay in the pot rather than cooking away.
Ingredients
1

leek

large, sliced (white and pale green parts only)

1

clove

garlic

sliced

2

tbs

olive oil

1

head

broccoli

small, stems sliced and florets broken into 5cm/2" pieces

1

zucchini

large, sliced into 2.5cm/1" pieces

2

cups

vegetable stock

or chicken stock

3.5

oz

baby spinach leaves

or silverbeet

3

tbs

cream

or natural yoghurt, to serve
Instructions
Set your oven to 212°F/100°C, steam setting (100% humidity).

Put the leeks, garlic and oil in a deep pot or tray. Cook for 12 minutes (no need to cover), by which time the leeks should be soft.

Add the broccoli, zucchini and stock to the leeks. The stock won't cover the vegetables; that's fine. Cook until the vegetables are quite soft, about 20-25 minutes, then throw the spinach leaves on top and cook for a further minute or two to wilt them.

Let the soup cool slightly, then puree (I use a handheld stick blender but a regular blender or food processor is fine). Thin the soup with a little extra stock or water if necessary and check the seasoning, then serve hot with cream or yoghurt dolloped on the top of each bowl.
Notes
This recipe is a great way to get lots of green vegetables into your diet with little effort, and it's adaptable to whatever you have on hand. The version below is what was in my fridge this week, I just dressed it up with some heavy cream and a sprinkle of my favourite season-all spice blend, Shichimi Togarashi.
I used my new favourite deep stainless steel pan to cook this. You could use a cast iron pot or even a regular saucepan, if you can fit the handle into the oven.
Nutrition
Calories:
187
kcal
|
Carbohydrates:
18
g
|
Protein:
6
g
|
Fat:
12
g
|
Saturated Fat:
4
g
|
Cholesterol:
15
mg
|
Sodium:
553
mg
|
Potassium:
787
mg
|
Fiber:
5
g
|
Sugar:
6
g
|
Vitamin A:
4158
IU
|
Vitamin C:
154
mg
|
Calcium:
124
mg
|
Iron:
2
mg
Over to you – if you try this recipe I'd love to know about it! Please share your pictures with me on Facebook or tag them #whatsinthesteamoven on Instagram.
If you'd like more Steam and Bake recipes and steam oven inspiration, sign up for the mailing list right here. No spam, just an email every now and then to tell you the latest. Plus, you'll get access to the exclusive subscribers-only Combi Steam Cooking Facebook group. It's full of people at all stages of learning about combi steam cooking, and I'm in there answering your questions, posting videos, tips and cooking inspiration.
And if you're after more delicious combi steam cooking ideas, the Recipe Index page has plenty. A couple of my other favourite 'green dishes' are the Lemon Roasted Broccoli and the Pea and Broad Bean Crostini.