Today I'm going through the 8 best countertop steam ovens in 2022. These are the top convection steam ovens in their class according to buyer ratings and reviews.
The steam ovens discussed here are widely available for purchase and cover many price points. They'll put steam convection cooking at your fingertips if you've been wanting to test out the tender, juicy and golden results for yourself, but don't want the hassle or expense of remodeling your entire kitchen.
This post may include affiliate links. As an Amazon Affiliate I earn from qualifying purchases (don't worry, it doesn't cost you anything!). Find out more about affiliate links.
Jump to different sections of this post:
Differences between countertop and inbuilt steam ovens
Before we go too far, let's cover off the major differences between a countertop steam oven and an inbuilt steam oven.
A countertop oven is a standalone appliance which sits – you guessed it – on your countertop. It's 'plug and play', so you can literally plug it in and get cooking.
Inbuilt convection steam ovens are mostly made by premium appliance brands. They're more like a traditional oven, except with a bunch of features you won't find on any regular oven. They're usually larger and more expensive, and require an electrician to hardwire them into your power supply.
Convection steamer ovens for your counter may be smaller, but some have just as many features as the top end inbuilt brands. Overall, the market varies from small steam toaster ovens all the way through to fully-featured multifunctional appliances.
The Best Countertop Steam Ovens: pros and cons
The steam ovens mentioned below are listed at random. I didn't want to rank them because each one has its place in the market. If you'd like a 'best of' or don't want to read all the details of each appliance, scroll to the end of the post for an overview of my favorites!
Cuisinart CSO 300-N
Cost: around $300
This little stainless steel steam oven has a special place in my heart. It was, for a long time (years, people), literally the only option for a countertop combi steam oven.
The Cuisinart oven has 0.6 cu. Ft. capacity, and 9 single and combination cooking modes. It will run for approximately 2 hours on full steam without a water tank refill, which is outstanding.
Pros
The Cuisinart Convection Steam Oven is comparatively cheap, simple to use and reliable. I bought one and used it intermittently for a couple of years before gifting it to my Mom, who used it daily for a few more years before upgrading to a larger steam combi. The thing still works, though, which is amazing for a sub-$300 oven.
This is not a big oven, in fact you'll struggle to feed more than a couple of people if you want to cook an entire meal in there. But it's brilliant for steaming, baking and small-scale convection steam cooking. And the water tank is sizeable so you won't be constantly refilling it during steaming. Overall a great introduction to steam cooking appliances.
Cons
The one thing this oven lacks in terms of operation is the ability to control the amount of steam in the combination function. It's not a big deal for most foods, though, and not surprising given the price point.
Beware rust issues with this oven if you use it a lot but aren't fastidious about maintenance. There's a little drip tray which sits in the bottom of the oven, over the drain. If you don't take the tray out and wipe out the appliance after use, you'll find it quickly turns into a rusty mess on the floor of the oven.
Sharp Superheated Steam Oven SSC0586DS
Cost: around $350
The Sharp steam oven is very sleek looking. It's also been in production for several years, so I can only assume any production kinks have long ago been worked out. This is more of a traditional toaster oven than some other ovens in this list, except with the addition of steam to keep foods from drying out.
The oven has 0.5 cu. Ft. capacity with 4 inches of usable cooking height and two shelf levels. The single dial control has five cooking modes: toast, broil/grill, bake/reheat, pizza, and warm.
Pros
This oven has solid build quality and looks good. It accommodates a 12 inch pizza and the single dial makes it easy to use. It's great for toast, toasted sandwiches, pizza and focaccia, so if bread products are your thing you'll be set.
Cons
Although it cooks a decent pizza, the Sharp oven is nearly useless for non-pizza-shaped foods. It's wide and flat, and for the footprint it commands it's very limited in capacity. It also has no option to do 'straight' steaming, so you can't steam rice or vegetables in it.
Buy the Sharp Superheated Steam Oven SSC0586DS
Want to bake steam oven treats your family and friends will go crazy for? Get my book,
Steam Oven Baking: 25 sweet and stunning recipes made simple using your combi steam oven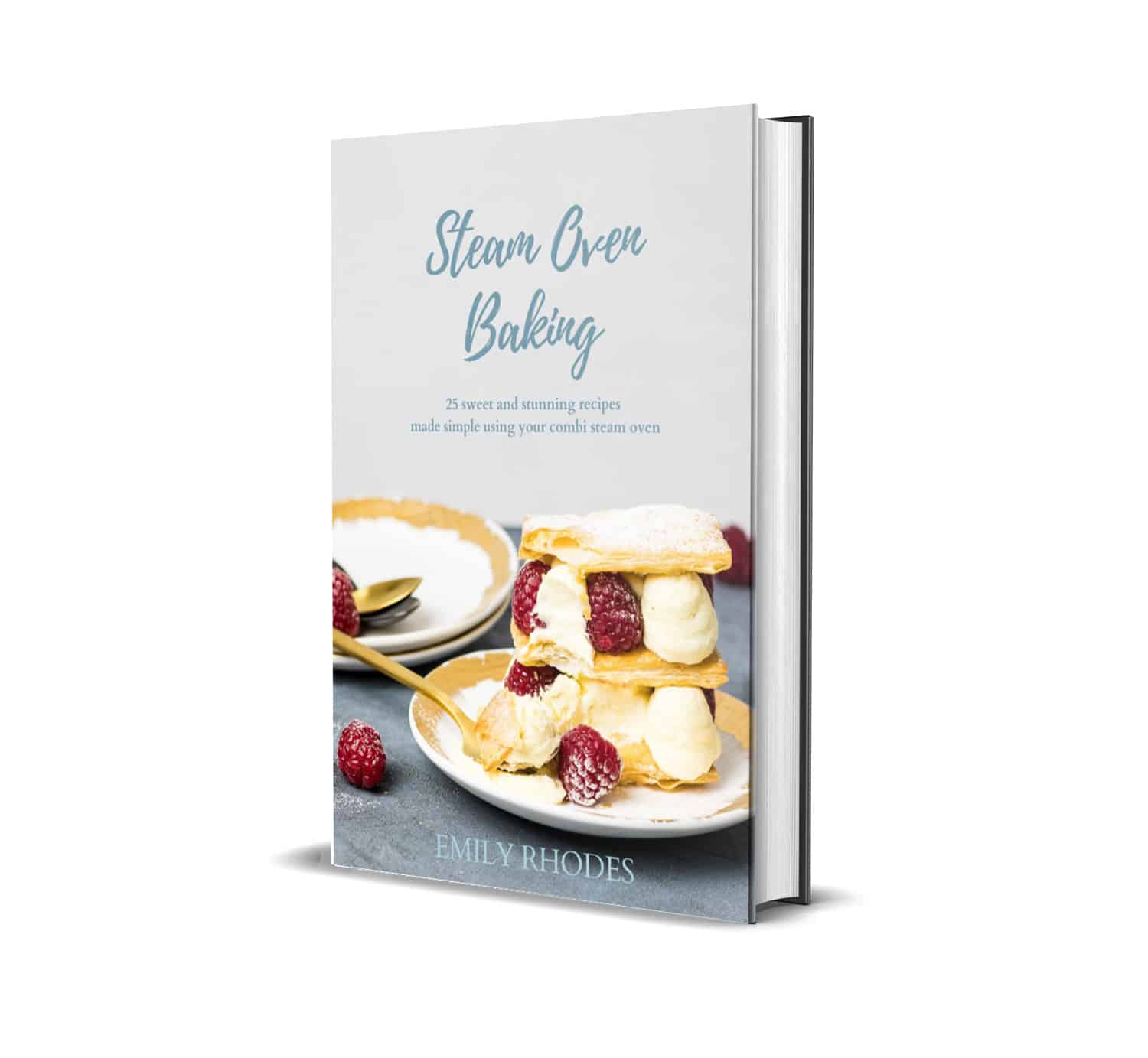 Fotile Chefcubii 4-in-1 Countertop Convection Steam Oven
Cost: around $500
The Fotile Chefcubii is a newcomer to the countertop steam oven category, but not a new brand. In fact, I've seen them referred to as 'the biggest appliance brand you've never heard of'. Based in China, Fotile has been making high end kitchen appliances for more than 20 years. They have more than ten thousand employees and a large research and development program across many categories.
The Chefcubii steam oven obviously benefits from the company's extensive R&D resources and is a high spec oven which bills itself as a multifunctional 4-in-1. It has bake, steam, air fry and dehydrate modes, 40 preset functions and a 1 cu. Ft. capacity.
Unlike the mostly black and stainless steel steam ovens in this list, the Chefcubii has a white casing offset by two minimalist-looking aluminum dials.
Pros
This is a very attractive appliance. The white outer blends well with both modern and traditional decor, and the dials on the front are unobtrusive. It's a great size and will easily accommodate a family meal.
The oven has plenty of cooking options and the 40 preset menu functions make it simple to get started whether you're familiar with combi steam cooking or not. I love that those presets are printed on the inside of the door for a 'cheat sheet' that's always visible.
Cons
As with so many highly featured steam ovens, it can be hard to work out what settings to use if you don't want to stick to the preset menu.
A handful of the negative reviews of this oven mention that the door is crooked and difficult to open. Apart from that the reviews are largely positive.
Buy the Fotile Chefcubii 4-in-1 Countertop Convection Steam Oven
Anova Precision Smart Oven
Cost: about $750
Known for their innovative and, yes, precise sous vide appliances, Anova recently launched their first steam oven with much hype.
In the interests of full disclosure, I worked with Anova during the development and launch of this oven. I own one, but I have not been compensated for including them in today's list (beyond the links you'll find as per all the other items in this article).
The Anova combi steam oven is different to the other ovens we're looking at here. It was developed to compete with professional level combi ovens in a home setting, and it mostly does that very well. Precise temperature and steam control are key features, and the oven has a connected app with hundreds of recipes to get you going. It's got a large water tank that lasts for multiple hours of cooking with steam.
Pros
The Anova oven is extremely flexible in terms of control and can cook almost anything once you know how to drive it.
Sous vide is easy and can be done without a bag; steaming is a breeze, bread is outstanding and meat and fish cook fast and with perfect texture.
With 1.2 cu. Ft. capacity, you can fit just about anything in here that you would in a standard oven. So although it has a sizeable footprint, it really is more comparable to an inbuilt oven than a countertop oven in terms of features and functionality.
Cons
See where I mentioned in the pros paragraph that you can cook almost anything once you know how to drive the Anova? That's the down side for many people. If you already understand the concepts of cooking with steam you'll be fine, but when you're new to it, the Anova oven can be overwhelming.
Some users report problems with app connectivity, and although the oven can be used standalone there are some features which are only available through the app interface.
The Anova is also the most expensive countertop steam oven on the market, so it's not an impulse purchase for most people.
Whynter TSO 488GB 40 Quart Grande Countertop Convection Steam Oven
Cost: about $420
Whynter's steam oven is the largest of the appliances in today's list, in fact the largest countertop steam oven I've seen. It just beats the Anova Precision Oven for capacity, with 1.4 cu. Ft. of space vs Anova's 1.2 cu. Ft. It's got a large (47oz) water tank to match that capacity, so refilling during cooking shouldn't be an issue.
The Whynter oven has 8 cooking modes: ferment, preheat, yogurt, air fry, dehydrate, steam, roast, and bake.
This oven is big, black and has all the controls located on a touchscreen panel above the door.
Pros
Size is the big and obvious pro here. If you want the ability to roast a whole turkey in a countertop steam oven, you'll get it with the Whynter.
The oven has a multitude of functions as preset options, and a DIY mode for when you want to go it alone.
Cons
The Whynter steam oven is notoriously hard to operate and more than a handful of the reviews I found reported poor build quality and customer service. It's got its fans and has mostly positive ratings, but this is overall the least well-reviewed countertop steam oven I've come across.
Buy the Whynter TSO 488GB 40 Quart Grande Countertop Convection Steam Oven
Do you want to use and love your steam oven more?

There are precious few resources to teach us HOW to use a steam oven in everyday cooking. I'm guessing that's why you're here! If you love cooking but aren't making the most of your combi steam oven, you aren't alone.

Steam Oven Insiders was created for you!

Benefit from my decade-plus of steam oven knowledge and training, delivered to your inbox twice monthly in bite sized, easy-to-implement tips and delicious recipes you'll actually want to cook. Insiders get access to every exclusive recipe and article within the members dashboard, so you'll never miss a thing.

Find out more right here
Tovala Smart Oven
Cost: about $300
Tovala ovens were initially promoted as part of the brand's pre-made mail order meal system. While researching this article, though, I see they've done somewhat of a shift in their marketing. While you can still buy the meal subscription along with the Tovala oven, the company now embraces users wanting to cook their own recipes with the appliance. There are 5 cooking modes: steam, bake, broil, reheat and toast.
Tovala boasts a smartphone-controlled app which sets automated cooking cycles that take the guesswork out of your meal. You can choose from their bank of recipes for a guided cooking experience with those automated cycles. Or, scan a Tovala meal or compatible grocery store product directly on the front of the oven and it'll do the rest.
The oven is relatively small, holding two of the brand's little foil-tray dinners at a time. It's definitely akin to a toaster oven rather than a full sized oven.
Pros
Do you love the idea of heat and eat meals but hate how they're always dry or rubbery when heated in a conventional oven? The Tovala oven is perfect for you.
The range of scannable grocery store items is ever-expanding, so you aren't locked into Tovala meals if you want premade dinners.
This oven also doesn't take a lot of counter space, so it's great for apartment kitchens and holiday homes.
Cons
It's pretty obvious that Tovala are going for the time-poor and tech-loving among us. Nothing wrong with that at all, but I'm unsure how flexible the oven is for anyone who wants to do all their own cooking.
Balmuda The Toaster Steam Oven
Cost: about $300
I wasn't sure whether to include the Balmuda oven here. It's not a true steam oven, rather a toaster which uses a little humidity. But it is cult-popular and it does use steam, so here we are.
Balmuda is a Japanese brand and their appliances have a lovely build quality and finish. This little toaster oven is no exception; it comes in several different colors and looks gorgeous in the kitchen.
There are 5 cooking modes; sandwich bread, artisan bread, pizza, pastry and oven. Those modes hopefully give an indication of what the appliance aims for: toast, toast, pizza and the occasional breakfast pastry.
Pros
What it does, it does very well. For crispy, golden toast with a fluffy and chewy interior, the Balmuda is a dream.
The oven is teeny tiny and very nice looking, so it's excellent for smaller and open kitchens. Not steam oven related, but there is a matching kettle which makes for a pretty pair.
Cons
The size is a pro for some but it's also a drawback. It works well for one or two people making toast or warming pizza, but no more than that.
The Balmuda is also only a kind-of-steam-oven. It's a great machine but it's not a good option if you want to cook steam oven meals rather than just making amazing toast.
Buy Balmuda The Toaster Steam Oven
Panasonic HomeChef 7-in-1 Compact Oven
Cost: about $500
7 appliances in 1, you say?! The Panasonic HomeChef is one of those rare everything-in-1 boxes which actually seems to do most of those things well, if the reviews are to be believed.
The oven offers convection bake, steam, steam-convection bake combo, airfry, slow cook, ferment, and sanitize settings. It's got a 0.7 cu. Ft. capacity, which puts it in the mid range of countertop steam ovens for size.
The water tank for this oven will run steam for up to an hour, and there are 18 auto cook menu options.
Pros
This really is the middle-of-the-road option in terms of price and size, but its features and build quality are great. It's possibly the best countertop steam oven to get if you want most of the bells and whistles but can't afford to lose a ton of counter space.
Panasonic is a global brand so you should get global brand service and support with this oven, too.
Cons
The Panasonic is ugly. There's no nice way to say it. Boxy and boring, it might work well but it leaves something to be desired in its aesthetic design.
Buy the Panasonic HomeChef 7-in-1 Compact Oven
So which are the best countertop steam ovens of them all?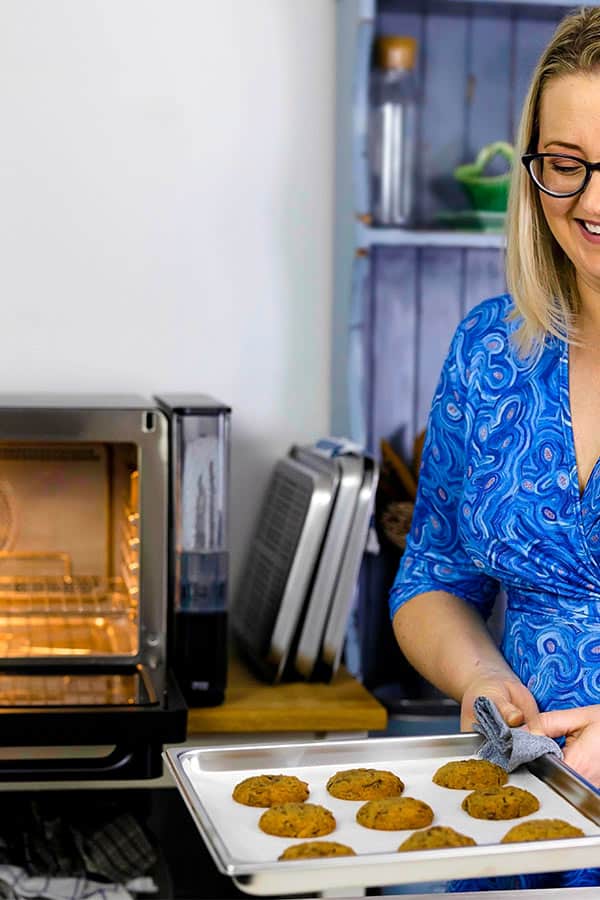 Like I said up top, I don't like the idea of ranking the best countertop steam ovens because everyone has different needs from their oven. However, there are a few standouts.
Best countertop steam ovens: combination of price and features
It's a tough call to pick one overall winner under this banner, but I think the Panasonic HomeChef just beats out the Fotile Chefcubii here.
The HomeChef oven, although it has limited control when it comes the steam functions, looks to cook a great number of things very well. And it's simpler to operate than the Fotile.
Best countertop steam oven for serious cooks
The Anova Precision Oven is the clear winner here. It may be the most expensive steam oven on the list, but it backs up the price with stellar functionality and flexibility. The level of control you can apply in terms of settings, steam percentages and temperatures is unlike anything else on the market.
Best countertop steam oven for ease of operation
The little, relatively inexpensive Cuisinart convection steam oven wins hands down for ease of operation. There are really only a few options available and they can all be easily set with the dial and buttons on the front of the appliance. No apps, no fuss, what you see is what you get.
Best looking countertop steam oven
I don't choose my kitchen appliances solely on appearance, but if I were going to, Balmuda The Toaster Oven and Fotile Chefcubii are by far the most attractive of the bunch.
I hope this article has been helpful! If you enjoyed it, please leave a comment below and share with your friends. Sharing