Easy parmesan garlic bread is one of those things you can't just make once. Salty and cheesy, fragrant with fresh garlic and impossibly light and fluffy, it's going to bestow you with a kind of rock-star status among those you serve it to.
How do I know this? Because it's happened to me.
I first made a version of this cheesy parmesan garlic bread a few months ago. It was on a whim, just before we hosted impromptu Friday afternoon drinks.
We ate the twisty, cheesy bread warm from the oven. It was great, in the way that fresh, warm bread almost always is.
And then, the next week at school, one of the parents asked when I'd be making 'that bread' again. And could they come over when I did, because they'd been having dreams about it.
And that was it. I think we're on our fifth loaf in a couple of months now, and the requests have not slowed down.
This post may include affiliate links. As an Amazon Affiliate I earn from qualifying purchases (don't worry, it doesn't cost you anything!). Find out more about affiliate links.
Tips for the best parmesan garlic bread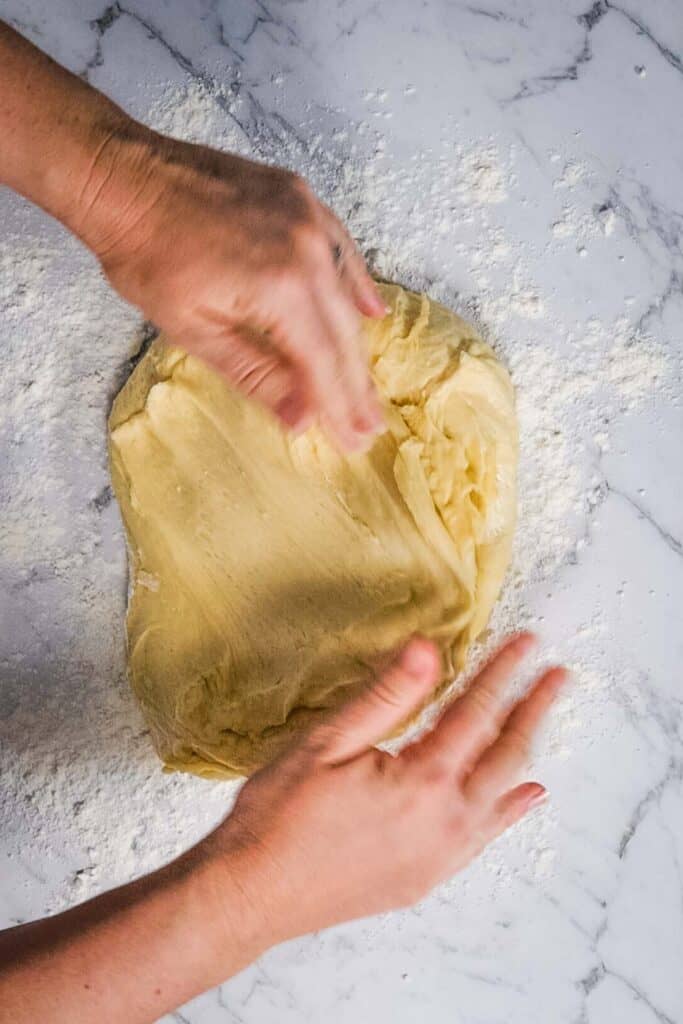 Working with yeast dough
If you're unfamiliar with yeast doughs, the best tip I can give you for this garlic cheese bread is just to try it. So long as your yeast is within the use-by date and is active (alive), the rest is simply a follow-the-steps affair.
If you have one, a steam oven makes proofing and baking your garlic bread just about foolproof.
Brioche bread dough tips
At the heart of this cheesy garlic bread is an enriched brioche-style dough, with butter and eggs added to the mixture. Neither is strictly necessary but they make for a soft, tender loaf and a fine crumb.
Enriched dough is one of my favorite kinds to work with. It's very soft, which alarms some people. But it's also quite forgiving. When you mix this bread, the dough might be sticky and not pull away from the sides of your mixing bowl. Don't worry, it's meant to be like that. As it proofs it becomes easier to work with; silky and stretchy.
Cheese in your parmesan garlic bread
This may be contentious given this recipe is for parmesan garlic bread, but I highly recommend some mozzarella in your garlic bread. It's not so much for flavor as it is for texture; the mild but stretchy cheese adds another layer of goodness to a loaf that's already fabulous.
Shaping your cheesy garlic bread twist
When you're shaping and filling the garlic bread, if it becomes too sticky to work with, pop it in the fridge for 15 minutes to firm up. It will become easier to roll, cut and shape.
Don't worry if things start to look messy during the shaping of this bread! You're aiming for a twisted, layered, uneven loaf. Even if it doesn't seem like it'll ever look good, it'll come together in the baking stage. And if you can't get it to twist, just scrunch all the dough into a rustic form and let it be. There's something to be said for letting the dough do its own thing and not a single person who eats it will be judging appearances.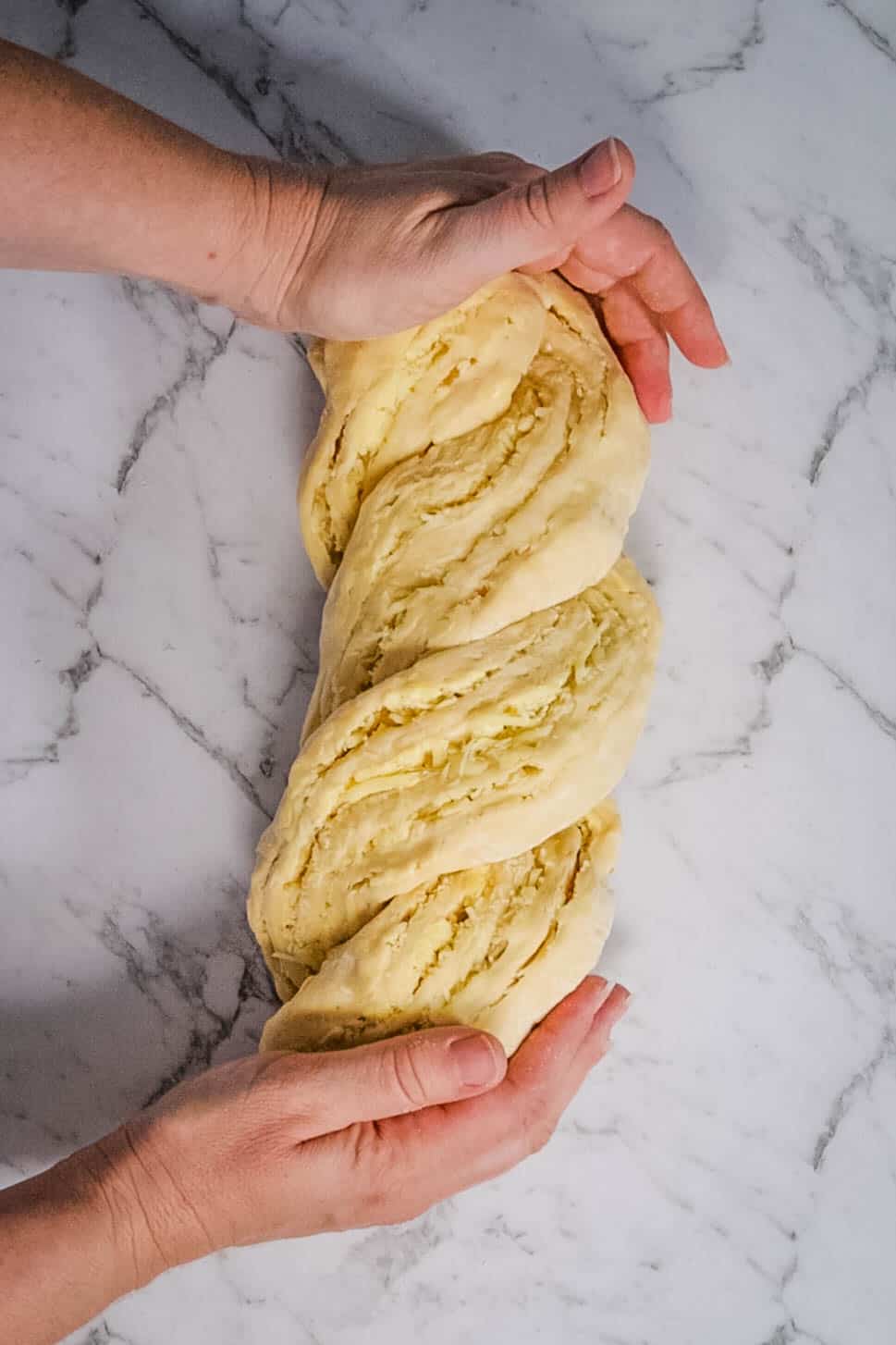 Parmesan garlic bread step by step
Let's bake cheesy garlic bread!
As always, the full recipe and method are in the recipe card below; this is the pictorial walk-through.
Mix the dough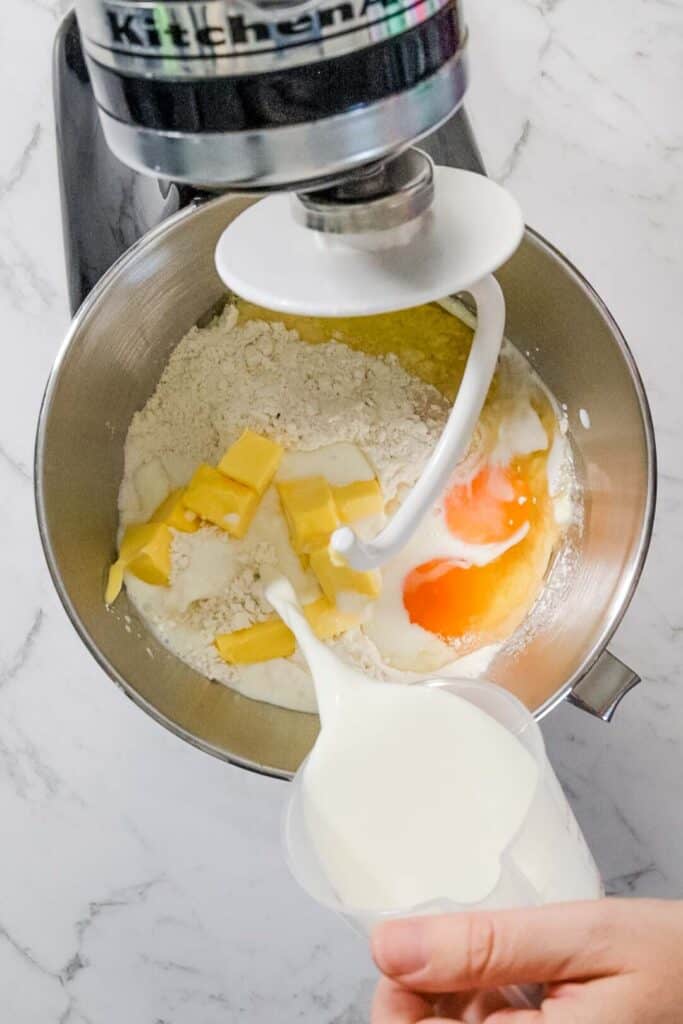 First up, all your dough ingredients go into the bowl of a stand mixer. You can mix by hand but I would not recommend it. This is a dough which needs thorough and lengthy kneading; a machine will make your life so much easier.
Some enriched dough recipes call for mixing the flour, milk and yeast together separately, then mixing in the eggs and butter. It allows the dough to incorporate those extra ingredients more thoroughly and become extra silky. Here's the thing about that: I want you to make this recipe and not be daunted by it. Mixing everything at once is simpler and not noticeably different in the finished product, so we're short-cutting it.
First proof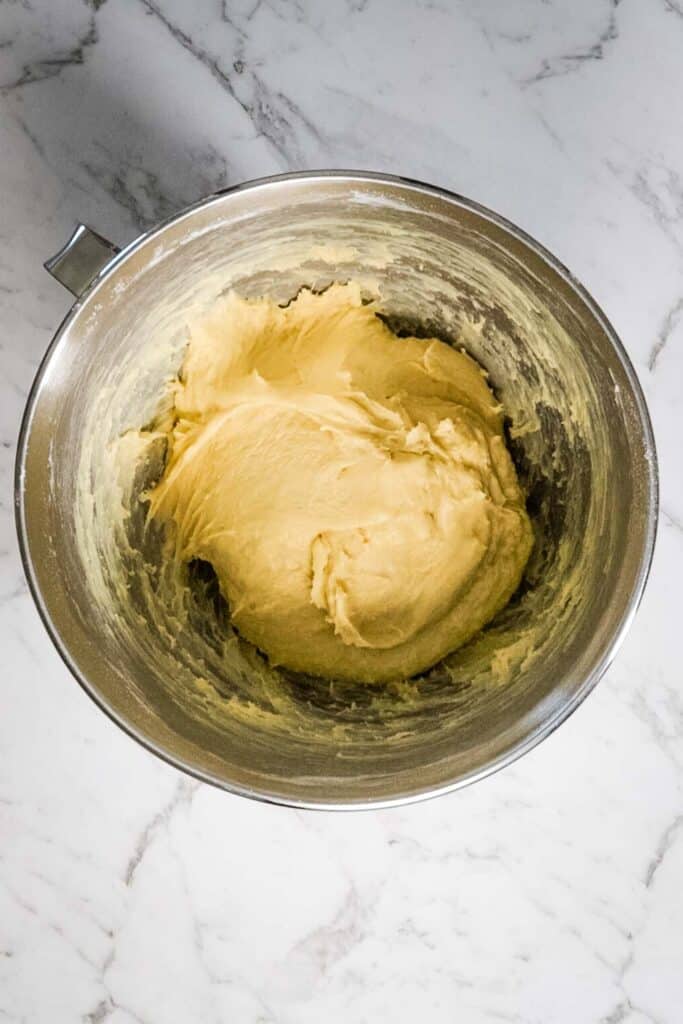 Once the dough is a soft, elastic and smooth mass, it's ready to proof. Put the bowl (uncovered) into your steam oven to do its thing.
No steam oven? Cover the dough with a damp cloth and put it in a warm spot to double in size. When I was a kid my Mum used to proof all her bread dough in the car, because it sat in the sun and was the perfect temperature for yeast to grow!
Fill and roll
While the dough is proofing, mix the butter and garlic for the filling and set it aside. If your parmesan and mozzarella cheeses aren't pre-grated, do that now as well.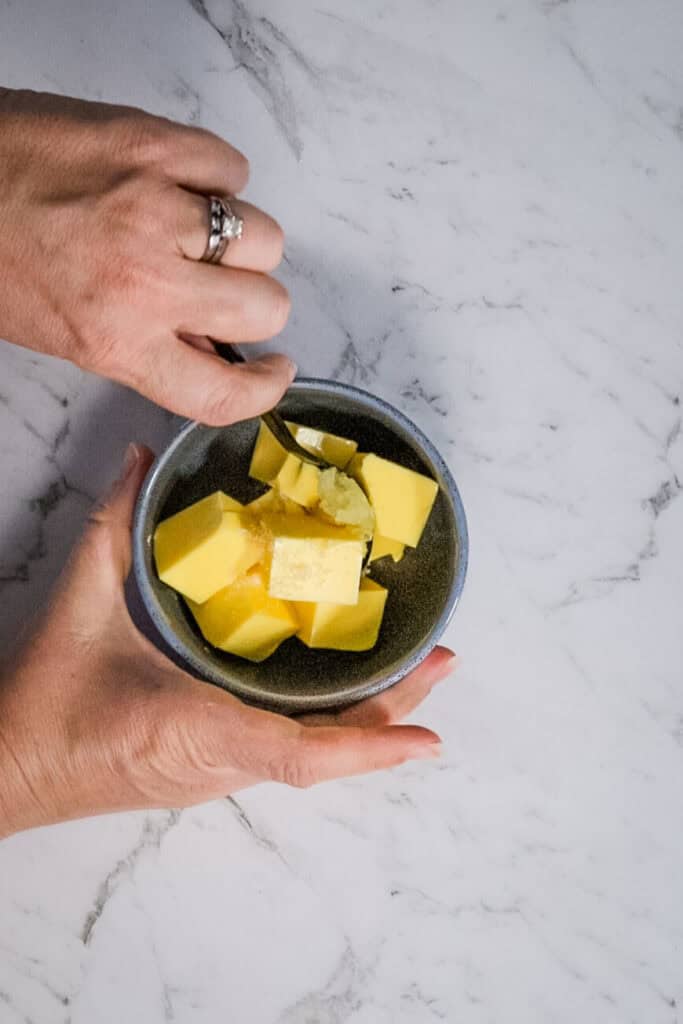 When that dough is puffy and airy, turn it out and gently press or roll it out into a rectangle. Smear the garlic butter all over and scatter with cheese, then roll it all up into a fragrant, cheesy, squishy log.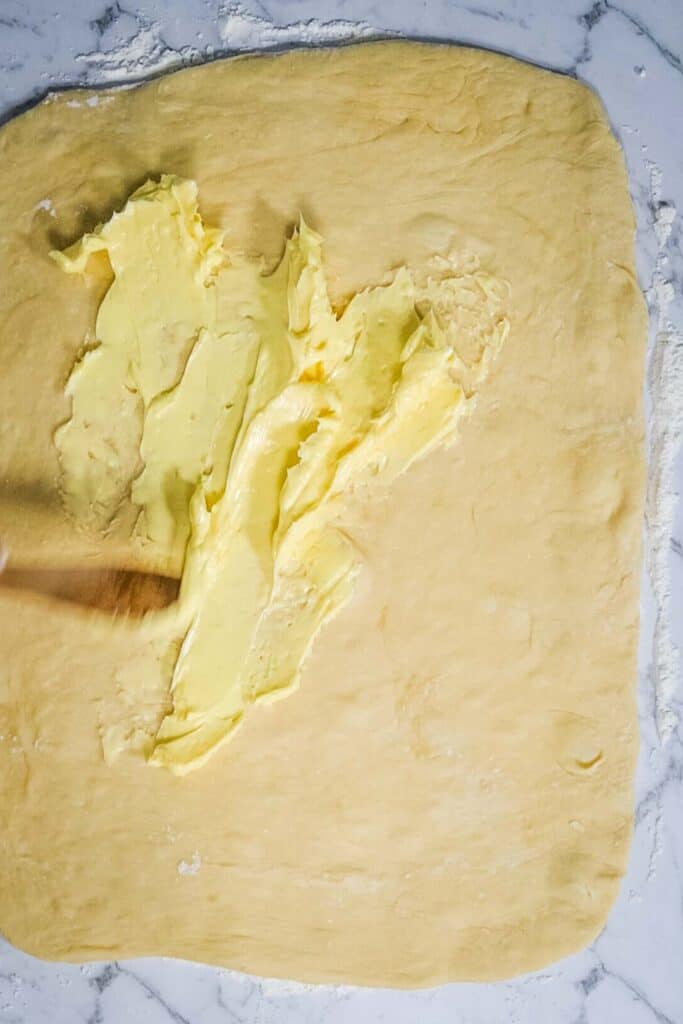 Cut and shape your parmesan garlic bread
If you enjoy the idea of wrestling with an octopus, you can cut and twist the dough immediately. My preference is to freeze the log for about a half hour so it's easy to handle.
Slice straight down the middle, then lay the two pieces, cut sides up, next to each other on a parchment-lined baking sheet. Twist together by overlapping and crossing the pieces. What we're actually making here is a kind of rustic-looking, freeform cheesy babka.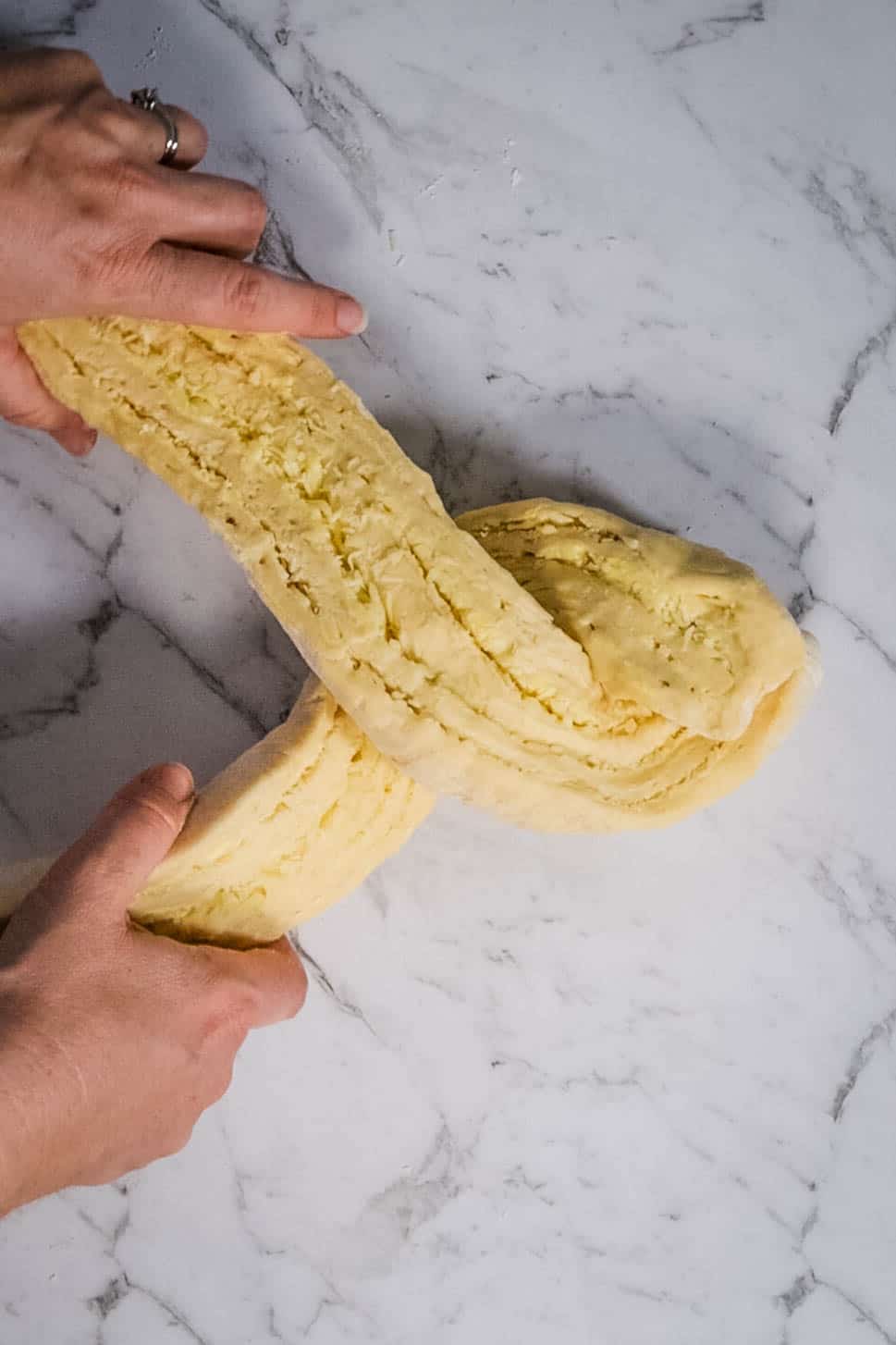 Try to leave the cut sides exposed and facing upwards, but don't worry too much. Cheese will probably fall out; let it, then collect up all the bits and pop them back on top once you're done. Tuck in the ends of the loaf and gently prod the dough into a vaguely rectangular shape.
Second proof
Time to let the garlicky loaf rise again, either in your steam oven or a warm spot in your house.
Do you want to use and love your steam oven more?

There are precious few resources to teach us HOW to use a steam oven in everyday cooking. I'm guessing that's why you're here! If you love cooking but aren't making the most of your combi steam oven, you aren't alone.

Steam Oven Insiders was created for you!

Benefit from my decade-plus of steam oven knowledge and training, delivered to your inbox twice monthly in bite sized, easy-to-implement tips and delicious recipes you'll actually want to cook. Insiders get access to every exclusive recipe and article within the members dashboard, so you'll never miss a thing.

Find out more right here
Bake
If you've proofed the parmesan garlic bread in your steam oven, leave it in there and switch the settings to bake your bread. If not, let the oven come to temperature and then put the baking sheet in.
Bake the garlic bread until it's golden and your house smells like a pizzeria. Remove from the oven and let it cool for as long as you can stand it before cutting into fat slices to serve.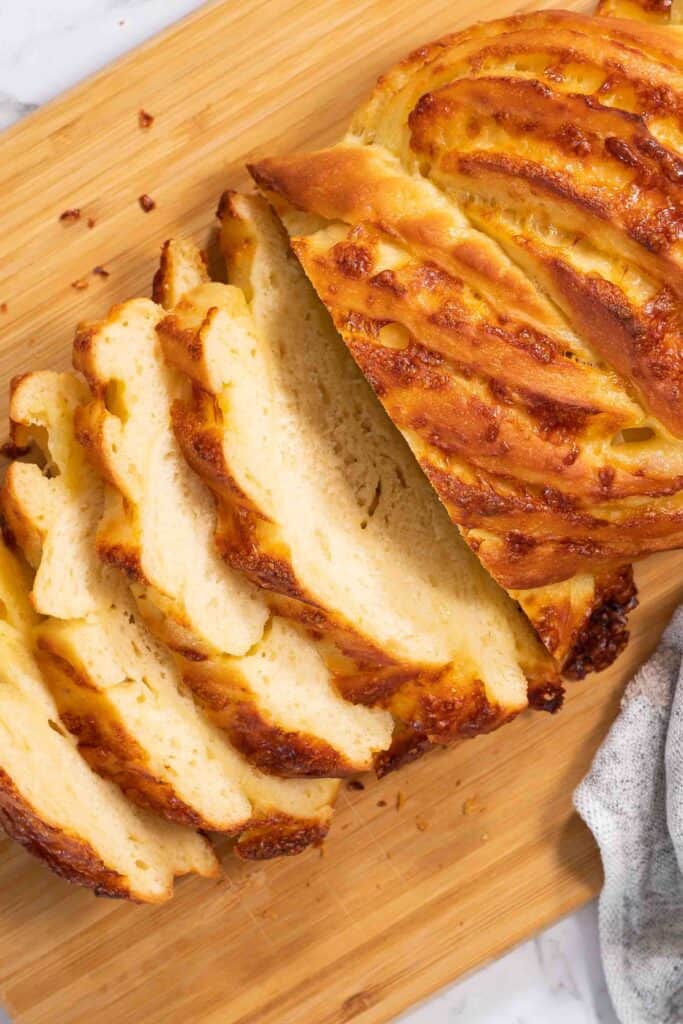 I hope you feel smug and self-satisfied with your efforts; you should! And don't say I didn't warn you about everyone wanting more; your bread will disappear quick smart and you'll be asked to make another loaf in short order.
Happy cooking, see you here again soon.
Have you made and enjoyed this recipe? I'd love if you'd be kind enough to rate and review it via the stars in the recipe card, or leave a comment below! Ratings and reviews help other readers to find and know whether one of my recipes will suit them.
Print Recipe
Parmesan Garlic Bread Twist
My easy parmesan garlic bread is cheesy, fluffy and savory. It's a perfect appetizer and everyone will think you're a pro baker when it comes to the table!
Ingredients
For the filling:
4

oz

unsalted butter

very soft (1 stick)

½

tsp

fine salt

3

cloves

garlic

minced

1

cup

grated parmesan cheese

100g

⅔

cup

grated mozzarella cheese

70g
Instructions
Line a baking sheet with parchment paper and set aside.
Make dough
Put the ingredients for the dough into the bowl of a stand mixer fitted with the dough hook attachment. Mix on low speed to combine everything for 2 minutes, then increase the speed to medium and mix until smooth and glossy, about 6 minutes. The dough will be very soft, so don't worry if it doesn't pull away from the sides of the bowl easily.

1 cup whole milk,

1 tsp granulated sugar,

2 tsp instant yeast,

2 eggs,

6 Tbsp unsalted butter,

4 cups all-purpose flour,

1 tsp fine salt
First proof
Set your oven to dough proving setting (or steam-only setting, if you don't have dough proving), 100ºF (38ºC). Put the uncovered bowl in the oven for 40 minutes, after which the dough should have doubled in size.
Make filling
While the dough proves, mix the butter, salt and garlic for the filling in a bowl. Set aside. If your cheese isn't pre-grated, prepare that now as well.

4 oz unsalted butter,

½ tsp fine salt,

3 cloves garlic
Assemble the loaf
When the dough has finished the first proof, scrape it out of the bowl onto a floured bench. Gently press to knock out any large air bubbles, then roll it into a rectangle about 16 inches (40cm) wide and 12 inches (30cm) long. Using an offset spatula, very gently spread the garlic butter over the dough, squashing it out so there's a thin, even layer. Sprinkle with the parmesan and mozzarella cheeses, leaving a 1 inch edge on one of the long sides.

1 cup grated parmesan cheese,

⅔ cup grated mozzarella cheese

Roll the dough up tightly from the long side, so you have a 16 inch (40cm) long spiral. Transfer the entire log to the freezer for 30-45 minutes to make the next step easier.

When the dough has chilled, slice it lengthwise down the middle so you have two long pieces with the layers of garlic butter and cheese showing. Gently twist the pieces together, trying to keep the layered parts visible at the top of the twist. You're trying to make a tight, neat twist but don't worry too much about how it looks. It'll spread and puff and turn into something beautiful and rustic looking in the oven, no matter how messy it looks to begin with. Transfer the twisted loaf gently onto the parchment lined baking sheet.

Proof the bread: if you want to hold off baking for up to 12 hours, cover with a plastic bag or cling wrap and pop it in the fridge. Otherwise, set the oven to dough proving setting (or steam only setting) again, 38ºC/100ºF. Put the uncovered baking sheet in the oven for 30 minutes. The loaf should look puffy and roughly double the size it was previously.

Bake: if you've proofed your bread in the oven, you can leave it in there while it heats up. If you did the fridge proofing method, remove it about an hour before you'd like to bake so the loaf can come up to room temperature. Set oven to 350ºF (180ºC), combination steam setting. If you have variable steam settings, use 30% (if you can't vary your steam, just set to combination steam at the correct temp and let the oven take care of the humidity). Bake the bread until it's golden brown and risen, about 35 minutes. Remove from the oven and allow to cool for at least 20 minutes before serving. Serve, cut into thick slices, warm or at room temperature.
Notes
This makes one very large loaf. If you prefer, split the dough into two after the first proof and proceed with the recipe, forming two smaller loaves/twists.
The dough can be frozen after it's been formed and twisted. You can keep it, frozen and uncooked, for about a week, thawing overnight in the fridge and proceeding with the final proof and bake steps when you're ready. 
Nutrition
Calories:
355
kcal
|
Carbohydrates:
35
g
|
Protein:
11
g
|
Fat:
19
g
|
Saturated Fat:
11
g
|
Polyunsaturated Fat:
1
g
|
Monounsaturated Fat:
5
g
|
Trans Fat:
1
g
|
Cholesterol:
77
mg
|
Sodium:
497
mg
|
Potassium:
131
mg
|
Fiber:
2
g
|
Sugar:
2
g
|
Vitamin A:
598
IU
|
Vitamin C:
0.2
mg
|
Calcium:
147
mg
|
Iron:
2
mg