My traditional shortbread recipe relies on just a handful of ingredients, and I bet you have most (if not all) of them in your kitchen right now!
Classic shortbread cookies are something I bake every single year around Christmas, although they're great at any time of year. On paper they sound kind of boring, containing just butter, sugar and flour, but they are always one of the first things to disappear when I gift my annual cookie boxes. In fact, I have a couple of friends who request only shortbread and my puff pastry cheese straws as gifts, saying they'd forgo just about anything else to get their hands on those two items!
Crumbly, sandy textured and just sweet enough, shortbread is perfect with a cup of coffee or tea, and equally at home with an after-dinner drink (like, say, its country companion Scottish whisky).
One of the things I like best about a traditional shortbread recipe is how adaptable it is. You can keep things simple and turn the dough into a slab which gets cut into bars. Or cut out festive shapes or classic petticoat tail wedges. Dock the shortbread with fork holes or use your favorite cookie stamps to make pretty patterns. It's totally up to you and your imagination.
Do you need more fabulous homemade Christmas gift ideas? Try these popular recipes:
Ingredients for a traditional shortbread recipe
At its core, you really could make shortbread with just three ingredients: salted butter, wheat flour and sugar. If that's all you've got to hand, you'll be very happy with your efforts. Remember this, though, and repeat after me: real butter only!
Because a traditional shortbread recipe is so simple, it relies very much on the quality of your butter. That means no spreadable blends, just real, decent quality butter. If you can, also steer clear of the supermarket branded cheaper butters. It's often cheaper because the water content is higher than in a better quality butter. As that water cooks off in the oven, your cookies will be more prone to not holding their shape.
The shortbread I make, and the recipe I'm sharing below, goes a little further than the above with *gasp* five ingredients. I'll explain why it's worth your while:
First, I prefer unsalted butter plus salt, which allows me to control the exact amount of salt in the cookies.
While I use mostly all-purpose/plain wheat flour, I sub out a little of it for finely ground rice flour. This is something I picked up from a Scottish baker, who told me it gives traditional Scottish shortbread its characteristic sandy crumb, and a little more texture. I love it and I think you will too.
Finally, I far prefer superfine/caster sugar over regular granulated sugar. It dissolves into the dough much more easily. Those little tweaks combined make for a truly luxurious and perfectly balanced buttery cookie.
A few notes on ingredients:
Only have wheat flour and can't face yet another run to the supermarket? Don't worry, just use the wheat and forget the rice flour. The texture will be more like that of a crumbly sugar cookie.
If you want to try something different, sub the rice flour for cornstarch. This gives the shortbread a very fine, melting texture.
Superfine sugar is not hard to get, or particularly expensive, here, so I use it for pretty much all my baking. If it's less available in your part of the world, you can easily make your own by pulsing granulated sugar in a food processor for short bursts, until it's fine but not powdered.
If you do want to change things up with flavors, shortbread is great with vanilla or citrus zest mixed into the dough.
Tips to make the best shortbread cookies
I've made a lot of shortbread cookies in my time, in all kinds of shapes and all kinds of ovens. Here are my tips for making yours the best they can be:
As I said above, real butter. Preferably unsalted.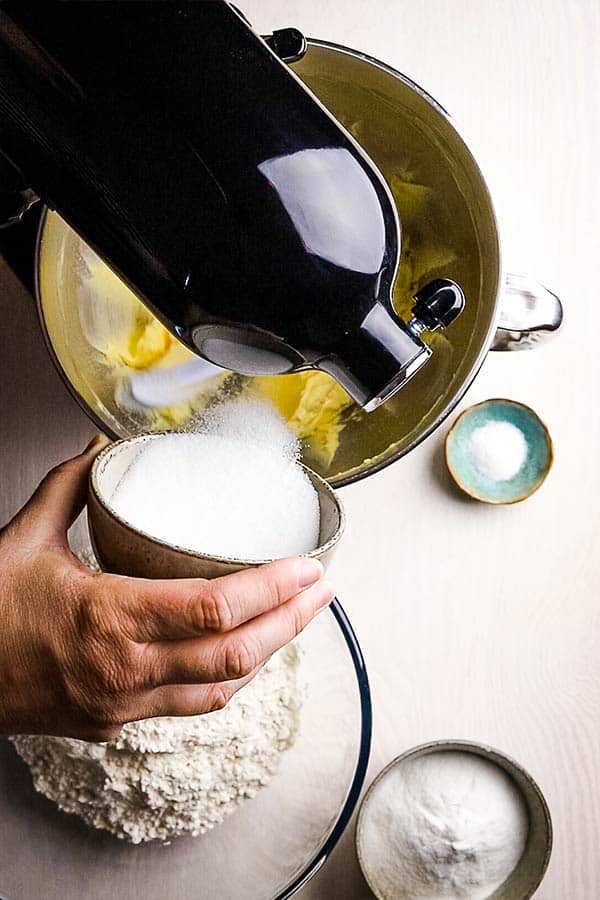 You can make this recipe without a mixer but it's going to involve a lot of heavy beating and I really recommend either electric beaters or a stand mixer, at least to cream the butter and sugar.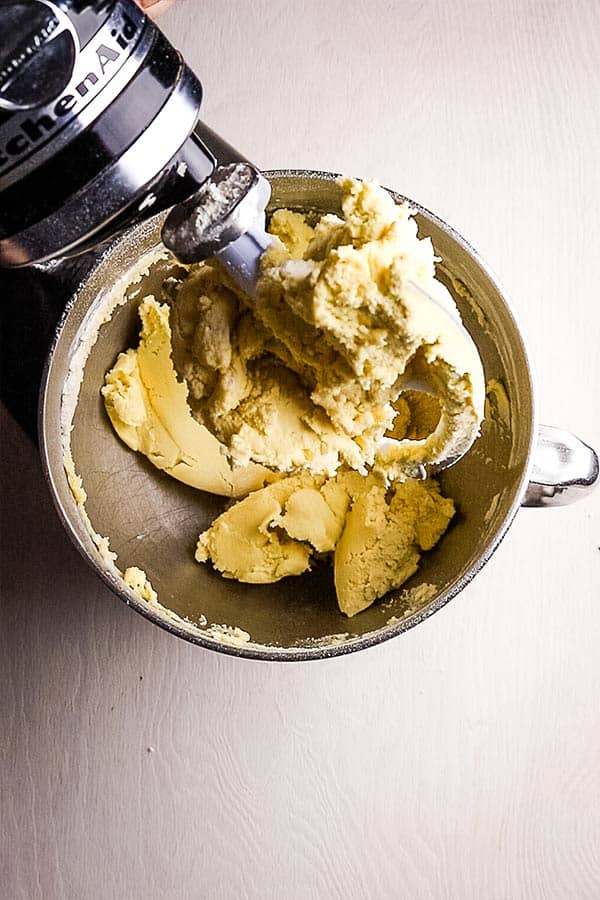 Mix the butter and sugar until it's creamy and pale but not too light and fluffy. The best shortbread is not too light and snappy, it's got some heft. If you go overboard on the mixing it won't have its characteristic density and bite.
Stop your mixer as soon as the dough comes together in a mass. You'll see mine still has some crumbly bits as I've turned it out of the mixer. I finish mixing and kneading a little by hand, so I can feel the moment where it all comes together in one smooth ball. If you overmix it'll give you tough cookies instead of sandy ones.
You can press your dough into a pan and score it into simple bars for ease and speed, if you like. Or do as I have and form some into classic 'petticoat tails' by making a flat disc cut into wedges. I also love using decorative cookie stamps and embossed rolling pins for shortbread. I recently bought these beautiful Nordic Ware stamps, they make a gorgeous keepsake gift for any baker. 😉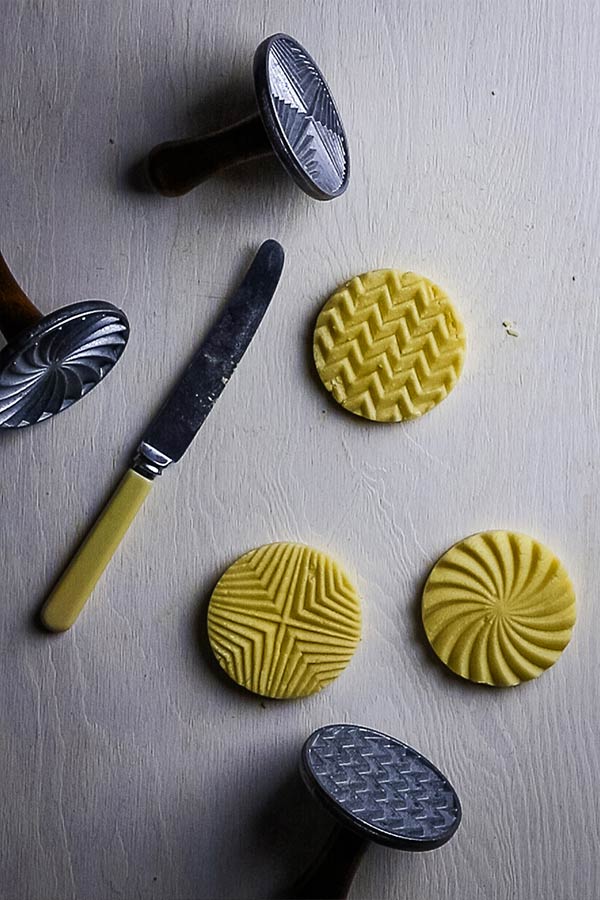 If you want to make cut out shapes, roll your dough between two layers of parchment paper to the desired thickness. Peel off the top layer or parchment and cut your shapes. Chill the dough sheet in the fridge for 10-15 minutes to get really clean cuts if you're having trouble with it being too soft.
Whichever shapes you choose, they'll be much improved by being chilled prior to baking. I give my shortbread about half an hour in the freezer (just pop the whole baking tray into the freezer after making your cookies). It then goes straight into the oven, where the dough cooks much more cleanly. This is especially important if you're using stamps or intricate cut out shapes.
You want a relatively cool, dry oven (no steam here, for my steam oven people – I do occasionally bake something without it, ha!). The idea is to dry out and set the shortbread but not give it too much color. That said, I find the flavor is much, much better if you let your shortbread take on just the slightest hint of golden brown color in the oven. It's not strictly the 'right' way, but in this case I'm happy to break the rules.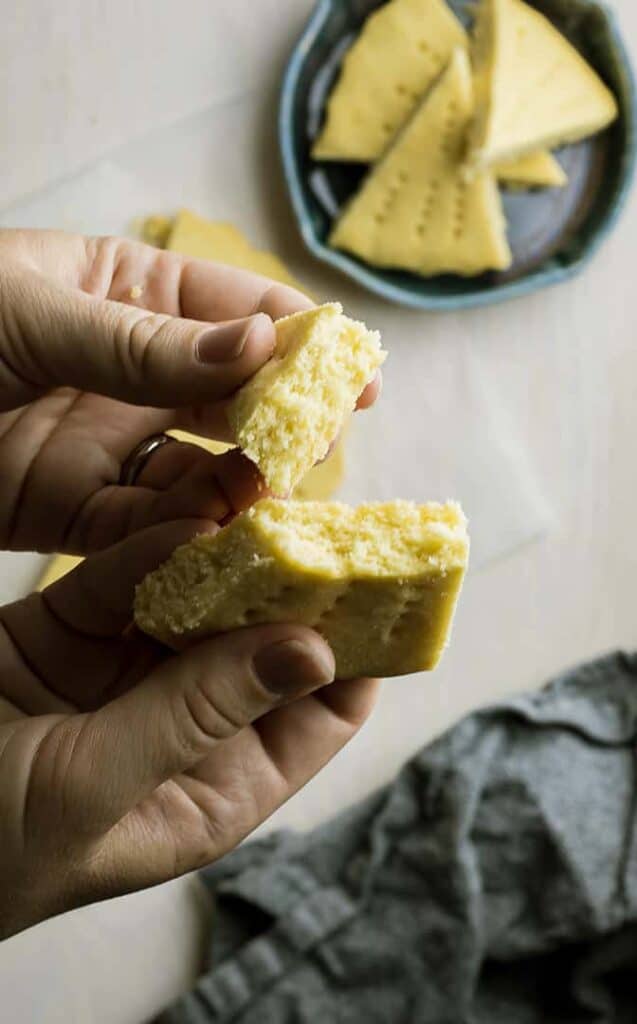 There you have it! With those tips you'll be able to go forth and bake your best shortbread ever. I'd love to know how you go! Leave a comment below or share your pictures in the Combi Steam Cooking with Steam & Bake group on Facebook!
Happy cooking and Merry Christmas, all. See you here again soon.
Do you want to use and love your steam oven more?

There are precious few resources to teach us HOW to use a steam oven in everyday cooking. I'm guessing that's why you're here! If you love cooking but aren't making the most of your combi steam oven, you aren't alone.

Steam Oven Insiders was created for you!

Benefit from my decade-plus of steam oven knowledge and training, delivered to your inbox twice monthly in bite sized, easy-to-implement tips and delicious recipes you'll actually want to cook. Insiders get access to every exclusive recipe and article within the members dashboard, so you'll never miss a thing.

Find out more right here
Print Recipe
Traditional Shortbread Recipe
My traditional shortbread recipe relies on just a handful of ingredients to make a sandy, buttery, perfectly textured cookie every time.
Instructions
Preheat oven to 300°F/150°C, conventional setting (no steam!). Line a couple of cookie sheets or baking trays with parchment and set aside.

Put the butter, sugar and salt into the bowl of a stand mixer fitted with the paddle attachment and beat on medium speed until light and creamy looking. The time this takes will vary depending on how soft your butter is to begin with, and how strong your mixer is.

1 cup unsalted butter,

1/2 cup superfine sugar,

½ teaspoon fine salt

While the butter and sugar are creaming, put the all-purpose/plain flour and the rice flour into a bowl and stir to combine.

1 3/4 cups all-purpose flour,

1/2 cup fine rice flour

Add the flour mixture to the butter mixture in 2-3 batches, mixing on low speed just to combine each time. When all the flour has been added and the dough just comes together, turn it onto a lightly floured surface and knead lightly until it's smooth. Don't go overboard, you just want a cohesive mass that's all the same color and consistency.

1 3/4 cups all-purpose flour,

1/2 cup fine rice flour

If you want traditional shortbread wedges, divide the dough into two portions and form each into a disc about ⅜"/1cm high and 7"/18cm in diameter. Put the discs onto the lined trays and score each one into 8 wedges with a sharp knife. Use a fork to prick holes all over each disc.

If you'd like cut-out cookies or stamped cookies, roll portions of dough out between two sheets of parchment paper to your desired thickness. Remove the top sheet of parchment and either cut out or stamp cookies. Place on lined trays, leaving ½"/1½ cm between each cookie.

Bake the shortbread until dry, firm to the touch and just beginning to color at the edges. Discs will take 30-40 minutes and smaller cookies will take anywhere from 15-25 minutes, depending on their size.

Cool the shortbread on the baking trays for 5 minutes, then transfer to a cooling rack. When completely cool, store in an airtight container.
Notes
The number of shortbread cookies this recipe makes will vary depending on the sizes you create.
Shortbread will keep for a couple of weeks sealed at room temperature, or can be frozen for up to 6 months if well wrapped.
Nutrition
Calories:
129
kcal
|
Carbohydrates:
14
g
|
Protein:
1
g
|
Fat:
8
g
|
Saturated Fat:
5
g
|
Polyunsaturated Fat:
1
g
|
Monounsaturated Fat:
2
g
|
Trans Fat:
1
g
|
Cholesterol:
20
mg
|
Sodium:
50
mg
|
Potassium:
15
mg
|
Fiber:
1
g
|
Sugar:
4
g
|
Vitamin A:
236
IU
|
Calcium:
4
mg
|
Iron:
1
mg