A puff pastry cheese straws recipe is the kind of thing you never knew you always needed. The appearance of their warm, salty, cheesy goodness, fresh from the oven, will save you when last minute visitors come by for drinks.
Deceptively simple, these cheese straws can be pulled together from just two staple products: puff pastry and cheese.
You can use whatever hard cheese you like, so they're a brilliant way to use up odds and ends from the fridge.
Puff pastry cheese twists bake up perfectly in your steam oven (or a regular oven!), becoming incredibly flaky with layer upon layer of cheesy goodness. Serve them as part of a larger antipasto spread with meats, dips and vegetables, or bake a large batch and serve piled high as a solo appetizer.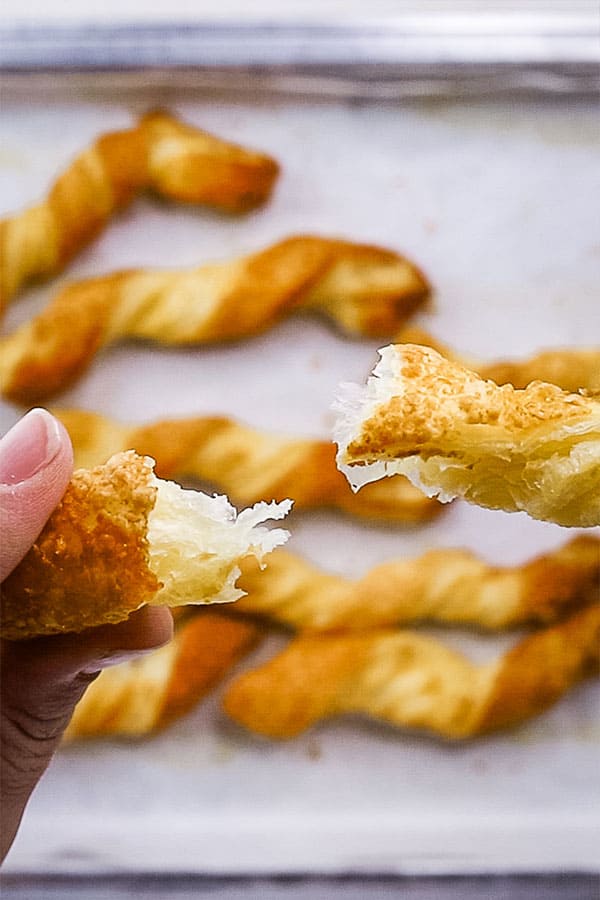 This post may include affiliate links. As an Amazon Affiliate I earn from qualifying purchases (don't worry, it doesn't cost you anything!). Find out more about affiliate links.
The best cheese to use for cheese straws
You can use any kind of cheese you want to make cheese straws so long as it's firm enough to grate finely.
I like to use a combination of two or three types of cheese just for interest's sake. Choose one that's a little firmer and deeply flavoursome, something like parmesan or aged cheddar, and another that's more nutty and melty.
In the pictures here I've used gruyere and parmesan cheeses. If you'd like to make it a trio of cheeses that's fine; just use the same volume in total as given in the recipe.
Are you enjoying this post? Want more steam oven appetizer ideas? Try these!
How to make puff pastry cheese straws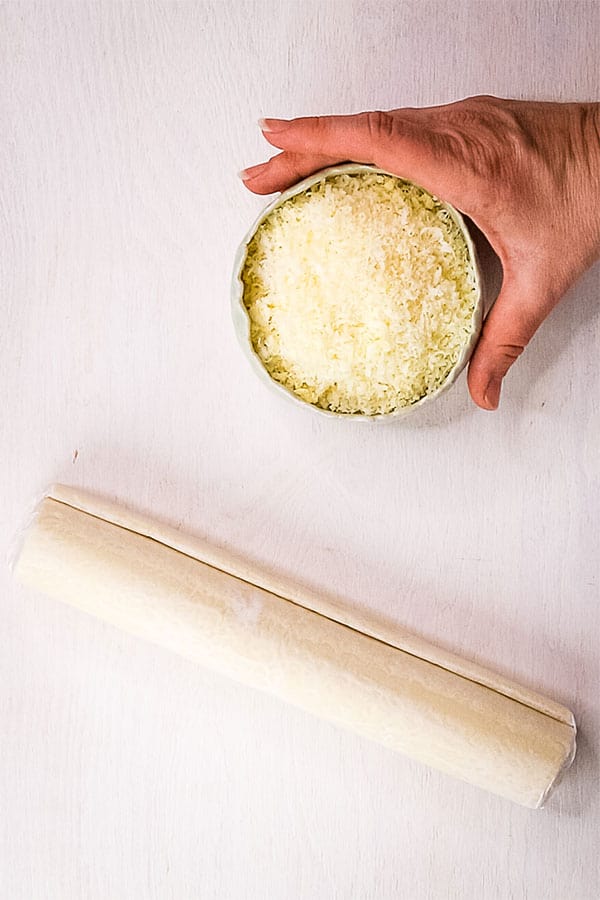 These really are so simple to make. Preheat your oven, then take a sheet or block of puff pastry and your preferred cheeses. Try to use a good quality all-butter puff rather than one with vegetable oil, as you'll taste the difference.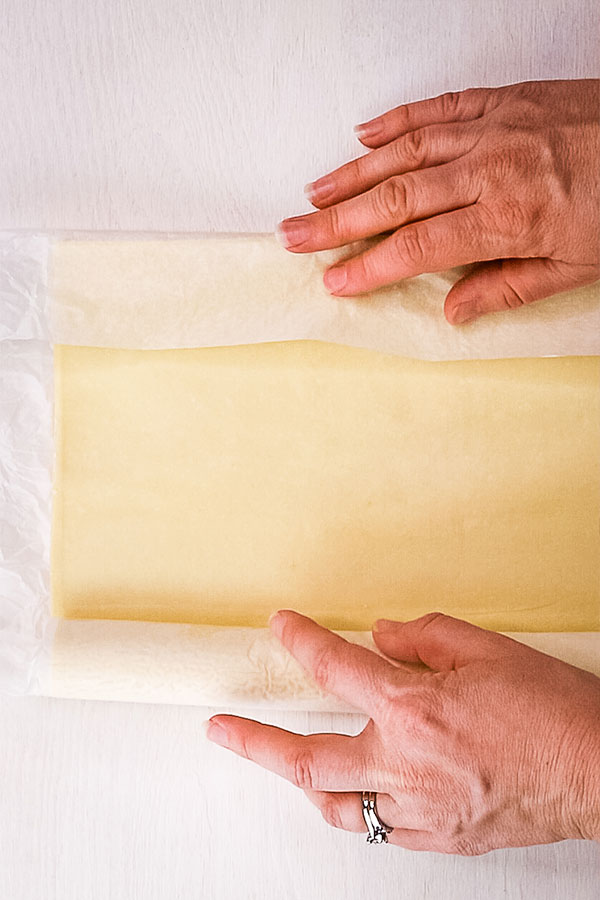 The pastry gets 'cheesed' on both sides by sprinkling cheese underneath and then on top of the sheet, and rolling to press it in.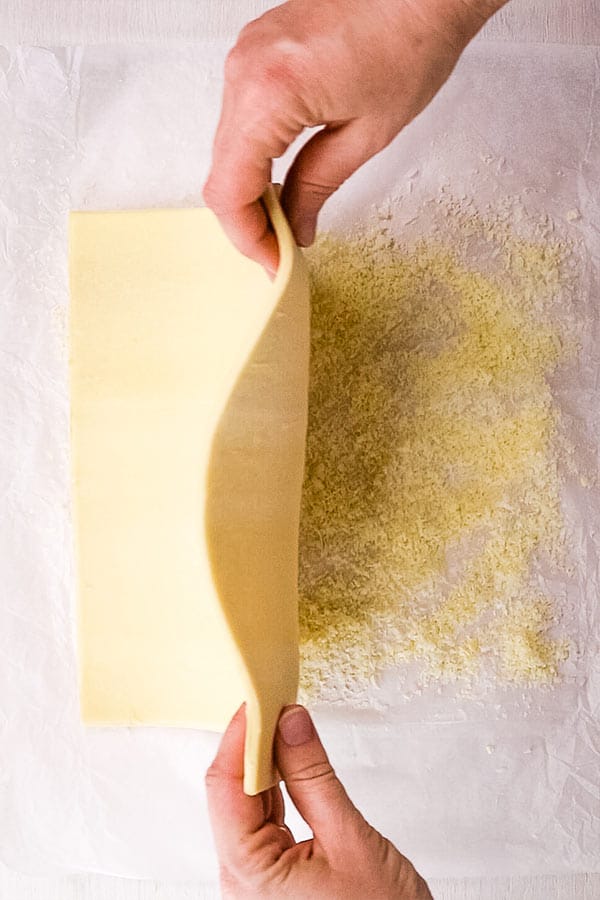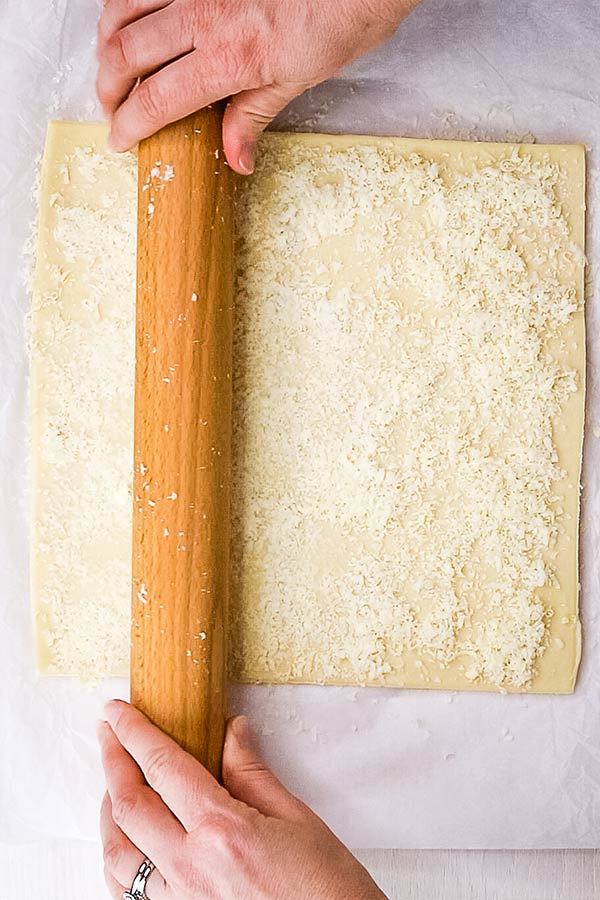 Fold the pastry sheet over, sprinkling it with more cheese and then rolling again.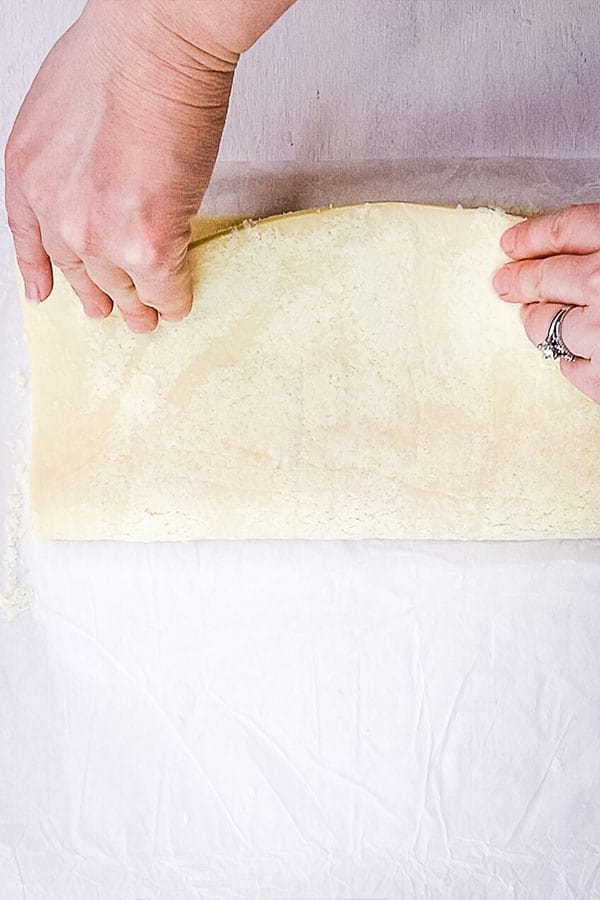 Cut the pastry into narrow strips, twist to make spirals and pop onto a parchment-lined baking sheet. Depending how much you twist them, you might need to press the ends and flatten them a little onto the baking sheet. I like a good tight spiral, so I always need to press down the ends.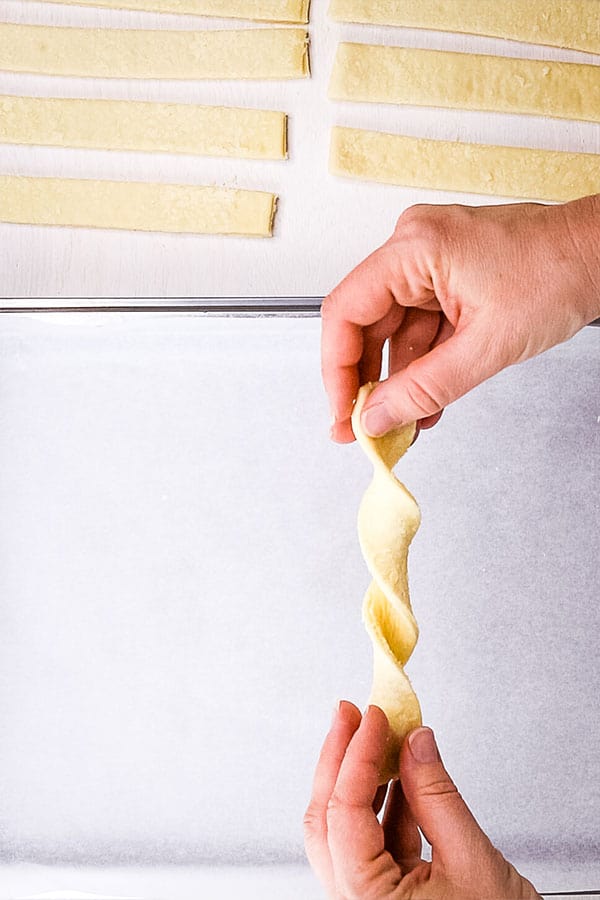 If you want to up the ante, dust your puff pastry cheese twists with paprika before baking. To be honest, I rarely bother. I really don't think it's necessary to get something that's deeply golden, flaky and delicious.
Something I see commonly in cheese straw recipes is the use of egg wash to make them glossy and shiny. Again, I don't find this necessary. It's one of those things you wouldn't notice if you don't do it, and it saves time and effort you could better spend on other kitchen jobs! I'm all for a shortcut if it doesn't mean sacrificing deliciousness. 😉
Do you want to use and love your steam oven more?

There are precious few resources to teach us HOW to use a steam oven in everyday cooking. I'm guessing that's why you're here! If you love cooking but aren't making the most of your combi steam oven, you aren't alone.

Steam Oven Insiders was created for you!

Benefit from my decade-plus of steam oven knowledge and training, delivered to your inbox twice monthly in bite sized, easy-to-implement tips and delicious recipes you'll actually want to cook. Insiders get access to every exclusive recipe and article within the members dashboard, so you'll never miss a thing.

Find out more right here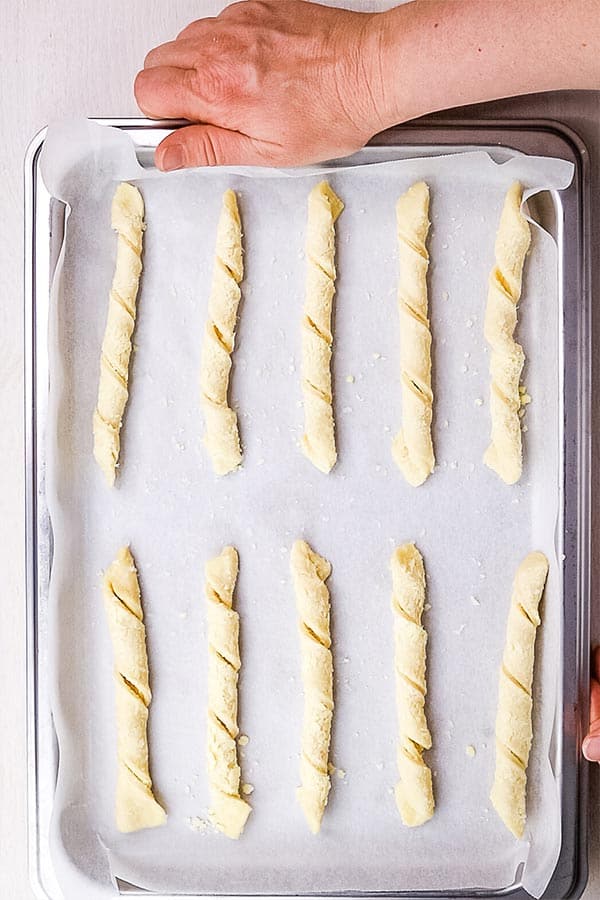 Now that you've made your cheese straws, they need 12-15 minutes in the oven on a combi steam setting, until golden and puffy.
Puff pastry cheese straws are best cooked not long before serving. If you have some prepared, pop the whole pan into the fridge and bake when guests arrive. It'll make your kitchen smell amazing and then everyone gets the benefit of eating warm pastry. There's not much better than that.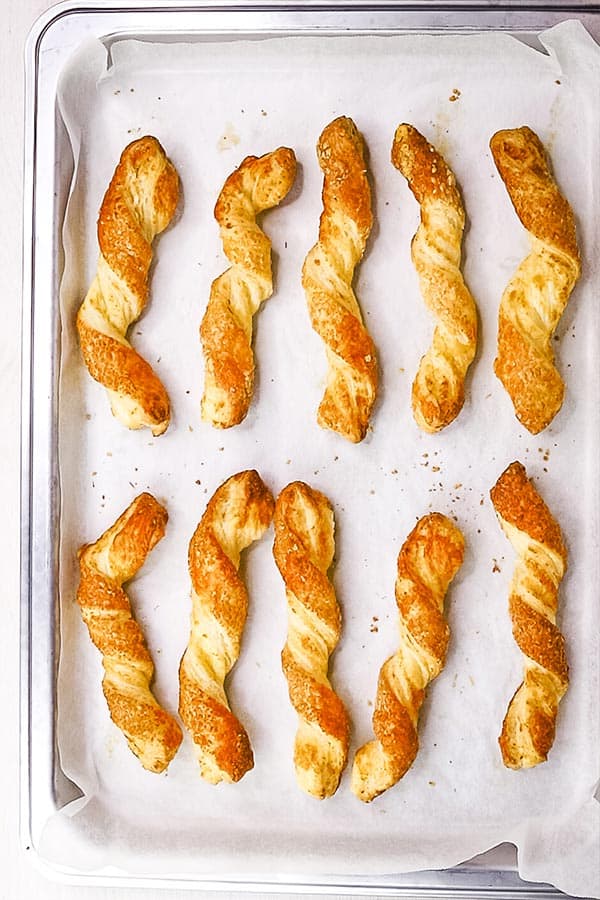 Give these puff pastry twists a go and I'm sure they'll become part of your regular entertaining repertoire. They're certainly on my go-to list for a fast and easy appetizer.
Happy steam oven cooking, see you here again soon.
Have you made and enjoyed this recipe? I'd love if you'd be kind enough to rate and review it via the stars in the recipe card, or leave a comment below! Ratings and reviews help other readers to find and know whether one of my recipes will suit them.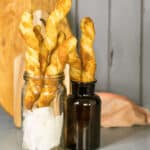 Print Recipe
Puff Pastry Cheese Straws
Puff pastry cheese straws, or cheese twists, are such a great party snack. They come together fast and cook quickly, and they'll be the first thing to disappear off the appetizers plate!
Ingredients
1 1/2

cups

grated cheese

mixed hard cheeses, I use a combination of parmesan and aged cheddar

1

sheet

puff pastry

all butter store bought, thawed but cold, measuring approximately 12in/30cm square
Instructions
Preheat your steam oven to 375°F/190°C, combination steam setting. If your oven has variable steam settings, use 60%. If not, don't worry! Just set to combi steam at the correct temperature and the oven will take care of the humidity. Line a baking sheet with parchment paper and set aside.

Scatter about a third of the cheese over your counter in a space the size of your pastry sheet. Lay the pastry over the top and scatter another third of the cheese on top.

1 1/2 cups grated cheese,

1 sheet puff pastry

Roll out the pastry so it's about 1/8in (3mm) thick. This will press the cheese into each side as you flatten it.

Fold the pastry sheet in half and sprinkle with the remaining cheese, then roll again to make it 1/8in (3mm) thick. The dimensions don't matter too much here, but do try to keep the pastry in a rectangle or square shape so it's easier to cut full straws from it.

Cut the pastry into strips about 1 inch (2.5cm) wide. Make them as long or short as you like; I prefer mine roughly 6-8 inches (15-20cm) long.

Transfer each strip to the prepared baking sheet. As you pick it up to move, twist the ends to make a long spiral. You may need to press the ends down onto the paper to stop them untwisting as you put each one down. Leave a gap of at least 1 inch (2.5cm) between each strip.

Chill the prepared straws for at least half an hour or up to a day (see notes) before baking. Baking them from cold makes the pastry puff and separate much better than from room temperature.

Bake the straws until they're golden brown, puffed and flaky, about 15 minutes. Cool on the baking sheet and serve warm or at room temperature.
Notes
These can be assembled and refrigerated for up to a day, or frozen up to 2 months. Bake directly from the fridge or freezer, allowing a couple of extra minutes if frozen. 
The cheese straws are best served within a few hours of baking but they will keep, sealed in an airtight container or a cello bag, for a day or two. Briefly warm them in a dry oven to refresh, if you like. 
Nutrition
Calories:
128
kcal
|
Carbohydrates:
7
g
|
Protein:
4
g
|
Fat:
9
g
|
Saturated Fat:
4
g
|
Polyunsaturated Fat:
1
g
|
Monounsaturated Fat:
4
g
|
Cholesterol:
11
mg
|
Sodium:
107
mg
|
Potassium:
17
mg
|
Fiber:
1
g
|
Sugar:
1
g
|
Vitamin A:
106
IU
|
Calcium:
76
mg
|
Iron:
1
mg